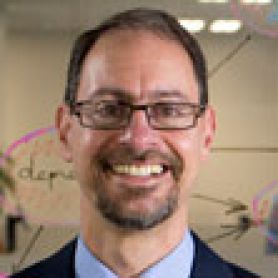 Professor John Attia
Laureate Professor
School of Medicine and Public Health
Supporting Research Excellence in the Hunter
Although he's not quite where he imagined he'd be, Professor John Attia admits that there's never a boring day as Director of the Clinical Research Design, IT and Statistical Support (CReDITSS) Unit.
"When I first came across epidemiology, I thought it was probably just going to help me with my own research.
"A major turning point was when I realised I really enjoyed the methods part of it. It's a really creative process.
"When we sit down with a researcher, we'll listen to what their question is, what their budget is, what data they have – and we have to think about what's the best way to answer this question within the confines of what is feasible."
It's not exactly brain surgery ...
As well as working alongside researchers in a consultation capacity, John is not only a researcher himself, he is also a medical doctor. He works at the John Hunter Hospital for three months out of the year as a general physician.
"I always wanted to be a doctor when I was growing up - I really wanted to become a brain surgeon, and I wanted to run a lab too."
"So I went into medical school at the University of Toronto, where they had a joint MD/ PhD program."
"For my first two years at medical school, we studied all the basic sciences, and then I went off and did my PhD in neurobiology."
"After that I did my clinical study years and then went on and did clinical internship."
"Then when I finally got the chance to do a rotation in neurosurgery - I hated it."
The research environment had also failed to win John over – or so he thought.
John's PhD project had been entirely lab based, wherein he spent his time searching for an elusive protein thought to be involved with Multiple Sclerosis. Despite trialing a number of scientific methods in his search for the protein, John's search was fruitless.
"I was working for five years, got nowhere, found nothing and I thought - I'm never going back to research again."
Evidence-based medicine
Little did John know, there were big changes on the horizon of traditional clinical practice, and those changes incorporated the very field he thought he was finished with.
"Just at the time I was graduating medical school, the whole field in genetic epidemiology was opening up.
"When I did my internship and residency at McMaster University, where the evidence based medicine movement began, I found that I really enjoyed epidemiology and that whole way of approaching and interpreting evidence.
"In hindsight, I recognise now how things work out – the fact that I couldn't find that protein I was looking for in my PhD, forced me to try all of these different methods.
"That exposure to molecular biology was just what I needed to be able to understand genetic epidemiology."
"So I brought my basic science and my MD together."
Around that time, UON was looking to establish epidemiology courses with an emphasis on molecular epidemiology. They had sent out recruitment emails for a Senior Lectureship position via McMaster.
"I applied for that and I got it and things couldn't have worked out better."
Vaccination and atherosclerosis
"In 2003, I read a paper in Nature Medicine that really piqued my interest.
"It was looking at the pneumococcal vaccine in mice and how it protected them against the mouse equivalent of atherosclerosis."
"I looked at it and thought – this is amazing!"
The researchers had found that the "bad cholesterol" which characterises atherosclerosis has molecular similarities to a lipid in the cell wall of the pneumococcal bacteria.
In response to the vaccine, the immune system produces specific antibodies which recognise not only the bacteria but also the fatty deposits in the arteries. Both are marked for degradation by immune cells. Theoretically therefore, the body is protected from infection, and the risk for heart attacks and strokes is reduced at the same time.
"But I looked in the literature and there was nothing on humans."
Atherosclerosis occurs when fat builds up on the interior walls of blood vessels, causing their diameter to decrease. This increases the risk of heart attack and stroke.
Since this initial publication in Nature, there have been a number of observational studies which find this same connection between the vaccine and heart attack and stroke risk in the human population. But, as any epidemiologist will tell you, correlation does not equal causation.
"I decided that every two years I would put in a grant to the NHMRC, trying to get the money to look at this in the context of a randomised control trial.
"It's the only way to answer our question– it could be that people heavily invested in their own well-being would want the vaccine and therefore experience these effects, and this would bias the results."
In 2013, after ten years of trying, John finally got the research grant he had been hoping for.
"We're now working on a full scale randomised control trial with 6000 patients across five Australian states and territories.
"If we can prove this benefit is real, then one vaccine will work as well as a lifetime of statins or beta blockers - it's the same magnitude of effect in terms of protection.
"Those things cost thousands of dollars plus trying to remember to take your pill every day."
"This is the biggest thing I've ever worked on in my career."
John's research expertise includes clinical, molecular, and genetic epidemiology methods
Career Summary
Biography
Professor John Attia obtained a BSc in Physiology (Faculty scholar at McGill University) and then won a 5 year MRC scholarship to complete his MD/PhD in Molecular Genetics (University of Toronto). He trained at McMaster University (Canada) in general internal medicine and obtained his fellowship with the Royal College of Physicians of Canada and the Royal Australasian College of Physicians. During this time he was awarded the Outstanding Housestaff award, the J.T. Walsh award for outstanding Internal Medicine resident, and Best Teacher in Internal Medicine. During his residency, he also completed his MSc in Epidemiology (McMaster University). He has been listed on the NHMRC register of Evidence-Based Medicine experts and has provided epidemiological expertise to the Therapeutic Goods Administration. In 2012, he won the senior research excellence award from both the Faculty of Health (University of Newcastle) and the Hunter Medical Research Institute.
Between 1999 and 2016, he has collaborated in obtaining $20 million in grant income and published over 400 manuscripts (with another 5 submitted); these have garnered over 7000 citations, leading to an h-index of 42 (Scopus data April 2016). He has also submitted 7 government reports, and 7 book chapters. He has been supervisor or co-supervisor to 26 PhD students (16 graduated and 10 current) and 6 Master's students (all graduated). He is currently academic director of general medicine at John Hunter Hospital responsible for the foundation and running of the advanced training program for general physicians, one of the only fully supported such programs in the state. He is also co-director of the Clinical Research Design, IT, and Statistical Support (CReDITSS) Unit, a unit that provides methodological and analysis advice to clinical researchers.
Research Expertise
John's research expertise includes clinical, molecular, and genetic epidemiology methods. Clinical epidemiology covers such topics as population- and hospital-based observational studies (cohort, case-control, crossover) and controlled clinical trials as well as studies of diagnostic tests, meta-analyses, and health services research. Molecular epidemiology focuses mainly on evaluation of biomarkers. Genetic epidemiology covers design and analysis of genome-wide association studies of various complex diseases, particularly macular degeneration and stroke.
---
Qualifications
PhD, University of Toronto
Bachelor of Science, McGill University - Canada
Doctor of Medicine, University of Toronto
Master of Science, McMaster University - Canada
---
Keywords
clinical epidemiology
genetic epidemiology
public health
---
Fields of Research
| Code | Description | Percentage |
| --- | --- | --- |
| 420204 | Epidemiological methods | 80 |
| 420316 | Palliative care | 20 |
---
Professional Experience
UON Appointment
Title
Organisation / Department
Professor
University of Newcastle
School of Medicine and Public Health
Australia
Academic appointment
Dates
Title
Organisation / Department
1/1/2006 - 
Epidemiology Expert to the Complementary Medicines Advisory Committee
Therapeutic goods administration
Australia
1/1/2003 - 
Evidence-based medicine expert to assist groups in developing EBM guidelines
NHMRC (National Health & Medical Research Council)
Membership
Dates
Title
Organisation / Department
Member - Royal Australasian College of Physicians
The Royal Australasian College of Physicians
Australia
---
Awards
Research Award
Year
Award
2005
Dudley Homer Vose award
National Heart Foundation of Australia
Edit
Publications
For publications that are currently unpublished or in-press, details are shown in italics.
---
Book (5 outputs)
Year
Citation
Altmetrics
Link
2004
D'Este CA, Byles JE, Attia JR, Brown AM, Second Mortality and Cancer Incidence Report, -, Newcastle, Australia (2004) [A2]
2004
D'Este CA, Byles JE, Attia JR, Brown AM, Report on the General Health and Medical Study, -, Newcastle, Australia, 463 (2004) [A2]
2003
D'Este CA, Byles JE, Attia JR, Brown AM, Literature Review Report, -, Newcastle, Australia (2003) [A2]
2003
D'Este CA, Byles JE, Attia JR, Brown AM, Report on the qualitative interviews, -, Newcastle, Australia (2003) [A2]
2003
D'Este CA, Byles JE, Attia JR, Brown AM, Interim mortality and cancer incidence report, -, Newcastle, Australia (2003) [A2]
Show 2 more books
---
Chapter (7 outputs)
Year
Citation
Altmetrics
Link
2017
Maguire JM, Holliday EG, Oldmeadow C, Attia J, Henderson MPA, Pare G, 'Genetic Association Studies and Next Generation Sequencing in Stroke: Methods', Stroke Genetics, Springer International Publishing, London (2017)
2015
Riveros C, Vimieiro R, Holliday EG, Oldmeadow C, Wang JJ, Mitchell P, et al., 'Identification of genome-wide SNP-SNP and SNP-clinical Boolean interactions in Age-related Macular Degeneration', Epistasis: Methods and Protocols, Springer, New York 217-255 (2015) [B1]
2014
Attia JR, Holliday EG, Ioannidis JPA, Thakkinstian A, McEvoy M, Scott RJ, et al., 'How to use an article about genetic association', Users' Guides to the Medical Literature: Essentials of Evidence-Based Clinical Practice 3e, McGraw Hill Professional, USA (2014)
2013
Holliday EG, Oldmeadow CJ, Maguire JM, Attia JR, 'Candidate gene association studies in stroke', Stroke Genetics, Springer Verlag, London 9-23 (2013) [B1]
2011
Attia JR, 'Moving beyond sensitivity and specificity: Using likelihood ratios to help interpret diagnostic tests', Abnormal Laboratory Results, McGraw Hill, North Ryde, NSW 23-29 (2011) [B2]
2002
Jaeschke R, Guyatt G, Barratt A, Walter S, McAlister F, Attia JR, 'Part 2: Beyond the basics. Therapy and understanding the results. Measures of association', Users' guides to the medical literature : a manual for evidence-based clinical practice, AMA Press, Chicago, Ill. 706 (2002) [B2]
Show 4 more chapters
---
Journal article (705 outputs)
Year
Citation
Altmetrics
Link
2021
Jongkhajornpong P, Anothaisintawee T, Lekhanont K, Numthavaj P, McKay G, Attia J, Thakkinstian A, 'Short-term Efficacy and Safety of Biological Tear Substitutes and Topical Secretagogues for Dry Eye Disease: A Systematic Review and Network Meta-analysis.', Cornea, (2021)
2021
Reid FS, Stephensen B, Carroll R, Lott N, Attia J, Smith S, 'Antiseptic Skin Preparation Agents to Prevent Surgical Site Infection in Colorectal Surgery: A Three-Armed Randomized Clinical Trial.', Dis Colon Rectum, (2021)
2021
Ghosh AK, Thammasudjarit R, Jongkhajornpong P, Attia J, Thakkinstian A, 'Deep Learning for Discrimination Between Fungal Keratitis and Bacterial Keratitis: DeepKeratitis.', Cornea, (2021) [C1]
2021
Ruenroengbun N, Numthavaj P, Sapankaew T, Chaiyakittisopon K, Ingsathit A, Mckay GJ, et al., 'Efficacy and safety of conventional antiviral agents in preventive strategies for cytomegalovirus infection after kidney transplantation: a systematic review and network meta-analysis.', Transpl Int, 34 2720-2734 (2021) [C1]
2021
Siribumrungwong B, Wilasrusmee C, Orrapin S, Srikuea K, Benyakorn T, McKay G, et al., 'Interventions for great saphenous vein reflux: network meta-analysis of randomized clinical trials.', The British journal of surgery, 108 244-255 (2021) [C1]
2021
Insin P, Vitoopinyoparb K, Thadanipon K, Charakorn C, Attia J, McKay GJ, Thakkinstian A, 'Prevention of venous thromboembolism in gynecological cancer patients undergoing major abdominopelvic surgery: A systematic review and network meta-analysis', GYNECOLOGIC ONCOLOGY, 161 304-313 (2021) [C1]
2021
Ren S, Attia J, Li SC, Newby D, 'Pneumococcal polysaccharide vaccine is a cost saving strategy for prevention of acute coronary syndrome', VACCINE, 39 1721-1726 (2021) [C1]
2021
Jayawardena R, Ranasinghe P, Kodithuwakku W, Dalpatadu C, Attia J, 'Zinc supplementation in pre-diabetes mellitus: a systematic review and meta-analysis.', Minerva endocrinology, (2021) [C1]
2021
Dunlop AJ, White B, Roberts J, Cretikos M, Attalla D, Ling R, et al., 'Treatment of opioid dependence with depot buprenorphine (CAM2038) in custodial settings', ADDICTION, (2021) [C1]
2021
Tansawet A, Numthavaj P, Techapongsatorn S, McKay G, Attia J, Pattanaprateep O, Thakkinstian A, 'Risk-benefit assessment of onlay and retrorectus mesh augmentation for incisional hernia prophylaxis: A secondary analysis from network meta-analysis', INTERNATIONAL JOURNAL OF SURGERY, 92 (2021) [C1]
2021
Hong S, Giese AK, Schirmer MD, Bonkhoff AK, Bretzner M, Rist P, et al., 'Excessive White Matter Hyperintensity Increases Susceptibility to Poor Functional Outcomes After Acute Ischemic Stroke', Frontiers in Neurology, 12 (2021) [C1]
2021
Fealy S, Leigh L, Hazelton M, Attia J, Foureur M, Oldmeadow C, et al., 'Translation of the Weight-Related Behaviours Questionnaire into a Short-Form Psychosocial Assessment Tool for the Detection of Women at Risk of Excessive Gestational Weight Gain', INTERNATIONAL JOURNAL OF ENVIRONMENTAL RESEARCH AND PUBLIC HEALTH, 18 (2021) [C1]
2021
Fealy S, Attia J, Leigh L, Oldmeadow C, Hazelton M, Foureur M, et al., 'A Revalidation of the Weight Related Behaviours Questionnaire within an Australian Pregnancy Cohort', Midwifery, 97 (2021) [C1]

Problem: Studies investigating the direct and indirect relationships between psychosocial factors (i.e. attitudes, beliefs and values), health related behaviour (diet and physical... [more]

Problem: Studies investigating the direct and indirect relationships between psychosocial factors (i.e. attitudes, beliefs and values), health related behaviour (diet and physical activity) and gestational weight gain are increasing. To date heterogeneity of psychosocial measurement tools has limited research progress in this area, preventing measurement of effects by meta-analysis techniques. Aim: To conduct a revalidation analysis of a Weight Related Behaviours Questionnaire, originally developed by Kendall, Olson and Frangelico within the United States of America and assess its performance for use within the Australian context. Methods: A revalidation study using Exploratory Factor Analysis was undertaken to assess the factor structure and internal consistency of the six psychosocial scales of the Weight Related Behaviours Questionnaire, within the Woman and Their Children's Health (WATCH), pregnancy cohort. The questionnaire was self-completed between 18 ¿ 20 weeks gestation. Psychosocial factors included; Weight locus of control; Self-efficacy; Attitudes towards weight gain; Body image, Feelings about the motherhood role; and Career orientation. Findings: Weight locus of control, Self-efficacy and Body image, retained the same factor structure as the original analysis. The remaining psychosocial factors observed a different factor structure in terms of loadings or number of factors. Deleted items modelling suggests the questionnaire could be strengthened and shortened. Conclusion: Weight Locus of control, Self-efficacy and Body image were observed as consistent, valid and reliable psychosocial measures for use within the Australian context. Further research is needed to confirm the model and investigate the potential for combining these scales into a shorter psychosocial measurement tool.

2021
Chaiyakittisopon K, Pattanaprateep O, Ruenroengbun N, Sapankaew T, Ingsathit A, Mckay GJ, et al., 'Evaluation of the cost-utility of phosphate binders as a treatment option for hyperphosphatemia in chronic kidney disease patients: a systematic review and meta-analysis of the economic evaluations.', Eur J Health Econ, 22 571-584 (2021)
2021
Bokern MP, Robijn AL, Jensen ME, Barker D, Callaway L, Clifton V, et al., 'Factors Associated with Asthma Exacerbations During Pregnancy.', J Allergy Clin Immunol Pract, 9 4343-4352.e4 (2021)
2021
Glubb DM, Thompson DJ, Aben KKH, Alsulimani A, Amant F, Annibali D, et al., 'Cross-Cancer Genome-Wide Association Study of Endometrial Cancer and Epithelial Ovarian Cancer Identifies Genetic Risk Regions Associated with Risk of Both Cancers', CANCER EPIDEMIOLOGY BIOMARKERS & PREVENTION, 30 217-228 (2021) [C1]
2021
Reay WR, El Shair SI, Geaghan MP, Riveros C, Holliday EG, McEvoy MA, et al., 'Genetic association and causal inference converge on hyperglycaemia as a modifiable factor to improve lung function.', Elife, 10 (2021) [C1]
2021
Khan AA, Al-Omary MS, Collins NJ, Attia J, Boyle AJ, 'Natural history and prognostic implications of left ventricular end-diastolic pressure in reperfused ST-segment elevation myocardial infarction: an analysis of the thrombolysis in myocardial infarction (TIMI) II randomized controlled trial', BMC CARDIOVASCULAR DISORDERS, 21 (2021) [C1]
2021
English C, Attia JR, Bernhardt J, Bonevski B, Burke M, Galloway M, et al., 'Secondary Prevention of Stroke: Study Protocol for a Telehealth-Delivered Physical Activity and Diet Pilot Randomized Trial (ENAbLE-Pilot).', Cerebrovasc Dis, 50 605-611 (2021)
2021
Oranratnachai S, Rattanasiri S, Pooprasert A, Tansawet A, Reungwetwattana T, Attia J, Thakkinstian A, 'Efficacy of First Line Systemic Chemotherapy and Multikinase Inhibitors in Advanced Hepatocellular Carcinoma: A Systematic Review and Network Meta-Analysis', Frontiers in Oncology, 11 (2021) [C1]

Background: Hepatocellular carcinoma (HCC) is the third most fatal cancer, with a 5-year survival rate of 18%. Standard frontline-therapy is multikinase inhibitors (MKIs), but acc... [more]

Background: Hepatocellular carcinoma (HCC) is the third most fatal cancer, with a 5-year survival rate of 18%. Standard frontline-therapy is multikinase inhibitors (MKIs), but accessibility is still limited, particularly in developing countries. This network meta-analysis (NMA) aimed to compare the efficacy of usual chemotherapy vs MKIs. Method: Randomised-controlled trials (RCTs) comparing any among chemotherapy vs MKIs in treatment-naïve patients with advanced HCCs were identified from MEDLINE and SCOPUS databases. Overall survival (OS) and progression-free survival (PFS) probabilities and times were extracted from Kaplan-Meier curves using Digitizer, and then converted to individual patient time-to-event data. A one-stage mixed-effect survival model was applied to estimate median OS and PFS. A two-stage NMA was applied for the overall response rate and adverse events (AEs) outcome. Results: A total of 20 RCTs were eligible for NMA. Lenvatinib was the best treatment among single MKIs, with median OS and PFS of 9 and 6.3 months, without significant differences in AEs relative to other MKIs. Median OS and PFS were 0.70 (-0.42, 1.83) and 2.17 (1.41, 2.93) months longer with Lenvatinib than Sorafenib. Among chemotherapy agents, FOLFOX4 had the longest median OS and PFS at 7.9 and 4.3 months, respectively, without significant AEs compared to other chemotherapies. The combination of Sorafenib+Doxorubicin prolonged median OS and PFS to 12.7 and 6.3 months, respectively. Conclusion: Use of the MKIs Lenvatinib or Sorafenib as first line systemic treatment for advanced HCC could be beneficial. However, FOLFOX4 might be the optimal choice in a developing country where the health-care budget is limited.

2021
Wyse R, Delaney T, Stacey F, Zoetemeyer R, Lecathelinais C, Lamont H, et al., 'Effectiveness of a Multistrategy Behavioral Intervention to Increase the Nutritional Quality of Primary School Students' Web-Based Canteen Lunch Orders (Click & Crunch): Cluster Randomized Controlled Trial.', J Med Internet Res, 23 e26054 (2021)
2021
Robijn AL, Barker D, Gibson PG, Giles WB, Clifton VL, Mattes J, et al., 'Factors Associated with Nonadherence to Inhaled Corticosteroids for Asthma During Pregnancy', JOURNAL OF ALLERGY AND CLINICAL IMMUNOLOGY-IN PRACTICE, 9 1242-+ (2021) [C1]
2021
McEvoy MA, Attia JR, Oldmeadow C, Holliday E, Smith WT, Mangoni AA, et al., 'Serum L-arginine and endogenous methylarginine concentrations predict irritable bowel syndrome in adults: A nested case-control study.', United European Gastroenterol J, (2021)
2021
Jensen ME, Robijn AL, Gibson PG, Oldmeadow C, Clifton V, Giles W, et al., 'Longitudinal Analysis of Lung Function in Pregnant Women with and without Asthma', Journal of Allergy and Clinical Immunology: In Practice, 9 1578-1585.e3 (2021)

Background: Spirometry is commonly used to assess and monitor lung function. It may also be a useful tool to monitor maternal health during pregnancy. However, large studies exami... [more]

Background: Spirometry is commonly used to assess and monitor lung function. It may also be a useful tool to monitor maternal health during pregnancy. However, large studies examining lung function across gestation are limited. Also, whether spirometry values follow the same pattern during pregnancy in women with and without asthma is unknown. Objective: To investigate the effect of advancing gestation, and its interaction with asthma, on lung function in a large well-defined cohort of pregnant women. Methods: Data were obtained from prospective cohorts involving women with (n = 770) and without (n = 259) asthma (2004-2017), recruited between 12 and 22 weeks' gestation. Lung function (forced vital capacity [FVC], FEV1, FEV1:FVC%) was assessed periodically during pregnancy using spirometry. Multilevel mixed-effect regression models were used to assess changes in lung function over gestation. Results: Asthma had a significant effect on baseline lung function (FEV1%, -9%; FVC%, -3%; FEV1:FVC%, -4%). FVC% decreased with advancing gestation (-0.07%/wk; 95% CI, -0.10 to -0.04]), as did FEV1%, but only among those without asthma (women without asthma: -0.14%/wk, 95% CI, -0.22 to -0.06%; compared with women with asthma: 0.02%/wk, 95% CI, -0.01 to 0.06). FEV1:FVC% remained relatively stable for women without asthma (0.03%/wk; 95% CI, -0.08 to 0.02), but increased for women with asthma (0.06%/wk; 95% CI, 0.04 to 0.16). Conclusions: Data suggest that advancing gestation negatively affects FVC% and FEV1%. This is consistent with extrapulmonary restriction from advancing pregnancy. Yet, the presence of asthma altered the trajectories of FEV1% and FEV1:FVC%. Optimal asthma management during pregnancy might have opposed the negative effects of gestation on lung function.

2021
Wang CA, Attia JR, Lye SJ, Oddy WH, Beilin L, Mori TA, et al., 'The interactions between genetics and early childhood nutrition influence adult cardiometabolic risk factors', Scientific Reports, 11 (2021) [C1]

It is well established that genetics, environment, and interplay between them play a crucial role in adult disease. We aimed to evaluate the role of genetics, early life nutrition... [more]

It is well established that genetics, environment, and interplay between them play a crucial role in adult disease. We aimed to evaluate the role of genetics, early life nutrition, and the interaction between them, on optimal adult health. As part of a large international consortium (n ~ 154,000), we identified 60 SNPs associated with both birthweight and adult disease. Utilising the Raine Study, we developed a birthweight polygenic score (BW-PGS) based on the 60 SNPs and examined relationships between BW-PGS and adulthood cardiovascular risk factors, specifically evaluating interactions with early life nutrition. Healthy nutrition was beneficial for all individuals; longer duration of any breastfeeding was particularly associated with lower BMI and lower Systolic Blood Pressure in those with higher BW-PGS. Optimal breastfeeding offers the greatest benefit to reduce adult obesity and hypertension in those genetically predisposed to high birthweight. This provides an example of how precision medicine in early life can improve adult health.

2021
Tarrant SM, Kim RG, McDonogh JM, Clapham M, Palazzi K, Attia J, Balogh ZJ, 'Preadmission Statin Prescription and Inpatient Myocardial Infarction in Geriatric Hip Fracture.', J Clin Med, 10 (2021) [C1]
2021
Noviyani R, Youngkong S, Nathisuwan S, Bagepally BS, Chaikledkaew U, Chaiyakunapruk N, et al., 'Economic evaluation of direct oral anticoagulants (DOACs) versus vitamin K antagonists (VKAs) for stroke prevention in patients with atrial fibrillation: a systematic review and meta-analysis.', BMJ Evid Based Med, (2021) [C1]
2021
Taylor RM, Haslam RL, Truby H, Attia J, Hutchesson MJ, Burrows T, et al., 'Do disparities exist between national food group recommendations and the dietary intakes of contemporary young adults?', Nutrition and Dietetics, 78 524-534 (2021)

Aim: The aim of this study was to compare food and nutrient intakes of young Australian adults (18-24 years) to national recommendations as per the Australian Guide to Healthy Eat... [more]

Aim: The aim of this study was to compare food and nutrient intakes of young Australian adults (18-24 years) to national recommendations as per the Australian Guide to Healthy Eating and Nutrient Reference Values. Methods: Dietary intake of 18 to 24 year olds (n¿=¿1005) participating in the Advice, Ideas, and Motivation for My Eating (Aim4Me) study was self-reported using the 120-item Australian Eating Survey Food Frequency Questionnaire. Median daily servings of Australian Guide to Healthy Eating food groups, macronutrients and micronutrients were compared to recommendations in the Australian Guide to Healthy Eating and Nutrient Reference Values using t-tests or Kruskal-Wallis tests (P <.05). Results: None of the young adults met all Australian Guide to Healthy Eating recommendations. The highest adherence [% meeting recommendations, median (IQR)] was for meat/alternatives [38%, 2.1(1.8)] and fruit [32%, 1.5(1.6)], with <25% meeting remaining food-group recommendations. The majority (76%) exceeded recommendations for the consumption of discretionary foods [4.0(3.3) vs 0-3 serves] and 81% had excessive saturated fat intakes. Young adults who met all key Nutrient Reference Values (dietary fibre, folate, iodine, iron, calcium and zinc) (18%) consumed a higher number of serves of all food groups, including discretionary foods. Conclusions: Dietary intakes of contemporary young adults do not align with Australian Guide to Healthy Eating targets, while meeting Nutrient Reference Values is achieved by a higher consumption of all food groups, including discretionary foods. Strategies to increase consumption of nutrient-dense foods in young adults to achieve the Nutrient Reference Values are warranted.

2021
Fleming K, Weaver N, Peel R, Hure A, McEvoy M, Holliday E, et al., 'Using the AUSDRISK score to screen for pre-diabetes and diabetes in GP practices: a case-finding approach', AUSTRALIAN AND NEW ZEALAND JOURNAL OF PUBLIC HEALTH, (2021)
2021
Tan HLE, Hure A, Peel R, Hancock S, Attia J, 'Prevalence and clinical risk prediction of hypertriglyceridaemia in a community cohort.', Intern Med J, (2021)
2021
Bonkhoff AK, Schirmer MD, Bretzner M, Hong S, Regenhardt RW, Brudfors M, et al., 'Outcome after acute ischemic stroke is linked to sex-specific lesion patterns', NATURE COMMUNICATIONS, 12 (2021) [C1]
2021
Lukkunaprasit T, Rattanasiri S, Ongphiphadhanakul B, McKay GJ, Attia J, Thakkinstian A, 'Causal Associations of Urate With Cardiovascular Risk Factors: Two-Sample Mendelian Randomization', FRONTIERS IN GENETICS, 12 (2021) [C1]
2021
English C, MacDonald-Wicks L, Patterson A, Attia J, Hankey GJ, 'The role of diet in secondary stroke prevention', LANCET NEUROLOGY, 20 150-160 (2021) [C1]
2021
Hullick C, Conway J, Barker R, Hewitt J, Darcy L, Attia J, 'Supporting residential aged care through a Community of Practice.', Nurs Health Sci, (2021)
2021
Graham SE, Clarke SL, Wu K-HH, Kanoni S, Zajac GJM, Ramdas S, et al., 'The power of genetic diversity in genome-wide association studies of lipids.', Nature, 600 675-679 (2021)
2020
Bateman GA, Lechner-Scott J, Bateman AR, Attia J, Lea RA, 'The Incidence of Transverse Sinus Stenosis in Multiple Sclerosis: Further Evidence of Pulse Wave Encephalopathy', Multiple Sclerosis and Related Disorders, 46 1-8 (2020) [C1]
2020
Hasnain MG, Paul CL, Attia JR, Ryan A, Kerr E, Oldmeadow C, et al., 'Thrombolysis implementation intervention and clinical outcome: A secondary analysis of a cluster randomized trial', BMC Cardiovascular Disorders, 20 432-440 (2020) [C1]
2020
Schirmer MD, Donahue KL, Nardin MJ, Dalca AV, Giese AK, Etherton MR, et al., 'Brain Volume: An Important Determinant of Functional Outcome After Acute Ischemic Stroke', Mayo Clinic Proceedings, 95 955-965 (2020) [C1]

Objective: To determine whether brain volume is associated with functional outcome after acute ischemic stroke (AIS). Patients and Methods: This study was conducted between July 1... [more]

Objective: To determine whether brain volume is associated with functional outcome after acute ischemic stroke (AIS). Patients and Methods: This study was conducted between July 1, 2014, and March 16, 2019. We analyzed cross-sectional data of the multisite, international hospital-based MRI-Genetics Interface Exploration study with clinical brain magnetic resonance imaging obtained on admission for index stroke and functional outcome assessment. Poststroke outcome was determined using the modified Rankin Scale score (0-6; 0 = asymptomatic; 6 = death) recorded between 60 and 190 days after stroke. Demographic characteristics and other clinical variables including acute stroke severity (measured as National Institutes of Health Stroke Scale score), vascular risk factors, and etiologic stroke subtypes (Causative Classification of Stroke system) were recorded during index admission. Results: Utilizing the data from 912 patients with AIS (mean ± SD age, 65.3±14.5 years; male, 532 [58.3%]; history of smoking, 519 [56.9%]; hypertension, 595 [65.2%]) in a generalized linear model, brain volume (per 155.1 cm3) was associated with age (ß -0.3 [per 14.4 years]), male sex (ß 1.0), and prior stroke (ß -0.2). In the multivariable outcome model, brain volume was an independent predictor of modified Rankin Scale score (ß -0.233), with reduced odds of worse long-term functional outcomes (odds ratio, 0.8; 95% CI, 0.7-0.9) in those with larger brain volumes. Conclusion: Larger brain volume quantified on clinical magnetic resonance imaging of patients with AIS at the time of stroke purports a protective mechanism. The role of brain volume as a prognostic, protective biomarker has the potential to forge new areas of research and advance current knowledge of the mechanisms of poststroke recovery.

2020
Kelly B, Handley T, Kissane D, Vamos M, Attia J, 'An indelible mark the response to participation in euthanasia and physician-assisted suicide among doctors: A review of research findings', Palliative and Supportive Care, 18 82-88 (2020) [C1]

Introduction The debate regarding euthanasia and physician-assisted suicide (E/PAS) raises key issues about the role of the doctor, and the professional, ethical, and clinical dim... [more]

Introduction The debate regarding euthanasia and physician-assisted suicide (E/PAS) raises key issues about the role of the doctor, and the professional, ethical, and clinical dimensions of the doctor-patient relationship. This review aimed to examine the published evidence regarding the response of doctors who have participated in E/PAS.Methods Original research papers were identified reporting either qualitative or qualitative data published in peer-reviewed literature between 1980 and March 2018, with a specific focus on the impact on, or response from, physicians to their participation in E/PAS. PRISMA and CASP guidelines were followed.Results Nine relevant papers met selection criteria. Given the limited published data, a descriptive synthesis of quantitative and qualitative findings was performed. Quantitative surveys were limited in scope but identified a mixed set of responses. Where studies measured psychological impact, 30-50% of doctors described emotional burden or discomfort about participation, while findings also identified a comfort or satisfaction in believing the request of the patient was met. Significant, ongoing adverse personal impact was reported between 15% to 20%. A minority of doctors sought personal support, generally from family or friends, rather than colleagues. The themes identified from the qualitative studies were summarized as: 1) coping with a request; 2) understanding the patient; 3) the doctor's role and agency in the death of a patient; 4) the personal impact on the doctor; and 5) professional guidance and support.Significance of results Participation in E/PAS can have a significant emotional impact on participating clinicians. For some doctors, participation can contrast with perception of professional roles, responsibilities, and personal expectations. Despite the importance of this issue to medical practice, this is a largely neglected area of empirical research. The limited studies to date highlight the need to address the responses and impact on clinicians, and the support for clinicians as they navigate this challenging area.

2020
Wattanayingcharoenchai R, Rattanasiri S, Charakorn C, Attia J, Thakkinstian A, 'Postoperative hormonal treatment for prevention of endometrioma recurrence after ovarian cystectomy: a systematic review and network meta-analysis', BJOG-AN INTERNATIONAL JOURNAL OF OBSTETRICS AND GYNAECOLOGY, 128 25-35 (2020) [C1]
2020
Bruce R, Murdoch W, Kable A, Palazzi K, Hullick C, Pond D, et al., 'Evaluation of Carer Strain and Carer Coping with Medications for People with Dementia after Discharge: Results from the SMS Dementia Study', HEALTHCARE, 8 (2020) [C1]
2020
Tarrant SM, Catanach MJ, Sarrami M, Clapham M, Attia J, Balogh ZJ, 'Direct Oral Anticoagulants and Timing of Hip Fracture Surgery', JOURNAL OF CLINICAL MEDICINE, 9 (2020) [C1]
2020
Hullick CJ, Hall AE, Conway JF, Hewitt JM, Darcy LF, Barker RT, et al., 'Reducing Hospital Transfers from Aged Care Facilities: A Large-Scale Stepped Wedge Evaluation', JOURNAL OF THE AMERICAN GERIATRICS SOCIETY, 69 201-209 (2020) [C1]
2020
Kho P-F, Amant F, Annibali D, Ashton K, Attia J, Auer PL, et al., 'Mendelian randomization analyses suggest a role for cholesterol in the development of endometrial cancer', INTERNATIONAL JOURNAL OF CANCER, 148 307-319 (2020) [C1]
2020
Fealy S, Davis D, Foureur M, Attia J, Hazelton M, Hure A, 'The return of weighing in pregnancy: A discussion of evidence and practice', Women and Birth, 33 119-124 (2020) [C1]

Background: Inadequate or excessive gestational weight gain is associated with both short and long-term adverse maternal and infant health outcomes. The practice of routine matern... [more]

Background: Inadequate or excessive gestational weight gain is associated with both short and long-term adverse maternal and infant health outcomes. The practice of routine maternal weight monitoring has been suggested as an effective health promotion intervention, both as a screening tool for adverse maternal and infant outcomes and as a weight management strategy for addressing gestational weight gain. Discussion: The effectiveness of routine maternal weighing as part of maternity care has been debated for more than 30 years. The National Health and Medical Research Council of Australia have recently revised their pregnancy care clinical practice guidelines recommending maternal weight monitoring (clinician and/or self-weighing) be reintroduced into clinical practice. This paper presents a timely discussion of the topic that will contribute new insights to the debate. Conclusion: Weight gain in pregnancy is complex. Evaluation of the translation, implementation, acceptability and uptake of the newly revised guidelines is warranted, given that evidence on the practice remains inconclusive. Future research exploring social ecological interventions to assist pregnant women achieve optimal gestational weight gains are suggested to expand the evidence base.

2020
Scott IA, Attia J, Moynihan R, 'Promises and perils of using genetic tests to predict risk of disease.', BMJ, 368 m14 (2020) [C1]
2020
Abbott KA, Burrows TL, Thota RN, Alex A, Acharya S, Attia J, et al., 'Association between plasma phospholipid omega-3 polyunsaturated fatty acids and type 2 diabetes is sex dependent: The Hunter Community Study', Clinical Nutrition, 39 1059-1066 (2020) [C1]

Background &amp; aims: Chronic inflammation drives the development of insulin resistance and type 2 diabetes. Long-chain omega-3 polyunsaturated fatty acids (LCn-3PUFA) eicosapent... [more]

Background & aims: Chronic inflammation drives the development of insulin resistance and type 2 diabetes. Long-chain omega-3 polyunsaturated fatty acids (LCn-3PUFA) eicosapentaenoic acid (EPA, c20:5n-3) and docosahexaenoic acid (DHA, c22:6n-3) may protect against type 2 diabetes development. The aim of this current study is to determine whether LCn-3PUFA status is associated with type 2 diabetes in the Hunter Community Study. Methods: Men and women aged 55¿85 years were randomly selected from the electoral roll and invited to participate. Participants were included in the current study if they had plasma phospholipid fatty acid composition data available and diabetes status could be determined. LCn-3PUFA status was determined by fatty acid composition of plasma phospholipids (EPA + DHA, %,w/w). Diabetes was determined according to World Health Organisation criteria. Insulin was measured in n = 251 participants and HOMA-IR calculated. Results: In total, n = 2092 (diabetes: n = 249) participants were included. After adjusting for confounders of diabetes, LCn-3PUFA status was inversely associated with diabetes in overweight/obese females (OR [95%CI]: 0.90 [0.80, 1.00], p = 0.045) but not males (p-interactionsex = 0.041). Overweight/obese females with diabetes had significantly lower levels of DHA than those without diabetes (mean difference [95%CI]: -0.53 [-0.87, -0.20], p = 0.002), with no difference in EPA. LCn-3PUFA was inversely associated with HOMA-IR (r = -0.175, p = 0.005). Conclusions: This study provides further evidence of a sex-dependent association between LCn-3PUFA and type 2 diabetes. Causal pathways between LCn-3PUFA and type 2 diabetes merits delineation.

2020
Sarant JZ, Bowe SJ, McEvoy M, Attia J, 'The Apolipoprotein Allele and Sensorineural Hearing Loss in Older Community-Dwelling Adults in Australia', EAR AND HEARING, 41 622-629 (2020) [C1]
2020
Fealy S, Attia J, Leigh L, Oldmeadow C, Hazelton M, Foureur M, et al., 'Demographic and social-cognitive factors associated with gestational weight gain in an Australian pregnancy cohort', Eating Behaviors, 39 (2020) [C1]
2020
Oftedal S, Holliday EG, Attia J, Brown WJ, Collins CE, Ewald B, et al., 'Daily steps and diet, but not sleep, are related to mortality in older Australians', Journal of Science and Medicine in Sport, 23 276-282 (2020) [C1]

Objectives: Supporting healthy ageing is a key priority worldwide. Physical activity, diet quality and sleep are all associated with health outcomes, but few studies have explored... [more]

Objectives: Supporting healthy ageing is a key priority worldwide. Physical activity, diet quality and sleep are all associated with health outcomes, but few studies have explored their independent associations with all-cause mortality in an older population in the same model. The study aim was to examine associations between step-count, self-reported diet quality, restless sleep, and all-cause mortality in adults aged 55¿85 years. Design: A prospective cohort study of adults in Newcastle, New South Wales, Australia. Method: Data were from 1697 participants (49.3% women; baseline mean age 65.4 ± 7.1 years). Daily steps (measured by pedometer), diet quality (from a modified Australian Recommended Food Score), and frequency of restless sleep (by self-report) were assessed in relation to all-cause mortality using Cox proportional hazard regression with adjustment for sex, age, household income and smoking. Baseline data were collected between January 2005 and April 2008, and last follow-up was in March 2017 (median follow-up 9.6 years). Results: Higher step count (HR: 0.93, 95%CI: 0.88¿0.98 per 1000-step increment) and higher diet quality (HR: 0.86, 95%CI: 0.74¿0.99 per 8-point increment in diet quality score) were associated with reduced mortality risk. Restless sleep for =3 nights/week was not associated with mortality risk (HR: 1.03, 95%CI: 0.78¿1.39). Sensitivity analyses, adjusting for chronic disease and excluding deaths <1 year after baseline, did not change these estimates. Conclusions: Increased daily steps and consumption of a greater variety of nutrient-dense foods every week would result in substantial health benefits for older people. Future research should include a greater variety of sleep measures.

2020
Bagepally BS, Chaikledkaew U, Gurav YK, Anothaisintawee T, Youngkong S, Chaiyakunapruk N, et al., 'Glucagon-like peptide 1 agonists for treatment of patients with type 2 diabetes who fail metformin monotherapy: systematic review and meta-analysis of economic evaluation studies.', BMJ open diabetes research & care, 8 (2020) [C1]
2020
Opio J, Croker E, Odongo GS, Attia J, Wynne K, McEvoy M, 'Metabolically healthy overweight/obesity are associated with increased risk of cardiovascular disease in adults, even in the absence of metabolic risk factors: A systematic review and meta-analysis of prospective cohort studies', OBESITY REVIEWS, 21 (2020) [C1]
2020
Tarrant SM, Kim RG, McGregor KL, Palazzi K, Attia J, Balogh ZJ, 'Dual Antiplatelet Therapy and Surgical Timing in Geriatric Hip Fracture', Journal of Orthopaedic Trauma, 34 559-565 (2020) [C1]

Objective:To determine how timing of surgery affects transfusion, major complications, and mortality in patients who sustain a geriatric hip fracture while taking dual antiplatele... [more]

Objective:To determine how timing of surgery affects transfusion, major complications, and mortality in patients who sustain a geriatric hip fracture while taking dual antiplatelet therapy (DAPT; typically aspirin and clopidogrel).Design:Retrospective cohort study.Setting:University-affiliated Level 1 Trauma Center.Patients:Patients 65 years of age or older on DAPT with a geriatric hip fracture were investigated at a single institution between 2002 and 2017. Demographic and perioperative data were collected from patient records, institutional databases, and national hip fracture registry.Intervention:Fixation or arthroplasty.Main Outcome Measurement:Transfusion, major complications, and 30-day mortality.Results:Of the 6724 patients sustaining a geriatric hip fracture, 122 patients were taking DAPT on admission. Timing of surgery did not influence transfused units (incidence rate ratio 1.00, 95% confidence interval: 0.87-1.15, P = 0.968) but did affect major complications (time modeled as quadratic term; odds ratios ranging from 0.20 to 7.91, ptime = 0.001, ptime*time<0.001) and 30-day mortality (odds ratio 1.32, 95% confidence interval: 1.03-1.68, P = 0.030).Conclusion:Surgical delay does not change the need for transfusion of hip fracture patients on DAPT, but it is associated with increased probabilities of major complications and 30-day mortality.Level of Evidence:Therapeutic Level III. See Instructions for Authors for a complete description of levels of evidence.

2020
Karnjanapiboonwong A, Anothaisintawee T, Chaikledkaew U, Dejthevaporn C, Attia J, Thakkinstian A, 'Diagnostic performance of clinic and home blood pressure measurements compared with ambulatory blood pressure: a systematic review and meta-analysis', BMC Cardiovascular Disorders, 20 1-17 (2020) [C1]
2020
Khan AA, Davies AJ, Whitehead NJ, McGee M, Al-Omary MS, Baker D, et al., 'Targeting elevated left ventricular end-diastolic pressure following primary percutaneous coronary intervention for ST-segment elevation myocardial infarction - a phase one safety and feasibility study.', European heart journal. Acute cardiovascular care, 9 758-763 (2020) [C1]
2020
Thomalla G, Boutitie F, Ma H, Koga M, Ringleb P, Schwamm LH, et al., 'Intravenous alteplase for stroke with unknown time of onset guided by advanced imaging: systematic review and meta-analysis of individual patient data', The Lancet, 396 1574-1584 (2020) [C1]

Background: Patients who have had a stroke with unknown time of onset have been previously excluded from thrombolysis. We aimed to establish whether intravenous alteplase is safe ... [more]

Background: Patients who have had a stroke with unknown time of onset have been previously excluded from thrombolysis. We aimed to establish whether intravenous alteplase is safe and effective in such patients when salvageable tissue has been identified with imaging biomarkers. Methods: We did a systematic review and meta-analysis of individual patient data for trials published before Sept 21, 2020. Randomised trials of intravenous alteplase versus standard of care or placebo in adults with stroke with unknown time of onset with perfusion-diffusion MRI, perfusion CT, or MRI with diffusion weighted imaging-fluid attenuated inversion recovery (DWI-FLAIR) mismatch were eligible. The primary outcome was favourable functional outcome (score of 0¿1 on the modified Rankin Scale [mRS]) at 90 days indicating no disability using an unconditional mixed-effect logistic-regression model fitted to estimate the treatment effect. Secondary outcomes were mRS shift towards a better functional outcome and independent outcome (mRS 0¿2) at 90 days. Safety outcomes included death, severe disability or death (mRS score 4¿6), and symptomatic intracranial haemorrhage. This study is registered with PROSPERO, CRD42020166903. Findings: Of 249 identified abstracts, four trials met our eligibility criteria for inclusion: WAKE-UP, EXTEND, THAWS, and ECASS-4. The four trials provided individual patient data for 843 individuals, of whom 429 (51%) were assigned to alteplase and 414 (49%) to placebo or standard care. A favourable outcome occurred in 199 (47%) of 420 patients with alteplase and in 160 (39%) of 409 patients among controls (adjusted odds ratio [OR] 1·49 [95% CI 1·10¿2·03]; p=0·011), with low heterogeneity across studies (I2=27%). Alteplase was associated with a significant shift towards better functional outcome (adjusted common OR 1·38 [95% CI 1·05¿1·80]; p=0·019), and a higher odds of independent outcome (adjusted OR 1·50 [1·06¿2·12]; p=0·022). In the alteplase group, 90 (21%) patients were severely disabled or died (mRS score 4¿6), compared with 102 (25%) patients in the control group (adjusted OR 0·76 [0·52¿1·11]; p=0·15). 27 (6%) patients died in the alteplase group and 14 (3%) patients died among controls (adjusted OR 2·06 [1·03¿4·09]; p=0·040). The prevalence of symptomatic intracranial haemorrhage was higher in the alteplase group than among controls (11 [3%] vs two [<1%], adjusted OR 5·58 [1·22¿25·50]; p=0·024). Interpretation: In patients who have had a stroke with unknown time of onset with a DWI-FLAIR or perfusion mismatch, intravenous alteplase resulted in better functional outcome at 90 days than placebo or standard care. A net benefit was observed for all functional outcomes despite an increased risk of symptomatic intracranial haemorrhage. Although there were more deaths with alteplase than placebo, there were fewer cases of severe disability or death. Funding: None.

2020
Kable A, Hullick C, Palazzi K, Oldmeadow C, Searles A, Ling R, et al., 'Evaluation of a safe medication strategy intervention for people with dementia with an unplanned admission: Results from the Safe Medication Strategy Dementia Study', AUSTRALASIAN JOURNAL ON AGEING, 40 356-365 (2020)
2020
Chew BLA, Williams DB, Attia J, 'The Diagnostic Value of clinical examination for identifying patients with large and small fibre neuropathy.', Internal medicine journal, (2020)
2020
Yoong SL, Bolsewicz K, Grady A, Wyse R, Sutherland R, Hodder RK, et al., 'Adaptation of public health initiatives: expert views on current guidance and opportunities to advance their application and benefit', Health education research, 35 243-257 (2020) [C1]
2020
Tansawet A, Numthavaj P, Techapongsatorn S, Wilasrusmee C, Attia J, Thakkinstian A, 'Mesh position for hernia prophylaxis after midline laparotomy: A systematic review and network meta-analysis of randomized clinical trials', International Journal of Surgery, 83 144-151 (2020) [C1]

Background: Mesh can be used to prevent incisional hernia (IH) occurrence. However, the effect of various mesh positions has never been compared. This study aimed to compare and r... [more]

Background: Mesh can be used to prevent incisional hernia (IH) occurrence. However, the effect of various mesh positions has never been compared. This study aimed to compare and rank the effect and safety of various mesh-augmented fascia closure techniques on hernia prophylaxis in midline laparotomy. Methods: MEDLINE and SCOPUS were searched from inception to December 2019. Randomized clinical trials (RCTs) were eligible if they met the following criteria: comparison of any of the following interventions: onlay (OM), retrorectus (RM), preperitoneal (PM), intraperitoneal mesh (IM) augmentation, and primary suture closure (PSC); and reporting on any of these outcomes: IH, wound infection, seroma, hematoma, and dehiscence. Two independent reviewers extracted data and assessed the risk of bias. A two-stage random-effect network meta-analysis was performed, then intervention effects were pooled and ranked accordingly. Results: A total of 20 RCTs were eligible. Only OM and RM showed a significantly lower risk of IH than PSC with pooled risk ratios (RRs), 95% confidence intervals (95%CI) of 0.24 (0.12, 0.46) and 0.32 (0.16, 0.66), and number needed to treat (NNTs) of 4 and 5, respectively. However, OM showed a significantly higher risk of seroma than PSC (RR 2.21 (1.44, 3.39) with a number needed to harm (NNH) of 14). Most mesh placements showed a higher risk of wound infection, except for RM, but none of these was significantly different. All mesh techniques, except RM, showed a reduction in dehiscence, but again these were not significantly different. Conclusions: OM and RM provided the most effective IH prevention relative to PSC. However, OM had a higher rate of seroma than RM and PSC. Other complications, including wound infection, hematoma, and dehiscence, were not significantly observed among these fascia closure techniques.

2020
Lukkunaprasit T, Rattanasiri S, Turongkaravee S, Suvannang N, Ingsathit A, Attia J, Thakkinstian A, 'The association between genetic polymorphisms in ABCG2 and SLC2A9 and urate: an updated systematic review and meta-analysis', BMC Medical Genetics, 21 (2020) [C1]
2020
Taylor RM, Smith R, Collins CE, Mossman D, Wong-Brown MW, Chan EC, et al., 'Global DNA methylation and cognitive and behavioral outcomes at 4 years of age: A cross-sectional study', Brain and Behavior, 10 1-11 (2020) [C1]
2020
Joseph D, Denham JW, Steigler A, Lamb DS, Spry NA, Stanley J, et al., 'Radiation Dose Escalation or Longer Androgen Suppression to Prevent Distant Progression in Men With Locally Advanced Prostate Cancer: 10-Year Data From the TROG 03.04 RADAR Trial', International Journal of Radiation Oncology Biology Physics, 106 693-702 (2020) [C1]

Purpose: To clarify the relative effects of duration of androgen suppression (AS) and radiation dose escalation (RDE) on distant progression (DP) in men with locally advanced pros... [more]

Purpose: To clarify the relative effects of duration of androgen suppression (AS) and radiation dose escalation (RDE) on distant progression (DP) in men with locally advanced prostate cancer. Methods and Materials: Participants with locally advanced prostate cancer in the TROG 03.04 RADAR trial were randomized to 6 or 18 months AS ± 18 months zoledronic acid (Z). The trial incorporated a RDE program by stratification at randomization and dosing options were 66, 70, or 74 Gy external beam radiation therapy (EBRT), or 46 Gy EBRT plus high-dose-rate brachytherapy boost (HDRB). The primary endpoint for this study was distant progression (DP). Secondary endpoints included local progression, bone progression, prostate cancer-specific mortality and all-cause mortality. Effect estimates for AS duration and RDE were derived using Fine and Gray competing risk models adjusting for use of Z, age, tumor stage, Gleason grade group, prostate-specific antigen, and treatment center. Cumulative incidence at 10 years was estimated for each RDE group. Results: A total of 1051 out of 1071 randomized subjects were eligible for inclusion in this analysis. Compared with 6 months AS, 18 months AS significantly reduced DP independently of radiation dose (subhazard ratio 0.70; 95% confidence interval [CI], 0.56-0.87; P =.002). No statistically significant interaction between effect of AS duration and RT dose was observed (Wald test P =.76). In subgroup analyses, DP was significantly reduced by the longer duration of AS in the 70 Gy and HDRB groups but not in the 66 Gy and 74 Gy. Compared with 70 Gy, HDRB significantly reduced DP (subhazard ratio 0.68 [95% CI, 0.57-0.80]; P <.0001) independently of AS duration. At 10 years, adjusted cumulative incidences were 26.1% (95% CI, 18.9%-33.2%), 26.7% (22.9%-30.6%), 24.9% (20.0%-29.8%) and 19.7% (15.5%-23.8%) for DPs in the respective radiation dose groups. Conclusions: Compared with 6 months AS, 18 months AS reduced DP independently of radiation dose. Men treated with HDRB gained a significant benefit from a longer duration of AS. Evidence of improved oncologic outcomes for HDRB compared with dose-escalated EBRT needs to be confirmed in a randomized trial.

2020
Hasnain MG, Attia JR, Akter S, Rahman T, Hall A, Hubbard IJ, et al., 'Effectiveness of interventions to improve rates of intravenous thrombolysis using behaviour change wheel functions: a systematic review and meta-analysis', IMPLEMENTATION SCIENCE, 15 (2020) [C1]
2020
Griffin N, Marsland M, Roselli S, Oldmeadow C, Attia J, Walker MM, et al., 'The receptor tyrosine kinase trka is increased and targetable in HER2-positive breast cancer', Biomolecules, 10 1-13 (2020) [C1]

The tyrosine kinase receptor A (NTRK1/TrkA) is increasingly regarded as a therapeutic target in oncology. In breast cancer, TrkA contributes to metastasis but the clinicopathologi... [more]

The tyrosine kinase receptor A (NTRK1/TrkA) is increasingly regarded as a therapeutic target in oncology. In breast cancer, TrkA contributes to metastasis but the clinicopathological significance remains unclear. In this study, TrkA expression was assessed via immunohistochemistry of 158 invasive ductal carcinomas (IDC), 158 invasive lobular carcinomas (ILC) and 50 ductal carcinomas in situ (DCIS). TrkA was expressed in cancer epithelial and myoepithelial cells, with higher levels of TrkA positively associated with IDC (39% of cases) (p < 0.0001). Interestingly, TrkA was significantly increased in tumours expressing the human epidermal growth factor receptor-2 (HER2), with expression in 49% of HER2-positive compared to 25% of HER2-negative tumours (p = 0.0027). A panel of breast cancer cells were used to confirm TrkA protein expression, demonstrating higher levels of TrkA (total and phosphorylated) in HER2-positive cell lines. Functional investigations using four different HER2-positive breast cancer cell lines indicated that the Trk tyrosine kinase inhibitor GNF-5837 reduced cell viability, through decreased phospho-TrkA (Tyr490) and downstream AKT (Ser473) activation, but did not display synergy with Herceptin. Overall, these data highlight a relationship between the tyrosine kinase receptors TrkA and HER2 and suggest the potential of TrkA as a novel or adjunct target for HER2-positive breast tumours.

2020
Panwar R, Tarvade S, Lanyon N, Saxena M, Bush D, Hardie M, et al., 'Relative hypotension and adverse kidney-related outcomes among critically ill patients with shock a multicenter, prospective cohort study', American Journal of Respiratory and Critical Care Medicine, 202 1407-1418 (2020) [C1]

Rationale: There are no prospective observational studies exploring the relationship between relative hypotension and adverse kidneyrelated outcomes among critically ill patients ... [more]

Rationale: There are no prospective observational studies exploring the relationship between relative hypotension and adverse kidneyrelated outcomes among critically ill patients with shock. Objectives: To investigate the magnitude of relative hypotension during vasopressor support among critically ill patients with shock and to determine whether such relative hypotension is associated with new significant acute kidney injury (AKI) or major adverse kidney events (MAKE) within 14 days of vasopressor initiation. Methods: At seven multidisciplinary ICUs, 302 patients, aged >40 years and requiring >4 hours of vasopressor support for nonhemorrhagic shock, were prospectively enrolled.Weassessed the time-weighted average of the mean perfusion pressure (MPP) deficit (i.e., the percentage difference between patients' preillness basal MPP and achievedMPP)during vasopressor support and the percentage of time points with an MPP deficit.20% as key exposure variables. New significant AKI was defined as an AKI-stage increase of two or more (Kidney Disease: Improving Global Outcome creatinine-based criteria). Measurements and Main Results: The median MPP deficit was 19% (interquartile range, 13-25), and 54% (interquartile range, 19-82) of time points were spent with an MPP deficit.20%. Seventy-three (24%) patients developed new significant AKI; 86 (29%) patients developed MAKE. For every percentage increase in the time-weighted average MPP deficit, multivariable-adjusted odds of developing new significant AKI and MAKE increased by 5.6% (95% confidence interval, 2.2-9.1; P = 0.001) and 5.9% (95% confidence interval, 2.2-9.8; P = 0.002), respectively. Likewise, for every one-unit increase in the percentage of time points with an MPP deficit.20%, multivariable-adjusted odds of developing new significant AKI andMAKEincreased by 1.2% (0.3-2.2; P = 0.008) and 1.4% (0.4-2.4; P = 0.004), respectively. Conclusions: Vasopressor-treated patients with shock are often exposed to a significant degree and duration of relative hypotension, which is associated with new-onset, adverse kidney-related outcomes.

2020
Poprom N, Wilasrusmee C, Attia J, McEvoy M, Thakkinstian A, Rattanasiri S, 'Comparison of postoperative complications between open and laparoscopic appendectomy: An umbrella review of systematic reviews and meta-analyses', Journal of Trauma and Acute Care Surgery, 89 813-820 (2020) [C1]

BACKGROUND Laparoscopic appendectomy (LA) has been popular for decades because of shorter hospitalization and return to routine activity. However, complications (e.g., surgical si... [more]

BACKGROUND Laparoscopic appendectomy (LA) has been popular for decades because of shorter hospitalization and return to routine activity. However, complications (e.g., surgical site infection [SSI] and intra-abdominal abscess [IAA]) relative to open appendectomy (OA) are still debated. We therefore conducted an umbrella review to systematically appraise meta-analyses (MAs) comparing SSI and IAA between LA and OA. METHODS Meta-analyses that included only randomized controlled trials were identified from MEDLINE and Scopus databases from inception until July 2018. Their findings were described, the number of overlapping studies was assessed using corrected covered area, and excess significant tests were also assessed. Finally, effect sizes of SSI and IAA were repooled. RESULTS Ten MAs were eligible; SSI was reported in all MAs and IAA in 8 MAs. Surgical site infection rate was 48% to 70% lower in LA than OA, but conversely, IAA rate was 1.34 to 2.20 higher in LA than OA. Overlapping included studies for SSI and IAA were 61% and 54%, respectively, indicating that less information was added across MAs. However, there was no evidence of bias from excess significant tests when pooling SSI or IAA estimates. The risk ratios (95% confidence interval) comparing LA versus OA were repooled in adults and children yielding risk ratios of 0.56 (0.47-0.67) and 0.40 (0.25-0.65) for SSI, and 1.20 (0.88-1.63) and 1.05 (0.61-1.80) for IAA. CONCLUSION Evidence from this umbrella review indicates that LA carries a significantly lower risk of SSI but likely a higher risk of IAA than OA. LEVEL OF EVIDENCE Systematic review/meta-analysis, level I.

2020
Untaru R, Chen D, Kelly C, May A, Collins NJ, Leitch J, et al., 'Suboptimal Use of Cardioprotective Medications in Patients With a History of Cancer', JACC: CARDIOONCOLOGY, 2 312-315 (2020) [C1]
2020
Jayakody A, Oldmeadow C, Carey M, Bryant J, Evans T, Ella S, et al., 'Frequent avoidable admissions amongst Aboriginal and non-Aboriginal people with chronic conditions in New South Wales, Australia: a historical cohort study', BMC HEALTH SERVICES RESEARCH, 20 (2020) [C1]
2020
Nepal S, Kypri K, Tekelab T, Hodder RK, Attia J, Bagade T, et al., 'Effects of extensions and restrictions in alcohol trading hours on the incidence of assault and unintentional injury: Systematic review', Journal of Studies on Alcohol and Drugs, 81 5-23 (2020) [C1]
2020
Levi CR, Attia JA, D'Este C, Ryan AE, Henskens F, Kerr E, et al., 'Cluster-Randomized Trial of Thrombolysis Implementation Support in Metropolitan and Regional Australian Stroke Centers: Lessons for Individual and Systems Behavior Change', JOURNAL OF THE AMERICAN HEART ASSOCIATION, 9 (2020) [C1]
2020
Puavilai T, Thadanipon K, Rattanasiri S, Ingsathit A, McEvoy M, Attia J, Thakkinstian A, 'Treatment efficacy for adult persistent immune thrombocytopenia: a systematic review and network meta-analysis', British Journal of Haematology, 188 450-459 (2020) [C1]

Persistent immune thrombocytopenia (ITP) patients require second-line treatments, for which information on clinical outcomes are lacking. A systematic review and network meta-anal... [more]

Persistent immune thrombocytopenia (ITP) patients require second-line treatments, for which information on clinical outcomes are lacking. A systematic review and network meta-analysis (NMA) were conducted. Only randomised controlled trials (RCT) of second-line drugs in adult persistent ITP patients with platelet response, platelet count, any bleeding or serious adverse events (SAE) outcome were eligible. Twelve RCTs (n¿=¿1313) were included in NMA. For platelet response outcome, eltrombopag and romiplostin were the best relative to placebo; the former had a non-significant advantage [risk ratio (RR)¿=¿1·10 (95% confidence interval: 0·46, 2·67)]. Both treatments were superior to rituximab and recombinant human thrombopoietin (rhTPO)+rituximab, with corresponding RRs of 4·56 (1·89, 10·96) and 4·18 (1·21, 14·49) for eltrombopag; 4·13 (1·56, 10·94) and 3·79 (1·02, 14·09) for romiplostim. For platelet count, romiplostim ranked highest, followed by eltrombopag, rhTPO+rituximab, and rituximab. For bleeding, rituximab had lowest risk, followed by eltrombopag and romiplostim. For SAEs, rhTPO+rituximab had highest risk, followed by rituximab, eltrombopag and romiplostim. From clustered ranking, romiplostim had the best balance between short-term efficacy and SAEs, followed by eltrombopag. In conclusion, romiplostim and eltrombopag may yield high efficacy and safety. Rituximab may not be beneficial due to lower efficacy and higher complications compared with the thrombopoietin receptor agonists. RCTs with long-term clinical outcomes are required.

2019
Jackson N, McGee M, Ahmed W, Davies A, Leitch J, Mills M, et al., 'Groin Haemostasis With a Purse String Suture for Patients Following Catheter Ablation Procedures (GITAR Study)', Heart Lung and Circulation, 28 777-783 (2019) [C1]

Background: The most frequent complications from percutaneous electrophysiology procedures relate to vascular access. We sought to perform the first randomised controlled trial fo... [more]

Background: The most frequent complications from percutaneous electrophysiology procedures relate to vascular access. We sought to perform the first randomised controlled trial for femoral venous haemostasis utilising a simple and novel purse string suture (PSS) technique. Methods: We randomised 200 consecutive patients who were referred for electrophysiology procedures at two different hospitals to either 10 minutes of manual pressure or a PSS over the femoral vein and determined the incidence of vascular access site complications. Results: The mean age was 61.8 ± 12.1 years and 138 (69%) were male. Bleeding requiring addition pressure or a FemStop (Abbott Laboratories, Abbott Park, IL, USA) for complete haemostasis occurred in 17/99 (17%) patients in the PSS arm and 19/101 (19%) patients in the manual pressure arm (p = 0.72). There were no cases of haematoma prolonging hospital stay, arterio-venous fistula, pseudoaneurysm or retroperitoneal bleeding. The mean duration to achieve haemostasis was 45 seconds in the PSS arm and 10 minutes 44 seconds in the manual pressure arm (p < 0.001). Pain/discomfort associated with haemostasis occurred in 15/99 (15%) patients in the PSS arm and in 29/101 (29%) patients receiving manual pressure (p = 0.03). Conclusions: In this randomised trial we demonstrate that an easy to perform PSS is as effective at achieving haemostasis as 10 minutes of manual pressure for catheter ablation procedures. The PSS is considerably faster to perform and is more comfortable for patients than manual pressure.

2019
McCrabb S, Baker AL, Attia J, Skelton E, Twyman L, Palazzi K, et al., 'Internet-based programs incorporating behavior change techniques are associated with increased smoking cessation in the general population: A systematic review and meta-analysis', Annals of Behavioral Medicine, 53 180-195 (2019) [C1]

Background and aims This study aims to (i) examine the effectiveness of internet-based smoking cessation programs; (ii) describe the number and type of behavior change techniques ... [more]

Background and aims This study aims to (i) examine the effectiveness of internet-based smoking cessation programs; (ii) describe the number and type of behavior change techniques (BCTs) employed; and (iii) explore whether BCTs included in internet-based smoking cessation programs are related to program effectiveness. Methods MEDLINE, CINAHL, EMBASE, PsycINFO, and CENTRAL databases were searched. Randomized controlled trials were included if they described the study of a smoking cessation program delivered via the internet; included current adult tobacco smokers from the general population; and were written in English. Random effects meta-analyses and meta-regressions were used to examine program effectiveness (pooled odds ratios, by outcome measure, i.e., 7 day point prevalence abstinence [PPA], 30 day PPA, other abstinence measure) in short- and long-term outcomes, and examine the associations between BCT number and type (individual BCTs and BCT domain) and program effectiveness. Results Results from 45 studies were included (n = 65,736). Intervention effectiveness was found in the short term for all outcome measures (OR = 1.29, 95% CI 1.12, 1.50, p = .001), for "prolonged abstinence" (OR = 1.43, 95% CI 1.09, 1.87, p = .009), and "30 day PPA" (OR = 1.75, 95% CI 1.13, 2.72, p = .013). Internet-based programs were effective in the long term for all outcome measures (OR = 1.19, 95% CI = 1.06, 1.35, p = .004) and for "prolonged abstinence" (OR = 1.40, 95% CI 1.19, 1.63, p < .001). On average, interventions used more BCTs than comparison groups (6.6 vs. 3.1, p = .0002). The impact of specific individual BCTs and BCT domains on effectiveness was examined and is reported. Conclusions Internet-based smoking cessation interventions increased the odds of cessation by 29 per cent in the short term and by 19 per cent in the long term. Internet-based smoking cessation intervention development should incorporate BCTs to increase effectiveness. Registration CRD42015014676.

2019
Denham JW, Joseph D, Lamb DS, Spry NA, Duchesne G, Matthews J, et al., 'Short-term androgen suppression and radiotherapy versus intermediate-term androgen suppression and radiotherapy, with or without zoledronic acid, in men with locally advanced prostate cancer (TROG 03.04 RADAR): 10-year results from a randomised, phase 3, factorial trial', The Lancet Oncology, 20 267-281 (2019) [C1]

Background: The optimal duration of androgen suppression for men with locally advanced prostate cancer receiving radiotherapy with curative intent is yet to be defined. Zoledronic... [more]

Background: The optimal duration of androgen suppression for men with locally advanced prostate cancer receiving radiotherapy with curative intent is yet to be defined. Zoledronic acid is effective in preventing androgen suppression-induced bone loss, but its role in preventing castration-sensitive bone metastases in locally advanced prostate cancer is unclear. The RADAR trial assessed whether the addition of 12 months of adjuvant androgen suppression, 18 months of zoledronic acid, or both, can improve outcomes in men with locally advanced prostate cancer who receive 6 months of androgen suppression and prostatic radiotherapy. This report presents 10-year outcomes from this trial. Methods: For this randomised, phase 3, 2 × 2 factorial trial, eligible men were 18 years or older with locally advanced prostate cancer (either T2b-4, N0 M0 tumours or T2a, N0 M0 tumours provided Gleason score was =7 and baseline prostate-specific antigen [PSA] concentration was =10 µg/L). We randomly allocated participants in a 2 × 2 factorial design by computer-generated randomisation (using the minimisation technique, and stratified by centre, baseline PSA concentration, clinical tumour stage, Gleason score, and use of a brachytherapy boost) in a 1:1:1:1 ratio to four treatment groups. Patients in the control group received 6 months of neoadjuvant androgen suppression with leuprorelin (22·5 mg every 3 months, intramuscularly) and radiotherapy alone (short-term androgen suppression [STAS]); this treatment was either followed by another 12 months of adjuvant androgen suppression with leuprorelin (22·5 mg every 3 months, intramuscularly; intermediate-term androgen suppression [ITAS]), or accompanied by 18 months of zoledronic acid (4 mg every 3 months, intravenously) starting at randomisation (STAS plus zoledronic acid), or both (ITAS plus zoledronic acid). All patients received radiotherapy to the prostate and seminal vesicles, starting from the end of the fifth month of androgen suppression; dosing options were 66, 70, and 74 Gy in 2-Gy fractions per day, or 46 Gy in 2-Gy fractions followed by a high-dose-rate brachytherapy boost dose of 19·5 Gy in 6·5-Gy fractions. Treatment allocation was open label. The primary endpoint was prostate cancer-specific mortality and was analysed according to intention-to-treat using competing-risks methods. The trial is closed to follow-up and this is the final report of the main endpoints. This trial is registered with ClinicalTrials.gov, number NCT00193856. Findings: Between Oct 20, 2003, and Aug 15, 2007, 1071 men were enrolled and randomly assigned to STAS (n=268), ITAS (n=268), STAS plus zoledronic acid (n=268), and ITAS plus zoledronic acid (n=267). Median follow-up was 10·4 years (IQR 7·9¿11·7). At this 10-year follow-up, no interactions were observed between androgen suppression and zoledronic acid so the treatment groups were collapsed to compare treatments according to duration of androgen suppression: 6 months of androgen suppression plus radiotherapy (6AS+RT) versus 18 months of androgen suppression plus radiotherapy (18AS+RT) and to compare treatments according to whether or not patients received zoledronic acid. The total number of deaths was 375 (200 men receiving 6AS+RT and 175 men receiving 18AS+RT), of which 143 (38%) were attributable to prostate cancer (81 men receiving 6AS+RT and 62 men receiving 18AS+RT). When analysed by duration of androgen suppression, the adjusted cumulative incidence of prostate cancer-specific mortality was 13·3% (95% CI 10·3¿16·0) for 6AS+RT versus 9·7% (7·3¿12·0) for 18AS+RT, representing an absolute difference of 3·7% (95% CI 0·3¿7·1; sub-hazard ratio [sHR] 0·70 [95% CI 0·50¿0·98], adjusted p=0·035). The addition of zoledronic acid did not affect prostate cancer-specific mortality; the adjusted cumulative incidence of prostate cancer-specific mortality was 11·2% (95% CI 8·7¿13·7) with zoledronic acid vs 11·7% (9·2¿14·1) without, representing an absolute difference o...

2019
Hure A, Palazzi K, Peel R, Geraghty D, Collard P, De Malmanche T, et al., 'Identifying low value pathology test ordering in hospitalised patients: a retrospective cohort study across two hospitals', Pathology, 51 621-627 (2019) [C1]
2019
Noorbergen TJ, Adam M, Attia JR, Cornforth D, Minichiello M, 'Exploring the design of mHealth systems for health behavior change using mobile biosensors', Communications of the Association for Information Systems, 44 944-981 (2019) [C1]
2019
Acharya S, Philcox AN, Parsons M, Suthers B, Luu J, Lynch M, et al., 'Hunter and new England diabetes alliance: Innovative and integrated diabetes care delivery in general practice', Australian Journal of Primary Health, 25 219-243 (2019) [C1]

Evidence-based standardised diabetes care is difficult to achieve in the community due to resource limitations, and lack of equitable access to specialist care leads to poor clini... [more]

Evidence-based standardised diabetes care is difficult to achieve in the community due to resource limitations, and lack of equitable access to specialist care leads to poor clinical outcomes. This study reports a quality improvement program in diabetes health care across a large health district challenged with significant rural and remote geography and limited specialist workforce. An integrated diabetes care model was implemented, linking specialist teams with primary care teams through capacity enhancing case-conferencing in general practice supported by comprehensive performance feedback with regular educational sessions. Initially, 20 practices were recruited and 456 patients were seen over 14 months, with significant improvements in clinical parameters. To date 80 practices, 307 general practitioners, 100 practice nurses and 1400 patients have participated in the Diabetes Alliance program and the program envisages enrolling 40 new practices per year, with a view to engage all 314 practices in the health district over time. Diabetes care in general practice appears suboptimal with significant variation in process measures. An integrated care model where specialist teams are engaged collaboratively with primary care teams in providing education, capacity enhancing case-conferences and performance monitoring may achieve improved health outcomes for people with diabetes.

2019
Limotai C, Ingsathit A, Thadanipon K, McEvoy M, Attia J, Thakkinstian A, 'How and Whom to Monitor for Seizures in an ICU: A Systematic Review and Meta-Analysis', Critical care medicine, 47 e366-e373 (2019) [C1]

OBJECTIVES: To pool prevalence of nonconvulsive seizure, nonconvulsive status epilepticus, and epileptiform activity detected by different electroencephalography types in critical... [more]

OBJECTIVES: To pool prevalence of nonconvulsive seizure, nonconvulsive status epilepticus, and epileptiform activity detected by different electroencephalography types in critically ills and to compare detection rates among them. DATA SOURCES: MEDLINE (via PubMed) and SCOPUS (via Scopus) STUDY SELECTION:: Any type of study was eligible if studies were done in adult critically ill, applied any type of electroencephalography, and reported seizure rates. Case reports and case series were excluded. DATA EXTRACTION: Data were extracted independently by two investigators. Separated pooling of prevalence of nonconvulsive seizure/nonconvulsive status epilepticus/epileptiform activity and odds ratio of detecting outcomes among different types of electroencephalography was performed using random-effect models. This meta-analysis followed the Preferred Reporting Items for Systematic Reviews and Meta-Analyses guidelines and also adhered to the Meta-analyses Of Observational Studies in Epidemiology guidelines. Quality of evidence was assessed with the Newcastle-Ottawa Quality Assessment Scale for observational studies and Cochrane methods for randomized controlled trial studies. DATA SYNTHESIS: A total of 78 (16,707 patients) and eight studies (4,894 patients) were eligible for pooling prevalence and odds ratios. For patients with mixed cause of admission, the pooled prevalence of nonconvulsive seizure, nonconvulsive status epilepticus, either nonconvulsive seizure or nonconvulsive status epilepticus detected by routine electroencephalography was 3.1%, 6.2%, and 6.3%, respectively. The corresponding prevalence detected by continuous electroencephalography monitoring was 17.9%, 9.1%, and 15.6%, respectively. In addition, the corresponding prevalence was high in post convulsive status epilepticus (33.5%, 20.2%, and 32.9%), CNS infection (23.9%, 18.1%, and 23.9%), and post cardiac arrest (20.0%, 17.3%, and 22.6%). The pooled conditional log odds ratios of nonconvulsive seizure/nonconvulsive status epilepticus detected by continuous electroencephalography versus routine electroencephalography from studies with paired data 2.57 (95% CI, 1.11-5.96) and pooled odds ratios from studies with independent data was 1.57 (95% CI, 1.00-2.47). CONCLUSIONS: Prevalence of seizures detected by continuous electroencephalography was significantly higher than with routine electroencephalography. Prevalence was particularly high in post convulsive status epilepticus, CNS infection, and post cardiac arrest.

2019
Najib N, Magin P, Lasserson D, Quain D, Attia J, Oldmeadow C, et al., 'Contemporary prognosis of transient ischemic attack patients: A systematic review and meta-analysis', International Journal of Stroke, 14 460-467 (2019) [C1]

Background: Transient ischemic attacks are common and place patients at risk of subsequent stroke. The 2007 EXPRESS and SOS-TIA studies demonstrated the efficacy of rapid treatmen... [more]

Background: Transient ischemic attacks are common and place patients at risk of subsequent stroke. The 2007 EXPRESS and SOS-TIA studies demonstrated the efficacy of rapid treatment initiation. We hypothesized that with these findings having informed subsequent transient ischemic attacks management protocols, transient ischemic attacks prognosis in contemporary (2008 and later) patient cohorts would be more favorable than in historical cohorts. Methods: A systematic review and meta-analysis of cohort studies and randomized control trial placebo-arms of transient ischemic attack (published 2008¿2015). The primary outcome was stroke. Secondary outcomes were mortality, transient ischemic attack, and myocardial infarction. Studies were excluded if the outcome of transient ischemic attack patients was not reported separately. The systematic review included all studies of transient ischemic attack. The meta-analysis excluded studies of restricted transient ischemic attack patient types (e.g. only patients with atrial fibrillation). The pooled cumulative risks of stroke recurrence were estimated from study-specific estimates at 2, 7, 30, and 90 days post-transient ischemic attack, using a multivariate Bayesian model. Results: We included 47 studies in the systematic review and 40 studies in the meta-analysis. In the systematic review (191,202 patients), stroke at 2 days was reported in 13/47 (27.7%) of studies, at 7 days in 20/47 (42.6%), at 30 days in 12/47 (25.5%), and at 90 days in 33/47 (70.2%). Studies included in the meta-analysis recruited 68,563 patients. The cumulative risk of stroke was 1.2% (95% credible interval (CI) 0.6¿2.2), 3.4% (95% CI 2.0¿5.5), 5.0% (95% CI 2.9¿8.9), and 7.4% (95% CI 4.3¿12.4) at 2, 7, 30, and 90 days post-transient ischemic attack, respectively. Conclusion: In contemporary settings, transient ischemic attack prognosis is more favorable than reported in historical cohorts where a meta-analysis suggests stroke risk of 3.1% at two days.

2019
Sprott P, Hibberd AD, Heer MK, Trevillian PR, Clark DA, Johnson DW, et al., 'Assessment of Restored Kidney Transplantation Including the Use of Wider Criteria for Accepting Renal Donors After Cancer Excision.', Transplantation direct, 5 (2019) [C1]
2019
Revelas M, Thalamuthu A, Oldmeadow C, Evans T-J, Armstrong NJ, Riveros C, et al., 'Exceptional Longevity and Polygenic Risk for Cardiovascular Health', GENES, 10 (2019) [C1]
2019
Nepal S, Kypri K, Attia J, Evans T-J, Chikritzhs T, Miller P, 'Effects of a Risk-Based Licensing Scheme on the Incidence of Alcohol-Related Assault in Queensland, Australia: A Quasi-Experimental Evaluation', INTERNATIONAL JOURNAL OF ENVIRONMENTAL RESEARCH AND PUBLIC HEALTH, 16 (2019) [C1]
2019
Sharmin S, Kypri K, Wadolowski M, Bruno R, Khanam M, Aiken A, et al., 'Parent hazardous drinking and their children's alcohol use in early and mid-adolescence: Prospective cohort study', European Journal of Public Health, 29 736-740 (2019) [C1]

Background: Why adolescents&apos; drinking is associated with their parents&apos; drinking remains unclear. We examined associations in a prospective cohort study, adjusting for s... [more]

Background: Why adolescents' drinking is associated with their parents' drinking remains unclear. We examined associations in a prospective cohort study, adjusting for socio-demographic characteristics and family factors. Methods: We recruited 1927 children from grade 7 classes (mean age 13 years), and one of their parents, in three Australian states, contacted participants annually from 2010 to 2014, and analysed data from assessments at ages 13, 14, 15 and 16 years. We used the Alcohol Use Disorders Identification Test-Consumption (AUDIT-C) subscale to identify hazardous drinking in parents (score =5) and children (score =3) and constructed mixed-effect logistic regression models, accounting for clustering within school and adjusting for likely confounders. We evaluated the sensitivity of estimates by imputing missing values assuming the data were missing at random vs. missing not at random. Results: Parent hazardous drinking predicted mid-adolescent hazardous drinking, e.g. 15 years olds whose parents [adjusted odds ratio (aOR) 2.00; 95% confidence interval 1.51-2.64] or parents' partners (aOR 1.94; 1.48-2.55) were hazardous drinkers had higher odds of being hazardous drinkers at age 16. The magnitude of univariate associations changed little after adjusting for covariates, and sensitivity analyses confirmed the robustness of the association, across a wide range of assumptions about the missing data. Conclusions: The associations between parents' and their adolescent children's hazardous drinking are unlikely to be due to confounding by socio-demographic and family factors. Parents should be encouraged, and supported by public policy, to reduce their own alcohol consumption in order to reduce their children's risk of becoming hazardous drinkers.

2019
Techapongsatorn S, Tansawet A, Kasetsermwiriya W, McEvoy M, Attia J, Wilasrusmee C, Thakkinstian A, 'Mesh fixation technique in totally extraperitoneal inguinal hernia repair A network meta-analysis', Surgeon, 17 215-224 (2019) [C1]

Laparoscopic totally extra-peritoneal inguinal hernia repair is the standard option for inguinal hernia treatment. However, there are various types of mesh fixation and their rela... [more]

Laparoscopic totally extra-peritoneal inguinal hernia repair is the standard option for inguinal hernia treatment. However, there are various types of mesh fixation and their relative uses are still controversial. This network meta-analysis was conducted to compare and rank the different fixations available for TEP. Medline and Scopus databases were search until February 1, 2017 and using randomized controlled trials comparing outcomes between different mesh fixation techniques were included. The results demonstrated that fifteen RCTs (n = 1783) were eligible for pooling. Five types of mesh fixation were used; metallic tack, no-fixation, absorbable tack, suture, and glue. Network meta-analysis that use metallic tack as the reference, indicated that suture and glue both carried a lower risk of recurrence with pooled risk ratios (RR) of 0.29 (95% CI 0.00, 18.81) and 0.29 (0.07, 1.30), respectively. For overall complications, absorbable tack had lower risk (0.63, 95% CI: 0.02, 16.13). However, none of these estimates reached statistical significance. So, this network meta-analysis suggests that glue and absorbable tack might be best in lowering recurrence risk and complications. However, a large scale RCT is still needed to confirm these results.

2019
Kable A, Fullerton A, Fraser S, Palazzi K, Hullick C, Oldmeadow C, et al., 'Comparison of Potentially Inappropriate Medications for People with Dementia at Admission and Discharge during An Unplanned Admission to Hospital: Results from the SMS Dementia Study.', Healthcare, 7 (2019) [C1]
2019
Larsson SC, Traylor M, Burgess S, Boncoraglio GB, Jern C, Michaëlsson K, et al., 'Serum magnesium and calcium levels in relation to ischemic stroke: Mendelian randomization study', Neurology, 92 E944-E950 (2019) [C1]

ObjectiveTo determine whether serum magnesium and calcium concentrations are causally associated with ischemic stroke or any of its subtypes using the mendelian randomization appr... [more]

ObjectiveTo determine whether serum magnesium and calcium concentrations are causally associated with ischemic stroke or any of its subtypes using the mendelian randomization approach.MethodsAnalyses were conducted using summary statistics data for 13 single-nucleotide polymorphisms robustly associated with serum magnesium (n = 6) or serum calcium (n = 7) concentrations. The corresponding data for ischemic stroke were obtained from the MEGASTROKE consortium (34,217 cases and 404,630 noncases).ResultsIn standard mendelian randomization analysis, the odds ratios for each 0.1 mmol/L (about 1 SD) increase in genetically predicted serum magnesium concentrations were 0.78 (95% confidence interval [CI] 0.69-0.89; p = 1.3 × 10-4) for all ischemic stroke, 0.63 (95% CI 0.50-0.80; p = 1.6 × 10-4) for cardioembolic stroke, and 0.60 (95% CI 0.44-0.82; p = 0.001) for large artery stroke; there was no association with small vessel stroke (odds ratio 0.90, 95% CI 0.67-1.20; p = 0.46). Only the association with cardioembolic stroke was robust in sensitivity analyses. There was no association of genetically predicted serum calcium concentrations with all ischemic stroke (per 0.5 mg/dL [about 1 SD] increase in serum calcium: odds ratio 1.03, 95% CI 0.88-1.21) or with any subtype.ConclusionsThis study found that genetically higher serum magnesium concentrations are associated with a reduced risk of cardioembolic stroke but found no significant association of genetically higher serum calcium concentrations with any ischemic stroke subtype.

2019
Rowe CW, Faulkner S, Paul JW, Tolosa JM, Gedye C, Bendinelli C, et al., 'The precursor for nerve growth factor (proNGF) is not a serum or biopsy-rinse biomarker for thyroid cancer diagnosis.', BMC endocrine disorders, 19 128 (2019) [C1]
2019
McCambridge J, Wilson A, Attia J, Weaver N, Kypri K, 'Randomized trial seeking to induce the Hawthorne effect found no evidence for any effect on self-reported alcohol consumption online', Journal of Clinical Epidemiology, 108 102-109 (2019) [C1]

Objective: We tested the hypothesis that participants who know the behavioral focus of a study and are thus aware that a particular behavior is being studied will modify that beha... [more]

Objective: We tested the hypothesis that participants who know the behavioral focus of a study and are thus aware that a particular behavior is being studied will modify that behavior, independently of any possible effect of assessment, thereby dismantling a Hawthorne effect into two putative components. Study Design and Setting: We undertook a three-arm individually randomized trial online among students: group A (control) were told they were completing a lifestyle survey; group B were told the focus of the survey was alcohol consumption; and group C additionally answered 20 questions on their alcohol use and its consequences before answering the same lifestyle questions as Groups A and B. Nondrinkers were excluded, and all groups were aware they would be followed up after 1 month. Results: Outcome data were obtained for 4,583 of 5,478 trial participants (84% follow-up rate). There were no differences between the three groups on primary (overall volume consumed) or secondary outcome measures (drinking frequency and amount per typical occasion) in the intervening 4 weeks. Conclusions: There is no evidence that any form of Hawthorne effect exists in relation to self-reported alcohol consumption online among university students in usual research practice. Attention to study contexts is warranted for investigating research participation effects.

2019
Angkananard T, Anothaisintawee T, Ingsathit A, McEvoy M, Silapat K, Attia J, et al., 'Mediation Effect of Neutrophil Lymphocyte Ratio on Cardiometabolic Risk Factors and Cardiovascular Events', SCIENTIFIC REPORTS, 9 (2019) [C1]
2019
Valdes-Marquez E, Parish S, Clarke R, Stari T, Worrall BB, Hopewell JC, et al., 'Relative effects of LDL-C on ischemic stroke and coronary disease A Mendelian randomization study', NEUROLOGY, 92 E1176-E1187 (2019) [C1]
2019
Marini S, Crawford K, Morotti A, Lee MJ, Pezzini A, Moomaw CJ, et al., 'Association of Apolipoprotein E With Intracerebral Hemorrhage Risk by Race/Ethnicity A Meta-analysis', JAMA NEUROLOGY, 76 480-491 (2019) [C1]
2019
Munnoch S-A, Cashman P, Peel R, Attia J, Hure A, Durrheim DN, 'Participant-Centered Online Active Surveillance for Adverse Events Following Vaccination in a Large Clinical Trial: Feasibility and Usability Study', JOURNAL OF MEDICAL INTERNET RESEARCH, 21 (2019) [C1]
2019
Peel R, Ren S, Hure A, Evans TJ, D'Este CA, Abhayaratna WP, et al., 'Evaluating recruitment strategies for AUSPICE, a large Australian community-based randomised controlled trial', Medical Journal of Australia, 210 409-415 (2019) [C1]

Objectives: To examine the effectiveness of different strategies for recruiting participants for a large Australian randomised controlled trial (RCT), the Australian Study for the... [more]

Objectives: To examine the effectiveness of different strategies for recruiting participants for a large Australian randomised controlled trial (RCT), the Australian Study for the Prevention through Immunisation of Cardiovascular Events (AUSPICE). Design, setting, participants: Men and women aged 55¿60 years with at least two cardiovascular risk factors (hypertension, hypercholesterolaemia, overweight/obesity) were recruited for a multicentre placebo-controlled RCT assessing the effectiveness of 23-valent pneumococcal polysaccharide vaccine (23vPPV) for preventing cardiovascular events. Methods: Invitations were mailed by the Australian Department of Human Services to people in the Medicare database aged 55¿60 years; reminders were sent 2 weeks later. Invitees could respond in hard copy or electronically. Direct recruitment was supplemented by asking invitees to extend the invitation to friends and family (snowball sampling) and by Facebook advertising. Main outcome: Proportions of invitees completing screening questionnaire and recruited for participation in the RCT. Results: 21¿526 of 154¿992 invited people (14%) responded by completing the screening questionnaire, of whom 4725 people were eligible and recruited for the study. Despite the minimal study burden (one questionnaire, one clinic visit), the overall participation rate was 3%, or an estimated 10% of eligible persons. Only 16% of eventual participants had responded within 2 weeks of the initial invitation letter (early responders); early and late responders did not differ in their demographic or medical characteristics. Socio-economic disadvantage did not markedly influence response rates. Facebook advertising and snowball sampling did not increase recruitment. Conclusions: Trial participation rates are low, and multiple concurrent methods are needed to maximise recruitment. Social media strategies may not be successful in older age groups. Trial registration: Australian New Zealand Clinical Trials Registry, ACTRN12615000536561.

2019
Doherty E, Wiggers J, Wolfenden L, Anderson AE, Crooks K, Tsang TW, et al., 'Antenatal care for alcohol consumption during pregnancy: Pregnant women's reported receipt of care and associated characteristics', BMC Pregnancy and Childbirth, 19 1-17 (2019) [C1]
2019
Paul C, D'Este C, Ryan A, Jayakody A, Attia J, Oldmeadow C, et al., 'Staff perspectives from Australian hospitals seeking to improve implementation of thrombolysis care for acute stroke', SAGE OPEN MEDICINE, 7 (2019) [C1]
2019
Schmidt AF, Holmes MV, Preiss D, Swerdlow DI, Denaxas S, Fatemifar G, et al., 'Phenome-wide association analysis of LDL-cholesterol lowering genetic variants in PCSK9', BMC CARDIOVASCULAR DISORDERS, 19 (2019) [C1]
2019
Campbell BCV, Ma H, Ringleb PA, Parsons MW, Churilov L, Bendszus M, et al., 'Extending thrombolysis to 4·5 9 h and wake-up stroke using perfusion imaging: a systematic review and meta-analysis of individual patient data', The Lancet, 394 139-147 (2019) [C1]

Background: Stroke thrombolysis with alteplase is currently recommended 0¿4·5 h after stroke onset. We aimed to determine whether perfusion imaging can identify patients with salv... [more]

Background: Stroke thrombolysis with alteplase is currently recommended 0¿4·5 h after stroke onset. We aimed to determine whether perfusion imaging can identify patients with salvageable brain tissue with symptoms 4·5 h or more from stroke onset or with symptoms on waking who might benefit from thrombolysis. Methods: In this systematic review and meta-analysis of individual patient data, we searched PubMed for randomised trials published in English between Jan 1, 2006, and March 1, 2019. We also reviewed the reference list of a previous systematic review of thrombolysis and searched ClinicalTrials.gov for interventional studies of ischaemic stroke. Studies of alteplase versus placebo in patients (aged =18 years) with ischaemic stroke treated more than 4·5 h after onset, or with wake-up stroke, who were imaged with perfusion-diffusion MRI or CT perfusion were eligible for inclusion. The primary outcome was excellent functional outcome (modified Rankin Scale [mRS] score 0¿1) at 3 months, adjusted for baseline age and clinical severity. Safety outcomes were death and symptomatic intracerebral haemorrhage. We calculated odds ratios, adjusted for baseline age and National Institutes of Health Stroke Scale score, using mixed-effects logistic regression models. This study is registered with PROSPERO, number CRD42019128036. Findings: We identified three trials that met eligibility criteria: EXTEND, ECASS4-EXTEND, and EPITHET. Of the 414 patients included in the three trials, 213 (51%) were assigned to receive alteplase and 201 (49%) were assigned to receive placebo. Overall, 211 patients in the alteplase group and 199 patients in the placebo group had mRS assessment data at 3 months and thus were included in the analysis of the primary outcome. 76 (36%) of 211 patients in the alteplase group and 58 (29%) of 199 patients in the placebo group had achieved excellent functional outcome at 3 months (adjusted odds ratio [OR] 1·86, 95% CI 1·15¿2·99, p=0·011). Symptomatic intracerebral haemorrhage was more common in the alteplase group than the placebo group (ten [5%] of 213 patients vs one [<1%] of 201 patients in the placebo group; adjusted OR 9·7, 95% CI 1·23¿76·55, p=0·031). 29 (14%) of 213 patients in the alteplase group and 18 (9%) of 201 patients in the placebo group died (adjusted OR 1·55, 0·81¿2·96, p=0·66). Interpretation: Patients with ischaemic stroke 4·5¿9 h from stroke onset or wake-up stroke with salvageable brain tissue who were treated with alteplase achieved better functional outcomes than did patients given placebo. The rate of symptomatic intracerebral haemorrhage was higher with alteplase, but this increase did not negate the overall net benefit of thrombolysis. Funding: None.

2019
Smith R, Mohapatra L, Hunter M, Evans TJ, Oldmeadow C, Holliday E, et al., 'A case for not adjusting birthweight customized standards for ethnicity: observations from a unique Australian cohort', American Journal of Obstetrics and Gynecology, 220 277.e1-277.e10 (2019) [C1]

Background: Low birthweight is more common in infants of indigenous (Aboriginal and/or Torres Strait Islander) than of White Australian mothers. Controversy exists on whether feta... [more]

Background: Low birthweight is more common in infants of indigenous (Aboriginal and/or Torres Strait Islander) than of White Australian mothers. Controversy exists on whether fetal growth is normally different in different populations. Objective: We sought to determine the relationships of birthweight, birthweight percentiles, and smoking with perinatal outcomes in indigenous vs nonindigenous infants to determine whether the White infant growth charts could be applied to indigenous infants. Study Design: Data were analyzed for indigenous status, maternal age and smoking, and perinatal outcomes in 45,754 singleton liveborn infants of at least 20 weeks gestation or 400 g birthweight delivered in New South Wales, Australia, between June 2010 and July 2015. Results: Indigenous infants (n=6372; 14%) had a mean birthweight 67 g lower than nonindigenous infants (P<.0001; with adjustment for infant sex and maternal body mass index). Indigenous mean birthweight percentile was 4.2 units lower (P<.0001). Adjustment for maternal age, smoking, body mass index, and infant sex reduced the difference in birthweight/percentiles to nonsignificance (12 g; P=.07). Conclusion: Disparities exist between indigenous and non-indigenous Australian infants for birthweight, birthweight percentile, and adverse outcome rates. Adjustment for smoking and maternal age removed any significant difference in birthweights and birthweight percentiles for indigenous infants. Our data indicate that birthweight percentiles should not be adjusted for indigenous ethnicity because this normalizes disadvantage; because White and indigenous Australians have diverged for approximately 50,000 years, it is likely that the same conclusions apply to other ethnic groups. The disparities in birthweight percentiles that are associated with smoking will likely perpetuate indigenous disadvantage into the future because low birthweight is linked to the development of chronic noncommunicable disease and poorer educational attainment; similar problems may affect other indigenous populations.

2019
Thadanipon K, Anothaisintawee T, Rattanasiri S, Thakkinstian A, Attia J, 'Efficacy and safety of antiscabietic agents: A systematic review and network meta-analysis of randomized controlled trials', Journal of the American Academy of Dermatology, 80 1435-1444 (2019) [C1]

Background: Many drugs have been used to treat scabies, but it is unclear which of them is the most efficacious. Objective: To evaluate the comparative efficacy and safety of anti... [more]

Background: Many drugs have been used to treat scabies, but it is unclear which of them is the most efficacious. Objective: To evaluate the comparative efficacy and safety of antiscabietic agents. Methods: A systematic review of randomized controlled trials was conducted. Direct and network meta-analyses were applied to 13 antiscabietic agents on 3 outcomes (cure, persistent itching, and adverse events). Their probability of having highest efficacy and safety was estimated and ranked. Results: A network meta-analysis of 52 trials including 9917 patients indicated that permethrin (the reference treatment) had a significantly higher cure rate than sulfur, malathion, lindane, crotamiton, and benzyl benzoate. Combination permethrin plus oral ivermectin had a nonsignificantly higher cure rate than permethrin. Combination permethrin plus oral ivermectin was ranked highest in terms of cure, topical ivermectin in terms of persistent itching, and synergized pyrethrins in terms of adverse events. On the basis of clustered ranking, permethrin, oral ivermectin, and synergized pyrethrins seemed to retain balance between cure and adverse events. Limitations: There are small numbers of trials and patients in some comparisons and a high risk of bias in some trials. Conclusion: There is no 1 treatment that ranked highest in all aspects. Physicians should consider the drug's efficacy and safety profiles, along with ease of administration.

2019
Burgess A, Goon K, Brannan JD, Attia J, Palazzi K, Oldmeadow C, et al., 'Eligibility for anti-fibrotic treatment in idiopathic pulmonary fibrosis depends on the predictive equation used for pulmonary function testing', Respirology, 24 988-995 (2019) [C1]

Background and objective: Publicly funded therapy for idiopathic pulmonary fibrosis (IPF) relies on percentage predicted values from pulmonary function testing, for example Austra... [more]

Background and objective: Publicly funded therapy for idiopathic pulmonary fibrosis (IPF) relies on percentage predicted values from pulmonary function testing, for example Australian patients must have a forced vital capacity =50% (%FVC), transfer factor of the lung for carbon monoxide = 30% (%TLco) and forced expiratory volume in 1 s (FEV1)/FVC ratio > 0.7. Despite defined cut-off values, no jurisdiction prescribes a reference equation for use; multiple equations exist. We hypothesized that access to subsidized treatment varies depending on the chosen equation. The %FVC and %TLco from different commonly used reference equations across general respiratory patients, and IPF-specific patients, were compared. Methods: FVC and TLco measurements from a large general respiratory laboratory and the Australian Idiopathic Pulmonary Fibrosis Registry (AIPFR) database were analysed using multiple equations. Differences between %FVC and %TLco for each equation were calculated, with particular interest in classification of patients (%) at the threshold for subsidized treatment. Results: A total of 20 378 general respiratory database results were analysed. The %FVC = 50% increased from 86% with the Roca equation to 96% with Quanjer (European Coal and Steal Community, ECSC) and %TLco=30% increased from 91% with Paoletti to 98% with Thompson. However, overall increase in eligibility for subsidized treatment was modest, varying from 48.2% to 49.2%. A total of 545 AIPFR database results were analysed. The %FVC = 50% increased from 73% with Roca to 94% with Quanjer (ECSC) and %TLco=30% increased from 87% with Paoletti to 96% with Miller. Overall eligibility for subsidized treatment in the AIPFR group varied from 73.6% to 82.8% between surveyed interstitial lung disease (ILD) centres based entirely on the equation used. Conclusion: Substantial variability exists between reference equations, impacting access to subsidized treatment. Treating clinicians should be aware of this when assessing patients around public funding thresholds.

2019
Wong MWK, Braidy N, Pickford R, Vafaee F, Crawford J, Muenchhoff J, et al., 'Plasma lipidome variation during the second half of the human lifespan is associated with age and sex but minimally with BMI', PLOS ONE, 14 (2019) [C1]
2019
Karlsson Linnér R, Biroli P, Kong E, Meddens SFW, Wedow R, Fontana MA, et al., 'Genome-wide association analyses of risk tolerance and risky behaviors in over 1 million individuals identify hundreds of loci and shared genetic influences', Nature Genetics, 51 245-257 (2019) [C1]

Humans vary substantially in their willingness to take risks. In a combined sample of over 1 million individuals, we conducted genome-wide association studies (GWAS) of general ri... [more]

Humans vary substantially in their willingness to take risks. In a combined sample of over 1 million individuals, we conducted genome-wide association studies (GWAS) of general risk tolerance, adventurousness, and risky behaviors in the driving, drinking, smoking, and sexual domains. Across all GWAS, we identified hundreds of associated loci, including 99 loci associated with general risk tolerance. We report evidence of substantial shared genetic influences across risk tolerance and the risky behaviors: 46 of the 99 general risk tolerance loci contain a lead SNP for at least one of our other GWAS, and general risk tolerance is genetically correlated (|r^ g| ~ 0.25 to 0.50) with a range of risky behaviors. Bioinformatics analyses imply that genes near SNPs associated with general risk tolerance are highly expressed in brain tissues and point to a role for glutamatergic and GABAergic neurotransmission. We found no evidence of enrichment for genes previously hypothesized to relate to risk tolerance.

2019
Nepal S, Kypri K, Attia J, Chikritzhs T, Miller PG, 'Indicators for estimating trends in alcohol-related assault: Evaluation using police data from Queensland, Australia', Injury Prevention, 25 444-447 (2019) [C1]

Monitoring levels of alcohol-related harm in populations requires indicators that are robust to extraneous influence. We investigated the validity of an indicator for police-attri... [more]

Monitoring levels of alcohol-related harm in populations requires indicators that are robust to extraneous influence. We investigated the validity of an indicator for police-attributed alcohol-related assault. We summarized offence records from Queensland Police, investigated patterns of missing data, and considered the utility of a surrogate for alcohol-related assault. Of 242 107 assaults from 2004-2014, in 35% of cases the drug used by the offender was recorded as a ¿ unknown'. Under various assumptions about non-random missingness the proportion of assaults judged to be alcohol-related varied from 30%-65%. We found a sharp increase in missing data from 2007 suggesting the downward trend from that point is artefactual. Conversely, we found a stable and increasing trend using a time-based surrogate. The volume of missing data and other limitations preclude valid estimation of trends using the police indicator, and demonstrate how misleading results can be produced. Our analysis supports the use of an empirically-based surrogate indicator.

2019
Hasnain MG, Levi CR, Ryan A, Hubbard IJ, Hall A, Oldmeadow C, et al., 'Can a multicomponent multidisciplinary implementation package change physicians' and nurses' perceptions and practices regarding thrombolysis for acute ischemic stroke? An exploratory analysis of a cluster-randomized trial', IMPLEMENTATION SCIENCE, 14 (2019) [C1]
2019
Hasnain MG, Paul CL, Attia JR, Ryan A, Kerr E, D'Este C, et al., 'Door-to-needle time for thrombolysis: a secondary analysis of the TIPS cluster randomised controlled trial', BMJ open, 9 (2019) [C1]
2019
Atiksawedparit P, Rattanasiri S, Sittichanbuncha Y, McEvoy M, Suriyawongpaisal P, Attia J, Thakkinstian A, 'Prehospital prediction of severe injury in road traffic injuries: A multicenter cross-sectional study', Injury, 50 1499-1506 (2019) [C1]

Background: To develop and validate a risk stratification model of severe injury (SI) and death to identify and prioritize road traffic injury (RTI) patients for transportation to... [more]

Background: To develop and validate a risk stratification model of severe injury (SI) and death to identify and prioritize road traffic injury (RTI) patients for transportation to an appropriate trauma center (TC). Methods: A 2-phase multicenter-cross-sectional study with prospective data collection was collaboratively conducted using 9 dispatch centers (DC) across Thailand. Among the 9 included DC, 7 and 2 DCs were used for development and validation, respectively. RTI patients who were treated and transported to hospitals by advanced life support (ALS) response units were enrolled. Multiple logistic regression was used to derive risk prediction score of death in 48 h and SI (new injury severity score = 16). Calibration/discrimination performances were explored. Results: A total of 5359 and 2097 RTIs were used for development and external validation, respectively. Seven and 9 predictors among demographic data, mechanism of injury, physic data, EMS operation, and prehospital managements were significant predictors of death and SI, respectively. Risk prediction models fitted well with the developed data (O/E ratios of 1.00 (IQR: 0.69, 1.01) and 0.99 (IQR: 0.95, 1.05) for death and SI, respectively); and the C statistics of 0.966 (0.961, 0.972) and 0.913 (0.905, 0.922). The risk scores were further stratified as low, moderate and high risk. The derive models did not fit well with external data but they were improved after recalibrating the intercepts. However, the model was externally good/excellent discriminated with C statistics from 0.896 (0.871, 0.922) to 0.981 (0.971, 0.991). Conclusion: Risk prediction models of death and SI were developed with good calibration and excellent discrimination. The model should be useful for ALS response units in proper allocation of patients.

2019
Lertpimonchai A, Rattanasiri S, Tamsailom S, Champaiboon C, Ingsathit A, Kitiyakara C, et al., 'Periodontitis as the risk factor of chronic kidney disease: Mediation analysis', Journal of Clinical Periodontology, 46 631-639 (2019) [C1]

Aim: To determine sequences and magnitude of causality among periodontitis, diabetes and chronic kidney disease (CKD) by mediation analysis. Methods: Ten-year-data were retrieved ... [more]

Aim: To determine sequences and magnitude of causality among periodontitis, diabetes and chronic kidney disease (CKD) by mediation analysis. Methods: Ten-year-data were retrieved from the Electric Generation Authority of Thailand (EGAT) study. A cohort of 2,635 subjects was identified with no CKD at baseline. The interested outcome was CKD incidence defined as glomerular filtration rate <60¿ml/min/1.73¿m2. The percentage of proximal sites with clinical attachment loss =5¿mm was used to represent periodontitis. Mediation analysis with 1,000-replication bootstrapping was applied to two causal diagrams, diagram A (Periodontitis¿¿¿Diabetes ¿ CKD) and diagram B (Diabetes¿¿¿Periodontitis ¿ CKD). Results: The cumulative incidence of CKD was 10.3 cases per 100 persons during 10-year period. In diagram A, each increasing percentage of proximal sites with severe periodontitis increased the adjusted odds ratio of CKD 1.010 (95% CI: 1.005, 1.015) and 1.007 (95% CI: 1.004, 1.013), by direct and indirect effect through diabetes, respectively. In diagram B, diabetes increased the odds of CKD twofold, with 6.5% of this effect mediated via periodontitis. Conclusions: Periodontitis had significant direct effect, and indirect effect through diabetes, on the incidence of CKD. Awareness about systemic morbidities from periodontitis should be emphasized.

2019
McCrabb S, Baker AL, Attia J, Balogh ZJ, Lott N, Palazzi K, et al., 'Comorbid tobacco and other substance use and symptoms of anxiety and depression among hospitalised orthopaedic trauma patients', BMC PSYCHIATRY, 19 (2019) [C1]
2019
Wong MWK, Braidy N, Crawford J, Pickford R, Song F, Mather KA, et al., 'APOE Genotype Differentially Modulates Plasma Lipids in Healthy Older Individuals, with Relevance to Brain Health', Journal of Alzheimer's Disease, 72 703-716 (2019) [C1]

Apolipoprotein E (APOE) genotype is an established genetic risk factor for sporadic Alzheimer&apos;s disease (AD) but the extent to which APOE genotype influences the plasma lipid... [more]

Apolipoprotein E (APOE) genotype is an established genetic risk factor for sporadic Alzheimer's disease (AD) but the extent to which APOE genotype influences the plasma lipidome is unknown, even though lipids are potential diagnostic or prognostic biomarkers for AD. We quantified plasma lipids using untargeted liquid chromatography coupled mass spectrometry in a total of 152 non-demented participants aged 65-100 years carrying at least one ¿2 or ¿4 allele (¿2/¿2 or ¿2/¿3, n¿=¿38: ¿4/¿3 or ¿4/¿4, n¿=¿38), who were roughly matched to an ¿3/¿3 control by age, sex, and lipid-lowering medication (n¿=¿76). Low density lipoprotein cholesterol levels were genotype dependent (¿4/¿4> ¿4/¿3> ¿3/¿3> ¿2/¿3> ¿2/¿2). The greatest variation in lipids was related to the ¿2 isoform, where various lysophosphatidylcholines and all phosphatidylethanolamine (PE) subclasses were elevated relative to ¿3/¿3 and ¿4 carriers. APOE ¿4 carriers had reduced phosphatidylinositol relative to ¿3/¿3 and ¿2 carriers. Logistic regression revealed that ¿2 carriers were at least 4 times higher odds of being in the highest tertile of PE lipid level relative to ¿3/¿3. The elevation in PE and other phospholipids in ¿2 carriers may indicate the protective effect of ¿2 is linked to these phospholipids. Additionally, high baseline PE in cognitively normal participants predicted protection against cognitive decline six years later. Our data suggest substantial modulation of plasma lipids by APOE genotype and therefore indicates possible lipid targets and pathomechanisms involved in AD risk.

2019
Giri A, Hellwege JN, Keaton JM, Park J, Qiu C, Warren HR, et al., 'Trans-ethnic association study of blood pressure determinants in over 750,000 individuals', Nature Genetics, 51 51-62 (2019) [C1]

In this trans-ethnic multi-omic study, we reinterpret the genetic architecture of blood pressure to identify genes, tissues, phenomes and medication contexts of blood pressure hom... [more]

In this trans-ethnic multi-omic study, we reinterpret the genetic architecture of blood pressure to identify genes, tissues, phenomes and medication contexts of blood pressure homeostasis. We discovered 208 novel common blood pressure SNPs and 53 rare variants in genome-wide association studies of systolic, diastolic and pulse pressure in up to 776,078 participants from the Million Veteran Program (MVP) and collaborating studies, with analysis of the blood pressure clinical phenome in MVP. Our transcriptome-wide association study detected 4,043 blood pressure associations with genetically predicted gene expression of 840 genes in 45 tissues, and mouse renal single-cell RNA sequencing identified upregulated blood pressure genes in kidney tubule cells.

2019
Poprom N, Numthavaj P, Wilasrusmee C, Rattanasiri S, Attia J, McEvoy M, Thakkinstian A, 'The efficacy of antibiotic treatment versus surgical treatment of uncomplicated acute appendicitis: Systematic review and network meta-analysis of randomized controlled trial', American Journal of Surgery, 218 192-200 (2019) [C1]

Background: The efficacy of antibiotics in appendicitis remains controversial, and physicians are not confident in prescribing antibiotics as the first line treatment. This networ... [more]

Background: The efficacy of antibiotics in appendicitis remains controversial, and physicians are not confident in prescribing antibiotics as the first line treatment. This network meta-analysis was conducted to assess the efficacy and safety of individual antibiotics in uncomplicated appendicitis. Methods: Randomized controlled trials (RCTs) were identified from MEDLINE and SCOPUS databases since inception to July 2017. Studies. Network meta-analysis was applied to estimate treatment effects and safety. Probability of being the best treatment was estimated using surface under the cumulative ranking curve (SUCRA). Results: Among 9 RCTs meeting our inclusion criteria. A network meta-analysis indicated that those receiving antibiotics had about 12¿32% lower chance of treatment success and lower risk of complication about 23¿86%, especially Beta-lactamase than appendectomy. The overall appendicitis recurrence rate in the antibiotic group was about 18.2%. The SUCRA indicated that appendectomy was ranked first for treatment success and least complications, followed by Beta-lactamase. Conclusions: Appendectomy is still the most effective treatment in uncomplicated appendicitis but it carries complications. Beta-lactamase, might be an alternative treatment if there are any contraindications for operation.

2019
Robijn AL, Jensen ME, Gibson PG, Powell H, Giles WB, Clifton VL, et al., 'Trends in asthma self-management skills and inhaled corticosteroid use during pregnancy and postpartum from 2004 to 2017.', The Journal of asthma : official journal of the Association for the Care of Asthma, 56 594-602 (2019) [C1]
2019
Kable A, Pond D, Hullick C, Chenoweth L, Duggan A, Attia J, Oldmeadow C, 'An evaluation of discharge documentation for people with dementia discharged home from hospital A cross-sectional pilot study', Dementia, 18 1764-1776 (2019) [C1]

This study evaluated discharge documentation for people with dementia who were discharged home, against expected discharge criteria and determined relationships between compliance... [more]

This study evaluated discharge documentation for people with dementia who were discharged home, against expected discharge criteria and determined relationships between compliance scores and outcomes. This cross-sectional study audited discharge documentation and conducted a post discharge survey of carers. There were 73 eligible discharges and clinically significant documentation deficits for people with dementia included: risk assessments of confusion (48%), falls and pressure injury (56%); provision of medication dose-decision aids (53%), provision of contact information for patient support groups (6%) and advance care planning (9%). There was no significant relationship between compliance scores and outcomes. Carer strain was reported to be high for many carers. People with dementia and their carers are more vulnerable and at higher risk of poor outcomes after discharge. There are opportunities for improved provision of medications and risk assessment for people with dementia, provision of information for patient support groups and advanced care planning.

2019
Wolfenden L, Bolsewicz K, Grady A, McCrabb S, Kingsland M, Wiggers J, et al., 'Optimisation: Defining and exploring a concept to enhance the impact of public health initiatives', Health Research Policy and Systems, 17 (2019) [C1]
2018
Brieger D, Amerena J, Attia J, Bajorek B, Chan KH, Connell C, et al., 'National Heart Foundation of Australia and the Cardiac Society of Australia and New Zealand: Australian Clinical Guidelines for the Diagnosis and Management of Atrial Fibrillation 2018', Heart Lung and Circulation, 27 1209-1266 (2018) [C1]
2018
Major GAC, Ling R, Searles A, Niddrie F, Kelly A, Holliday E, et al., 'The Costs of Confronting Osteoporosis: Cost Study of an Australian Fracture Liaison Service', Journal of Bone and Mineral Research Plus, 3 56-63 (2018)
2018
Hullick C, Conway J, Higgins I, Hewitt J, Stewart B, Dilworth S, Attia J, 'An assistant workforce to improve screening rates and quality of care for older patients in the emergency department: findings of a pre- post, mixed methods study.', BMC geriatrics, 18 126 (2018) [C1]
2018
O'Mara TA, Glubb DM, Amant F, Annibali D, Ashton K, Attia J, et al., 'Identification of nine new susceptibility loci for endometrial cancer', NATURE COMMUNICATIONS, 9 (2018) [C1]
2018
Johnson NA, Kypri K, Latter J, Dunlop A, Brown A, Saitz R, et al., 'Effect of electronic brief intervention on uptake of specialty treatment in hospital outpatients with likely alcohol dependence: Pilot randomized trial and qualitative interviews.', Drug and alcohol dependence, 183 253-260 (2018) [C1]
2018
Siribumrungwong B, Chantip A, Noorit P, Wilasrusmee C, Ungpinitpong W, Chotiya P, et al., 'Comparison of Superficial Surgical Site Infection Between Delayed Primary Versus Primary Wound Closure in Complicated Appendicitis: A Randomized Controlled Trial.', Annals of surgery, 267 631-637 (2018) [C1]
2018
Barnett AG, Oldmeadow C, Attia JR, 'Survival studies: Competing risks, immortality and censoring', Medical Journal of Australia, 208 (2018) [C1]
2018
Iseme RA, McEvoy M, Kelly B, Agnew L, Walker FR, Boyle M, Attia J, 'A cross-sectional study of the association between autoantibodies and qualitative ultrasound index of bone in an elderly sample without clinical autoimmune disease', Journal of Immunology Research, 2018 (2018) [C1]
2018
Thibault P, Attia J, Oldmeadow C, 'A prolonged antibiotic protocol to treat persistent Chlamydophila pneumoniae infection improves the extracranial venous circulation in multiple sclerosis', Phlebology, 33 397-406 (2018) [C1]

Objective: Chronic cerebrospinal venous insufficiency (CCSVI) is a condition associated with multiple sclerosis (MS). One mechanism that has been proposed is that the venous obstr... [more]

Objective: Chronic cerebrospinal venous insufficiency (CCSVI) is a condition associated with multiple sclerosis (MS). One mechanism that has been proposed is that the venous obstructions found in MS are due to a chronic persistent venulitis caused by the intra-cellular bacterial parasite, Chlamydophila pneumoniae (Cpn). The objective of the current study is to determine the effect of a combined antibiotic protocol (CAP) on the venous flow in MS patients as measured by a quantitative duplex ultrasound examination (QDUS). Method: A non-randomised before-after cohort study was conducted to investigate differences in blood flow volumes pre and 6-months post antibiotic treatment for Cpn infection. Flow volume data were measured by QDUS across affected and unaffected sides from multiple veins segments, including internal jugular vein (IJV) segments J2 and J3, and vertebral vein (VV), as well as global arterial blood flow (GABF). Results: 91 patients were included in the study. 64 (70%) were found to have positive Cpn serology. There was a statistically significant post-treatment difference seen for the affected side of Cpn infected patients (mean difference = 56 mL/min, p = 0.02). There was a non-significant increase seen for the affected side of uninfected patients (mean difference = 23 mL/min, p = 0.2). The difference in these effects (34 mL/min) was not statistically significant (p = 0.3). The mean flow rate decreased in the unaffected side for both infected (-27 mL/min, p = 0.5) and uninfected patients (-69 mL/min, p = 0.01). There was a statistically significant post-treatment increase in GABF for the infected patients (mean difference = 90 mL/min, p = 0.02) and a difference of 76 mL/min for non-infected patients (p = 0.01). Conclusion: A CAP appears to improve the extra-cranial circulation in patients diagnosed with MS. This effect is statistically significant in patients with positive Cpn serology, although patients with negative Cpn serology also show some benefit, betraying a lack of specificity of this effect.

2018
Lee JJ, Wedow R, Okbay A, Kong E, Maghzian O, Zacher M, et al., 'Gene discovery and polygenic prediction from a genome-wide association study of educational attainment in 1.1 million individuals', Nature Genetics, 50 1112-1121 (2018) [C1]

Here we conducted a large-scale genetic association analysis of educational attainment in a sample of approximately 1.1 million individuals and identify 1,271 independent genome-w... [more]

Here we conducted a large-scale genetic association analysis of educational attainment in a sample of approximately 1.1 million individuals and identify 1,271 independent genome-wide-significant SNPs. For the SNPs taken together, we found evidence of heterogeneous effects across environments. The SNPs implicate genes involved in brain-development processes and neuron-to-neuron communication. In a separate analysis of the X chromosome, we identify 10 independent genome-wide-significant SNPs and estimate a SNP heritability of around 0.3% in both men and women, consistent with partial dosage compensation. A joint (multi-phenotype) analysis of educational attainment and three related cognitive phenotypes generates polygenic scores that explain 11¿13% of the variance in educational attainment and 7¿10% of the variance in cognitive performance. This prediction accuracy substantially increases the utility of polygenic scores as tools in research.

2018
Deeming S, Reeves P, Ramanathan S, Attia J, Nilsson M, Searles A, 'Measuring research impact in medical research institutes: a qualitative study of the attitudes and opinions of Australian medical research institutes towards research impact assessment frameworks.', Health research policy and systems, 16 28 (2018) [C1]
2018
Milton AH, Attia J, Alauddin M, McEvoy M, McElduff P, Hussain S, et al., 'Assessment of nutritional status of infants living in arsenic-contaminated areas in Bangladesh and its association with arsenic exposure', International Journal of Environmental Research and Public Health, 15 (2018) [C1]
2018
Yoong SL, Stockings E, Chai LK, Tzelepis F, Wiggers J, Oldmeadow C, et al., 'Prevalence of electronic nicotine delivery systems (ENDS) use among youth globally: A systematic review and meta-analysis of country level data', Australian and New Zealand Journal of Public Health, 42 303-308 (2018) [C1]

Objective: To describe the prevalence and change in prevalence of electronic nicotine delivery systems (ENDS) use in youth by country and combustible smoking status. Methods: Data... [more]

Objective: To describe the prevalence and change in prevalence of electronic nicotine delivery systems (ENDS) use in youth by country and combustible smoking status. Methods: Databases and the grey literature were systematically searched to December 2015. Studies describing the prevalence of ENDS use in the general population aged =20 years in a defined geographical region were included. Where multiple estimates were available within countries, prevalence estimates of ENDS use were pooled for each country separately. Results: Data from 27 publications (36 surveys) from 13 countries were included. The prevalence of ENDS ever use in 2013¿2015 among youth were highest in Poland (62.1%; 95%CI: 59.9-64.2%), and lowest in Italy (5.9%; 95%CI: 3.3-9.2%). Among non-smoking youth, the prevalence of ENDS ever use in 2013¿2015 varied, ranging from 4.2% (95%CI: 3.8-4.6%) in the US to 14.0% in New Zealand (95%CI: 12.7-15.4%). The prevalence of ENDS ever use among current tobacco smoking youth was the highest in Canada (71.9%, 95%CI: 70.9-72.8%) and lowest in Italy (29.9%, 95%CI: 18.5-42.5%). Between 2008 and 2015, ENDS ever use among youth increased in Poland, Korea, New Zealand and the US; decreased in Italy and Canada; and remained stable in the UK. Conclusions: There is considerable heterogeneity in ENDS use among youth globally across countries and also between current smokers and non-smokers. Implications for public health: Population-level survey data on ENDS use is needed to inform public health policy and messaging globally.

2018
Al-Omary MS, Davies AJ, Evans TJ, Bastian B, Fletcher PJ, Attia J, Boyle AJ, 'Mortality and Readmission Following Hospitalisation for Heart Failure in Australia: A Systematic Review and Meta-Analysis', Heart Lung and Circulation, 27 917-927 (2018) [C1]

Background: Heart failure (HF) is a common, costly condition with an increasing burden on Australian health care system resources. Knowledge of the burden of HF on patients and on... [more]

Background: Heart failure (HF) is a common, costly condition with an increasing burden on Australian health care system resources. Knowledge of the burden of HF on patients and on the health system is important for resource allocation. This study is the first systematic review to estimate the mortality and readmission rates after hospitalisation for HF in the Australian population. Methods: We searched for studies of HF hospitalisation in Australia published between January 1990 and May 2016, using a systematic search of PubMed, Medline, Scopus, Web of Science, EMBASE and Cochrane Library databases. Studies reporting 30-day and/or 1-year outcomes for mortality or readmission following hospitalisation were eligible and included in this study. Results: Out of 2889 articles matching the initial search criteria, a total of 13 studies representing 67,255 patients were included in the final analysis. The pooled mean age of heart failure patients was 76.3 years and 51% were male (n = 34,271). The pooled estimated 30-day and 1-year all-cause mortality were 8% and 25% respectively. The pooled estimated 30-day and 1-year all-cause readmission rates were 20% and 56% respectively. There is a high prevalence of comorbidities in heart failure patients. There were limited data on readmission and mortality in rural patients and Indigenous people. Conclusions: Heart failure hospitalisations in Australia are followed by substantial readmission and mortality rates.

2018
Ho E, Doherty M, Thomas R, Attia J, Oldmeadow C, Clapham M, 'Prescription of opioids to post-operative orthopaedic patients at time of discharge from hospital: A prospective observational study', Scandinavian Journal of Pain, 18 253-259 (2018) [C1]

Excessive opioid prescribing can lead to adverse consequences including stockpiling, misuse, dependency, diversion and mortality. Increased prescriptions to post-operative inpatie... [more]

Excessive opioid prescribing can lead to adverse consequences including stockpiling, misuse, dependency, diversion and mortality. Increased prescriptions to post-operative inpatients as part of their discharge planning may be a significant contributor. Primary aims included comparing the amount of opioids prescribed, consumed, left unused and their relationship with pain and functionality. A total of 132 consecutive patients who underwent elective orthopaedic surgery were prospectively audited. Daily oral morphine equivalent (DME) of opioids prescribed was compared with opioids consumed and amount left unused 7-10 days after discharge. For analysis, patients were split into three groups: total knee replacement (TKR), hand surgery (Hands), and miscellaneous (Misc). The mean dose of opioid prescribed per patient was 108.5 mg DME. TKR consumed 33-35% more opioids than Misc (p=0.0283) and Hands (p=0.0975). Age was a significant independent factor for opioid consumption in the 50th and 75th percentiles of Hands (p=0.05). An average of 36 mg DME per patient was left unused with Hands having the highest median DME (37 mg) unused. In the total cohort, 26% of patients were discharged with more DME than their last 24 h as an inpatient and had at least 50% of their tablets left unused at follow-up. Over-prescription of opioids occurs at discharge which can increase the risk of harm. New intervention is needed to optimise prescribing practises. Changes to prescribing habits and workplace culture are required to minimise unnecessary opioid prescribing but will be challenging to implement. A multi-layered approach of electronic prescribing, opioid stewardship and targeted educational awareness programmes is recommended.

2018
Malik R, Chauhan G, Traylor M, Sargurupremraj M, Okada Y, Mishra A, et al., 'Multiancestry genome-wide association study of 520,000 subjects identifies 32 loci associated with stroke and stroke subtypes', Nature Genetics, 50 524-537 (2018) [C1]
2018
Milton AH, Vashum KP, McEvoy M, Hussain S, McElduff P, Byles J, Attia J, 'Prospective Study of Dietary Zinc Intake and Risk of Cardiovascular Disease in Women', NUTRIENTS, 10 (2018) [C1]
2018
Angkananard T, Anothaisintawee T, McEvoy M, Attia J, Thakkinstian A, 'Neutrophil Lymphocyte Ratio and Cardiovascular Disease Risk: A Systematic Review and Meta-Analysis', BIOMED RESEARCH INTERNATIONAL, 2018 (2018) [C1]
2018
Morten M, Collison A, Murphy VE, Barker D, Oldmeadow C, Attia J, et al., 'Managing Asthma in Pregnancy (MAP) trial: FENO levels and childhood asthma', Journal of Allergy and Clinical Immunology, 142 1765-1772.e4 (2018) [C1]

Background: The single-center double-blind, randomized controlled Managing Asthma in Pregnancy (MAP) trial in Newcastle, Australia, compared a treatment algorithm using the fracti... [more]

Background: The single-center double-blind, randomized controlled Managing Asthma in Pregnancy (MAP) trial in Newcastle, Australia, compared a treatment algorithm using the fraction of exhaled nitric oxide (FENO) in combination with asthma symptoms (FENO group) against a treatment algorithm using clinical symptoms only (clinical group) in pregnant asthmatic women (Australian New Zealand Clinical Trials Registry, no. 12607000561482). The primary outcome was a 50% reduction in asthma exacerbations during pregnancy in the FENO group. However, the effect of FENO-guided management on the development of asthma in the offspring is unknown. Objective: We sought to investigate the effect of FENO-guided asthma management during pregnancy on asthma incidence in childhood. Methods: A total of 179 mothers consented to participate in the Growing into Asthma (GIA) double-blind follow-up study with the primary aim to determine the effect of FENO-guided asthma management on childhood asthma incidence. Results: A total of 140 children (78%) were followed up at 4 to 6 years of age. FENO-guided as compared to symptoms-only approach significantly reduced doctor-diagnosed asthma (25.9% vs 43.2%; odds ratio [OR], 0.46, 95% CI, 0.22-0.96; P =.04). Furthermore, frequent wheeze (OR, 0.27; 95% CI, 0.09-0.87; P =.03), use of short-acting ß-agonists (OR, 0.49; 95% CI, 0.25-0.97; P =.04), and emergency department visits for asthma (OR, 0.17; 95% CI, 0.04-0.76; P =.02) in the past 12 months were less common in children born to mothers from the FENO group. Doctor-diagnosed asthma was associated with common risk alleles for early onset asthma at gene locus 17q21 (P =.01 for rs8069176; P =.03 for rs8076131), and higher airways resistance (P =.02) and FENO levels (P =.03). A causal mediation analysis suggested natural indirect effects of FENO-guided asthma management on childhood asthma through ¿any use¿ and ¿time to first change in dose¿ of inhaled corticosteroids during the MAP trial (OR: 0.83; 95% CI: 0.59-0.99, and OR: 0.90; 95% CI: 0.70-1.03, respectively). Conclusions: FENO-guided asthma management during pregnancy prevented doctor-diagnosed asthma in the offspring at preschool age, in part mediated through changes in use and dosing of inhaled corticosteroids during the MAP trial.

2018
Ligthart S, Vaez A, Võsa U, Stathopoulou MG, de Vries PS, Prins BP, et al., 'Genome Analyses of >200,000 Individuals Identify 58 Loci for Chronic Inflammation and Highlight Pathways that Link Inflammation and Complex Disorders', American Journal of Human Genetics, 103 691-706 (2018) [C1]

C-reactive protein (CRP) is a sensitive biomarker of chronic low-grade inflammation and is associated with multiple complex diseases. The genetic determinants of chronic inflammat... [more]

C-reactive protein (CRP) is a sensitive biomarker of chronic low-grade inflammation and is associated with multiple complex diseases. The genetic determinants of chronic inflammation remain largely unknown, and the causal role of CRP in several clinical outcomes is debated. We performed two genome-wide association studies (GWASs), on HapMap and 1000 Genomes imputed data, of circulating amounts of CRP by using data from 88 studies comprising 204,402 European individuals. Additionally, we performed in silico functional analyses and Mendelian randomization analyses with several clinical outcomes. The GWAS meta-analyses of CRP revealed 58 distinct genetic loci (p < 5 × 10-8). After adjustment for body mass index in the regression analysis, the associations at all except three loci remained. The lead variants at the distinct loci explained up to 7.0% of the variance in circulating amounts of CRP. We identified 66 gene sets that were organized in two substantially correlated clusters, one mainly composed of immune pathways and the other characterized by metabolic pathways in the liver. Mendelian randomization analyses revealed a causal protective effect of CRP on schizophrenia and a risk-increasing effect on bipolar disorder. Our findings provide further insights into the biology of inflammation and could lead to interventions for treating inflammation and its clinical consequences.

2018
Jayakody A, Oldmeadow C, Carey M, Bryant J, Evans T, Ella S, et al., 'Unplanned readmission or death after discharge forAboriginal and non-Aboriginal people with chronic disease in NSW Australia: a retrospective cohort study', BMC HEALTH SERVICES RESEARCH, 18 (2018) [C1]
2018
Sarwar G, Bisquera A, Peel R, Hancock S, Grainge C, Attia J, 'The effect of inhaled corticosteroids on bone mineral density measured by quantitative ultrasonography in an older population', Clinical Respiratory Journal, 12 659-665 (2018) [C1]

Introduction: Prolonged use of systemic corticosteroids leads to reduced bone mineral density and osteoporosis, in turn increasing the risk of minimal trauma fractures with their ... [more]

Introduction: Prolonged use of systemic corticosteroids leads to reduced bone mineral density and osteoporosis, in turn increasing the risk of minimal trauma fractures with their associated morbidity and mortality in elderly populations. However, the effect of inhaled corticosteroids on bone mineral density has been debated in the medical literature. Objectives: We aimed to determine the effect of inhaled corticosteroids on bone mineral density measured using calcaneal quantitative ultrasonography in a cohort of older Australians. Methods: Data was collected from the Hunter Community Study, a longitudinal cohort of Australians aged 55-85. Simple and multiple linear regression methods were used to test the cross-sectional association between inhaled corticosteroids and calcaneal bone mineral density measured with quantitative ultrasound at baseline. A causal diagram was used to determine the minimally sufficient number of co-variates necessary to determine the unconfounded effect of inhaled corticosteroids on bone mineral density; these included gender, body mass index, smoking, asthma, alcohol use, age, physical activity, and diet. Results: There were 152 (6.8%) patients on inhaled corticosteroids and 2098 (93%) controls. Simple and multiple linear regression methods showed a non-significant effect of inhaled steroids on BMD with slight decrease of BMD -0.010 g/cm2 (95% CI -0.042 to 0.022, P =.55) and -0.013 g/cm2 (95% CI -0.062 to 0.036, P =.61) respectively. Age, gender, body mass index, and smoking were stronger predictors of BMD. Conclusions: No statistically significant relationship was detected between the use of inhaled corticosteroids and reduced bone mineral density in this observational study of a cohort of older Australians.

2018
Nepal S, Kypri K, Pursey K, Attia J, Chikritzhs T, Miller P, 'Effectiveness of lockouts in reducing alcohol-related harm: Systematic review.', Drug and alcohol review, 37 527-536 (2018) [C1]
2018
Smith SR, Pockney P, Holmes R, Doig F, Attia J, Holliday E, et al., 'Biomarkers and anastomotic leakage in colorectal surgery: C-reactive protein trajectory is the gold standard.', ANZ journal of surgery, 88 440-444 (2018) [C1]
2018
Sharmin S, Kypri K, Wadolowski M, Bruno R, Khanam M, Aiken A, et al., 'Parent characteristics associated with approval of their children drinking alcohol from ages 13 to 16 years: Prospective cohort study', Australian and New Zealand Journal of Public Health, 42 347-353 (2018) [C1]
2018
Painter JN, O'Mara TA, Morris AP, Cheng THT, Gorman M, Martin L, et al., 'Genetic overlap between endometriosis and endometrial cancer: Evidence from cross-disease genetic correlation and GWAS meta-analyses', Cancer Medicine, 5 1978-1987 (2018) [C1]
2018
Pattanaprateep O, Ingsathit A, McEvoy M, Attia J, Thakkinstian A, 'Cost-Effectiveness Analysis of Renin-Angiotensin Aldosterone System Blockade in Progression of Chronic Kidney Disease.', Value Health Reg Issues, 15 155-160 (2018) [C1]
2018
Revelas M, Thalamuthu A, Oldmeadow C, Evans TJ, Armstrong NJ, Kwok JB, et al., 'Review and meta-analysis of genetic polymorphisms associated with exceptional human longevity', Mechanisms of Ageing and Development, 175 24-34 (2018) [C1]

Background: Many factors contribute to exceptional longevity, with genetics playing a significant role. However, to date, genetic studies examining exceptional longevity have been... [more]

Background: Many factors contribute to exceptional longevity, with genetics playing a significant role. However, to date, genetic studies examining exceptional longevity have been inconclusive. This comprehensive review seeks to determine the genetic variants associated with exceptional longevity by undertaking meta-analyses. Methods: Meta-analyses of genetic polymorphisms previously associated with exceptional longevity (85+) were undertaken. For each variant, meta-analyses were performed if there were data from at least three independent studies available, including two unpublished additional cohorts. Results: Five polymorphisms, ACE rs4340, APOE e2/3/4, FOXO3A rs2802292, KLOTHO KL-VS and IL6 rs1800795 were significantly associated with exceptional longevity, with the pooled effect sizes (odds ratios) ranging from 0.42 (APOE e4) to 1.45 (FOXO3A males). Conclusion: In general, the observed modest effect sizes of the significant variants suggest many genes of small influence play a role in exceptional longevity, which is consistent with results for other polygenic traits. Our results also suggest that genes related to cardiovascular health may be implicated in exceptional longevity. Future studies should examine the roles of gender and ethnicity and carefully consider study design, including the selection of appropriate controls.

2018
Abdullah N, Murad NAA, Attia J, Oldmeadow C, Kamaruddin MA, Jalal NA, et al., 'Differing contributions of classical risk factors to type 2 diabetes in multi-ethnic Malaysian populations', International Journal of Environmental Research and Public Health, 15 (2018) [C1]
2018
Anttila V, Bulik-Sullivan B, Finucane HK, Walters RK, Bras J, Duncan L, et al., 'Analysis of shared heritability in common disorders of the brain', Science, 360 (2018) [C1]
2018
Davies G, Lam M, Harris SE, Trampush JW, Luciano M, Hill WD, et al., 'Study of 300,486 individuals identifies 148 independent genetic loci influencing general cognitive function', NATURE COMMUNICATIONS, 9 (2018) [C1]
2018
Faulkner S, Jobling P, Rowe CW, Rodrigues Oliveira SM, Roselli S, Thorne RF, et al., 'Neurotrophin Receptors TrkA, p75

Neurotrophin receptors are emerging targets in oncology, but their clinicopathologic significance in thyroid cancer is unclear. In this study, the neurotrophin tyrosine receptor k... [more]

Neurotrophin receptors are emerging targets in oncology, but their clinicopathologic significance in thyroid cancer is unclear. In this study, the neurotrophin tyrosine receptor kinase TrkA (also called NTRK1), the common neurotrophin receptor p75NTR, and the proneurotrophin receptor sortilin were analyzed with immunohistochemistry in a cohort of thyroid cancers (n = 128) and compared with adenomas and normal thyroid tissues (n = 62). TrkA was detected in 20% of thyroid cancers, compared with none of the benign samples (P = 0.0007). TrkA expression was independent of histologic subtypes but associated with lymph node metastasis (P = 0.0148), suggesting the involvement of TrkA in tumor invasiveness. Nerves in the tumor microenvironment were positive for TrkA. p75NTR was overexpressed in anaplastic thyroid cancers compared with papillary and follicular subtypes (P < 0.0001). Sortilin was overexpressed in thyroid cancers compared with benign thyroid tissues (P < 0.0001). Neurotrophin receptor expression was confirmed in a panel of thyroid cancer cell lines at the mRNA and protein levels. Functional investigations using the anaplastic thyroid cancer cell line CAL-62 found that siRNA against TrkA, p75NTR, and sortilin decreased cell survival and cell migration through decreased SRC and ERK activation. Together, these data reveal TrkA, p75NTR, and sortilin as potential therapeutic targets in thyroid cancer.

2018
Brieger D, Amerena J, Attia JR, Bajorek B, Chan KH, Connell C, et al., 'National heart foundation of australia and cardiac society of Australia and New Zealand: Australian clinical guidelines for the diagnosis and management of atrial fibrillation 2018', Medical Journal of Australia, 209 356-362 (2018) [C1]

Introduction: Atrial fibrillation (AF) is increasing in prevalence and is associated with significant morbidity and mortality. The optimal diagnostic and treatment strategies for ... [more]

Introduction: Atrial fibrillation (AF) is increasing in prevalence and is associated with significant morbidity and mortality. The optimal diagnostic and treatment strategies for AF are continually evolving and care for patients requires confidence in integrating these new developments into practice. These clinical practice guidelines will assist Australian practitioners in the diagnosis and management of adult patients with AF. Main recommendations: These guidelines provide advice on the standardised assessment and management of patients with atrial fibrillation regarding:¿ screening, prevention and diagnostic work-up; acute and chronic arrhythmia management with antiarrhythmic therapy and percutaneous and surgical ablative therapies; stroke prevention and optimal use of anticoagulants; and¿ integrated multidisciplinary care. Changes in management as a result of the guideline: Opportunistic screening in the clinic or community is recommended for patients over 65 years of age. The importance of deciding between a rate and rhythm control strategy at the time of diagnosis and periodically thereafter is highlighted. b-Blockers or non-dihydropyridine calcium channel antagonists remain the first line choice for acute and chronic rate control. Cardioversion remains first line choice for acute rhythm control when clinically indicated. Flecainide is preferable to amiodarone for acute and chronic rhythm control. Failure of rate or rhythm control should prompt consideration of percutaneous or surgical ablation. The sexless CHA2DS2-VA score is recommended to assess stroke risk, which standardises thresholds across men and women; anticoagulation is not recommended for a score of 0, and is recommended for a score of = 2. If anticoagulation is indicated, non-vitamin K oral anticoagulants are recommended in preference to warfarin. An integrated care approach should be adopted, delivered by multidisciplinary teams, including patient education and the use of eHealth tools and resources where available. Regular monitoring and feedback of risk factor control, treatment adherence and persistence should occur.

2018
Evangelou E, Warren HR, Mosen-Ansorena D, Mifsud B, Pazoki R, Gao H, et al., 'Genetic analysis of over 1 million people identifies 535 new loci associated with blood pressure traits', Nature Genetics, 50 1412-1425 (2018) [C1]

High blood pressure is a highly heritable and modifiable risk factor for cardiovascular disease. We report the largest genetic association study of blood pressure traits (systolic... [more]

High blood pressure is a highly heritable and modifiable risk factor for cardiovascular disease. We report the largest genetic association study of blood pressure traits (systolic, diastolic and pulse pressure) to date in over 1 million people of European ancestry. We identify 535 novel blood pressure loci that not only offer new biological insights into blood pressure regulation but also highlight shared genetic architecture between blood pressure and lifestyle exposures. Our findings identify new biological pathways for blood pressure regulation with potential for improved cardiovascular disease prevention in the future.

2018
Bhaskar S, Stanwell PT, Cordato D, Attia J, Levi C, 'Reperfusion therapy in acute ischemic stroke: dawn of a new era?', BMC Neurology, 18 (2018) [C1]
2018
Udayachalerm S, Rattanasiri S, Angkananard T, Attia J, Sansanayudh N, Thakkinstian A, 'The Reversal of Bleeding Caused by New Oral Anticoagulants (NOACs): A Systematic Review and Meta-Analysis', Clinical and Applied Thrombosis/Hemostasis, 24 117S-126S (2018) [C1]

New oral anticoagulants (NOACs; ie, direct thrombin inhibitor [DTI] and factor Xa [FXa] inhibitors) were used as alternatives to warfarin. Specific antidotes (idarucizumab for dab... [more]

New oral anticoagulants (NOACs; ie, direct thrombin inhibitor [DTI] and factor Xa [FXa] inhibitors) were used as alternatives to warfarin. Specific antidotes (idarucizumab for dabigatran and andexanet alfa for FXa inhibitors) and hemostatic reversal agents were used for lowering bleeding, but their efficacies were still uncertain. The objectives of this study were to estimate and compare the efficacy of NOAC antidotes on bleeding reversal and death. Studies were identified from MEDLINE and Scopus databases until May 2018. Case reports/series and cohorts were selected if they assessed reversal or death rates. Data were independently extracted by 2 reviewers. Individual patient data and aggregated data of outcomes were extracted from case reports/series and cohorts. Binary regression was used to estimate outcome rates, risk ratio (RR) along with 95% confidence interval (CI). Interventions were NOACs and reversal agents (ie, DTI-specific, DTI-standard, FXa-specific, and FXa-standard). Among 220 patients of 93 case reports/series, reversal rates were 95.9%, 77.6%, and 71.5% for DTI-specific, FXa-standard, and DTI-standard. Pooled RRs for DTI-specific and FXa-standard versus DTI-standard, respectively, were 1.34 (CI: 1.13-1.60) and 1.09 (CI: 0.84-1.40). Death rate was 0.18 (CI: 0.06-0.57) times lower in DTI-specific versus DTI-standard. For pooling 10 subcohorts, pooled RRs were 1.08 (CI: 1.00-1.16), 1.29 (CI: 1.20-1.39), and 1.13 (CI: 1.01-1.25) for DTI-specific, FXa-specific, and FXa-standard versus DTI-standard. In conclusion, specific reversal agents might be useful for reversal of bleeding and lowering the risk of death than standard reversal agents. Our findings were based on case reports/series and selected cohorts, further comparative studies are thus needed.

2018
Hodder RK, Freund M, Bowman J, Wolfenden L, Campbell E, Dray J, et al., 'Differential intervention effectiveness of a universal school-based resilience intervention in reducing adolescent substance use within student subgroups: Exploratory assessment within a cluster-randomised controlled trial', BMJ Open, 8 (2018) [C1]
2018
Johnson NA, Kypri K, Saunders JB, Saitz R, Attia J, Latter J, et al., 'Effect of electronic screening and brief intervention on hazardous or harmful drinking among adults in the hospital outpatient setting: A randomized, double-blind, controlled trial', Drug and Alcohol Dependence, 191 78-85 (2018) [C1]

Background: Most trials of electronic alcohol screening and brief intervention (e-SBI) have been conducted in young people. The aim of this study was to evaluate the effect of e-S... [more]

Background: Most trials of electronic alcohol screening and brief intervention (e-SBI) have been conducted in young people. The aim of this study was to evaluate the effect of e-SBI in adults with hazardous or harmful drinking. Methods: This individually randomized, parallel, two-group, double-blind controlled trial was conducted in the outpatient department of a large public hospital in Australia. Consenting adults who scored 5¿9 on the AUDIT-C (837/3225; 26%) were randomized in a 1:1 ratio by computer to screening alone (442/837; 53%) or to 10 min of assessment and personalized feedback on their alcohol consumption (comparisons with medical guidelines and age and sex-specific norms), peak blood alcohol concentration, expenditure on alcohol, and risk of alcohol dependence (395/837; 47%). The two primary outcomes, assessed six months after randomization, were the number of standard drinks (10 g ethanol) consumed by participants in the last seven days and their AUDIT score. Results: 693/837 (83%) and 635/837 (76%) participants were followed-up at 6 and 12 months, respectively. There was no statistically significant difference between the groups in the median number of standard drinks consumed in the last seven days (intervention: 12; control: 10.5; rate ratio, 1.12 [95% confidence interval, 0.96¿1.31]; P =.17) or in their median AUDIT score (intervention: 7; control: 7; mean difference, 0.28 [-0.42 to 0.98]; P =.44). Conclusion: These results do not support the implementation of an e-SBI program comprising personalized feedback and normative feedback for adults with hazardous or harmful drinking in the hospital outpatient setting.

2018
Iglesias AI, Mishra A, Vitart V, Bykhovskaya Y, Höhn R, Springelkamp H, et al., 'Cross-ancestry genome-wide association analysis of corneal thickness strengthens link between complex and Mendelian eye diseases', Nature Communications, 9 (2018) [C1]
2018
Al-Omary MS, Khan AA, Davies AJ, Fletcher PJ, Mcivor D, Bastian B, et al., 'Outcomes following heart failure hospitalization in a regional Australian setting between 2005 and 2014.', ESC heart failure, 5 271-278 (2018) [C1]
2018
Taylor RM, Smith R, Collins CE, Mossman D, Wong-Brown MW, Chan EC, et al., 'Methyl-donor and cofactor nutrient intakes in the first 2 3 years and global DNA methylation at age 4: A prospective cohort study', Nutrients, 10 (2018) [C1]
2018
Potter MDE, Walker MM, Hancock S, Holliday E, Brogan G, Jones M, et al., 'A Serological Diagnosis of Coeliac Disease Is Associated with Osteoporosis in Older Australian Adults.', Nutrients, 10 (2018) [C1]
2018
Ren S, Holliday E, Hure A, Peel R, Hancock S, Leigh L, et al., 'Pneumococcal polysaccharide vaccine associated with reduced lengths of stay for cardiovascular events hospital admissions: Experience from the Hunter Community Study', Vaccine, 36 7520-7524 (2018) [C1]

Background: The pneumococcal polysaccharide vaccine (PPV) has been associated with reduced risk of cardiovascular events in human observational studies. Animal studies suggest tha... [more]

Background: The pneumococcal polysaccharide vaccine (PPV) has been associated with reduced risk of cardiovascular events in human observational studies. Animal studies suggest that the phosphorylcholine epitope in the Streptococcus pneumoniae cell wall is structurally similar to oxidized low-density lipoprotein (oxLDL), hence PPV induces the production of antibodies that cross-react with anti-oxLDL and may cause regression of atherosclerotic plaque. We set out to determine the strength of association between PPV administration and reduction in cardiovascular events. Methods: A longitudinal, population-based cohort study of older Australians, from the Hunter Community Study, with up to 11 years of follow-up. We included participants aged = 65 years at baseline (2004¿2008), without a history of cardiovascular disease (CVD). History of PPV administration at baseline was the main exposure of interest. ¿Total number of hospital bed-days with CVD primary diagnosis¿ was one of the main outcomes measured. Models were adjusted for age, diabetes, alcohol intake, and smoking status. Influenza vaccine was the control exposure used and fracture bed-days was the control outcome used, to investigate the potential for residual confounding. Results: 91 of the total 1074 participants (mean age = 72, male = 45%) experienced a CVD event during follow-up. PPV (regardless of influenza vaccine) was associated with a significant reduction in CVD bed-day, (n = 863, incident rate ratio, IRR = 0.65, 95%CI: 0.45¿0.94, p = 0.02), but influenza vaccine (regardless of PPV) was not (n = 864, IRR = 0.86, 95%CI: 0.54¿1.35, p = 0.51). Furthermore, PPV adjusted for influenza vaccine remained associated with CVD bed-days (IRR = 0.64, 95%CI: 0.43¿0.96, p = 0.03) but was not associated with fracture bed-days (IRR = 0.75, 95%CI: 0.28¿2.00, p = 0.56). Conclusion: PPV demonstrated a 35% reduction in CVD bed-days. This finding was robust to residual confounding, using a control exposure and a control outcome, eliminating the concern for healthy-user bias. A large double-blinded placebo-controlled RCT is underway to confirm our finding and to explore the proposed mechanism of action (ACTRN12615000536561).

2018
Joshi T, Pullen S-J, Gebuehr A, Oldmeadow C, Attia JR, Acharya SH, 'Glycaemic optimization for patients with cardiac disease-A before-and-after study.', International journal of clinical practice, 72 e13086-e13086 (2018) [C1]
2018
Wyss AB, Sofer T, Lee MK, Terzikhan N, Nguyen JN, Lahousse L, et al., 'Multiethnic meta-analysis identifies ancestry-specific and cross-ancestry loci for pulmonary function', Nature Communications, 9 (2018) [C1]
2017
Goodsall TM, Flynn P, Attia JR, 'The scratch test for determining the inferior hepatic margin', MEDICAL JOURNAL OF AUSTRALIA, 206 386-388 (2017) [C1]
2017
Boonchan T, Wilasrusmee C, McEvoy M, Attia J, Thakkinstian A, 'Network meta-analysis of antibiotic prophylaxis for prevention of surgical-site infection after groin hernia surgery', British Journal of Surgery, 104 e106-e117 (2017) [C1]

Background: First-generation cephalosporins (such as cefazolin) are recommended as antibiotic prophylaxis in groin hernia repair, but other broad-spectrum antibiotics have also be... [more]

Background: First-generation cephalosporins (such as cefazolin) are recommended as antibiotic prophylaxis in groin hernia repair, but other broad-spectrum antibiotics have also been prescribed in clinical practice. This was a systematic review and network meta-analysis to compare the efficacy of different antibiotic classes for prevention of surgical-site infection (SSI) after hernia repair. Methods: RCTs were identified that compared efficacy of antibiotic prophylaxis on SSI after inguinal or femoral hernia repair from PubMed and Scopus databases up to March 2016. Data were extracted independently by two reviewers. Network meta-analysis was applied to assess treatment efficacy. The probability of being the best antibiotic prophylaxis was estimated using surface under the cumulative ranking curve (SUCRA) analysis. Results: Fifteen RCTs (5159 patients) met the inclusion criteria. Interventions were first-generation (7 RCTs, 1237 patients) and second-generation (2 RCTs, 532) cephalosporins, ß-lactam/ß-lactamase inhibitors (6 RCTs, 619) and fluoroquinolones (2 RCTs, 581), with placebo as the most common comparator (14 RCTs, 2190). A network meta-analysis showed that ß-lactam/ß-lactamase inhibitors and first-generation cephalosporins were significantly superior to placebo, with a pooled risk ratio of 0·44 (95 per cent c.i. 0·25 to 0·75) and 0·62 (0·42 to 0·92) respectively. However, none of the antibiotic classes was significantly different from the others. SUCRA results indicated that ß-lactam/ß-lactamase inhibitors and first-generation cephalosporins were ranked first and second respectively for best prophylaxis. Conclusion: ß-Lactam/ß-lactamase inhibitors followed by first-generation cephalosporins ranked as the most effective SSI prophylaxis for adult patients undergoing groin hernia repair.

2017
Bivard A, Lillicrap T, Krishnamurthy V, Holliday E, Attia J, Pagram H, et al., 'MIDAS (Modafinil in Debilitating Fatigue after Stroke): A Randomized, Double-Blind, Placebo-Controlled, Cross-Over Trial', Stroke, 48 1293-1298 (2017) [C1]

Background and Purpose - This study aimed to assess the efficacy of modafinil, a wakefulness-promoting agent in alleviating post-stroke fatigue =3 months after stroke. We hypothes... [more]

Background and Purpose - This study aimed to assess the efficacy of modafinil, a wakefulness-promoting agent in alleviating post-stroke fatigue =3 months after stroke. We hypothesized that 200 mg of modafinil daily for 6 weeks would result in reduced symptoms of fatigue compared with placebo. Methods - This single-center phase 2 trial used a randomized, double-blind, placebo-controlled, crossover design. The key inclusion criterion was a multidimensional fatigue inventory score of =60. Patients were randomized to either modafinil or placebo for 6 weeks of therapy, then after a 1 week washout period swapped treatment arms for a second 6 weeks of therapy. The primary outcome was the multidimensional fatigue inventory; secondary outcomes included the Montreal cognitive assessment, the Depression, Anxiety, and Stress Scale (DASS), and the Stroke-Specific Quality of Life (SSQoL) scale. The multidimensional fatigue inventory is a self-administered questionnaire with a range of 0 to 100. Treatment efficacy was assessed using linear regression by estimating within-person, baseline-adjusted differences in mean outcomes after therapy. This trial was registered with the Australian New Zealand Clinical Trials Registry (ACTRN12615000350527). Results - A total of 232 stroke survivors were screened and 36 were randomized. Participants receiving modafinil reported a significant decrease in fatigue (multidimensional fatigue inventory, -7.38; 95% CI, -21.76 to -2.99; P<0.001) and improved quality of life (SSQoL, 11.81; 95% CI, 2.31 to 21.31; P=0.0148) compared with placebo. Montreal cognitive assessment and DASS were not significantly improved with modafinil therapy during the study period (P>0.05). Conclusions - Stroke survivors with nonresolving fatigue reported reduced fatigue and improved quality of life after taking 200 mg daily treatment with modafinil.

2017
Daneshi N, Holliday E, Hancock S, Schneider JJ, Scott RJ, Attia J, Milward EA, 'Prevalence of clinically actionable genotypes and medication exposure of older adults in the community', Pharmacogenomics and Personalized Medicine, 10 17-27 (2017) [C1]

This study analyzed clinically actionable pharmacogenotypes for clopidogrel, warfarin, statins, thiopurines, and tacrolimus using microarray data for 2121 participants (55¿85 year... [more]

This study analyzed clinically actionable pharmacogenotypes for clopidogrel, warfarin, statins, thiopurines, and tacrolimus using microarray data for 2121 participants (55¿85 years) from the Australian Hunter Community Study (HCS). At least 74% of participants (95% confidence interval [CI]: 72%¿76%) had strong level evidence for at least one medium- or high-risk actionable genotype that would trigger a change in standard therapy under current international recommendations. About 14% of these participants (95% CI: 12%¿16%) were taking medication potentially affected by the genotype in question. Furthermore, ~2.6% of all participants with medication data (95% CI: 1.4%¿3.8%) had a high-risk clinically actionable genotype for a medication to which they were exposed. This represents a considerable number of people at the population level. Although relationships between genotype and health outcomes remain contentious, pharmacogenotyping of multiple variants simultaneously may have considerable potential to improve medication safety and efficacy for older people in the community.

2017
Joshi T, Oldmeadow C, Attia J, Wynne K, 'The duration of intrapartum maternal hyperglycaemia predicts neonatal hypoglycaemia in women with pre-existing diabetes', Diabetic Medicine, 34 725-731 (2017) [C1]

Aim: There is a high incidence of neonatal hypoglycaemia in neonates born to mothers with pre-existing diabetes. This often necessitates admission to the neonatal intensive care. ... [more]

Aim: There is a high incidence of neonatal hypoglycaemia in neonates born to mothers with pre-existing diabetes. This often necessitates admission to the neonatal intensive care. Guidelines suggest maintaining intrapartum blood glucose levels (BGLs) of 4¿7 mmol/l in women with diabetes to reduce the risk of neonatal hypoglycaemia. This study assessed whether intrapartum BGLs in women with pre-gestational Type 1 and 2 diabetes were predictive of neonatal hypoglycaemia. Methods: A retrospective analysis of 261 births delivered at a tertiary hospital in Australia from 2009 to 2014. Results: There were 122 cases of neonatal hypoglycaemia (glucose = 2.6 mmol/l) in 261 births (47%). The mothers in the neonatal hypoglycaemia group spent less time with BGL in the range 4¿7 mmol/l [55 ± 37% vs. 65 ± 35%, P = 0.02; odds ratio (OR) 0.992, P = 0.03] and more time with BGL in the 7¿10 mmol/l range (31 ± 34% vs. 18 ± 27%, P = 0.003; OR 1.013, P = 0.003) compared with those without neonatal hypoglycaemia. Although statistically significant, receiver operating characteristic (ROC) curve analysis showed that time spent with maternal BGLs in the range 4¿7 mmol/l [area under the curve (AUC) = 0.58] or 7¿10 mmol (AUC = 0.60) was not strong enough to be a useful clinical predictor of neonatal hypoglycaemia. HbA1c in the second trimester of pregnancy (P = 0.02, OR 1.42) and percentage time spent in BGL range of 7¿10 mmol/l (P = 0.001, OR 1.02) were both associated with a risk of neonatal hypoglycaemia in a logistic regression model. HbA1c in the third trimester (P = 0.07, OR 1.28) approached, but did not reach, significance. Conclusions: These data support a BGL range of 4¿7 mmol/l as an intrapartum target. Glycaemic control in the second trimester is associated with neonatal hypoglycaemia. Improvement in ante- and intrapartum glycaemic control may reduce neonatal hypoglycaemia in women with pre-existing diabetes.

2017
Paterson MA, Smart CEM, Lopez PE, Howley P, McElduff P, Attia J, et al., 'Increasing the protein quantity in a meal results in dose-dependent effects on postprandial glucose levels in individuals with Type 1 diabetes mellitus', Diabetic Medicine, 34 851-854 (2017) [C1]

Aim: To determine the glycaemic impact of increasing protein quantities when consumed with consistent amounts of carbohydrate in individuals with Type 1 diabetes on intensive insu... [more]

Aim: To determine the glycaemic impact of increasing protein quantities when consumed with consistent amounts of carbohydrate in individuals with Type 1 diabetes on intensive insulin therapy. Methods: Participants with Type 1 diabetes [aged 10¿40 years, HbA1c = 64 mmol/mol (8%), BMI = 91st percentile] received a 30-g carbohydrate (negligible fat) test drink daily over 5 days in randomized order. Protein (whey isolate 0 g/kg carbohydrate, 0 g/kg lipid) was added in amounts of 0 (control), 12.5, 25, 50 and 75 g. A standardized dose of insulin was given for the carbohydrate. Postprandial glycaemia was assessed by 5 h of continuous glucose monitoring. Results: Data were collected from 27 participants (15 male). A dose¿response relationship was found with increasing amount of protein. A significant negative relationship between protein dose and mean excursion was seen at the 30- and 60-min time points (P = 0.007 and P = 0.002, respectively). No significant relationship was seen at the 90- and 120-min time points. Thereafter, the dose¿response relationship inverted, such that there was a significant positive relationship for each of the 150¿300-min time points (P < 0.004). Mean glycaemic excursions were significantly greater for all protein-added test drinks from 150 to 300 min (P < 0.005) with the 75-g protein load, resulting in a mean excursion that was 5 mmol/l higher when compared with the control test drink (P < 0.001). Conclusions: Increasing protein quantity in a low-fat meal containing consistent amounts of carbohydrate decreases glucose excursions in the early (0¿60-min) postprandial period and then increases in the later postprandial period in a dose-dependent manner.

2017
Kepreotes E, Whitehead B, Attia J, Oldmeadow C, Collison A, Searles A, et al., 'High-flow warm humidified oxygen versus standard low-flow nasal cannula oxygen for moderate bronchiolitis (HFWHO RCT): an open, phase 4, randomised controlled trial', The Lancet, 389 930-939 (2017) [C1]

Background Bronchiolitis is the most common lung infection in infants and treatment focuses on management of respiratory distress and hypoxia. High-flow warm humidified oxygen (HF... [more]

Background Bronchiolitis is the most common lung infection in infants and treatment focuses on management of respiratory distress and hypoxia. High-flow warm humidified oxygen (HFWHO) is increasingly used, but has not been rigorously studied in randomised trials. We aimed to examine whether HFWHO provided enhanced respiratory support, thereby shortening time to weaning off oxygen. Methods In this open, phase 4, randomised controlled trial, we recruited children aged less than 24 months with moderate bronchiolitis attending the emergency department of the John Hunter Hospital or the medical unit of the John Hunter Children's Hospital in New South Wales, Australia. Patients were randomly allocated (1:1) via opaque sealed envelopes to HFWHO (maximum flow of 1 L/kg per min to a limit of 20 L/min using 1:1 air¿oxygen ratio, resulting in a maximum FiO2 of 0·6) or standard therapy (cold wall oxygen 100% via infant nasal cannulae at low flow to a maximum of 2 L/min) using a block size of four and stratifying for gestational age at birth. The primary outcome was time from randomisation to last use of oxygen therapy. All randomised children were included in the primary and secondary safety analyses. This trial is registered with the Australian New Zealand Clinical Trials Registry, number ACTRN12612000685819. Findings From July 16, 2012, to May 1, 2015, we randomly assigned 202 children to either HFWHO (101 children) or standard therapy (101 children). Median time to weaning was 24 h (95% CI 18¿28) for standard therapy and 20 h (95% CI 17¿34) for HFWHO (hazard ratio [HR] for difference in survival distributions 0·9 [95% CI 0·7¿1·2]; log rank p=0·61). Fewer children experienced treatment failure on HFWHO (14 [14%]) compared with standard therapy (33 [33%]; p=0·0016); of these children, those on HFWHO were supported for longer than were those on standard therapy before treatment failure (HR 0·3; 95% CI 0·2¿0·6; p<0·0001). 20 (61%) of 33 children who experienced treatment failure on standard therapy were rescued with HFWHO. 12 (12%) of children on standard therapy required transfer to the intensive care unit compared with 14 (14%) of those on HFWHO (difference -1%; 95% CI -7 to 16; p=0·41). Four adverse events occurred (oxygen desaturation and condensation inhalation in the HFWHO group, and two incidences of oxygen tubing disconnection in the standard therapy group); none resulted in withdrawal from the trial. No oxygen-related serious adverse events occurred. Secondary effectiveness outcomes are reported in the Results section. Interpretation HFWHO did not significantly reduce time on oxygen compared with standard therapy, suggesting that early use of HFWHO does not modify the underlying disease process in moderately severe bronchiolitis. HFWHO might have a role as a rescue therapy to reduce the proportion of children requiring high-cost intensive care. Funding Hunter Children's Research Foundation, John Hunter Hospital Charitable Trust, and the University of Newcastle Priority Research Centre GrowUpWell.

2017
Willems SM, Wright DJ, Day FR, Trajanoska K, Joshi PK, Morris JA, et al., 'Large-scale GWAS identifies multiple loci for hand grip strength providing biological insights into muscular fitness', NATURE COMMUNICATIONS, 8 (2017) [C1]
2017
Lai JS, Hure AJ, Oldmeadow C, McEvoy M, Byles J, Attia J, 'Prospective study on the association between diet quality and depression in mid-aged women over 9 years', European Journal of Nutrition, 56 273-281 (2017) [C1]

Purpose: To examine the longitudinal association between diet quality and depression using prospective data from the Australian Longitudinal Study on Women¿s Health. Methods: Wome... [more]

Purpose: To examine the longitudinal association between diet quality and depression using prospective data from the Australian Longitudinal Study on Women¿s Health. Methods: Women born in 1946¿1951 (n¿=¿7877) were followed over 9¿years starting from 2001. Dietary intake was assessed using the Dietary Questionnaire for Epidemiological Studies (version 2) in 2001 and a shortened form in 2007 and 2010. Diet quality was summarised using the Australian Recommended Food Score. Depression was measured using the 10-item Centre for Epidemiologic Depression Scale and self-reported physician diagnosis. Pooled logistic regression models including time-varying covariates were used to examine associations between diet quality tertiles and depression. Women were also categorised based on changes in diet quality during 2001¿2007. Analyses were adjusted for potential confounders. Results: The highest tertile of diet quality was associated marginally with lower odds of depression (OR 0.94; 95¿% CI 0.83, 1.00; P¿=¿0.049) although no significant linear trend was observed across tertiles (OR 1.00; 95¿% CI 0.94, 1.10; P¿=¿0.48). Women who maintained a moderate or high score over 6¿years had a 6¿14¿% reduced odds of depression compared with women who maintained a low score (moderate vs low score¿OR 0.94; 95¿% CI 0.80, 0.99; P¿=¿0.045; high vs low score¿OR 0.86; 95¿% CI 0.77, 0.96; P¿=¿0.01). Similar results were observed in analyses excluding women with prior history of depression. Conclusion: Long-term maintenance of good diet quality may be associated with reduced odds of depression. Randomised controlled trials are needed to eliminate the possibility of residual confounding.

2017
Dunlop AJ, Brown AL, Oldmeadow C, Harris A, Gill A, Sadler C, et al., 'Effectiveness and cost-effectiveness of unsupervised buprenorphine-naloxone for the treatment of heroin dependence in a randomized waitlist controlled trial', Drug and Alcohol Dependence, 174 181-191 (2017) [C1]

Background Access to opioid agonist treatment can be associated with extensive waiting periods with significant health and financial burdens. This study aimed to determine whether... [more]

Background Access to opioid agonist treatment can be associated with extensive waiting periods with significant health and financial burdens. This study aimed to determine whether patients with heroin dependence dispensed buprenorphine-naloxone weekly have greater reductions in heroin use and related adverse health effects 12-weeks after commencing treatment, compared to waitlist controls and to examine the cost-effectiveness of this strategy. Methods An open-label waitlist RCT was conducted in an opioid treatment clinic in Newcastle, Australia. Fifty patients with DSM-IV-TR heroin dependence (and no other substance dependence) were recruited. The intervention group (n = 25) received take-home self-administered sublingual buprenorphine-naloxone weekly (mean dose, 22.7 ± 5.7 mg) and weekly clinical review. Waitlist controls (n = 25) received no clinical intervention. The primary outcome was heroin use (self-report, urine toxicology verified) at weeks four, eight and 12. The primary cost-effectiveness outcome was incremental cost per additional heroin-free-day. Results Outcome data were available for 80% of all randomized participants. Across the 12-weeks, treatment group heroin use was on average 19.02 days less/month (95% CI -22.98, -15.06, p < 0.0001). A total 12-week reduction in adjusted costs including crime of $A5,722 (95% CI 3299, 8154) in favor of treatment was observed. Excluding crime, incremental cost per heroin-free-day gained from treatment was $A18.24 (95% CI 4.50, 28.49). Conclusion When compared to remaining on a waitlist, take-home self-administered buprenorphine-naloxone treatment is associated with significant reductions in heroin use for people with DSM-IV-TR heroin dependence. This cost-effective approach may be an efficient strategy to enhance treatment capacity.

2017
Khaing W, Vallibhakara SA, Attia J, McEvoy M, Thakkinstian A, 'Effects of education and income on cardiovascular outcomes: A systematic review and meta-analysis', European Journal of Preventive Cardiology, 24 1032-1042 (2017) [C1]

Objective Previous studies have reported discrepancy effects of education and income on cardiovascular diseases. This systematic review and meta-analysis was therefore conducted w... [more]

Objective Previous studies have reported discrepancy effects of education and income on cardiovascular diseases. This systematic review and meta-analysis was therefore conducted which aimed to summarize effects of education and income on cardiovascular diseases. Methods Studies were identified from Medline and Scopus until July 2016. Cohorts were eligible if they assessed associations between education/income and cardiovascular diseases, had at least one outcome including coronary artery diseases, cardiovascular events, strokes and cardiovascular deaths. A multivariate meta-analysis was applied to pool risk effects of these social determinants. Results Among 72 included cohorts, 39, 19, and 14 were studied in Europe, USA, and Asia. Pooled risk ratios of low and medium versus high education were 1.36 (95% confidence interval: 1.11-1.66) and 1.21 (1.06-1.40) for coronary artery diseases, 1.50 (1.17-1.92) and 1.27 (1.09-1.48) for cardiovascular events, 1.23 (1.06-1.43) and 1.17 (1.01-1.35) for strokes, and 1.39 (1.26-1.54) and 1.21 (1.12-1.30) for cardiovascular deaths. The effects of education on all cardiovascular diseases were still present in US and Europe settings, except in Asia this was present only for cardiovascular deaths. Effects of low and medium income versus high on these corresponding cardiovascular diseases were 1.49 (1.16-1.91) and 1.27 (1.10-1.47) for coronary artery diseases, 1.17 (0.96-1.44) and 1.05 (0.98-1.13) for cardiovascular events, 1.30 (0.99-1.72) and 1.24 (1.00-1.53) for strokes, and 1.76 (1.45-2.14) and 1.34 (1.17-1.54) for cardiovascular deaths. Conclusion Social determinants are risk factors of cardiovascular diseases in developed countries, although high heterogeneity in pooling. Data in Asia countries are still needed to update pooling.

2017
Sharmin S, Kypri K, Khanam M, Wadolowski M, Bruno R, Attia J, et al., 'Effects of parental alcohol rules on risky drinking and related problems in adolescence: Systematic review and meta-analysis', DRUG AND ALCOHOL DEPENDENCE, 178 243-256 (2017) [C1]
2017
Tan HLE, Luu J, Caswell A, Holliday E, Attia J, Acharya S, 'Impact of new International Association of Diabetes and Pregnancy Study Groups (IADPSG) diagnostic criteria on perinatal outcomes in a regional tertiary hospital in New South Wales, Australia', Diabetes Research and Clinical Practice, 134 191-198 (2017) [C1]

Aims We compared the impact of new gestational diabetes (GDM) diagnostic criteria by IADPSG with previous criteria to ascertain concordance between the two criteria; and whether w... [more]

Aims We compared the impact of new gestational diabetes (GDM) diagnostic criteria by IADPSG with previous criteria to ascertain concordance between the two criteria; and whether women discordant for GDM between the old and new criteria had increased pregnancy complications. Methods Oral glucose tolerance tests of pregnant women across time periods using old criteria and new criteria were collected. Maternal data and perinatal outcomes were compared between diagnostic concordant and discordant women. Results In total, 666/5178 (12.9%) women were diagnosed and treated for GDM. There was a significant increase in odds of any complication in concordant positive women (OR 3.91 95%CI 2.71¿5.63, p <.0001); in women only positive by new GDM criteria (OR 2.06, 95% CI 1.41¿2.99, p =.0002); and women only positive by old GDM criteria (OR 2.28, 95% CI 1.42¿3.66, p =.0006); compared to concordant negative women. This is mainly due to macrosomia and nursery admissions. Conclusion This study confirms that women diagnosed with GDM on both old and new criteria have a higher rate of birth complications than women without GDM. Women who have been missed out due to new criteria may still be at risk. Therefore, combination of both old and new criteria may be optimal for identifying high-risk pregnancies.

2017
Gleeson M, Pyne DB, Elkington LJ, Hall ST, Attia JR, Oldmeadow C, et al., 'Developing a multi-component immune model for evalusating the risk of respiratory illness in athletes', EXERCISE IMMUNOLOGY REVIEW, 23 52-64 (2017) [C1]
2017
Rowe CW, Haider AS, Viswanathan D, Jones M, Attia J, Wynne K, Acharya S, 'Insulin resistance correlates with maculopathy and severity of retinopathy in young adults with Type 1 Diabetes Mellitus', Diabetes Research and Clinical Practice, 131 154-160 (2017) [C1]

Aims To assess the relationship between insulin resistance (IR), retinopathy and maculopathy in young adults with Type 1 diabetes mellitus. Methods A cross-sectional study at a re... [more]

Aims To assess the relationship between insulin resistance (IR), retinopathy and maculopathy in young adults with Type 1 diabetes mellitus. Methods A cross-sectional study at a regional Australian tertiary hospital. Retinal pathology, assessed by colour fundus photography, was correlated with two surrogate measures of IR: estimated Glucose Disposal Rate (eGDR) and Insulin Sensitivity Score (ISS), where lower scores reflect greater IR. Results 107 patients were recruited, with mean age 24.7¿years, 53% male, and mean duration of disease 10.8¿years. Mean eGDR scores (5.6¿vs 8.0 p¿<¿0.001) and ISS (4.7¿vs 7.9, p¿<¿0.001) were lower in subjects having at least moderate non-proliferative diabetic retinopathy (NPDR; relative to nil/mild-NPDR). Similarly, mean eGDR (4.2¿vs 6.2, p¿=¿0.001) and ISS (3.8¿vs 6.1, p¿=¿0.003) were lower in patients with maculopathy. Multivariate logistic regression modelling was used to control for confounding. For retinopathy severity, a unit increase in eGDR or ISS (representing lower IR) was associated with a 50% decrease in odds of moderate-NPDR or worse (eGDR OR 0.5, 95%CI 0.32¿0.77, p¿=¿0.002; ISS OR 0.49, 95%CI 0.29¿0.84, p¿=¿0.01). A unit increase in eGDR or ISS was associated with a 46¿56% decrease in odds of maculopathy (eGDR OR 0.54, 95%CI 0.37¿0.81, p¿=¿0.003; ISS OR 0.44, 95%CI 0.22¿0.88, p¿=¿0.02). Conclusions IR correlates with more severe retinopathy in young adults with Type 1¿DM. This is the first description of a correlation between IR and maculopathy in Type 1¿DM, warranting further evaluation. Prospective studies examining whether reducing IR can improve microvascular complications are required.

2017
Fealy SM, Taylor RM, Foureur M, Attia J, Ebert L, Bisquera A, Hure AJ, 'Weighing as a stand-alone intervention does not reduce excessive gestational weight gain compared to routine antenatal care: a systematic review and meta-analysis of randomised controlled trials', BMC PREGNANCY AND CHILDBIRTH, 17 (2017) [C1]
2017
Gorski M, Van der Most PJ, Teumer A, Chu AY, Li M, Mijatovic V, et al., '1000 Genomes-based meta-analysis identifies 10 novel loci for kidney function', SCIENTIFIC REPORTS, 7 (2017) [C1]
2017
Zhang X, Khan AA, Haq EU, Rahim A, Hu D, Attia J, et al., 'Increasing mortality from ischaemic heart disease in China from 2004 to 2010: disproportionate rise in rural areas and elderly subjects. 438 million person-years follow-up.', European heart journal. Quality of care & clinical outcomes, 3 47-52 (2017) [C1]
2017
Lertpimonchai A, Rattanasiri S, Arj-Ong Vallibhakara S, Attia J, Thakkinstian A, 'The association between oral hygiene and periodontitis: a systematic review and meta-analysis', International Dental Journal, 67 332-343 (2017) [C1]

Objective: Dental plaque accumulation and inadequate personal oral hygiene (OH) are known major risk factors of periodontitis. Nevertheless, the magnitude of their effects has not... [more]

Objective: Dental plaque accumulation and inadequate personal oral hygiene (OH) are known major risk factors of periodontitis. Nevertheless, the magnitude of their effects has not yet been the subject of a meta-analysis. Material and methods: The Medline and Scopus databases were searched up to May 2016. Observational studies were eligible if they assessed associations between OH and periodontitis in adult subjects. A multivariate random-effects meta-analysis was used to pool the effects of fair/poor OH versus good OH on periodontitis across studies. The associations between oral care habits and periodontitis were also assessed. Results: A total of 50 studies were eligible; 15 were used for pooling the effect of fair OH versus good OH and poor OH versus good OH on periodontitis, with pooled odds ratios (ORs) of 2.04 [95% confidence interval (CI): 1.65¿2.53] and 5.01 (95% CI: 3.40¿7.39), respectively. Eleven studies examined oral care habits measured according to toothbrushing regularity and dental visit frequency; pooled ORs of 0.66 (95% CI: 0.47¿0.94) and 0.68 (95% CI: 0.47¿0.98) were obtained, respectively. Conclusions: Fair to poor OH increases the risk of periodontitis by two- to five-fold. This risk can be reduced by regular toothbrushing and dental visits.

2017
Gorski M, Most PJVD, Teumer A, Chu AY, Li M, Mijatovic V, et al., 'Corrigendum: 1000 Genomes-based meta-analysis identifies 10 novel loci for kidney function', Scientific reports, 7 46835 (2017)

This corrects the article DOI: 10.1038/srep45040.... [more]

This corrects the article DOI: 10.1038/srep45040.

2017
Dudding-Byth T, Baxter A, Holliday EG, Hackett A, O'Donnell S, White SM, et al., 'Computer face-matching technology using two-dimensional photographs accurately matches the facial gestalt of unrelated individuals with the same syndromic form of intellectual disability', BMC Biotechnology, 17 (2017) [C1]
2017
Muenchhoff J, Song F, Poljak A, Crawford JD, Mather KA, Kochan NA, et al., 'Plasma apolipoproteins and physical and cognitive health in very old individuals', Neurobiology of Aging, 55 49-60 (2017) [C1]

Apolipoproteins play a crucial role in lipid metabolism with implications in cardiovascular disease, obesity, diabetes, Alzheimer&apos;s disease, and longevity. We quantified 7 ap... [more]

Apolipoproteins play a crucial role in lipid metabolism with implications in cardiovascular disease, obesity, diabetes, Alzheimer's disease, and longevity. We quantified 7 apolipoproteins in plasma in 1067 individuals aged 56¿105 using immunoassays and explored relationships with APOE polymorphism e2/3/4, vascular health, frailty, and cognition. ApoA1, ApoA2, ApoB, ApoC3, ApoE, ApoH, and ApoJ decreased from mid-life, although ApoE and ApoJ had U-shaped trends. Centenarians had the highest ApoE levels and the lowest frequency of APOE e4 allele relative to younger groups. Apolipoprotein levels trended lower in APOE e4 homozygotes and heterozygotes compared with noncarriers, with ApoE and ApoJ being significantly lower. Levels of all apolipoproteins except ApoH were higher in females. Sex- and age-related differences were apparent in the association of apolipoproteins with cognitive performance, as only women had significant negative associations of ApoB, ApoE, ApoH, and ApoJ in mid-life, whereas associations at older age were nonsignificant or positive. Our findings suggest levels of some apolipoproteins, especially ApoE, are associated with lifespan and cognitive function in exceptionally long-lived individuals.

2017
Clover KA, Rogers KM, Britton B, Oldmeadow C, Attia J, Carter GL, 'Reduced prevalence of pain and distress during 4 years of screening with QUICATOUCH in Australian oncology patients', European Journal of Cancer Care, 26 1-10 (2017) [C1]
2017
McCrabb S, Baker AL, Attia J, Balogh ZJ, Lott N, Naylor J, et al., 'Smoke-free recovery from trauma surgery: A pilot trial of an online smoking cessation program for orthopaedic trauma patients', International Journal of Environmental Research and Public Health, 14 1-12 (2017) [C1]
2017
Tantrakul V, Numthavaj P, Guilleminault C, McEvoy M, Panburana P, Khaing W, et al., 'Performance of screening questionnaires for obstructive sleep apnea during pregnancy: A systematic review and meta-analysis', Sleep Medicine Reviews, 36 96-106 (2017) [C1]
2017
Iseme RA, McEvoy M, Kelly B, Agnew L, Walker FR, Handley T, et al., 'A role for autoantibodies in atherogenesis', CARDIOVASCULAR RESEARCH, 113 1102-1112 (2017) [C1]
2017
Harris ML, Oldmeadow C, Hure A, Luu J, Loxton D, Attia J, 'Stress increases the risk of type 2 diabetes onset in women: A 12-year longitudinal study using causal modelling.', PLoS One, 12 e0172126 (2017) [C1]
2017
Dray J, Bowman J, Campbell E, Freund M, Hodder R, Wolfenden L, et al., 'Effectiveness of a pragmatic school-based universal intervention targeting student resilience protective factors in reducing mental health problems in adolescents', Journal of Adolescence, 57 74-89 (2017) [C1]

Worldwide, 10¿20% of adolescents experience mental health problems. Strategies aimed at strengthening resilience protective factors provide a potential approach for reducing menta... [more]

Worldwide, 10¿20% of adolescents experience mental health problems. Strategies aimed at strengthening resilience protective factors provide a potential approach for reducing mental health problems in adolescents. This study evaluated the effectiveness of a universal, school-based intervention targeting resilience protective factors in reducing mental health problems in adolescents. A cluster randomised controlled trial was conducted in 20 intervention and 12 control secondary schools located in socio-economically disadvantaged areas of NSW, Australia. Data were collected from 3115 students at baseline (Grade 7, 2011), of whom 2149 provided data at follow up (Grade 10, 2014; enrolments in Grades 7 to 10 typically aged 12¿16 years; 50% male; 69.0% retention). There were no significant differences between groups at follow-up for three mental health outcomes: total SDQ, internalising problems, and prosocial behaviour. A small statistically significant difference in favour of the control group was found for externalising problems. Findings highlight the continued difficulties in developing effective, school-based prevention programs for mental health problems in adolescents. Trial registration ANZCTR (Ref no: ACTRN12611000606987).

2017
Jones MP, Walker MM, Attia JR, 'Understanding statistical principles in correlation, causation and moderation in human disease', Medical Journal of Australia, 207 104-106.e1 (2017) [C1]
2017
Ewald BD, Oldmeadow C, Attia JR, 'Daily step count and the need for hospital care in subsequent years in a community-based sample of older australians', Medical Journal of Australia, 206 126-130 (2017) [C1]

Objectives: To determine the extent to which physical activity reduces the number of hospital bed-days for Australians over 55, using an objective measure of activity. Design, set... [more]

Objectives: To determine the extent to which physical activity reduces the number of hospital bed-days for Australians over 55, using an objective measure of activity. Design, setting and participants: 9784 Newcastle residents aged 55 years or more were invited to participate. 3253 responders were eligible and wore pedometers for one week during 2005e2007; their hospital data from recruitment to 31 March 2015 were analysed (mean follow-up time: 8.2 years). Complete data for 2110 people were available for analysis. Main outcome measures: Mean annual hospital bed-days, according to individual step count. Results: There was a statistically significant reduction in the number of hospital bed-days associated with higher step counts; the incidence rate ratio per extra 1000 steps per day at baseline was 0.91 (95% CI, 0.90e0.94). The disease-specific reductions were significant for admissions for cancer and diabetes, but not for cardiovascular disease. The difference between 4500 and 8800 steps per day (the upper and lower quartile boundaries for step count) was 0.36 bed-days per person per year, after adjusting for age, sex, number of medications, number of comorbidities, smoking and alcohol status, and education. When analysis was restricted to hospital admissions after the first 2 years of follow-up, the difference was 0.29 bed-days per person per year. Conclusions: More active people require less hospital care, and an achievable extra 4300 steps per day would result in an average of one less day in hospital for each 3 years of life.

2017
Malik R, Dau T, Gonik M, Sivakumar A, Deredge DJ, Edeleva EV, et al., 'Common coding variant in SERPINA1 increases the risk for large artery stroke', Proceedings of the National Academy of Sciences of the United States of America, 114 3613-3618 (2017) [C1]

Large artery atherosclerotic stroke (LAS) shows substantial heritability not explained by previous genome-wide association studies. Here, we explore the role of coding variation i... [more]

Large artery atherosclerotic stroke (LAS) shows substantial heritability not explained by previous genome-wide association studies. Here, we explore the role of coding variation in LAS by analyzing variants on the HumanExome BeadChip in a total of 3,127 cases and 9,778 controls from Europe, Australia, and South Asia. We report on a nonsynonymous single-nucleotide variant in serpin family A member 1 (SERPINA1) encoding alpha-1 antitrypsin [AAT; p.V213A; P = 5.99E-9, odds ratio (OR) = 1.22] and confirm histone deacetylase 9 (HDAC9) as a major risk gene for LAS with an association in the 3?-UTR (rs2023938; P = 7.76E-7, OR = 1.28). Using quantitative microscale thermophoresis, we show that M1 (A213) exhibits an almost twofold lower dissociation constant with its primary target human neutrophil elastase (NE) in lipoprotein-containing plasma, but not in lipid-free plasma. Hydrogen/deuterium exchange combined with mass spectrometry further revealed a significant difference in the global flexibility of the two variants. The observed stronger interaction with lipoproteins in plasma and reduced global flexibility of the Val-213 variant most likely improve its local availability and reduce the extent of proteolytic inactivation by other proteases in atherosclerotic plaques. Our results indicate that the interplay between AAT, NE, and lipoprotein particles is modulated by the gate region around position 213 in AAT, far away from the unaltered reactive center loop (357-360). Collectively, our findings point to a functionally relevant balance between lipoproteins, proteases, and AAT in atherosclerosis.

2017
Bhaskar S, Stanwell P, Bivard A, Spratt N, Walker R, Kitsos GH, et al., 'The influence of initial stroke severity on the likelihood of unfavourable clinical outcome and death at 90 days following acute ischemic stroke: A tertiary hospital stroke register study', Neurology India, 65 1252-1259 (2017) [C1]
2017
Schmidt AF, Swerdlow DI, Holmes MV, Patel RS, Fairhurst-Hunter Z, Lyall DM, et al., 'PCSK9 genetic variants and risk of type 2 diabetes: a mendelian randomisation study', The Lancet Diabetes and Endocrinology, 5 97-105 (2017) [C1]

Background Statin treatment and variants in the gene encoding HMG-CoA reductase are associated with reductions in both the concentration of LDL cholesterol and the risk of coronar... [more]

Background Statin treatment and variants in the gene encoding HMG-CoA reductase are associated with reductions in both the concentration of LDL cholesterol and the risk of coronary heart disease, but also with modest hyperglycaemia, increased bodyweight, and modestly increased risk of type 2 diabetes, which in no way offsets their substantial benefits. We sought to investigate the associations of LDL cholesterol-lowering PCSK9 variants with type 2 diabetes and related biomarkers to gauge the likely effects of PCSK9 inhibitors on diabetes risk. Methods In this mendelian randomisation study, we used data from cohort studies, randomised controlled trials, case control studies, and genetic consortia to estimate associations of PCSK9 genetic variants with LDL cholesterol, fasting blood glucose, HbA1c, fasting insulin, bodyweight, waist-to-hip ratio, BMI, and risk of type 2 diabetes, using a standardised analysis plan, meta-analyses, and weighted gene-centric scores. Findings Data were available for more than 550¿000 individuals and 51¿623 cases of type 2 diabetes. Combined analyses of four independent PCSK9 variants (rs11583680, rs11591147, rs2479409, and rs11206510) scaled to 1 mmol/L lower LDL cholesterol showed associations with increased fasting glucose (0·09 mmol/L, 95% CI 0·02 to 0·15), bodyweight (1·03 kg, 0·24 to 1·82), waist-to-hip ratio (0·006, 0·003 to 0·010), and an odds ratio for type diabetes of 1·29 (1·11 to 1·50). Based on the collected data, we did not identify associations with HbA1c (0·03%, -0·01 to 0·08), fasting insulin (0·00%, -0·06 to 0·07), and BMI (0·11 kg/m2, -0·09 to 0·30). Interpretation PCSK9 variants associated with lower LDL cholesterol were also associated with circulating higher fasting glucose concentration, bodyweight, and waist-to-hip ratio, and an increased risk of type 2 diabetes. In trials of PCSK9 inhibitor drugs, investigators should carefully assess these safety outcomes and quantify the risks and benefits of PCSK9 inhibitor treatment, as was previously done for statins. Funding British Heart Foundation, and University College London Hospitals NHS Foundation Trust (UCLH) National Institute for Health Research (NIHR) Biomedical Research Centre.

2017
de Vries PS, Sabater-Lleal M, Chasman DI, Trompet S, Ahluwalia TS, Teumer A, et al., 'Comparison of HapMap and 1000 Genomes Reference Panels in a Large-Scale Genome-Wide Association Study', PLOS ONE, 12 (2017) [C1]
2017
Jones MP, Beath A, Oldmeadow C, Attia JR, 'Understanding statistical hypothesis tests and power.', MEDICAL JOURNAL OF AUSTRALIA, 207 148-150 (2017) [C1]
2017
Thomson D, Cowan T, Loten C, Botfield C, Holliday E, Attia J, 'High-flow oxygen in patients undergoing procedural sedation in the emergency department: A retrospective chart review', EMA - Emergency Medicine Australasia, 29 33-39 (2017) [C1]

Objective: Hypoxia is a recognised complication of procedural sedation. This study sought to determine whether there was an association between the use of high-flow oxygen deliver... [more]

Objective: Hypoxia is a recognised complication of procedural sedation. This study sought to determine whether there was an association between the use of high-flow oxygen delivery by a non-rebreather (NRB) mask during ED procedural sedation and decreased rates of hypoxia when compared with alternative oxygenation methods. Methods: Records of all procedural sedations performed over a 12 month period in an Australian tertiary ED were reviewed retrospectively. The primary outcome was whether recorded oxygen saturations fell below 90%. Specifics of the oxygen delivery method were noted and data collected included sex, age, indication for sedation, drugs and doses administered, time of day sedation was commenced and staff grade of sedationist. Results: A total of 755 procedural sedations were reviewed. Two hundred and five (27.1%) patients were administered oxygen via NRB mask from the outset of their sedation. NRB administration was associated with a statistically significant decreased rate of hypoxia (1/205 patients vs 23/550 [odds ratio: 0.112; 95% confidence interval: 0.003¿0.0702]; P = 0.0090). This association remained statistically significant when adjusted for confounders. Conclusions: This study demonstrates an association with a statistically significant reduction in hypoxia when high-flow oxygen via NRB mask is administered during emergency procedural sedation. This intervention is simple, safe and inexpensive, and we would advocate that it be evaluated further in prospective trials.

2017
Campbell BCV, Mitchell PJ, Churilov L, Keshtkaran M, Hong KS, Kleinig TJ, Dewey HM, 'Endovascular thrombectomy for ischemic stroke increases disability-free survival, quality of life, and life expectancy and reduces cost', Frontiers in Neurology, 8 (2017) [C1]
2017
Pattanaprateep O, McEvoy M, Attia J, Thakkinstian A, 'Evaluation of rational nonsteroidal anti-inflammatory drugs and gastro-protective agents use; association rule data mining using outpatient prescription patterns', BMC MEDICAL INFORMATICS AND DECISION MAKING, 17 (2017) [C1]
2017
Bhaskar S, Bivard A, Parsons M, Nilsson M, Attia JR, Stanwell P, Levi C, 'Delay of late-venous phase cortical vein filling in acute ischemic stroke patients: Associations with collateral status', Journal of Cerebral Blood Flow and Metabolism, 37 671-682 (2017) [C1]
2017
McCrabb S, Baker AL, Attia J, Balogh ZJ, Lott N, Palazzi K, et al., 'Who is More Likely to Use the Internet for Health Behavior Change? A Cross-Sectional Survey of Internet Use Among Smokers and Nonsmokers Who Are Orthopedic Trauma Patients.', JMIR Ment Health, 4 e18 (2017) [C1]
2017
McCrabb S, Balogh Z, Baker AL, Harris IA, Attia J, Lott N, et al., 'Development of an online smoking cessation program for use in hospital and following discharge: Smoke-free recovery', BMJ Innovations, 3 115-122 (2017) [C1]

Background Tobacco smoking can have negative health outcomes on recovery from surgery. Although it is recommended best practice to provide patients with advice to quit and follow-... [more]

Background Tobacco smoking can have negative health outcomes on recovery from surgery. Although it is recommended best practice to provide patients with advice to quit and follow-up support, provision of postdischarge support is rare. Developing an online smoking cessation program may help address this gap. Objectives This paper describes the development and pretesting of an online smoking cessation program (smoke-free recovery, SFR) tailored to the orthopaedic trauma population for use while in hospital and post-discharge. Methods Drawing on the DoTTI framework for developing an online program, the following steps were followed for program development: (1) design and development; (2) testing early iteration; (3) testing for effectiveness and (4) integration and implementation. This article describes the first two stages of SFR program development. Results SFR is a 10-module online smoking cessation program tailored for patients with orthopaedic trauma. Of the participants who completed testing early iterations, none reported any difficulties orientating themselves to the program or understanding program content. The main themes were that it was ¿helpful¿, provision of ¿help to quit¿ was low and SFR increased thoughts of ¿staying quit post discharge¿. Conclusions This study found that a theory and evidence-based approach as the basis for an online smoking cessation program for patients with orthopaedic trauma was acceptable to users. A randomised controlled trial will be conducted to examine whether the online smoking cessation program is effective in increasing smoking cessation and how it can be integrated and implemented into hospital practice (stages three and four of the DoTTI framework).

2017
Thomas LC, Hall LA, Attia JR, Holliday EG, Markus HS, Levi CR, 'Seasonal Variation in Spontaneous Cervical Artery Dissection: Comparing between UK and Australian Sites', Journal of Stroke and Cerebrovascular Diseases, 26 177-185 (2017) [C1]

Background Cervical artery dissection (CAD) is a leading cause of stroke among middle-aged adults, but the etiology is unclear. Some reports of seasonal variation in CAD incidence... [more]

Background Cervical artery dissection (CAD) is a leading cause of stroke among middle-aged adults, but the etiology is unclear. Some reports of seasonal variation in CAD incidence have been suggested but may reflect extreme climatic conditions. Seasonal variation may implicate more transient seasonal causes such as proinflammatory or hypercoagulable states. This study aimed to assess whether CAD incidence varied with season between UK and Australian sites. Also, this study aimed to determine whether there was a different pattern of seasonal variation between arteries (carotid and vertebral) and any association between CAD incidence and clinical factors. Methods This was a retrospective observational study of patients older than 18 years with radiological diagnosis of internal carotid or vertebral arterial dissection, from sites in Australia and the UK. Clinical variables were compared between autumn-winter and spring-summer and site of dissection. Results A total of 133 CAD cases were documented in Australia and 242 in the UK. There was a seasonal pattern to CAD incidence in countries in both the northern and the southern hemispheres, with a trend for dissection to occur more commonly in autumn, winter, and spring than in summer (incidence rate ratios [IRR] 1.4-1.5, P¿<¿.05). CAD counts were also slightly higher in internal carotid than in vertebral artery (IRRs 1.168, 1.43, and 1.127, respectively). Neither systolic blood pressure nor pulse pressure was significantly associated with CAD counts. Conclusions CAD occurs more commonly in cooler months regardless of geographical location, suggesting transient seasonal causes may be important in the pathophysiology. This effect was slightly higher in internal carotid than in vertebral artery, suggesting differing trigger mechanisms between dissection sites.

2017
Laver DR, Attia J, Oldmeadow C, Quail AW, 'Cardiac Calcium Release Channel (Ryanodine Receptor 2) Regulation by Halogenated Anesthetics', Anesthesiology, 126 495-506 (2017) [C1]

Background: Halogenated anesthetics activate cardiac ryanodine receptor 2-mediated sarcoplasmic reticulum Ca 2+ release, leading to sarcoplasmic reticulum Ca 2+ depletion, reduced... [more]

Background: Halogenated anesthetics activate cardiac ryanodine receptor 2-mediated sarcoplasmic reticulum Ca 2+ release, leading to sarcoplasmic reticulum Ca 2+ depletion, reduced cardiac function, and providing cell protection against ischemia-reperfusion injury. Anesthetic activation of ryanodine receptor 2 is poorly defined, leaving aspects of the protective mechanism uncertain. Methods: Ryanodine receptor 2 from the sheep heart was incorporated into artificial lipid bilayers, and their gating properties were measured in response to five halogenated anesthetics. Results: Each anesthetic rapidly and reversibly activated ryanodine receptor 2, but only from the cytoplasmic side. Relative activation levels were as follows: halothane (approximately 4-fold; n = 8), desflurane and enflurane (approximately 3-fold,n = 9), and isoflurane and sevoflurane (approximately 1.5-fold, n = 7, 10). Half-activating concentrations (K a) were in the range 1.3 to 2.1 mM (1.4 to 2.6 minimum alveolar concentration [MAC]) with the exception of isoflurane (5.3 mM, 6.6 minimum alveolar concentration). Dantrolene (10 µM with 100 nM calmodulin) inhibited ryanodine receptor 2 by 40% but did not alter the K a for halothane activation. Halothane potentiated luminal and cytoplasmic Ca 2+ activation of ryanodine receptor 2 but had no effect on Mg 2+ inhibition. Halothane activated ryanodine receptor 2 in the absence and presence (2 mM) of adenosine triphosphate (ATP). Adenosine, a competitive antagonist to ATP activation of ryanodine receptor 2, did not antagonize halothane activation in the absence of ATP. Conclusions: At clinical concentrations (1 MAC), halothane desflurane and enflurane activated ryanodine receptor 2, whereas isoflurane and sevoflurane were ineffective. Dantrolene inhibition of ryanodine receptor 2 substantially negated the activating effects of anesthetics. Halothane acted independently of the adenine nucleotide-binding site on ryanodine receptor 2. The previously observed adenosine antagonism of halothane activation of sarcoplasmic reticulum Ca 2+ release was due to competition between adenosine and ATP, rather than between halothane and ATP.

2017
Wilasrusmee C, Siribumrungwong B, Phuwapraisirisan S, Poprom N, Woratanarat P, Lertsithichai P, et al., 'Developing and validating of Ramathibodi Appendicitis Score (RAMA-AS) for diagnosis of appendicitis in suspected appendicitis patients', WORLD JOURNAL OF EMERGENCY SURGERY, 12 (2017) [C1]
2017
Biswas M, Dias TH, Daneshi N, Holliday E, Hancock S, Attia J, et al., 'Potential simple and multifactorial drug-gene interactions of tricyclic antidepressantsin older Australians', GSTF Journal of Advances in Medical Research, 2 (2017) [C1]
2017
Joachim N, Colijn JM, Kifley A, Lee KE, Buitendijk GHS, Klein BEK, et al., 'Five-year progression of unilateral age-related macular degeneration to bilateral involvement: The Three Continent AMD Consortium report', British Journal of Ophthalmology, 101 1185-1192 (2017) [C1]

Purpose To assess the 5-year progression from unilateral to bilateral age-related macular degeneration (AMD) and associated risk factors. Design Pooled data analyses of three pros... [more]

Purpose To assess the 5-year progression from unilateral to bilateral age-related macular degeneration (AMD) and associated risk factors. Design Pooled data analyses of three prospective population-based cohorts, the Blue Mountains Eye Study, Beaver Dam Eye Study and Rotterdam Study. Methods Retinal photography and interview with comprehensive questionnaires were conducted at each visit of three studies. AMD was assessed following the modified Wisconsin AMD grading protocol. Progression to bilateral any (early and late) or late AMD was assessed among participants with unilateral involvement only. Factors associated with the progression were assessed using logistic regression models while simultaneously adjusting for other significant risk factors. Results In any 5-year duration, 19-28% of unilateral any AMD cases became bilateral and 27-68% of unilateral late AMD became bilateral. Factors associated with the progression to bilateral involvement of any AMD were age (per year increase, adjusted OR 1.07), carrying risk alleles of the complement factor H and age-related maculopathy susceptibility 2 genes (compared with none, OR 1.76 for 1 risk allele and OR 3.34 for 2+ risk alleles), smoking (compared with non-smokers, OR 1.64 for past and OR 1.67 for current smokers), and the presence of large drusen area or retinal pigmentary abnormalities in the first eye. Conclusion One in four to one in five unilateral any AMD cases, and up to one in two unilateral late AMD cases, progressed to bilateral in 5 years. Known AMD risk factors, including smoking, are significantly associated with the progression to bilateral involvement.

2017
Jones MP, Attia JR, 'Sampling: how you choose people is as important as how you analyse their data', MEDICAL JOURNAL OF AUSTRALIA, 206 (2017) [C1]
2017
Wain LV, Vaez A, Jansen R, Joehanes R, Van Der Most PJ, Erzurumluoglu AM, et al., 'Novel Blood Pressure Locus and Gene Discovery Using Genome-Wide Association Study and Expression Data Sets from Blood and the Kidney', Hypertension, 70 e4-e19 (2017) [C1]

Elevated blood pressure is a major risk factor for cardiovascular disease and has a substantial genetic contribution. Genetic variation influencing blood pressure has the potentia... [more]

Elevated blood pressure is a major risk factor for cardiovascular disease and has a substantial genetic contribution. Genetic variation influencing blood pressure has the potential to identify new pharmacological targets for the treatment of hypertension. To discover additional novel blood pressure loci, we used 1000 Genomes Project-based imputation in 150 134 European ancestry individuals and sought significant evidence for independent replication in a further 228 245 individuals. We report 6 new signals of association in or near HSPB7, TNXB, LRP12, LOC283335, SEPT9, and AKT2, and provide new replication evidence for a further 2 signals in EBF2 and NFKBIA. Combining large whole-blood gene expression resources totaling 12 607 individuals, we investigated all novel and previously reported signals and identified 48 genes with evidence for involvement in blood pressure regulation that are significant in multiple resources. Three novel kidney-specific signals were also detected. These robustly implicated genes may provide new leads for therapeutic innovation.

2017
Warren HR, Evangelou E, Cabrera CP, Gao H, Ren M, Mifsud B, et al., 'Genome-wide association analysis identifies novel blood pressure loci and offers biological insights into cardiovascular risk', Nature Genetics, 49 403-415 (2017) [C1]

Elevated blood pressure is the leading heritable risk factor for cardiovascular disease worldwide. We report genetic association of blood pressure (systolic, diastolic, pulse pres... [more]

Elevated blood pressure is the leading heritable risk factor for cardiovascular disease worldwide. We report genetic association of blood pressure (systolic, diastolic, pulse pressure) among UK Biobank participants of European ancestry with independent replication in other cohorts, and robust validation of 107 independent loci. We also identify new independent variants at 11 previously reported blood pressure loci. In combination with results from a range of in silico functional analyses and wet bench experiments, our findings highlight new biological pathways for blood pressure regulation enriched for genes expressed in vascular tissues and identify potential therapeutic targets for hypertension. Results from genetic risk score models raise the possibility of a precision medicine approach through early lifestyle intervention to offset the impact of blood pressure-raising genetic variants on future cardiovascular disease risk.

2017
McCrabb S, Baker AL, Attia J, Balogh ZJ, Lott N, Palazzi K, et al., 'Smoking, Quitting, and the Provision of Smoking Cessation Support: A Survey of Orthopaedic Trauma Patients', Journal of Orthopaedic Trauma, 31 e255-e262 (2017) [C1]

Objective: This study investigates orthopaedic trauma patients smoking cessation history, intentions to quit, receipt of smoking cessation care during hospital admission, and pati... [more]

Objective: This study investigates orthopaedic trauma patients smoking cessation history, intentions to quit, receipt of smoking cessation care during hospital admission, and patient-related factors associated with receipt of smoking cessation care. Methods: An online cross-sectional survey of orthopaedic trauma patients was conducted in 2 public hospitals in New South Wales, Australia. Prevalence of smoking and associated variables were described. Logistic regressions were used to examine whether patient characteristics were associated with receipt of smoking cessation care. Results: Eight hundred nineteen patients (response rate 73%) participated. More than 1 in 5 patients (21.8%) were current smokers (n = 175). Of the current smokers, more than half (55.3%) indicated making a quit attempt in the last 12 months and the majority (77.6%) were interested in quitting. More than a third of smokers (37.4%) were not advised to quit; 44.3% did not receive any form of nicotine replacement therapy; and 24.1% reported that they did not receive any of these 3 forms of smoking cessation care during their admission. Provision of care was not related to patient characteristics. Conclusions: The prevalence of smoking among the sample was high. Respondents were interested in quitting; however, the provision of care during admission was low. Smoking cessation interventions need to be developed to increase the provision of care and to promote quit attempts in this Australian population.

2017
Hodder RK, Freund M, Bowman J, Wolfenden L, Campbell E, Dray J, et al., 'Effectiveness of a pragmatic school-based universal resilience intervention in reducing tobacco, alcohol and illicit substance use in a population of adolescents: cluster-randomised controlled trial', BMJ OPEN, 7 (2017) [C1]
2017
Fletcher R, Kay-Lambkin F, May C, Oldmeadow C, Attia J, Leigh L, 'Supporting men through their transition to fatherhood with messages delivered to their smartphones: a feasibility study of SMS4dads', BMC PUBLIC HEALTH, 17 (2017) [C1]
2017
Gupta SK, Trethewey S, Brooker B, Rutherford N, Diffey J, Viswanathan S, Attia J, 'Radionuclide bone scan SPECT-CT: lowering the dose of CT significantly reduces radiation dose without impacting CT image quality', AMERICAN JOURNAL OF NUCLEAR MEDICINE AND MOLECULAR IMAGING, 7 63-73 (2017) [C1]

| | |
| --- | --- |
| Citations | Web of Science - 5 |

2017
Abdullah N, Abdul Murad NA, Mohd Haniff EA, Syafruddin SE, Attia J, Oldmeadow C, et al., 'Predicting type 2 diabetes using genetic and environmental risk factors in a multi-ethnic Malaysian cohort', Public Health, 149 31-38 (2017) [C1]

Objective Malaysia has a high and rising prevalence of type 2 diabetes (T2D). While environmental (non-genetic) risk factors for the disease are well established, the role of gene... [more]

Objective Malaysia has a high and rising prevalence of type 2 diabetes (T2D). While environmental (non-genetic) risk factors for the disease are well established, the role of genetic variations and gene¿environment interactions remain understudied in this population. This study aimed to estimate the relative contributions of environmental and genetic risk factors to T2D in Malaysia and also to assess evidence for gene¿environment interactions that may explain additional risk variation. Study design This was a case¿control study including 1604 Malays, 1654 Chinese and 1728 Indians from the Malaysian Cohort Project. Methods The proportion of T2D risk variance explained by known genetic and environmental factors was assessed by fitting multivariable logistic regression models and evaluating McFadden's pseudo R2 and the area under the receiver-operating characteristic curve (AUC). Models with and without the genetic risk score (GRS) were compared using the log likelihood ratio Chi-squared test and AUCs. Multiplicative interaction between genetic and environmental risk factors was assessed via logistic regression within and across ancestral groups. Interactions were assessed for the GRS and its 62 constituent variants. Results The models including environmental risk factors only had pseudo R2 values of 16.5¿28.3% and AUC of 0.75¿0.83. Incorporating a genetic score aggregating 62 T2D-associated risk variants significantly increased the model fit (likelihood ratio P-value of 2.50 × 10-4¿4.83 × 10-12) and increased the pseudo R2 by about 1¿2% and AUC by 1¿3%. None of the gene¿environment interactions reached significance after multiple testing adjustment, either for the GRS or individual variants. For individual variants, 33 out of 310 tested associations showed nominal statistical significance with 0.001 < P < 0.05. Conclusion This study suggests that known genetic risk variants contribute a significant but small amount to overall T2D risk variation in Malaysian population groups. If gene¿environment interactions involving common genetic variants exist, they are likely of small effect, requiring substantially larger samples for detection.

2017
Bhaskar S, Bivard A, Stanwell P, Parsons M, Attia JR, Nilsson M, Levi C, 'Baseline collateral status and infarct topography in post-ischaemic perilesional hyperperfusion: An arterial spin labelling study', Journal of Cerebral Blood Flow and Metabolism, 37 1148-1162 (2017) [C1]

Focal hyperperfusion after acute ischaemic stroke could be of prognostic value depending upon its spatial localisation and temporal dynamics. Factors associated with late stage (1... [more]

Focal hyperperfusion after acute ischaemic stroke could be of prognostic value depending upon its spatial localisation and temporal dynamics. Factors associated with late stage (12-24 h) perilesional hyperperfusion, identified using arterial spin labelling, are poorly defined. A prospective cohort of acute ischaemic stroke patients presenting within 4.5 h of symptom onset were assessed with multi-modal computed tomography acutely and magnetic resonance imaging at 24 ± 8 h. Multivariate logistic regression analysis and receiver operating characteristics curves were used. One hundred and nineteen hemispheric acute ischaemic stroke patients (mean age = 71 ± 12 years) with 24 h arterial spin labelling imaging were included. Forty-Two (35.3%) patients showed perilesional hyperperfusion on arterial spin labelling at 24 h. Several factors were independently associated with perilesional hyperperfusion: good collaterals (71% versus 29%, P < 0.0001; OR = 5, 95% CI = [1.6, 15.7], P = 0.005), major reperfusion (81% versus 48%, P = < 0.0001; OR = 7.5, 95% CI = [1.6, 35.1], P = 0.01), penumbral salvage (76.2% versus 47%, P = 0.002; OR = 6.6, 95% CI = [1.8, 24.5], P = 0.004), infarction in striatocapsular (OR = 9.5, 95% CI = [2.6, 34], P = 0.001) and in cortical superior division middle cerebral artery (OR = 4.7, 95% CI = [1.4, 15.7], P = 0.012) territory. The area under the receiver operating characteristic curve was 0.91. Our results demonstrate good arterial collaterals, major reperfusion, penumbral salvage, and infarct topographies involving cortical superior middle cerebral artery and striatocapsular are associated with perilesional hyperperfusion.

2017
McCrabb S, Baker AL, Attia J, Balogh ZJ, Lott N, Palazzi K, et al., 'Hospital smoke-free policy: Compliance, enforcement, and practices. A staff survey in two large public hospitals in Australia', International Journal of Environmental Research and Public Health, 14 (2017) [C1]
2017
Reeves AJ, McEvoy MA, MacDonald-Wicks LK, Barker D, Attia J, Hodge AM, Patterson AJ, 'Calculation of Haem Iron Intake and Its Role in the Development of Iron Deficiency in Young Women from the Australian Longitudinal Study on Women's Health', NUTRIENTS, 9 (2017) [C1]
2017
Khaing W, Vallibhakara SA-O, Tantrakul V, Vallibhakara O, Rattanasiri S, McEvoy M, et al., 'Calcium and Vitamin D Supplementation for Prevention of Preeclampsia: A Systematic Review and Network Meta-Analysis.', Nutrients, 9 (2017) [C1]
2017
Kelly B, Iseme R, Mcevoy M, Walker F, Attia B, 'Is osteoporosis an immune-mediated disorder', Bone Reports, 7 121-131 (2017) [C1]
2017
Vejakama P, Ingsathit A, McKay GJ, Maxwell AP, McEvoy M, Attia J, Thakkinstian A, 'Treatment effects of renin-angiotensin aldosterone system blockade on kidney failure and mortality in chronic kidney disease patients', BMC Nephrology, 18 (2017) [C1]
2017
Scott IA, Attia J, 'Cautionary tales in the interpretation of observational studies of effects of clinical interventions', Internal Medicine Journal, 47 144-157 (2017) [C1]

Observational studies of the effectiveness of clinical interventions are proliferating as more ¿real-world¿ clinical data (so called ¿big data¿) are gathered from clinical registr... [more]

Observational studies of the effectiveness of clinical interventions are proliferating as more ¿real-world¿ clinical data (so called ¿big data¿) are gathered from clinical registries, administrative datasets and electronic health records. While well-conducted randomised controlled trials (RCT) remain the scientific standard in assessing the efficacy of clinical interventions, well-designed observational studies may add to the evidence base of effectiveness in situations where RCT are of limited value or very difficult to perform. Rather than dismissing observational studies, we need to determine what circumstances may justify doing an observational study and when the study is sufficiently rigorous to be considered reasonably trustworthy. This article proposes criteria by which users of the literature might make such determinations.

2017
Sharpley CF, Hussain R, Wark SG, Bitsika V, McEvoy MA, Attia JR, 'Prevalence of depressed mood versus anhedonia in older persons: implications for clinical practice', ASIA PACIFIC JOURNAL OF COUNSELLING AND PSYCHOTHERAPY, 8 3-14 (2017) [C1]
2017
Vejakama P, Ingsathit A, McEvoy M, Attia J, Thakkinstian A, 'Progression of chronic kidney disease: An illness-death model approach', BMC Nephrology, 18 1-8 (2017) [C1]
2016
Islam MR, Attia J, Ali L, McEvoy M, Selim S, Sibbritt D, et al., 'Zinc supplementation for improving glucose handling in pre-diabetes: A double blind randomized placebo controlled pilot study', Diabetes Research and Clinical Practice, 115 39-46 (2016) [C1]

Aims: There are a number of studies showing that zinc supplementation may improve glucose handling in people with established diabetes. We sought to investigate whether this zinc-... [more]

Aims: There are a number of studies showing that zinc supplementation may improve glucose handling in people with established diabetes. We sought to investigate whether this zinc-dependent improvement in glucose handling could potentially be harnessed to prevent the progression of pre-diabetes to diabetes. In this double-blind randomized placebo-controlled trial, we determined participants' fasting blood glucose levels, (FBG) and Homeostasis Model Assessment (HOMA) parameters (beta cell function, insulin sensitivity and insulin resistance) at baseline and after 6 months of zinc supplementation. Methods: The Bangladesh Institute of Health Sciences Hospital (BIHS) (Mirpur, Dhaka, Bangladesh) database was used to identify 224 patients with prediabetes, of whom 55 met the inclusion criteria and agreed to participate. The participants were randomized either to the intervention or control group using block randomization. The groups received either 30 mg zinc sulphate dispersible tablet or placebo, once daily for six months. Results: After six months, the intervention group significantly improved their FBG concentration compared to the placebo group (5.37 ± 0.20 mmol/L vs 5.69 ± 0.26, p < 0.001) as well as compared to their own baseline (5.37 ± 0.20 mmol/L vs 5.8 ± 0.09, p < 0.001). Beta cell function, insulin sensitivity and insulin resistance all showed a statistically significant improvement as well. Conclusion: To our knowledge this is the first trial to show an improvement in glucose handling using HOMA parameters in participants with prediabetes. Larger randomized controlled trials are warranted to confirm these findings and to explore clinical endpoints.

2016
Rosand J, Mitchell BD, Ay H, de Bakker PIW, Gwinn K, Kittner SJ, et al., 'Loci associated with ischaemic stroke and its subtypes (SiGN): A genome-wide association study', The Lancet Neurology, 15 174-184 (2016) [C1]

Background: The discovery of disease-associated loci through genome-wide association studies (GWAS) is the leading genetic approach to the identification of novel biological pathw... [more]

Background: The discovery of disease-associated loci through genome-wide association studies (GWAS) is the leading genetic approach to the identification of novel biological pathways underlying diseases in humans. Until recently, GWAS in ischaemic stroke have been limited by small sample sizes and have yielded few loci associated with ischaemic stroke. We did a large-scale GWAS to identify additional susceptibility genes for stroke and its subtypes. Methods: To identify genetic loci associated with ischaemic stroke, we did a two-stage GWAS. In the first stage, we included 16 851 cases with state-of-the-art phenotyping data and 32 473 stroke-free controls. Cases were aged 16 to 104 years, recruited between 1989 and 2012, and subtypes of ischaemic stroke were recorded by centrally trained and certified investigators who used the web-based protocol, Causative Classification of Stroke (CCS). We constructed case-control strata by identifying samples that were genotyped on nearly identical arrays and were of similar genetic ancestral background. We cleaned and imputed data by use of dense imputation reference panels generated from whole-genome sequence data. We did genome-wide testing to identify stroke-associated loci within each stratum for each available phenotype, and we combined summary-level results using inverse variance-weighted fixed-effects meta-analysis. In the second stage, we did in-silico lookups of 1372 single nucleotide polymorphisms identified from the first stage GWAS in 20 941 cases and 364 736 unique stroke-free controls. The ischaemic stroke subtypes of these cases had previously been established with the Trial of Org 10 172 in Acute Stroke Treatment (TOAST) classification system, in accordance with local standards. Results from the two stages were then jointly analysed in a final meta-analysis. Findings: We identified a novel locus (G allele at rs12122341) at 1p13.2 near TSPAN2 that was associated with large artery atherosclerosis-related stroke (first stage odds ratio [OR] 1·21, 95% CI 1·13-1·30, p=4·50 × 10-8; joint OR 1·19, 1·12-1·26, p=1·30 × 10-9). Our results also supported robust associations with ischaemic stroke for four other loci that have been reported in previous studies, including PITX2 (first stage OR 1·39, 1·29-1·49, p=3·26 × 10-19; joint OR 1·37, 1·30-1·45, p=2·79 × 10-32) and ZFHX3 (first stage OR 1·19, 1·11-1·27, p=2·93 × 10-7; joint OR 1·17, 1·11-1·23, p=2·29 × 10-10) for cardioembolic stroke, and HDAC9 (first stage OR 1·29, 1·18-1·42, p=3·50 × 10-8; joint OR 1·24, 1·15-1·33, p=4·52 × 10-9) for large artery atherosclerosis stroke. The 12q24 locus near ALDH2, which has previously been associated with all ischaemic stroke but not with any specific subtype, exceeded genome-wide significance in the meta-analysis of small artery stroke (first stage OR 1·20, 1·12-1·28, p=6·82 × 10-8; joint OR 1·17, 1·11-1·23, p=2·92 × 10-9). Other loci associated with stroke in previous studies, including NINJ2, were not confirmed. Interpretation: Our results suggest that all ischaemic stroke-related loci previously implicated by GWAS are subtype specific. We identified a novel gene associated with large artery atherosclerosis stroke susceptibility. Follow-up studies will be necessary to establish whether the locus near TSPAN2 can be a target for a novel therapeutic approach to stroke prevention. In view of the subtype-specificity of the associations detected, the rich phenotyping data available in the Stroke Genetics Network (SiGN) are likely to be crucial for further genetic discoveries related to ischaemic stroke. Funding: US National Institute of Neurological Disorders and Stroke, National Institutes of Health.

2016
Chen MM, O'Mara TA, Thompson DJ, Painter JN, Attia J, Black A, et al., 'GWAS meta-analysis of 16 852 women identifies new susceptibility locus for endometrial cancer', HUMAN MOLECULAR GENETICS, 25 2612-2620 (2016) [C1]
2016
Painter JN, O'Mara TA, Marquart L, Webb PM, Attia J, Medland SE, et al., 'Genetic risk score mendelian randomization shows that obesity measured as body mass index, but not waist:hip ratio, is causal for endometrial cancer', Cancer Epidemiology Biomarkers and Prevention, 25 1503-1510 (2016) [C1]

Background: The strongest known risk factor for endometrial cancer is obesity. To determine whether SNPs associated with increased body mass index (BMI) or waist-hip ratio (WHR) a... [more]

Background: The strongest known risk factor for endometrial cancer is obesity. To determine whether SNPs associated with increased body mass index (BMI) or waist-hip ratio (WHR) are associated with endometrial cancer risk, independent of measured BMI, we investigated relationships between 77 BMI and 47 WHR SNPs and endometrial cancer in 6,609 cases and 37,926 country-matched controls. Methods: Logistic regression analysis and fixed effects metaanalysis were used to test for associations between endometrial cancer risk and (i) individual BMI orWHRSNPs, (ii) a combined weighted genetic risk score (wGRS) for BMI or WHR. Causality of BMI for endometrial cancer was assessed using Mendelian randomization, with BMIwGRS as instrumental variable. Results: The BMIwGRS was significantly associated with endometrial cancer risk (P -= 3.4 × 10-17). Scaling the effect of the BMIwGRS on endometrial cancer risk by its effect on BMI, the endometrial cancer OR per 5 kg/m2 of genetically predicted BMI was 2.06 [95% confidence interval (CI), 1.89-2.21], larger than the observed effect of BMI on endometrial cancer risk (OR-=1.55; 95% CI, 1.44-1.68, per 5 kg/m2). The association attenuated but remained significant after adjusting for BMI (OR -= 1.22; 95% CI, 1.10-1.39; P -= 5.3 × 10-4). There was evidence of directional pleiotropy (P -= 1.5 × 10-4). BMI SNP rs2075650 was associated with endometrial cancer at study-wide significance (P < 4.0 × 10-4), independent of BMI. Endometrial cancer was not significantly associated with individual WHR SNPs or the WHRwGRS. Conclusions: BMI, but not WHR, is causally associated with endometrial cancer risk, with evidence that some BMI-associated SNPs alter endometrial cancer risk via mechanisms other than measurable BMI. Impact: The causal association between BMI SNPs and endometrial cancer has possible implications for endometrial cancer risk modeling.

2016
Okbay A, Baselmans BML, De Neve JE, Turley P, Nivard MG, Fontana MA, et al., 'Genetic variants associated with subjective well-being, depressive symptoms, and neuroticism identified through genome-wide analyses', Nature Genetics, 48 624-633 (2016) [C1]

Very few genetic variants have been associated with depression and neuroticism, likely because of limitations on sample size in previous studies. Subjective well-being, a phenotyp... [more]

Very few genetic variants have been associated with depression and neuroticism, likely because of limitations on sample size in previous studies. Subjective well-being, a phenotype that is genetically correlated with both of these traits, has not yet been studied with genome-wide data. We conducted genome-wide association studies of three phenotypes: subjective well-being (n = 298,420), depressive symptoms (n = 161,460), and neuroticism (n = 170,911). We identify 3 variants associated with subjective well-being, 2 variants associated with depressive symptoms, and 11 variants associated with neuroticism, including 2 inversion polymorphisms. The two loci associated with depressive symptoms replicate in an independent depression sample. Joint analyses that exploit the high genetic correlations between the phenotypes (P = 0.8) strengthen the overall credibility of the findings and allow us to identify additional variants. Across our phenotypes, loci regulating expression in central nervous system and adrenal or pancreas tissues are strongly enriched for association.

2016
Cheng THT, Thompson DJ, O'Mara TA, Painter JN, Glubb DM, Flach S, et al., 'Five endometrial cancer risk loci identified through genome-wide association analysis', Nature Genetics, 48 667-674 (2016) [C1]

We conducted a meta-analysis of three endometrial cancer genome-wide association studies (GWAS) and two follow-up phases totaling 7,737 endometrial cancer cases and 37,144 control... [more]

We conducted a meta-analysis of three endometrial cancer genome-wide association studies (GWAS) and two follow-up phases totaling 7,737 endometrial cancer cases and 37,144 controls of European ancestry. Genome-wide imputation and meta-analysis identified five new risk loci of genome-wide significance at likely regulatory regions on chromosomes 13q22.1 (rs11841589, near KLF5), 6q22.31 (rs13328298, in LOC643623 and near HEY2 and NCOA7), 8q24.21 (rs4733613, telomeric to MYC), 15q15.1 (rs937213, in EIF2AK4, near BMF) and 14q32.33 (rs2498796, in AKT1, near SIVA1). We also found a second independent 8q24.21 signal (rs17232730). Functional studies of the 13q22.1 locus showed that rs9600103 (pairwise r 2 = 0.98 with rs11841589) is located in a region of active chromatin that interacts with the KLF5 promoter region. The rs9600103[T] allele that is protective in endometrial cancer suppressed gene expression in vitro, suggesting that regulation of the expression of KLF5, a gene linked to uterine development, is implicated in tumorigenesis. These findings provide enhanced insight into the genetic and biological basis of endometrial cancer.

2016
Gunathilake R, Oldmeadow C, McEvoy M, Inder KJ, Schofield PW, Nair BR, Attia J, 'The Association Between Obesity and Cognitive Function in Older Persons: How Much Is Mediated by Inflammation, Fasting Plasma Glucose, and Hypertriglyceridemia?', J Gerontol A Biol Sci Med Sci, 71 1603-1608 (2016) [C1]
2016
Sridharan S, Steigler A, Spry NA, Joseph D, Lamb DS, Matthews JH, et al., 'Oligometastatic bone disease in prostate cancer patients treated on the TROG 03.04 RADAR trial', Radiotherapy and Oncology, 121 98-102 (2016) [C1]

Background It remains unclear whether eradication of oligometastases by stereotactic body radiation therapy or other means will result in cure or prolongation of survival in some ... [more]

Background It remains unclear whether eradication of oligometastases by stereotactic body radiation therapy or other means will result in cure or prolongation of survival in some cases, or merely provide palliation. We address this issue with prospectively collected progression and treatment data from the TROG 03.04 RADAR randomised controlled trial for men with locally advanced prostate cancer (PC). Methods Three Fine and Gray competing risk survival models with time-dependent covariates were used to determine whether metastatic progression status at first diagnosis of bony metastases, i.e. number of bony sites involved and presence of prior or simultaneous other sites of progression, impacts on prostate cancer-specific mortality (PCSM) when adjusted for baseline prognostic factors and allocated primary treatment. Results Between 2003 and 2014, 176 of the 1071 subjects developed bone metastases, 152 developed other sites of progression and 91 died of PC. All subjects received secondary treatment using androgen suppression but none received extirpative treatments. The three models found evidence: 1 ¿ of a clear prognostic gradient according to number of bony metastatic sites; 2 ¿ that other sites of progression contributed to PCSM to a lesser extent than bone progression; and 3 ¿ that further bony metastatic progression in men with up to 3 bony metastases had a major impact on PCSM. Conclusion Randomised trials are essential to determine the value of extirpative treatment for oligometastatic bony metastases due to PC.

2016
De Vries PS, Chasman DI, Sabater-Lleal M, Chen MH, Huffman JE, Steri M, et al., 'A meta-analysis of 120 246 individuals identifies 18 new loci for fibrinogen concentration', Human Molecular Genetics, 25 358-370 (2016) [C1]

Genome-wide association studies have previously identified 23 genetic loci associated with circulating fibrinogen concentration. These studies used HapMap imputation and did not e... [more]

Genome-wide association studies have previously identified 23 genetic loci associated with circulating fibrinogen concentration. These studies used HapMap imputation and did not examine the X-chromosome. 1000 Genomes imputation provides better coverage of uncommon variants, and includes indels.We conducted a genome-wide association analysis of 34 studies imputed to the 1000 Genomes Project reference panel and including ~120 000 participants of European ancestry (95 806 participants with data on the X-chromosome). Approximately 10.7 million single-nucleotide polymorphisms and 1.2 million indelswere examined.We identified 41 genome-wide significant fibrinogen loci; of which, 18were newly identified. Therewere no genome-wide significant signals on the X-chromosome. The lead variants of five significant loci were indels. We further identified six additional independent signals, including three rare variants, at two previously characterized loci: FGB and IRF1. Together the 41 loci explain 3% of the variance in plasma fibrinogen concentration.

2016
Handley TE, Kay-Lambkin FJ, Baker AL, Lewin TJ, Kelly BJ, Inder KJ, et al., 'Investigation of a Suicide Ideation Risk Profile in People with Co-occurring Depression and Substance Use Disorder', Journal of Nervous and Mental Disease, 204 820-826 (2016) [C1]

Disengagement from services is common before suicide, hence identifying factors at treatment presentation that predict future suicidality is important. This article explores risk ... [more]

Disengagement from services is common before suicide, hence identifying factors at treatment presentation that predict future suicidality is important. This article explores risk profiles for suicidal ideation among treatment seekers with depression and substance misuse. Participants completed assessments at baseline and 6 months. Baseline demographics, psychiatric history, and current symptoms were entered into a decision tree to predict suicidal ideation at follow-up. Sixty-three percent of participants at baseline and 43.5% at follow-up reported suicidal ideation. Baseline ideation most salient when psychiatric illness began before adulthood, increasing the rate of follow-up ideation by 16%. Among those without baseline ideation, dysfunctional attitudes were the most important risk factor, increasing rates of suicidal ideation by 35%. These findings provide evidence of factors beyond initial diagnoses that increase the likelihood of suicidal ideation and are worthy of clinical attention. In particular, providing suicide prevention resources to those with high dysfunctional attitudes may be beneficial.

2016
Bhaskar S, Bivard A, Stanwell P, Attia JR, Parsons M, Nilsson M, Levi C, 'Association of Cortical Vein Filling with Clot Location and Clinical Outcomes in Acute Ischaemic Stroke Patients', SCIENTIFIC REPORTS, 6 (2016) [C1]
2016
Okbay A, Baselmans BML, De Neve J-E, Turley P, Nivard MG, Fontana MA, et al., 'Genetic variants associated with subjective well-being, depressive symptoms, and neuroticism identified through genome-wide analyses (vol 48, pg 624, 2016)', NATURE GENETICS, 48 970-970 (2016)
2016
Okbay A, Baselmans BML, De Neve J-E, Turley P, Nivard MG, Fontana MA, et al., 'Genetic variants associated with subjective well-being, depressive symptoms, and neuroticism identified through genome-wide analyses (vol 48, pg 624, 2016)', NATURE GENETICS, 48 1591-1591 (2016)
2016
Anothaisintawee T, Udomsubpayakul U, McEvoy M, Lerdsitthichai P, Attia J, Thakkinstian A, 'Effect of Lipophilic and Hydrophilic Statins on Breast Cancer Risk in Thai Women: A Cross-sectional Study.', Journal of Cancer, 7 1163-1168 (2016) [C1]
2016
Angkananard T, Anothaisintawee T, Eursiriwan S, Gorelik O, McEvoy M, Attia J, Thakkinstian A, 'The association of serum magnesium and mortality outcomes in heart failure patients: A systematic review and meta-analysis.', Medicine (Baltimore), 95 e5406 (2016) [C1]
2016
Korda RJ, Soga K, Joshy G, Calabria B, Attia J, Wong D, Banks E, 'Socioeconomic variation in incidence of primary and secondary major cardiovascular disease events: an Australian population-based prospective cohort study', International Journal for Equity in Health, 15 1-10 (2016) [C1]

Background: Cardiovascular disease (CVD) disproportionately affects disadvantaged people, but reliable quantitative evidence on socioeconomic variation in CVD incidence in Austral... [more]

Background: Cardiovascular disease (CVD) disproportionately affects disadvantaged people, but reliable quantitative evidence on socioeconomic variation in CVD incidence in Australia is lacking. This study aimed to quantify socioeconomic variation in rates of primary and secondary CVD events in mid-age and older Australians. Methods: Baseline data (2006-2009) from the 45 and Up Study, an Australian cohort involving 267,153 men and women aged = 45, were linked to hospital and death data (to December 2013). Outcomes comprised first event - death or hospital admission - for major CVD combined, as well as myocardial infarction and stroke, in those with and without prior CVD (secondary and primary events, respectively). Cox regression estimated hazard ratios (HRs) for each outcome in relation to education (and income and area-level disadvantage), separately by age group (45-64, 65-79, and = 80 years), adjusting for age and sex, and additional sociodemographic factors. Results: There were 18,207 primary major CVD events over 1,144,845 years of follow-up (15.9/1000 person-years), and 20,048 secondary events over 260,357 years (77.0/1000 person-years). For both primary and secondary events, incidence increased with decreasing education, with the absolute difference between education groups largest for secondary events. Age-sex adjusted hazard ratios were highest in the 45-64 years group: for major CVDs, HR (no qualifications vs university degree) = 1.62 (95% CI: 1.49-1.77) for primary events, and HR = 1.49 (1.34-1.65) for secondary events; myocardial infarction HR = 2.31 (1.87-2.85) and HR = 2.57 (1.90-3.47) respectively; stroke HR = 1.48 (1.16-1.87) and HR = 1.97 (1.42-2.74) respectively. Similar but attenuated results were seen in older age groups, and with income. For area-level disadvantage, CVD gradients were weak and non-significant in older people (> 64 years). Conclusions: Individual-level data are important for quantifying socioeconomic variation in CVD incidence, which is shown to be substantial among both those with and without prior CVD. Findings reinforce the opportunity for, and importance of, primary and secondary prevention and treatment in reducing socioeconomic variation in CVD and consequently the overall burden of CVD morbidity and mortality in Australia.

2016
Faulkner S, Roselli S, Demont Y, Pundavela J, Choquet G, Leissner P, et al., 'ProNGF is a potential diagnostic biomarker for thyroid cancer', Oncotarget, 7 28488-28497 (2016) [C1]

The precursor for nerve growth factor (proNGF) is expressed in some cancers but its clinicopathological significance is unclear. The present study aimed to define the clinicopatho... [more]

The precursor for nerve growth factor (proNGF) is expressed in some cancers but its clinicopathological significance is unclear. The present study aimed to define the clinicopathological significance of proNGF in thyroid cancer. ProNGF expression was analysed by immunohistochemistry in two cohorts of cancer versus benign tumors (adenoma) and normal thyroid tissues. In the first cohort (40 thyroid cancers, 40 thyroid adenomas and 80 normal thyroid tissues), proNGF was found overexpressed in cancers compared to adenomas and normal samples (p<0.0001). The area under the receiver-operating characteristic (ROC) curve was 0.84 (95% CI 0.75-0.93, p<0.0001) for cancers versus adenomas, and 0.99 (95% CI 0.98-1.00, p<0.0001) for cancers versus normal tissues. ProNGF overexpression was confirmed in a second cohort (127 cancers of various histological types and 55 normal thyroid tissues) and using a different antibody (p<0.0001). ProNGF staining intensity was highest in papillary carcinomas compared to other histological types (p<0.0001) and there was no significant association with age, gender, tumor size, stage and lymph node status. In conclusion, proNGF is increased in thyroid cancer and should be considered as a new potential diagnostic biomarker.

2016
White J, Magin P, Attia J, Sturm J, McElduff P, Carter G, 'Predictors of health-related quality of life in community-dwelling stroke survivors: A cohort study', Family Practice, 33 382-387 (2016) [C1]

Background. Impaired health-related quality of life (HRQoL) post stroke is common, though prevalence estimates vary considerably. Few longitudinal studies explore post-stroke patt... [more]

Background. Impaired health-related quality of life (HRQoL) post stroke is common, though prevalence estimates vary considerably. Few longitudinal studies explore post-stroke patterns of HRQoL and factors contributing to their change over time. Accurately identifying HRQoL after stroke is essential to understanding the extent of stroke effects. Objectives. This study aimed to assess change in levels of, and identify independent predictors of, HRQoL over the first 12-months post-stroke. Methods. Design. A prospective cohort study. Setting and participants. Community-dwelling stroke survivors in metropolitan Newcastle, New South Wales (NSW), Australia. Consecutively recruited stroke patients (n = 134) participated in face-to-face interviews at baseline, 3, 6, 9 and 12 months. Outcome measure. HRQoL (measured using the Assessment Quality-of-life).Independent measures. Physical and psycho-social functioning, including depression and anxiety (measured via Hospital Anxiety and Depression Scale), disability (Modified Rankin Scale), social support (Multi-dimensional Scale Perceived Social Support) and community participation (Adelaide Activities Profile).Analyses. A linear mixed model was used to establish the predictors of, change in HRQoL over time. Results. On multivariable analysis, HRQOL did not change significantly with time post-stroke. Higher HRQoL scores were independently associated with higher baseline HRQoL (P = 0.03), younger age (P = 0.006), lower disability (P = 0.003), greater community participation (P = 0.001) and no history of depression (P = 0.03). Conclusion. These results contribute to an understanding of HRQoL in the first year post-stroke. Community participation and stroke-related disability are potentially modifiable risk factors affecting post-stroke HRQoL. Interventions aimed at addressing participation and disability post-stroke should be developed and tested.

2016
Seangleulur A, Vanasbodeekul P, Prapaitrakool S, Worathongchai S, Anothaisintawee T, McEvoy M, et al., 'The efficacy of local infiltration analgesia in the early postoperative period after total knee arthroplasty: A systematic review and meta-analysis', European Journal of Anaesthesiology, 33 816-831 (2016) [C1]

BACKGROUND Local infiltration analgesia (LIA) has emerged as an alternative treatment for postoperative pain after total knee arthroplasty (TKA). Its efficacy remains inconclusive... [more]

BACKGROUND Local infiltration analgesia (LIA) has emerged as an alternative treatment for postoperative pain after total knee arthroplasty (TKA). Its efficacy remains inconclusive with inconsistent results from previous studies and meta-analyses. There is no agreement on which local anaesthetic agent and infiltration technique is most effective and well tolerated. OBJECTIVE The objective was to compare LIA after primary TKA with placebo or no infiltration in terms of early postoperative pain relief, mobilisation, length of hospital stay (LOS) and complications when used as a primary treatment or as an adjunct to regional anaesthesia. The role of injection sites, postoperative injection or infusion and multimodal drug injection with ketorolac were also explored. DESIGN A systematic review and meta-analysis of randomised controlled trials (RCTs). DATA SOURCES A literature search was performed using PubMed and SCOPUS up to September 2015. ELIGIBILITY CRITERIA RCTs comparing LIA with placebo or no infiltration after primary TKA in terms of pain score and opioid consumption at 24 and 48 h, mobilisation, LOS and complications were included. RESULTS In total 38 RCTs were included. LIA groups had lower pain scores, opioid consumption and postoperative nausea and vomiting, higher range of motion at 24 h and shorter LOS than no injection or placebo. After subgroup analysis, intraoperative peri-articular but not intra-articular injection had lower pain score at 24 h than no injection or placebo with the pooled mean difference of pain score at rest of -0.89 [95% CI (-1.40 to -0.38); I2=92.0%]. Continuing with postoperative injection or infusion reduced 24-h pain score with the pooled mean difference at rest of -1.50 [95% CI (-1.92 to -1.08); I2=60.5%]. There was no additional benefit in terms of pain relief during activity, opioid consumption, range of movement or LOS when LIA was used as an adjunct to regional anaesthesia. Four out of 735 patients receiving LIA reported deep knee infection, three of whom had had postoperative catheter placement. CONCLUSION LIA is effective for acute pain management after TKA. Intraoperative peri-articular but not intra-articular injection may be helpful in pain control up to 24 h. The use of postoperative intra-articular catheter placement is still inconclusive. The benefit of LIA as an adjunctive treatment to regional anaesthesia was not demonstrated.

2016
Lai JS, Oldmeadow C, Hure AJ, McEvoy M, Byles J, Attia J, 'Longitudinal diet quality is not associated with depressive symptoms in a cohort of middle-aged Australian women', British Journal of Nutrition, 115 842-850 (2016) [C1]

There is increasing evidence for the role of nutrition in the prevention of depression. This study aims to describe changes in diet quality over 12 years among participants in the... [more]

There is increasing evidence for the role of nutrition in the prevention of depression. This study aims to describe changes in diet quality over 12 years among participants in the Australian Longitudinal Study on Women's Health in relation to changes in depressive symptoms. Women born between 1946 and 1951 were followed-up for 12 years (2001-2013). Dietary intake was assessed using the Dietary Questionnaire for Epidemiological Studies (version 2) in 2001, 2007 and every 2-3 years after that until 2013. Diet quality was summarised using the Australian Recommended Food Score (ARFS). Depressive symptoms were measured using the ten-item Centre for Epidemiologic Depression Scale at every 2-3-year intervals during 2001-2013. Linear mixed models were used to examine trends in diet quality and its sub-components. The same model including time-varying covariates was used to examine associations between diet quality and depressive symptoms adjusting for confounders. Sensitivity analyses were carried out using the Mediterranean dietary pattern (MDP) index to assess diet quality. Minimal changes in overall diet quality and its sub-components over 12 years were observed. There was a significant association between baseline diet quality and depression (ß=-0 24, P=0 001), but this was lost when time-varying covariates were added (ß=-0 04, P=0 10). Sensitivity analyses showed similar performance for both ARFS and MDP in predicting depressive symptoms. In conclusion, initial associations seen when using baseline measures of diet quality and depressive symptoms disappear when using methods that handle time-varying covariates, suggesting that previous studies indicating a relationship between diet and depression may have been affected by residual confounding.

2016
Nakayama A, Major G, Holliday E, Attia J, Bogduk N, 'Evidence of effectiveness of a fracture liaison service to reduce the re-fracture rate', Osteoporosis International, 27 873-879 (2016) [C1]

Summary: We assessed the ability of a fracture liaison service (FLS) to directly reduce re-fracture risk. Having a FLS is associated with a ~40¿% reduction in the 3-year risk of m... [more]

Summary: We assessed the ability of a fracture liaison service (FLS) to directly reduce re-fracture risk. Having a FLS is associated with a ~40¿% reduction in the 3-year risk of major bone and ~30¿% of any bone re-fracture. The number needed to treat to prevent a re-fracture is 20. Introduction: FLS have been promoted as the most effective interventions for secondary fracture prevention, and while there is evidence of increased rate of investigation and treatment at institutions with a FLS, only a few studies have considered fracture outcomes directly. We therefore sought to evaluate the ability of our FLS to reduce re-fracture risk. Methods: Historical cohort study of all patients =50¿years presenting over a 6-month period with¿a minimal trauma fracture (MTF) to the emergency departments of a tertiary hospital with a FLS, and one without a FLS. Baseline characteristics, mortality and MTFs over a 3-year follow-up were recorded. Results: Five hundred fifteen patients at the FLS hospital and 416 patients at the non-FLS hospital were studied. Over 3¿years, 63/515 (12¿%) patients at the FLS hospital and 70/416 (17¿%) at the non-FLS hospital had a MTF. All patients were analysed in an intention-to-treat analysis regardless of whether they were seen in the FLS follow-up clinic. Statistical analysis using Cox proportional hazard models in the presence of a competing risk of death from any cause was used. After adjustment for baseline characteristics, there was a ~30¿% reduction in rate of any re-fracture at the FLS hospital (hazard ratio (HR) 0.67, confidence interval (CI) 0.47-0.95, p value 0.025) and a ~40¿% reduction in major re-fractures (hip, spine, femur, pelvis or humerus) (HR 0.59, CI 0.39-0.90, p value 0.013). Conclusions: We found a ~30¿% reduction in any re-fractures and a ~40¿% reduction in major re-fractures at the FLS hospital compared with a similar non-FLS hospital. The number of patients needed to treat to prevent one new fracture over 3¿years is 20.

2016
Wattanawong K, Rattanasiri S, McEvoy M, Attia J, Thakkinstian A, 'Association between IRF6 and 8q24 polymorphisms and nonsyndromic cleft lip with or without cleft palate: Systematic review and meta-analysis', Birth Defects Research Part A - Clinical and Molecular Teratology, 106 773-788 (2016) [C1]

Background: We conducted a systematic review and meta-analysis of interferon regulatory factor 6 and 8q24 polymorphisms with nonsyndromic cleft lip with/without cleft palate (NSCL... [more]

Background: We conducted a systematic review and meta-analysis of interferon regulatory factor 6 and 8q24 polymorphisms with nonsyndromic cleft lip with/without cleft palate (NSCL/P). Methods: Data extraction was independently performed by two reviewers. Genotypic effects of four polymorphisms from 31 studies were pooled separately by ethnicity using a mixed-effect logit model with accounting for heterogeneity. Results: For rs2235371, AA and GA carried, respectively, 51% (95% confidence interval [CI], 37%¿61%) and 42% (95% CI, 32%¿50%) lower risks of NSCL/P than GG genotypes in Asians, but these genotypes were not significant in Caucasians. For rs2013162, only AA was significant, that is, carried 0.65 (95% CI, 0.52¿0.82) times lower odds than CC in Caucasians but not for Asians. For rs642961, AA and GA genotypes, respectively, carried 2.47 (95% CI, 1.41¿4.35) and 1.40 (95% CI, 1.12¿1.75) times higher odds in Asian, and 2.03 (95% CI, 1.52¿2.71) and 1.58 (95% CI, 1.37¿1.82) times higher odds in Caucasians compare with GG genotypes. For rs987525, AA and CA genotypes carried 2.27 (95% CI, 1.43¿3.60) and 1.34 (95% CI, 1.02¿1.77) times higher odds in Asian, and 5.25 (95% CI, 3.98¿6.91) and 2.13 (95% CI¿1.82, 2.49) times higher odds in Caucasians, and 1.42 (95% CI, 1.10¿1.82) and 1.28 (95% CI, 1.09¿1.50) times higher odds in mixed ethnicities compared with CC genotypes. These variant effects remained significant based on applying Bonferroni corrected-thresholds, except in the mixed ethnicity. Conclusion: We show robust variant effects in NSCL/P. Considering them with other genes and risk factors might be useful to improve prediction of NSCL/P occurrence. Birth Defects Research (Part A) 106:773¿788, 2016. © 2016 The Authors Birth Defects Research Part A: Clinical and Molecular Teratology Published by Wiley Periodicals, Inc.

2016
Attia JR, Jones MP, Suthers B, 'Aiming for the truth: understanding the difference between validity and precision', MEDICAL JOURNAL OF AUSTRALIA, 205 393-+ (2016) [C1]
2016
Ashman AM, Collins CE, Weatherall L, Brown LJ, Rollo ME, Clausen D, et al., 'A cohort of Indigenous Australian women and their children through pregnancy and beyond: The Gomeroi gaaynggal study', Journal of Developmental Origins of Health and Disease, 7 357-368 (2016) [C1]

Indigenous Australians have high rates of chronic diseases, the causes of which are complex and include social and environmental determinants. Early experiences in utero may also ... [more]

Indigenous Australians have high rates of chronic diseases, the causes of which are complex and include social and environmental determinants. Early experiences in utero may also predispose to later-life disease development. The Gomeroi gaaynggal study was established to explore intrauterine origins of renal disease, diabetes and growth in order to inform the development of health programmes for Indigenous Australian women and children. Pregnant women are recruited from antenatal clinics in Tamworth, Newcastle and Walgett, New South Wales, Australia, by Indigenous research assistants. Measures are collected at three time points in pregnancy and from women and their children at up to eight time points in the child's first 5 years. Measures of fetal renal development and function include ultrasound and biochemical biomarkers. Dietary intake, infant feeding and anthropometric measurements are collected. Standardized procedures and validated tools are used where available. Since 2010 the study has recruited over 230 women, and retained 66 postpartum. Recruitment is ongoing, and Gomeroi gaaynggal is currently the largest Indigenous pregnancy-through-early-childhood cohort internationally. Baseline median gestational age was 39.1 weeks (31.5-43.2, n=110), median birth weight was 3180 g (910-5430 g, n=110). Over one third (39.3%) of infants were admitted to special care or neonatal nursery. Nearly half of mothers (47.5%) reported tobacco smoking during pregnancy. Results of the study will contribute to knowledge about origins of chronic disease in Indigenous Australians and nutrition and growth of women and their offspring during pregnancy and postpartum. Study strengths include employment and capacity-building of Indigenous staff and the complementary ArtsHealth programme.

2016
Chen MM, O'Mara TA, Thompson DJ, Painter JN, Attia J, Black A, et al., 'GWAS meta-analysis of 16 852 women identifies new susceptibility locus for endometrial cancer', Human molecular genetics, 25 2612-2620 (2016)

Endometrial cancer is the most common gynecological malignancy in the developed world. Although there is evidence of genetic predisposition to the disease, most of the genetic ris... [more]

Endometrial cancer is the most common gynecological malignancy in the developed world. Although there is evidence of genetic predisposition to the disease, most of the genetic risk remains unexplained. We present the meta-analysis results of four genome-wide association studies (4907 cases and 11 945 controls total) in women of European ancestry. We describe one new locus reaching genome-wide significance (P < 5 × 10 -8) at 6p22.3 (rs1740828; P = 2.29 × 10 -8, OR = 1.20), providing evidence of an additional region of interest for genetic susceptibility to endometrial cancer.

2016
Johnson NA, Kypri K, Latter J, Attia J, McEvoy M, Dunlop A, Scott R, 'Genetic feedback to reduce alcohol consumption in hospital outpatients with risky drinking: Feasibility and acceptability', Public Health Research and Practice, 26 (2016) [C1]

Objective: There have been no trials in healthcare settings of genetic susceptibility feedback in relation to alcohol consumption. The purpose of this study was to determine the f... [more]

Objective: There have been no trials in healthcare settings of genetic susceptibility feedback in relation to alcohol consumption. The purpose of this study was to determine the feasibility and acceptability of conducting a full-scale randomised trial estimating the effect of personalised genetic susceptibility feedback on alcohol consumption in hospital outpatients with risky drinking. Methods: Outpatients =18 years of age who reported drinking more than 14 standard drinks in the past week or in a typical week were asked to provide a saliva sample for genetic testing. Genetic susceptibility feedback was posted to participants 6 months after recruitment. The co-primary outcomes were the proportion of participants who (i) provided a saliva sample that could be genotyped, and (ii) spoke with a genetic counsellor. Secondary outcomes included changes in patients' weekly alcohol consumption; scores on scales measuring readiness to change, importance of changing and confidence in ability to change drinking habits; knowledge about which cancers are alcohol-attributable; and acceptability of the saliva collection procedure and the genetic-feedback intervention. McNemar's test and paired t-tests were used to test for differences between baseline and follow-up in proportions and means, respectively. Results: Of 100 participants who provided a saliva sample, 93 had adequate DNA for at least one genotyping assay. Three participants spoke to a genetic counsellor. Patients' readiness to change their drinking, their views on the importance of changing and their stated confidence in their ability to change increased between baseline and follow-up. There was no increase in patients' knowledge about alcohol-attributable cancers nor any reduction in how much alcohol they drank 4 months after receiving the feedback. Most participants (80%) were somewhat comfortable or very comfortable with the process used to collect saliva, 84% understood the genetic feedback, 54% found it useful, 10% had sought support to reduce their drinking after receiving the feedback, and 37% reported that the feedback would affect how much they drink in the future. Conclusion: Results of this study suggest it would be feasible to conduct a methodologically robust trial estimating the effect of genetic susceptibility feedback on alcohol consumption in hospital outpatients with risky drinking.

2016
Okbay A, Beauchamp JP, Fontana MA, Lee JJ, Pers TH, Rietveld CA, et al., 'Genome-wide association study identifies 74 loci associated with educational attainment.', Nature, 533 539-542 (2016) [C1]
2016
Marioni RE, Ritchie SJ, Joshi PK, Hagenaars SP, Okbay A, Fischer K, et al., 'Genetic variants linked to education predict longevity', Proceedings of the National Academy of Sciences of the United States of America, 113 13366-13371 (2016)

Educational attainment is associated with many health outcomes, including longevity. It is also known to be substantially heritable. Here, we used data from three large genetic ep... [more]

Educational attainment is associated with many health outcomes, including longevity. It is also known to be substantially heritable. Here, we used data from three large genetic epidemiology cohort studies (Generation Scotland, n = ~17,000; UK Biobank, n = ~115,000; and the Estonian Biobank, n = ~6,000) to test whether education-linked genetic variants can predict lifespan length. We did so by using cohort members' polygenic profile score for education to predict their parents' longevity. Across the three cohorts, meta-analysis showed that a 1 SD higher polygenic education score was associated with ~2.7% lower mortality risk for both mothers (total n deaths = 79,702) and ~2.4% lower risk for fathers (total n deaths = 97,630). On average, the parents of offspring in the upper third of the polygenic score distribution lived 0.55 y longer compared with those of offspring in the lower third. Overall, these results indicate that the genetic contributions to educational attainment are useful in the prediction of human longevity.

2016
Malik R, Traylor M, Pulit SL, Bevan S, Hopewell JC, Holliday EG, et al., 'Low-frequency and common genetic variation in ischemic stroke The METASTROKE collaboration', NEUROLOGY, 86 1217-1226 (2016) [C1]
2016
Anne S, Tse R, Oldmeadow C, Attia JR, Cala AD, 'Immersion of bovine eyeballs after 1 hour in seawater does not result in elevation of postmortem vitreous humor sodium and chloride levels', American Journal of Forensic Medicine and Pathology, 37 108-111 (2016) [C1]

Elevations in postmortem vitreous sodium chloride (PMVSC) levels may help in differentiating saltwater/seawater drowning (SWD) deaths from immersion deaths not related to drowning... [more]

Elevations in postmortem vitreous sodium chloride (PMVSC) levels may help in differentiating saltwater/seawater drowning (SWD) deaths from immersion deaths not related to drowning (DNRD). It is unclear whether the elevation is related to blood/plasma electrolyte changes after inhalation of seawater as hypothesized in SWDs or possibly caused by electrolyte diffusion and/or osmosis across the outer coats of the eyeball during immersion. Aim: To investigate the changes in bovine PMVSC levels at different time points while immersed in seawater. Methods: Bovine eyeballs were obtained from an abattoir and randomized into 2 groups: A) submerged in seawater ("wet" group) or b) placed in an impermeable plastic bag that was immersed in seawater ("dry" group). The PMVSC levels from 6 eyeballs were measured from each group (without replacement) at 30 minutes, 1 hour, 6 hours, and 12 hours. Results: There was no significant difference in mean PMVSC levels between the 2 groups at 30-minute and 1-hour intervals. A significant difference was noted from 6 hours onward. Discussion: There is no statistically significant elevation in bovine PMVSC levels when immersed in seawater for up to 1 hour. Assuming similar physical properties in humans, any elevations in PMVSC levels in bodies immersed in seawater for less than 1 hour should not be caused by immersion.

2016
Garland J, Tse R, Oldmeadow C, Attia J, Anne S, Cala AD, 'Elevation of post mortem vitreous humour sodium and chloride levels can be used as a reliable test in cases of suspected salt water drowning when the immersion times are less than one hour', Forensic Science International, 266 338-342 (2016) [C1]

Background Previous studies in salt water drowning deaths (SWD) demonstrated an observable elevation of post mortem vitreous sodium and chloride (PMVSC) levels. It remains unclear... [more]

Background Previous studies in salt water drowning deaths (SWD) demonstrated an observable elevation of post mortem vitreous sodium and chloride (PMVSC) levels. It remains unclear what the underlying mechanism responsible for this change is: whether this is due to rapid electrolyte changes from salt water inhalation/ingestion during drowning or from electrolyte diffusion and/or osmosis across the outer coats of the eyeballs during immersion. A recent animal study using sacrificed bovine eyeballs immersed in salt water demonstrated no significant elevations in PMVSC when immersed for less than one hour. Assuming similar physical properties between human and bovine, we extrapolate that an elevation in PMVSC in SWD with immersion times of less than one hour (SWD-1) would not be from immersion, but from drowning. Aim Investigate whether there is an elevation in PMVSC in SWD-1. Methods Retrospective study comparing PMVSC in SWD-1 with controls from 2012 to 2015 inclusive. Results PMVSC in SWD-1 was significantly elevated compared with controls. A PMVSC of 259¿mmol/L has a sensitivity, specificity and likelihood ratio of 0.9, 0.9 and 7.6, respectively. Conclusion The elevation in PMVSC in SWD-1 is due to drowning. A PMVSC of 259¿mmol/L and above is a reliable ancillary test in diagnosing drowning in bodies immersed in salt water for less than one hour.

2016
Bolton KA, Avery-Kiejda KA, Holliday EG, Attia J, Bowden NA, Scott RJ, 'A polymorphic repeat in the IGF1 promoter influences the risk of endometrial cancer', ENDOCRINE CONNECTIONS, 5 115-122 (2016) [C1]
2016
Searles A, Doran C, Attia J, Knight D, Wiggers J, Deeming S, et al., 'An approach to measuring and encouraging research translation and research impact', HEALTH RESEARCH POLICY AND SYSTEMS, 14 (2016) [C1]
2016
Paul CL, Ryan A, Rose S, Attia JR, Kerr E, Koller C, Levi CR, 'How can we improve stroke thrombolysis rates? A review of health system factors and approaches associated with thrombolysis administration rates in acute stroke care', IMPLEMENTATION SCIENCE, 11 (2016) [C1]
2016
Hullick C, Conway J, Higgins I, Hewitt J, Dilworth S, Holliday E, Attia J, 'Emergency department transfers and hospital admissions from residential aged care facilities: a controlled pre-post design study.', BMC geriatrics, 16 102 (2016) [C1]
2016
Thompson DJ, O'Mara TA, Glubb DM, Painter JN, Cheng T, Folkerd E, et al., 'CYP19A1 fine-mapping and Mendelian randomization: Estradiol is causal for endometrial cancer', Endocrine-Related Cancer, 23 77-91 (2016) [C1]

Candidate gene studies have reported CYP19A1 variants to be associated with endometrial cancerandwith estradiol (E2) concentrations.We analyzed2937singlenucleotidepolymorphisms (S... [more]

Candidate gene studies have reported CYP19A1 variants to be associated with endometrial cancerandwith estradiol (E2) concentrations.We analyzed2937singlenucleotidepolymorphisms (SNPs) in 6608 endometrial cancer cases and 37 925 controls and report the first genome widesignificant association between endometrial cancer and a CYP19A1 SNP (rs727479 in intron 2, P=4.8×10-11). SNP rs727479 was also among those most strongly associated with circulating E2 concentrations in 2767 post-menopausal controls (P=7.4×10-8). The observed endometrial cancer odds ratio per rs727479 A-allele (1.15, CI=1.11-1.21) is compatible with that predicted by theobservedeffectonE2 concentrations (1.09, CI=1.03-1.21), consistentwith the hypothesis that endometrial cancer risk is driven by E2. From 28 candidate-causal SNPs, 12 co-located with three putative gene-regulatory elements and their risk alleles associated with higher CYP19A1 expression in bioinformatical analyses. For both phenotypes, the associationswith rs727479 were stronger amongwomen with a higher BMI (PinteractionZ0.034 and 0.066 respectively), suggesting a biologically plausible gene-environment interaction.

2016
Paterson MA, Smart CEM, Lopez PE, Mcelduff P, Attia J, Morbey C, King BR, 'Influence of dietary protein on postprandial blood glucose levels in individuals with Type 1 diabetes mellitus using intensive insulin therapy', Diabetic Medicine, 33 592-598 (2016) [C1]

Aim: To determine the effects of protein alone (independent of fat and carbohydrate) on postprandial glycaemia in individuals with Type¿1 diabetes mellitus using intensive insulin... [more]

Aim: To determine the effects of protein alone (independent of fat and carbohydrate) on postprandial glycaemia in individuals with Type¿1 diabetes mellitus using intensive insulin therapy. Methods: Participants with Type¿1 diabetes mellitus aged 7-40¿years consumed six 150¿ml whey isolate protein drinks [0¿g (control), 12.5, 25, 50, 75 and 100] and two 150¿ml glucose drinks (10 and 20¿g) without insulin, in randomized order over 8¿days, 4¿h after the evening meal. Continuous glucose monitoring was used to assess postprandial glycaemia. Results: Data were collected from 27 participants. Protein loads of 12.5 and 50¿g did not result in significant postprandial glycaemic excursions compared with control (water) throughout the 300¿min study period (P¿>¿0.05). Protein loads of 75 and 100¿g resulted in lower glycaemic excursions than control in the 60-120¿min postprandial interval, but higher excursions in the 180-300¿min interval. In comparison with 20¿g glucose, the large protein loads resulted in significantly delayed and sustained glucose excursions, commencing at 180¿min and continuing to 5¿h. Conclusions: Seventy-five grams or more of protein alone significantly increases postprandial glycaemia from 3 to 5¿h in people with Type¿1 diabetes mellitus using intensive insulin therapy. The glycaemic profiles resulting from high protein loads differ significantly from the excursion from glucose in terms of time to peak glucose and duration of the glycaemic excursion. This research supports recommendations for insulin dosing for large amounts of protein.

2016
Lai JS, Oldmeadow C, Hure AJ, McEvoy M, Hiles SA, Boyle M, Attia J, 'Inflammation mediates the association between fatty acid intake and depression in older men and women', Nutrition Research, 36 234-245 (2016) [C1]

Antioxidants and fatty acids are associated with depression and inflammation, and inflammation appears to predict depression risk; hence, the associations between these nutrients ... [more]

Antioxidants and fatty acids are associated with depression and inflammation, and inflammation appears to predict depression risk; hence, the associations between these nutrients and depression may be mediated by inflammation. We hypothesized that inflammatory markers interleukin (IL)-6 and C-reactive protein (CRP) mediate the associations between antioxidant and fatty acid intakes, and depression. Participants were from the Hunter Community Study, a longitudinal cohort of adults aged 55-85 years. Dietary intake was assessed using the Older Australian's Food Frequency Questionnaire. Fasting blood samples were drawn for analysis of nutrient and inflammatory biomarkers. Depressive symptoms were assessed using the 20-item Center for Epidemiologic Studies-Depression scale at baseline and at 5-year follow-up. Linear mixed models were used to investigate longitudinal associations between dietary intakes and depression, and mediation analyses were carried out to determine if IL-6 and/or CRP were the mediators. Analyses were conducted on men and women separately and adjusted for potential confounders. Fruit and monounsaturated fat intakes were negatively associated with depression, whereas total fat and saturated fat intakes were positively associated with depression in both sexes. Omega-3 polyunsaturated fat was inversely associated with depression in men only. IL-6 was a significant mediator of the association between fruits with low carotenoid content and depression in women. CRP significantly mediated the relationship between total fat, saturated fat, and monounsaturated fat intakes and depression in women, and saturated fat intake and depression in men. Our findings raise the possibility that the association between fatty acid intake and depression is partially mediated by inflammatory markers.

2016
Ibrahim-Verbaas CA, Bressler J, Debette S, Schuur M, Smith AV, Bis JC, et al., 'GWAS for executive function and processing speed suggests involvement of the CADM2 gene', Molecular Psychiatry, 21 189-197 (2016) [C1]

To identify common variants contributing to normal variation in two specific domains of cognitive functioning, we conducted a genome-wide association study (GWAS) of executive fun... [more]

To identify common variants contributing to normal variation in two specific domains of cognitive functioning, we conducted a genome-wide association study (GWAS) of executive functioning and information processing speed in non-demented older adults from the CHARGE (Cohorts for Heart and Aging Research in Genomic Epidemiology) consortium. Neuropsychological testing was available for 5429-32 070 subjects of European ancestry aged 45 years or older, free of dementia and clinical stroke at the time of cognitive testing from 20 cohorts in the discovery phase. We analyzed performance on the Trail Making Test parts A and B, the Letter Digit Substitution Test (LDST), the Digit Symbol Substitution Task (DSST), semantic and phonemic fluency tests, and the Stroop Color and Word Test. Replication was sought in 1311-21860 subjects from 20 independent cohorts. A significant association was observed in the discovery cohorts for the single-nucleotide polymorphism (SNP) rs17518584 (discovery P-value=3.12 × 10 -8) and in the joint discovery and replication meta-analysis (P-value=3.28 × 10 -9 after adjustment for age, gender and education) in an intron of the gene cell adhesion molecule 2 (CADM2) for performance on the LDST/DSST. Rs17518584 is located about 170 kb upstream of the transcription start site of the major transcript for the CADM2 gene, but is within an intron of a variant transcript that includes an alternative first exon. The variant is associated with expression of CADM2 in the cingulate cortex (P-value=4 × 10 -4). The protein encoded by CADM2 is involved in glutamate signaling (P-value=7.22 × 10 -15), gamma-aminobutyric acid (GABA) transport (P-value=1.36 × 10 -11) and neuron cell-cell adhesion (P-value=1.48 × 10 -13). Our findings suggest that genetic variation in the CADM2 gene is associated with individual differences in information processing speed.

2016
Bolton KA, Holliday EG, Attia J, Bowden NA, Avery-Kiejda KA, Scott RJ, 'A novel polymorphic repeat in the upstream regulatory region of the estrogen-induced gene EIG121 is not associated with the risk of developing breast or endometrial cancer', BMC Research Notes, 9 (2016) [C1]

Background: The estrogen-induced gene 121 (EIG121) has been associated with breast and endometrial cancers, but its mechanism of action remains unknown. In a genome-wide search fo... [more]

Background: The estrogen-induced gene 121 (EIG121) has been associated with breast and endometrial cancers, but its mechanism of action remains unknown. In a genome-wide search for tandem repeats, we found that EIG121 contains a short tandem repeat (STR) in its upstream regulatory region which has the potential to alter gene expression. The presence of this STR has not previously been analysed in relation to breast or endometrial cancer risk. Results: In this study, the lengths of this STR were determined by PCR, fragment analysis and sequencing using DNA from 223 breast cancer patients, 204 endometrial cancer patients and 220 healthy controls to determine if they were associated with the risk of developing breast or endometrial cancer. We found this repeat to be highly variable with the number of copies of the AG motif ranging from 27 to 72 and having a bimodal distribution. No statistically significant association was identified between the length of this STR and the risk of developing breast or endometrial cancer or age at diagnosis. Conclusions: The STR in the upstream regulatory region of EIG121 is highly polymorphic, but is not associated with the risk of developing breast or endometrial cancer in the cohorts analysed here. While this polymorphic STR in the regulatory region of EIG121 appears to have no impact on the risk of developing breast or endometrial cancer, its association with disease recurrence or overall survival remains to be determined.

2016
Kypri K, Wilson A, Attia J, Sheeran P, Miller P, McCambridge J, 'Social desirability bias in the reporting of alcohol consumption: A randomized trial', Journal of Studies on Alcohol and Drugs, 77 526-531 (2016) [C1]

Objective: To investigate reporting of alcohol consumption, we manipulated the contexts of questions in ways designed to induce social desirability bias. Method: We undertook a tw... [more]

Objective: To investigate reporting of alcohol consumption, we manipulated the contexts of questions in ways designed to induce social desirability bias. Method: We undertook a two-arm, parallel-group, individually randomized trial at an Australian public university. Students were recruited by email to a web-based ¿Research Project on Student Health Behavior.¿ Respondents answered nine questions about their physical activity, diet, and smoking. They were unknowingly randomized to a group presented with either (A) three questions about their alcohol consumption or (B) seven questions about their alcohol dependence and problems (under a prominent header labeled ¿Alcohol Use Disorders Identification Test¿), followed by the same three alcohol consumption questions from (A). Results: A total of 3,594 students (mean age = 27, SD = 10) responded and were randomized: 1,778 to Group A and 1,816 to Group B. Outcome measures were the number of days they drank alcohol, the typical number of drinks they consumed per drinking day, and the number of days they consumed six or more drinks. The primary analysis included participants with any alcohol consumption in the preceding 4 weeks (1,304 in Group A; 1,340 in Group B) using between-group, two-tailed t tests. Results: In Groups A and B, respectively, means (and SDs) of the number of days drinking were 5.89 (5.92) versus 6.06 (6.12), p = .49; typical number of drinks per drinking day: 4.02 (3.87) versus 3.82 (3.76), p = .17; and number of days consuming six or more drinks: 1.69 (2.94) versus 1.67 (3.25), p = .56. Conclusions: We could not reject the null hypothesis because earlier questions about alcohol dependence and problems showed no sign of biasing the respondents¿ subsequent reports of alcohol consumption. These data support the validity of university students¿ reporting of alcohol consumption in web-based studies.

2016
Khan AA, Williams T, Savage L, Stewart P, Ashraf A, Davies AJ, et al., 'Pre-hospital thrombolysis in ST-segment elevation myocardial infarction: A regional Australian experience', Medical Journal of Australia, 205 121-125 (2016) [C1]

Objective: The system of care in the Hunter New England Local Health District for patients with ST-segment elevation myocardial infarction (STEMI) foresees pre-hospital thrombolys... [more]

Objective: The system of care in the Hunter New England Local Health District for patients with ST-segment elevation myocardial infarction (STEMI) foresees pre-hospital thrombolysis (PHT) administered by paramedics to patients more than 60 minutes from the cardiac catheterisation laboratory (CCL), and primary percutaneous coronary intervention (PCI) at the CCL for others. We assessed the safety and effectiveness of the pre-hospital diagnosis strategy, which allocates patients to PHT or primary PCI according to travel time to the CCL. Design, setting and participants: Prospective, non-randomised, consecutive, single-centre case series of STEMI patients diagnosed on the basis of a pre-hospital electrocardiogram (ECG), from August 2008 to August 2013. All patients were treated at the tertiary referral hospital (John Hunter Hospital, Newcastle). Main outcome measures: The primary efficacy endpoint was all-cause mortality at 12 months; the primary safety endpoint was bleeding. Results: STEMI was diagnosed in 484 patients on the basis of pre-hospital ECG; 150 were administered PHT and 334 underwent primary PCI. The median time from first medical contact (FMC) to PHT was 35 minutes (IQR, 28¿43 min) and to balloon inflation 130 minutes (IQR, 100¿150 min). In the PHT group, 37 patients (27%) needed rescue PCI (median time, 4 h; IQR, 3¿5 h). The 12-month all-cause mortality rate was 7.0% (PHT, 6.7%; PCI, 7.2%). The incidence of major bleeding (TIMI criteria) in the PHT group was 1.3%; no patients in the primary PCI group experienced major bleeding. Conclusion: PHT can be delivered safely by paramedical staff in regional and rural Australia with good clinical outcomes.

2016
Pattaro C, Teumer A, Gorski M, Chu AY, Li M, Mijatovic V, et al., 'Genetic associations at 53 loci highlight cell types and biological pathways relevant for kidney function', NATURE COMMUNICATIONS, 7 (2016) [C1]
2016
Kongtharvonskul J, Woratanarat P, McEvoy M, Attia J, Wongsak S, Kawinwonggowit V, Thakkinstian A, 'Efficacy of glucosamine plus diacerein versus monotherapy of glucosamine: a double-blind, parallel randomized clinical trial.', Arthritis Res Ther, 18 1-12 (2016) [C1]
2016
Handley TE, Ventura AD, Browne JL, Rich J, Attia JR, Reddy P, et al., 'Suicidal ideation reported by adults with Type 1 or Type 2 diabetes: results from Diabetes MILES Australia', Diabetic Medicine, 33 1582-1589 (2016) [C1]

Aims: To examine the prevalence and correlates of suicidal ideation (SI) in a community-based sample of adults with Type 1 or Type 2 diabetes. Methods: Participants were 3338 adul... [more]

Aims: To examine the prevalence and correlates of suicidal ideation (SI) in a community-based sample of adults with Type 1 or Type 2 diabetes. Methods: Participants were 3338 adults aged 18¿70 years with Type 1 diabetes (n = 1376) or Type 2 diabetes (non-insulin: n = 1238; insulin: n = 724) from a national survey administered to a random sample registered with the National Diabetes Services Scheme. Depression and SI were assessed using the Patient Health Questionnaire, and diabetes-specific distress with the Problem Areas In Diabetes scale. Separate logistic regression analyses by diabetes type/treatment were used to determine relative contribution to SI. Results: Overall, we observed a SI rate of 14% in our sample. Participants with Type 2 diabetes using insulin reported more frequent depressive symptoms, and were more likely to report recent SI (19%) compared with those with either Type 1 diabetes or Type 2 diabetes not using insulin (14 and 12%, respectively). After controlling for depression, there was little difference in the prevalence of SI between diabetes types/treatments, but higher diabetes-specific distress significantly increased the odds of SI. Conclusions: As SI is a significant risk factor for a suicide attempt, the findings have implications for healthcare professionals, pointing to the importance of adequate screening and action plans for appropriate follow-up of those reporting depression. Our findings are also indicative of the psychological toll of diabetes more generally, and the need to integrate physical and mental healthcare for people with diabetes.

2016
Mather KA, Thalamuthu A, Oldmeadow C, Song F, Armstrong NJ, Poljak A, et al., 'Genome-wide significant results identified for plasma apolipoprotein H levels in middle-aged and older adults', Scientific Reports, 6 (2016) [C1]

Apolipoprotein H (ApoH) is a multi-functional plasma glycoprotein that has been associated with negative health outcomes. ApoH levels have high heritability. We undertook a genome... [more]

Apolipoprotein H (ApoH) is a multi-functional plasma glycoprotein that has been associated with negative health outcomes. ApoH levels have high heritability. We undertook a genome-wide association study of ApoH levels using the largest sample to date and replicated the results in an independent cohort (total N = 1,255). In the discovery phase, a meta-analysis of two cohorts, the Sydney Memory and Ageing Study (Sydney MAS) and the Older Australian Twins Study (OATS) (n = 942) revealed genome-wide significant results in or near the APOH gene on chromosome 17 (top SNP, rs7211380, p = 1 × 10-11). The results were replicated in an independent cohort, the Hunter Community Study (p < 0.002) (n = 313). Conditional and joint analysis (COJO) confirmed the association of the chromosomal 17 region with ApoH levels. The set of independent SNPs identified by COJO explained 23% of the variance. The relationships between the top SNPs and cardiovascular/lipid/cognition measures and diabetes were assessed in Sydney MAS, with suggestive results observed for diabetes and cognitive performance. However, replication of these results in the smaller OATS cohort was not found. This work provides impetus for future research to better understand the contribution of genetics to ApoH levels and its possible impacts on health.

2015
Johnson NA, Kypri K, Latter J, McElduff P, Attia J, Saitz R, et al., 'Effect of telephone follow-up on retention and balance in an alcohol intervention trial', Preventive Medicine Reports, 2 746-749 (2015) [C1]

Objectives: Telephone follow-up is not currently recommended as a strategy to improve retention in randomized trials. The aims of this study were to estimate the effect of telepho... [more]

Objectives: Telephone follow-up is not currently recommended as a strategy to improve retention in randomized trials. The aims of this study were to estimate the effect of telephone follow-up on retention, identify participant characteristics predictive of questionnaire completion during or after telephone follow-up, and estimate the effect of including participants who provided follow-up data during or after telephone follow-up on balance between randomly allocated groups in a trial estimating the effect of electronic alcohol screening and brief intervention on alcohol consumption in hospital outpatients with hazardous or harmful drinking. Method: Trial participants were followed up 6. months after randomization (June-December 2013) using e-mails containing a hyperlink to a web-based questionnaire when possible and by post otherwise. Telephone follow-up was attempted after two written reminders and participants were invited to complete the questionnaire by telephone when contact was made. Results: Retention before telephone follow-up was 62.1% (520/837) and 82.8% (693/837) afterward: an increase of 20.7% (173/837). Therefore, 55% (95% CI 49%-60%) of the 317 participants who had not responded after two written reminders responded during or after the follow-up telephone call. Age. <. 55. years, a higher AUDIT-C score and provision of a mobile/cell phone number were predictive of questionnaire completion during or after telephone follow-up. Balance between randomly allocated groups was present before and after inclusion of participants who completed the questionnaire during or after telephone follow-up. Conclusion: Telephone follow-up improved retention in this randomized trial without affecting balance between the randomly allocated groups.

2015
Kelly PJ, Baker AL, Deane FP, Callister R, Collins CE, Oldmeadow C, et al., 'Study protocol: A stepped wedge cluster randomised controlled trial of a healthy lifestyle intervention for people attending residential substance abuse treatment Health behavior, health promotion and society', BMC Public Health, 15 (2015) [C3]

Background: Cardiovascular disease and cancer are leading causes of mortality for people with a history of alcohol or other substance use disorders. These chronic diseases share t... [more]

Background: Cardiovascular disease and cancer are leading causes of mortality for people with a history of alcohol or other substance use disorders. These chronic diseases share the same four primary behavioural risk factors i.e. excessive alcohol use, smoking, low intake of fruit and vegetables and physical inactivity. In addition to addressing problematic alcohol use, there is the potential for substance abuse treatment services to also address these other behaviours. Healthy Recovery is an 8-session group-based intervention that targets these multiple behavioural health risk factors and was developed specifically for people attending substance abuse treatment. This protocol describes a Cancer Institute NSW funded study that assesses the effectiveness of delivering Healthy Recovery for people who are attending residential alcohol and other substance abuse treatment. Methods/Design: The study uses a stepped wedge randomised controlled design, where randomisation occurs at the service level. Participants will be recruited from residential rehabilitation programs provided by The Australian Salvation Army. All participants who (1) currently smoke tobacco and (2) are expected to be in the residential program for the duration of the 5-week intervention will be asked to participate in the study. Those participants residing at the facilities assigned to the treatment condition will complete Healthy Recovery. The intervention is manual guided and will be delivered over a 5-week period, with participants attending 8 group sessions. All participants will continue to complete The Salvation Army residential program, a predominantly 12-step based, modified therapeutic community. Participants in the control condition will complete treatment as usual. Research staff blind to treatment allocation will complete the primary and secondary outcome assessments at baseline and then at weeks 8, 20 and 32 weeks post intervention. Discussion: This study will provide comprehensive data on the effect of delivering a healthy lifestyle intervention (i.e. Healthy Recovery) within a residential substance abuse setting. If shown to be effective, this intervention can be disseminated within other residential substance abuse programs. Trial registration: Australian and New Zealand Clinical Trials Register (ANZCTR): ACTRN12615000165583. Registered 19th February 2015.

2015
Roselli S, Pundavela J, Demont Y, Faulkner S, Keene S, Attia J, et al., 'Sortilin is associated with breast cancer aggressiveness and contributes to tumor cell adhesion and invasion', Oncotarget, 6 10473-10486 (2015) [C1]

The neuronal membrane protein sortilin has been reported in a few cancer cell lines, but its expression and impact in human tumors is unclear. In this study, sortilin was analyzed... [more]

The neuronal membrane protein sortilin has been reported in a few cancer cell lines, but its expression and impact in human tumors is unclear. In this study, sortilin was analyzed by immunohistochemistry in a series of 318 clinically annotated breast cancers and 53 normal breast tissues. Sortilin was detected in epithelial cells, with increased levels in cancers, as compared to normal tissues (p = 0.0088). It was found in 79% of invasive ductal carcinomas and 54% of invasive lobular carcinomas (p < 0.0001). There was an association between sortilin expression and lymph node involvement (p = 0.0093), suggesting a relationship with metastatic potential. In cell culture, sortilin levels were higher in cancer cell lines compared to non-tumorigenic breast epithelial cells and siRNA knockdown of sortilin inhibited cancer cell adhesion, while proliferation and apoptosis were not affected. Breast cancer cell migration and invasion were also inhibited by sortilin knockdown, with a decrease in focal adhesion kinase and SRC phosphorylation. In conclusion, sortilin participates in breast tumor aggressiveness and may constitute a new therapeutic target against tumor cell invasion.

2015
Cheng THT, Thompson D, Painter J, O'Mara T, Gorman M, Martin L, et al., 'Meta-analysis of genome-wide association studies identifies common susceptibility polymorphisms for colorectal and endometrial cancer near SH2B3 and TSHZ1.', Sci Rep, 5 17369 (2015) [C1]
2015
Bidarian-Moniri A, Nilsson M, Rasmusson L, Attia J, Ejnell H, 'The effect of the prone sleeping position on obstructive sleep apnoea', ACTA OTO-LARYNGOLOGICA, 135 79-84 (2015) [C1]
2015
Squance ML, Reeves G, Attia J, Bridgman H, Guest M, 'Self-reported Lupus flare: Association with everyday home and personal product exposure', Toxicology Reports, 2 880-888 (2015) [C1]

Background: The number of chemicals in household products has driven concern about potential adverse health through their use. Most research concentrates on product chemicals with... [more]

Background: The number of chemicals in household products has driven concern about potential adverse health through their use. Most research concentrates on product chemicals with reproductive and carcinogenic consequences, however some evidence exists that immune effects can lead to exacerbation of autoimmune illnesses such as lupus (SLE). Objectives: This paper examines household and personal product exposure patterns in a pilot case/control study of female Australians. We also examined associations between common product exposure and SLE symptom exacerbation over a year period. Methods: We enrolled 41 control and 80 SLE participants aged 18-80 years. Qualitative techniques of structured interview and thematic analysis retrospectively explored patterns of product use, and flare history data of SLE participants. Negative binomial regression models explored associations between self-reported flare (SRF) days and exposure to 34 common home product groups. Results: Mean product counts did not differ between participant groups (mean 33.1: SD 11.8), or flare groups (flare mean 32.6:SD 12, no-flare 31.8:SD 6.6). Products used for personal hygiene and general house cleaning were most frequently used.Significant association with increased SRF day relative risk (IRR) was seen for bath oil use (IRR 1.008, CI 1.00-1.02). Paradoxical "protective" effects, (reduced SRF days) were found for cleansing beauty (IRR 0.999, CI 0.998-0.999), make-up (IRR 0.998, CI 0.997-0.999); adhesives (IRR 0.994, CI 0.991-0.997) and paint (IRR 0.99, CI 0.986-0.995). Conclusions: Everyday product exposures can impact on symptom exacerbation in SLE. Some offering protection and others increased health risk. Identifying environmental associations offer the possibility of life-style interventions to reduce illness impact.

2015
Rannikmäe K, Davies G, Thomson PA, Bevan S, Devan WJ, Falcone GJ, et al., 'Common variation in COL4A1/COL4A2 is associated with sporadic cerebral small vessel disease', Neurology, 84 918-926 (2015) [C1]

Objectives: We hypothesized that common variants in the collagen genes COL4A1/COL4A2 are associated with sporadic forms of cerebral small vessel disease. Methods: We conducted met... [more]

Objectives: We hypothesized that common variants in the collagen genes COL4A1/COL4A2 are associated with sporadic forms of cerebral small vessel disease. Methods: We conducted meta-analyses of existing genotype data among individuals of European ancestry to determine associations of 1,070 common single nucleotide polymorphisms (SNPs) in the COL4A1/COL4A2 genomic region with the following: intracerebral hemorrhage and its subtypes (deep, lobar) (1,545 cases, 1,485 controls); ischemic stroke and its subtypes (cardioembolic, large vessel disease, lacunar) (12,389 cases, 62,004 controls); and white matter hyperintensities (2,733 individuals with ischemic stroke and 9,361 from population-based cohorts with brain MRI data). We calculated a statistical significance threshold that accounted for multiple testing and linkage disequilibrium between SNPs (p < 0.000084). Results: Three intronic SNPs in COL4A2 were significantly associated with deep intracerebral hemorrhage (lead SNP odds ratio [OR] 1.29, 95% confidence interval [CI] 1.14-1.46, p = 0.00003; r2 > 0.9 between SNPs). Although SNPs associated with deep intracerebral hemorrhage did not reach our significance threshold for association with lacunar ischemic stroke (lead SNP OR 1.10, 95% CI 1.03-1.18, p = 0.0073), and with white matter hyperintensity volume in symptomatic ischemic stroke patients (lead SNP OR 1.07, 95% CI 1.01-1.13, p = 0.016), the direction of association was the same. There was no convincing evidence of association with white matter hyperintensities in population-based studies or with non-small vessel disease cerebrovascular phenotypes. Conclusions: Our results indicate an association between common variation in the COL4A2 gene and symptomatic small vessel disease, particularly deep intracerebral hemorrhage. These findings merit replication studies, including in ethnic groups of non-European ancestry.

2015
Campbell BCV, Mitchell PJ, Kleinig TJ, Dewey HM, Churilov L, Yassi N, et al., 'Endovascular therapy for ischemic stroke with perfusion-imaging selection', New England Journal of Medicine, 372 1009-1018 (2015) [C1]

Background: Trials of endovascular therapy for ischemic stroke have produced variable results. We conducted this study to test whether more advanced imaging selection, recently de... [more]

Background: Trials of endovascular therapy for ischemic stroke have produced variable results. We conducted this study to test whether more advanced imaging selection, recently developed devices, and earlier intervention improve outcomes. Methods: We randomly assigned patients with ischemic stroke who were receiving 0.9 mg of alteplase per kilogram of body weight less than 4.5 hours after the onset of ischemic stroke either to undergo endovascular thrombectomy with the Solitaire FR (Flow Restoration) stent retriever or to continue receiving alteplase alone. All the patients had occlusion of the internal carotid or middle cerebral artery and evidence of salvageable brain tissue and ischemic core of less than 70 ml on computed tomographic (CT) perfusion imaging. The coprimary outcomes were reperfusion at 24 hours and early neurologic improvement (.8-point reduction on the National Institutes of Health Stroke Scale or a score of 0 or 1 at day 3). Secondary outcomes included the functional score on the modified Rankin scale at 90 days. Results: The trial was stopped early because of efficacy after 70 patients had undergone randomization (35 patients in each group). The percentage of ischemic territory that had undergone reperfusion at 24 hours was greater in the endovascular-therapy group than in the alteplase-only group (median, 100% vs. 37%; P<0.001). Endovascular therapy, initiated at a median of 210 minutes after the onset of stroke, increased early neurologic improvement at 3 days (80% vs. 37%, P = 0.002) and improved the functional outcome at 90 days, with more patients achieving functional independence (score of 0 to 2 on the modified Rankin scale, 71% vs. 40%; P = 0.01). There were no significant differences in rates of death or symptomatic intracerebral hemorrhage. Conclusions: In patients with ischemic stroke with a proximal cerebral arterial occlusion and salvageable tissue on CT perfusion imaging, early thrombectomy with the Solitaire FR stent retriever, as compared with alteplase alone, improved reperfusion, early neurologic recovery, and functional outcome. (Funded by the Australian National Health and Medical Research Council and others; EXTEND-IA ClinicalTrials.gov number, NCT01492725, and Australian New Zealand Clinical Trials Registry number, ACTRN12611000969965.)

2015
Greenop KR, Bailey HD, Miller M, Scott RJ, Attia J, Ashton LJ, et al., 'Breastfeeding and nutrition to 2 years of age and risk of childhood acute lymphoblastic leukemia and brain tumors', Nutrition and Cancer, 67 431-441 (2015) [C1]

Acute lymphoblastic leukemia (ALL) and childhood brain tumors (CBT) are 2 of the most common forms of childhood cancer, but little is known of their etiology. In 2 nationwide case... [more]

Acute lymphoblastic leukemia (ALL) and childhood brain tumors (CBT) are 2 of the most common forms of childhood cancer, but little is known of their etiology. In 2 nationwide case-control studies we investigated whether breastfeeding, age of food introduction, or early diet are associated with the risk of these cancers. Cases aged 0-14 years were identified from Australian pediatric oncology units between 2003 and 2007 (ALL) and 2005 and 2010 (CBT) and population-based controls through nationwide random-digit dialing. Mothers completed questionnaires giving details of infant feeding up to the age of 2 yr. Data from 322 ALL cases, 679 ALL controls, 299 CBT cases, and 733 CBT controls were analysed using unconditional logistic regression. Breastfeeding was associated with a reduced risk of ALL [odds ratio (OR) = 0.52, 95% confidence interval (CI): 0.32, 0.84), regardless of duration. Introduction of artificial formula within 14 days of birth was positively associated with ALL (OR = 1.57, 95% CI: 1.03, 2.37), as was exclusive formula feeding to 6 mo (OR = 1.81, 95% CI: 1.07, 3.05). No associations were seen between breastfeeding or formula use and risk of CBT. Our results suggest that breastfeeding and delayed introduction of artificial formula may reduce the risk of ALL but not CBT.

2015
Bidarian-Moniri A, Nilsson M, Attia J, Ejnell H, 'Mattress and pillow for prone positioning for treatment of obstructive sleep apnoea', Acta Oto-Laryngologica, 135 271-276 (2015) [C1]

Conclusion: The new mattress and pillow for prone positioning (MPP) is efficient in reducing the apnoea-hypopnoea index (AHI) and oxygen desaturation index (ODI) in most patients ... [more]

Conclusion: The new mattress and pillow for prone positioning (MPP) is efficient in reducing the apnoea-hypopnoea index (AHI) and oxygen desaturation index (ODI) in most patients with obstructive sleep apnoea (OSA), with satisfactory compliance. Objective: The aim of the present study was to evaluate the effect of the prone body and head sleep position on severity of disease in patients with OSA after 4 weeks of adaptation to a mattress and pillow facilitating prone positioning. Methods: Fourteen patients with mild to severe OSA, 11 men and 3 women with a mean AHI of 26 (min, 6; max, 53) and mean ODI of 21 (min, 6; max, 51) were evaluated. Two polysomnographic (PSG) studies were performed. The first PSG study was without any treatment and the second was after 4 weeks of adaptation to the MPP for prone positioning of the body and the head. Results: Mean AHI and ODI decreased from 26 and 21 to 8 and 7, respectively (p < 0.001) with treatment. The mean time spent in the supine position was reduced from 128 to 10 min (p = 0.02) and the prone time increased from 42 to 174 min (p = 0.02) with the MPP. The mean total sleep time was 390 min during the first PSG study night without treatment and 370 min during the second night with the MPP (p = 0.7). Ten patients (71%) reduced their AHI by at least 50% and reached a value < 10 during treatment. All patients managed to sleep on the MPP for > 4 h per night during the 4-week study.

2015
Chan JPL, Thalamuthu A, Oldmeadow C, Armstrong NJ, Holliday EG, McEvoy M, et al., 'Genetics of hand grip strength in mid to late life', Age, 37 1-10 (2015) [C1]

Hand grip strength (GS) is a predictor of mortality in older adults and is moderately to highly heritable, but no genetic variants have been consistently identified. We aimed to i... [more]

Hand grip strength (GS) is a predictor of mortality in older adults and is moderately to highly heritable, but no genetic variants have been consistently identified. We aimed to identify single nucleotide polymorphisms (SNPs) associated with GS in middle-aged to older adults using a genome-wide association study (GWAS). GS was measured using handheld dynamometry in community-dwelling men and women aged 55¿85 from the Hunter Community Study (HCS, N = 2088) and the Sydney Memory and Ageing Study (Sydney MAS, N = 541). Genotyping was undertaken using Affymetrix microarrays with imputation to HapMap2. Analyses were performed using linear regression. No genome-wide significant results were observed in HCS nor were any of the top signals replicated in Sydney MAS. Gene-based analyses in HCS identified two significant genes (ZNF295, C2CD2), but these results were not replicated in Sydney MAS. One out of eight SNPs previously associated with GS, rs550942, located near the CNTF gene, was significantly associated with GS (p = 0.005) in the HCS cohort only. Study differences may explain the lack of consistent results between the studies, including the smaller sample size of the Sydney MAS cohort. Our modest sample size also had limited power to identify variants of small effect. Our results suggest that similar to various other complex traits, many genetic variants of small effect size may influence GS. Future GWAS using larger samples and consistent measures may prove more fruitful at identifying genetic contributors for GS in middle-aged to older adults.

2015
Greenop KR, Scott RJ, Attia J, Bower C, de Klerk NH, Norris MD, et al., 'Folate Pathway Gene Polymorphisms and Risk of Childhood Brain Tumors: Results from an Australian Case-Control Study', CANCER EPIDEMIOLOGY BIOMARKERS & PREVENTION, 24 931-937 (2015) [C1]
2015
Yadav S, Cotlarciuc I, Munroe PB, Khan MS, Nalls MA, Bevan S, et al., 'Genome-wide analysis of blood pressure variability and ischemic stroke (vol 44, pg 2703, 2013)', STROKE, 46 E203-E203 (2015)
2015
Milne E, Greenop KR, Scott RJ, Haber M, Norris MD, Attia J, et al., 'Folate pathway gene polymorphisms, maternal folic acid use, and risk of childhood acute lymphoblastic leukemia', Cancer Epidemiology Biomarkers and Prevention, 24 48-56 (2015) [C1]

Background: Several studies suggest that maternal folic acid supplementation before or during pregnancy protects against childhood acute lymphoblastic leukemia (ALL). We investiga... [more]

Background: Several studies suggest that maternal folic acid supplementation before or during pregnancy protects against childhood acute lymphoblastic leukemia (ALL). We investigated associations between ALL risk and folate pathway gene polymorphisms, and their modification by maternal folic acid supplements, in a population-based case-control study (2003-2007). Methods: All Australian pediatric oncology centers provided cases; controls were recruited by national random digit dialing. Data from 392 cases and 535 controls were included. Seven folate pathway gene polymorphisms (MTHFR 677C>T, MTHFR 1298A>C, MTRR 66A>G, MTR 2756 A>G, MTR 5049 C>A, CBS 844 Ins68, and CBS 2199 T>C) were genotyped in children and their parents. Information on prepregnancy maternal folic acid supplement use was collected. ORs were estimated with unconditional logistic regression adjusted for frequency-matched variables and potential confounders. Case-parent trios were also analyzed. Results: There was some evidence of a reduced risk of ALL among children who had, or whose father had, the MTRR 66GG genotype: ORs 0.60 [95% confidence interval (CI) 0.39-0.91] and 0.64 (95% CI, 0.40-1.03), respectively. The ORs for paternal MTHFR 677CT and TT genotypes were 1.41 (95% CI, 1.02-1.93) and 1.81 (95% CI, 1.06-3.07). ORs varied little by maternal folic acid supplementation. Conclusions: Some folate pathway gene polymorphisms in the child or a parent may influence ALL risk. While biologically plausible, underlying mechanisms for these associations need further elucidation. Impact: Folate pathway polymorphisms may be related to risk of childhood ALL, but larger studies are needed for conclusive results.

2015
Kongtharvonskul J, Anothaisintawee T, McEvoy M, Attia J, Woratanarat P, Thakkinstian A, 'Efficacy and safety of glucosamine, diacerein, and NSAIDs in osteoarthritis knee: A systematic review and network meta-analysis', European Journal of Medical Research, 20 (2015) [C1]

Background: To conduct a systematic review and network meta-analysis of randomized controlled trials (RCTs) with the aims of comparing relevant clinical outcomes (that is, visual ... [more]

Background: To conduct a systematic review and network meta-analysis of randomized controlled trials (RCTs) with the aims of comparing relevant clinical outcomes (that is, visual analog scores (VAS), total and sub-Western Ontario and McMaster Universities Osteoarthritis index (WOMAC) scores, Lequesne algofunctional index, joint space width change, and adverse events) between diacerein, glucosamine, and placebo. Methods: Medline and Scopus databases were searched from inception to 29 August 2014, using PubMed and Scopus search engines and included RCTs or quasi-experimental designs comparing clinical outcomes between treatments. Data were extracted from original studies. A network meta-analysis was performed by applying weight regression for continuous outcomes and a mixed-effect Poisson regression for dichotomous outcomes. Results: Thirty-one of 505 identified studies were eligible. Compared to placebo, glucosamine showed a significant improvement with unstandardized mean differences (UMD) in total WOMAC, pain WOMAC, function WOMAC, and Lequesne score of -2.49 (95% confidence interval (CI) -4.14, -0.83), -0.75 (95% CI: -1.18, -0.32), -4.78 (95% CI: -5.96, -3.59), and -1.03 (95% CI: -1.34, -0.72), respectively. Diacerein clinically improves visual analog scores, function WOMAC, and stiffness WOMAC with UMD values of -2.23 (95% CI: -2.82, -1.64), -6.64 (95% CI: -10.50, -2.78), and -0.68 (95% CI: -1.20, -0.16) when compared to placebo. Conclusions: The network meta-analysis suggests that diacerein and glucosamine are equally efficacious for symptom relief in knee OA, but that the former has more side effects.

2015
Mansour D, Mansour KG, Kenny BW, Attia J, Meads B, 'Driving with a short arm cast in a simulator', JOURNAL OF ORTHOPAEDIC SURGERY, 23 327-330 (2015) [C1]

| | |
| --- | --- |
| Citations | Scopus - 4Web of Science - 5 |

2015
Davies G, Armstrong N, Bis JC, Bressler J, Chouraki V, Giddaluru S, et al., 'Genetic contributions to variation in general cognitive function: A meta-analysis of genome-wide association studies in the CHARGE consortium (N=53 949)', Molecular Psychiatry, 20 183-192 (2015) [C1]

General cognitive function is substantially heritable across the human life course from adolescence to old age. We investigated the genetic contribution to variation in this impor... [more]

General cognitive function is substantially heritable across the human life course from adolescence to old age. We investigated the genetic contribution to variation in this important, health- and well-being-related trait in middle-aged and older adults. We conducted a meta-analysis of genome-wide association studies of 31 cohorts (N=53 949) in which the participants had undertaken multiple, diverse cognitive tests. A general cognitive function phenotype was tested for, and created in each cohort by principal component analysis. We report 13 genome-wide significant single-nucleotide polymorphism (SNP) associations in three genomic regions, 6q16.1, 14q12 and 19q13.32 (best SNP and closest gene, respectively: rs10457441, P=3.93 × 10-9, MIR2113; rs17522122, P=2.55 × 10-8, AKAP6; rs10119, P=5.67 × 10-9, APOE/TOMM40). We report one gene-based significant association with the HMGN1 gene located on chromosome 21 (P=1 × 10-6). These genes have previously been associated with neuropsychiatric phenotypes. Meta-analysis results are consistent with a polygenic model of inheritance. To estimate SNP-based heritability, the genome-wide complex trait analysis procedure was applied to two large cohorts, the Atherosclerosis Risk in Communities Study (N=6617) and the Health and Retirement Study (N=5976). The proportion of phenotypic variation accounted for by all genotyped common SNPs was 29% (s.e.=5%) and 28% (s.e.=7%), respectively. Using polygenic prediction analysis, ~1.2% of the variance in general cognitive function was predicted in the Generation Scotland cohort (N=5487; P=1.5 × 10-17). In hypothesis-driven tests, there was significant association between general cognitive function and four genes previously associated with Alzheimer's disease: TOMM40, APOE, ABCG1 and MEF2C.

2015
Sharpley C, Hussain R, Wark S, Mcevoy M, Attia J, 'THE INFLUENCE OF SOCIAL SUPPORT ON PSYCHOLOGICAL DISTRESS IN OLDER PERSONS: AN EXAMINATION OF INTERACTION PROCESSES IN AUSTRALIA.', Psychol Rep, 117 883-896 (2015) [C1]
2015
Sapkota Y, Attia J, Gordon SD, Henders AK, Holliday EG, Rahmioglu N, et al., 'Genetic burden associated with varying degrees of disease severity in endometriosis', MOLECULAR HUMAN REPRODUCTION, 21 594-602 (2015) [C1]
2015
Greenop KR, Hinwood AL, Fritschi L, Scott RJ, Attia J, Ashton LJ, et al., 'Vehicle refuelling, use of domestic wood heaters and the risk of childhood brain tumours: Results from an Australian case-control study', Pediatric Blood and Cancer, 62 229-234 (2015) [C1]

The aetiology of childhood brain tumours (CBT) is largely unknown. Damage to germ cells after parental exposure to airborne carcinogens, such as volatile organic compounds and pol... [more]

The aetiology of childhood brain tumours (CBT) is largely unknown. Damage to germ cells after parental exposure to airborne carcinogens, such as volatile organic compounds and polycyclic aromatic hydrocarbons is one plausible pathway. This analysis aimed to investigate whether parental refuelling of vehicles or the use of domestic wood heaters in key time periods relating to the child's birth was associated with an increased risk of CBT. Procedure: Cases <15 years of age were recruited through 10 paediatric oncology centres around Australia; controls were recruited through nationwide random-digit dialling, frequency matched to cases on age, sex and State of residence. Exposure to refuelling and wood heaters was ascertained through questionnaires from both parents. Odds ratios (ORs) and confidence intervals (CIs) were estimated using unconditional logistic regression, adjusting for relevant covariates. Results: Data were available for 306 case and 950 control families. Paternal refuelling =4times/month was associated with an increased risk of CBT (OR 1.59, 95% CI: 1.11, 2.29), and a dose-dependent trend was observed (P=0.004). No association was seen for maternal refuelling. Use of closed, but not open, wood heaters before (OR 1.51, 95% CI: 1.05, 2.15) and after (OR 1.44, 95% CI: 1.03, 2.01) the child's birth was associated with increased risk of CBT, but dose-response relationships were weak or absent. Conclusions: Paternal refuelling of vehicles =4times/month and the use of closed wood heaters before the child's birth may increase the risk of CBT. Replication in larger studies is needed.

2015
Vejakama P, Ingsathit A, Attia J, Thakkinstian A, 'Epidemiological study of chronic kidney disease progression: A large-scale population-based cohort study', Medicine (United States), 94 (2015) [C1]

The prognostic information about CKD progression, particularly for GFR categories 1 and 2, is still limited. This cohort was therefore conducted to determine the CKD progression u... [more]

The prognostic information about CKD progression, particularly for GFR categories 1 and 2, is still limited. This cohort was therefore conducted to determine the CKD progression using a competing risk approach. We conducted a retrospective cohort study linking community health screening with hospitals and death registry data in a province of Thailand, from 1997 to 2011. A competing risk model was applied by treating death as a competing risk factor to estimate 2-, 5-, and 10-year probability of kidney failure and median time for CKD progression from lower to higher GFR category. There were 17,074 non-diabetic and 15,032 diabetic CKD subjects. Diabetic subjects progressed more rapidly through GFR categories with the median times for CKD progression from GFR categories G1 to G2, G2 to G3a, G3a to G3b, G3b to G4, and G4 to G5 of 4.4, 6.1, 4.9, 6.3, and 9.0 years, respectively. Non-diabetic subjects took longertoprogress with the corresponding median timeof9.4, 14.0, 11.0, 13.8, and >14.3 years. After adjusting for confounders, diabetic subjects were 49% (cause-specific hazard ratio (<inf>c</inf>HR) = 1.49, 95% CI: 1.37, 1.62) more likely to develop kidney failure than non-diabetic subjects. Albuminuria categories A3 and A2 were, respectively, 3.40 (95% CI: 3.07, 3.76) and 1.71 (95% CI: 1.53, 1.92) higher risk of kidney failure when compared to A1. For each albumin category, death rate increased as albuminuria increased particularly in diabetic subjects, which was approximately 2 times higher in A3 compared to A1. Considering GFR category, it gradually increased from G1 to G4 and sharply increased from G4 to G5 in both non-diabetic and diabetic subjects. This study has quantified CKD progression in an Asian population within ordinary practice. Diabetic subjects progress through GFR and albuminuria categories and reach kidney failure about twice as rapidly as non-diabetic subjects.

2015
Delahunt B, Egevad L, Srigley JR, Steigler A, Murray JD, Atkinson C, et al., 'Validation of International Society of Urological Pathology (ISUP) grading for prostatic adenocarcinoma in thin core biopsies using TROG 03.04 'RADAR' trial clinical data', Pathology, 47 520-525 (2015) [C1]

In 2014 a consensus conference convened by the International Society of Urological Pathology (ISUP) adopted amendments to the criteria for Gleason grading and scoring (GS) for pro... [more]

In 2014 a consensus conference convened by the International Society of Urological Pathology (ISUP) adopted amendments to the criteria for Gleason grading and scoring (GS) for prostatic adenocarcinoma. The meeting defined a modified grading system based on 5 grading categories (grade 1, GS 3+3; grade 2, GS 3+4; grade 3, GS 4+3; grade 4, GS 8; grade 5, GS 9-10). In this study we have evaluated the prognostic significance of ISUP grading in 496 patients enrolled in the TROG 03.04 RADAR Trial. There were 19 grade 1, 118 grade 2, 193 grade 3, 88 grade 4 and 79 grade 5 tumours in the series, with follow-up for a minimum of 6.5 years. On follow-up 76 patients experienced distant progression of disease, 171 prostate specific antigen (PSA) progression and 39 prostate cancer deaths. In contrast to the 2005 modified Gleason system (MGS), the hazards of the distant and PSA progression endpoints, relative to grade 2, were significantly greater for grades 3, 4 and 5 of the 2014 ISUP grading scheme. Comparison of predictive ability utilising Harrell's concordance index, showed 2014 ISUP grading to significantly out-perform 2005 MGS grading for each of the three clinical endpoints.

2015
Muenchhoff J, Poljak A, Song F, Raftery M, Brodaty H, Duncan M, et al., 'Plasma protein profiling of mild cognitive impairment and Alzheimer's disease across two independent cohorts', Journal of Alzheimer's Disease, 43 1355-1373 (2015) [C1]
2015
Peyrot WJ, Lee SH, Milaneschi Y, Abdellaoui A, Byrne EM, Esko T, et al., 'The association between lower educational attainment and depression owing to shared genetic effects? Results in ~25 000 subjects', Molecular Psychiatry, 20 735-743 (2015) [C1]

An association between lower educational attainment (EA) and an increased risk for depression has been confirmed in various western countries. This study examines whether pleiotro... [more]

An association between lower educational attainment (EA) and an increased risk for depression has been confirmed in various western countries. This study examines whether pleiotropic genetic effects contribute to this association. Therefore, data were analyzed from a total of 9662 major depressive disorder (MDD) cases and 14 949 controls (with no lifetime MDD diagnosis) from the Psychiatric Genomics Consortium with additional Dutch and Estonian data. The association of EA and MDD was assessed with logistic regression in 15 138 individuals indicating a significantly negative association in our sample with an odds ratio for MDD 0.78 (0.75-0.82) per standard deviation increase in EA. With data of 884 105 autosomal common single-nucleotide polymorphisms (SNPs), three methods were applied to test for pleiotropy between MDD and EA: (i) genetic profile risk scores (GPRS) derived from training data for EA (independent meta-analysis on ~120 000 subjects) and MDD (using a 10-fold leave-one-out procedure in the current sample), (ii) bivariate genomic-relationship-matrix restricted maximum likelihood (GREML) and (iii) SNP effect concordance analysis (SECA). With these methods, we found (i) that the EA-GPRS did not predict MDD status, and MDD-GPRS did not predict EA, (ii) a weak negative genetic correlation with bivariate GREML analyses, but this correlation was not consistently significant, (iii) no evidence for concordance of MDD and EA SNP effects with SECA analysis. To conclude, our study confirms an association of lower EA and MDD risk, but this association was not because of measurable pleiotropic genetic effects, which suggests that environmental factors could be involved, for example, socioeconomic status.

2015
Denham JW, Steigler A, Joseph D, Lamb DS, Spry NA, Duchesne G, et al., 'Radiation dose escalation or longer androgen suppression for locally advanced prostate cancer? Data from the TROG 03.04 RADAR trial', Radiotherapy and Oncology, 115 301-307 (2015) [C1]
2015
Hiles SA, Baker AL, de Malmanche T, McEvoy M, Boyle M, Attia J, 'Unhealthy lifestyle may increase later depression via inflammation in older women but not men', Journal of Psychiatric Research, 63 65-74 (2015) [C1]

Depression and inflammatory markers have a reliable cross-sectional association although less is known about the prospective relationship. The current study investigated whether p... [more]

Depression and inflammatory markers have a reliable cross-sectional association although less is known about the prospective relationship. The current study investigated whether pro-inflammatory markers are prospectively associated with depression, and whether indicators of unhealthy lifestyle, physical health and psychosocial functioning may drive this association. Participants were drawn from the Hunter Community Study, a community-dwelling cohort of individuals aged 55-85 years (N=1410). Participants completed baseline physiological assessment, health-related questionnaires, and blood sampling for the analysis of inflammatory markers, C-reactive protein (CRP) and interleukin (IL)-6. Participants completed the same depressive symptom questionnaire again after 3.5-5.5 years. Depression outcomes at follow-up were analysed dichotomously using established scale cut-off scores and continuously as a "residual score", representing the variation in follow-up depressive symptoms not explained by baseline symptoms and age. Analyses were conducted on males and females separately. At baseline, indicators of unhealthy lifestyle, physical health and psychosocial functioning were associated with depressive symptoms and inflammatory markers. For males, there were no relationships between inflammatory markers and follow-up depression outcomes. In females, IL-6 was significantly associated with depression outcomes in univariate, but not multivariate analyses. However, IL-6 significantly mediated the association between the predictors of waist-to-hip ratio, smoking and psychological coping at baseline, and follow-up depression outcomes. The results support the inflammatory hypothesis of depression, although females may be more vulnerable to effects. The findings raise the possibility that unhealthy lifestyle and psychosocial stress may drive inflammation and subsequent depressive symptoms.

2015
Nead KT, Sharp SJ, Thompson DJ, Painter JN, Savage DB, Semple RK, et al., 'Evidence of a Causal Association Between Insulinemia and Endometrial Cancer: A Mendelian Randomization Analysis.', Journal of the National Cancer Institute, 107 (2015) [C1]
2015
Ren S, Newby D, Li SC, Walkom E, Miller P, Hure A, Attia J, 'Effect of the adult pneumococcal polysaccharide vaccine on cardiovascular disease: a systematic review and meta-analysis.', Open Heart, 2 1-9 (2015) [C1]
2015
Kypri K, Wilson A, Attia J, Sheeran PJ, McCambridge J, 'Effects of study design and allocation on self-reported alcohol consumption: Randomized trial', Trials, 16 (2015) [C1]

Background: What participants think about the nature of a study might affect their behaviour and bias findings. We tested two hypotheses: (1) participants told they were in an int... [more]

Background: What participants think about the nature of a study might affect their behaviour and bias findings. We tested two hypotheses: (1) participants told they were in an intervention trial would report lower alcohol consumption at follow-up than those told they were in a cohort study; (2) participants told they were in the intervention group in a trial would have lower alcohol consumption at follow-up than those told they were in the control group. Methods: Students from four universities (N = 72,903) were invited to participate in a 'research project on student drinking'. Of 10,415 respondents, 6,788 were moderate to heavy drinkers and were randomized. Group A ('cohort') were informed their drinking would be assessed at baseline and again in one month. Group B ('control') were told the study was an intervention trial and they were in the control group. Group C ('intervention') were told the study was an intervention trial and they were to receive the intervention. All were assessed and directed to read identical online alcohol education material. Whether and how long they accessed the material were recorded. One month later, alcohol intake was reassessed. Results: In relation to hypothesis 1, there were no differences between the groups on the prespecified outcome measures. In relation to hypothesis 2, there were no differences though all point estimates were in the hypothesized direction (that is, 'intervention' < 'control'). The 'cohort' and 'control' groups accessed the material to a similar extent (59% versus 57%) while the 'intervention' group were more likely to access it (78%) and to read it for longer (median 35 s (25th and 75th percentiles: 6, 97) versus medians of 7 s (0, 28) and 8 s (4, 42) for the 'cohort' and 'control' groups, respectively). Conclusions: Although the context given to the research participants significantly influenced access to the online information and reading time, this did not translate into any effect on drinking behaviour, for either hypothesis. This might be because of failure in the experimental paradigm or the possibility of weaker effects using the online approach.

2015
Dunn A, Marsden DL, Nugent E, Van Vliet P, Spratt NJ, Attia J, Callister R, 'Protocol variations and six-minute walk test performance in stroke survivors: A systematic review with meta-analysis', Stroke Research and Treatment, 2015 1-28 (2015) [C1]
2015
Briggs S, Pearce R, Dilworth S, Higgins I, Hullick C, Attia J, 'Clinical pharmacist review: A randomised controlled trial', EMA - Emergency Medicine Australasia, 27 419-426 (2015) [C1]

Objectives: To determine if medication review by a clinical pharmacist of older patients in the ED impacted on admission to hospital and other outcomes. Methods: A stratified, ran... [more]

Objectives: To determine if medication review by a clinical pharmacist of older patients in the ED impacted on admission to hospital and other outcomes. Methods: A stratified, randomised controlled study comparing the intervention to current practice. A tertiary referral ED in New South Wales, Australia. Older people (>70 years) living at home who initially reported taking greater than five medications. Medication review by an experienced hospital pharmacist within the ED. Rate of admission, rate of readmission, length of stay and admission to an aged care facility at 4 months post presentation, and rate of general practitioner acceptance of pharmacist recommendations. Results: The odds of admission decreased for those receiving the intervention (odds ratio [OR] = 0.68, 95% confidence interval [CI]: 0.53, 0.87; P = 0.002). There was no evidence that the intervention affected hospital length of stay for admitted patients (0.09 days change, 95% CI -0.08, 0.25; P = 0.31), the rate of re-presentation (0.08% change, 95% CI -0.12, 0.28; P = 0.44) or admission to an aged care facility. The odds of admission to an aged care facility increased with the Identification of Seniors at Risk score. General practitioners adopted 49% of pharmacists' recommendations. Conclusions: The presence of an experienced pharmacist in the ED reduced hospital admissions. Further study is required to determine longer term impacts of General Medical Practitioner acceptance of pharmacists' recommendations.

2015
Vashum KP, McEvoy MA, Hancock SJ, Islam MR, Peel R, Attia JR, Milton AH, 'Prevalence of and associations with excessive daytime sleepiness in an Australian older population', Asia-Pacific Journal of Public Health, 27 NP2275-NP2284 (2015) [C1]

The aim of this research is to estimate the prevalence of excessive daytime sleepiness in an older population and associations with sociodemographic, health, and lifestyle factors... [more]

The aim of this research is to estimate the prevalence of excessive daytime sleepiness in an older population and associations with sociodemographic, health, and lifestyle factors using a cross-sectional, population-based study. Participants were men (1560) and women (1759), aged 55 to 85 years, enrolled in the Hunter Community Study, a longitudinal study of aging. Measurements were self-reported questionnaires, biochemical measures, and clinical measures. Of the 3319 participants, 3053 participants completed the Epworth Sleepiness Scale questionnaire. The prevalence of excessive daytime sleepiness was 15.3% overall and this was higher in males. In adjusted multivariate analysis, gender, working full time, body mass index, high-density and low-density lipoprotein cholesterol, Center for Epidemiologic Studies-Depression scale score, and Kessler psychological distress score were associated with excessive daytime sleepiness. Given the high prevalence of excessive daytime sleepiness observed in this study, further investigation and/or interventions to reduce adverse health outcomes, especially in males is warranted.

2015
Abdullah N, Abdul Murad NA, Attia J, Oldmeadow C, Mohd Haniff EA, Syafruddin SE, et al., 'Characterizing the genetic risk for Type 2 diabetes in a Malaysian multi-ethnic cohort.', Diabet Med, 32 1377-1384 (2015) [C1]
2015
van Dyk M, Mangoni AA, McEvoy M, Attia JR, Sorich MJ, Rowland A, 'Targeted arginine metabolomics: A rapid, simple UPLC-QToF-MS

Background: Nitric oxide synthase (NOS) mediated conversion of arginine (ARG) to citrulline (CIT) is a key pathway for nitric oxide synthesis. ARG is also metabolised by alternate... [more]

Background: Nitric oxide synthase (NOS) mediated conversion of arginine (ARG) to citrulline (CIT) is a key pathway for nitric oxide synthesis. ARG is also metabolised by alternate pathways to ornithine (ORN), homoarginine (HMA), NG-monomethyl-L-arginine (MMA), NG,. NG-dimethyl-L-arginine (ADMA) and NG,. NG'-dimethyl-L-arginine (SDMA), all of which have the capacity to alter NOS activity. Simultaneous assessment of these analytes, when assessing the impact of arginine metabolism in human disease states, is desirable. Methods: Analytes (ARG, ADMA, SDMA, MMA, HMA, CIT and ORN) were isolated from human plasma by solvent extraction, evaporated and reconstituted. Ultra-performance liquid chromatography (UPLC) was performed on a 150mm×2.1mm T3 HSS column using a gradient mobile phase comprising ammonium formate (10mM, pH3.8) in methanol (1% to 63%). Analytes were detected by time-of-flight mass spectrometry (Q-ToF-MS) in positive ion mode with electrospray ionisation (ESI+). Data were collected using MSE. Results: Solvent extraction provided high recovery (>95%). UPLC-QToF-MSE facilitated the separation and quantification of the 7 analytes in an analysis time of 6min. The approach has high sensitivity; LOQ range from 0.005µM (NMMA) to 0.25µM (ARG and ORN), and good precision; intra- and inter-day %RSD are <6% for all analytes. Conclusions: This approach provides the capacity to quantify 7 key compounds involved in ARG metabolism in a small sample volume, with a short total analysis time. These characteristics make this approach ideal for undertaking a comprehensive characterisation of this pathway in large data sets (e.g. population studies).

2015
Cheng YC, Anderson CD, Bione S, Keene K, Maguire JM, Nalls M, et al., 'Are myocardial infarction-associated single-nucleotide polymorphisms associated with ischemic stroke? (vol 43, pg 980, 2012)', STROKE, 46 E204-E204 (2015) [C3]
2015
Hiles SA, Baker AL, de Malmanche T, McEvoy M, Boyle M, Attia J, 'The role of inflammatory markers in explaining the association between depression and cardiovascular hospitalisations', Journal of Behavioral Medicine, 38 609-619 (2015) [C1]

This study investigated whether inflammation may explain the relationship between depression and incident cardiovascular hospitalisations. Participants (55¿85¿years) completed bas... [more]

This study investigated whether inflammation may explain the relationship between depression and incident cardiovascular hospitalisations. Participants (55¿85¿years) completed baseline depression and physical assessment. Those without self-reported cardiovascular events were followed prospectively for hospital admissions for angina, myocardial infarction and cerebral infarction (median 937¿days). Across 5140 person-years of risk (N¿=¿1692), there were 47 incident cardiovascular hospitalisations (2.8¿%). Controlling for age and gender, interleukin (IL)-6, C-reactive protein (CRP), body mass index (BMI) and waist-to-hip ratio were associated with future cardiovascular events. Mediation analysis showed that CRP accounted for 8.1¿% and IL-6 10.9¿% of the effect of depression on cardiovascular events, and including the indirect effect in the model substantially reduced the direct relationship between depression and cardiovascular hospitalisations. BMI and waist-to-hip ratio accounted for indirect effects of 7.7 and 10.4¿%, respectively. Inflammatory markers partly explain the association between depression and cardiovascular events, although other shared factors also likely contribute.

2015
Debette S, Ibrahim Verbaas CA, Bressler J, Schuur M, Smith A, Bis JC, et al., 'Genome-wide studies of verbal declarative memory in nondemented older people: The Cohorts for Heart and Aging Research in Genomic Epidemiology Consortium', Biological Psychiatry, 77 749-763 (2015) [C1]

BACKGROUND: Memory performance in older persons can reflect genetic influences on cognitive function and dementing processes. We aimed to identify genetic contributions to verbal ... [more]

BACKGROUND: Memory performance in older persons can reflect genetic influences on cognitive function and dementing processes. We aimed to identify genetic contributions to verbal declarative memory in a community setting. METHODS: We conducted genome-wide association studies for paragraph or word list delayed recall in 19 cohorts from the Cohorts for Heart and Aging Research in Genomic Epidemiology consortium, comprising 29,076 dementia- and stroke-free individuals of European descent, aged =45 years. Replication of suggestive associations (p < 5 × 10-6) was sought in 10,617 participants of European descent, 3811 African-Americans, and 1561 young adults. RESULTS: rs4420638, near APOE, was associated with poorer delayed recall performance in discovery (p = 5.57 × 10-10) and replication cohorts (p = 5.65 × 10-8). This association was stronger for paragraph than word list delayed recall and in the oldest persons. Two associations with specific tests, in subsets of the total sample, reached genome-wide significance in combined analyses of discovery and replication (rs11074779 [HS3ST4], p = 3.11 × 10-8, and rs6813517 [SPOCK3], p = 2.58 × 10-8) near genes involved in immune response. A genetic score combining 58 independent suggestive memory risk variants was associated with increasing Alzheimer disease pathology in 725 autopsy samples. Association of memory risk loci with gene expression in 138 human hippocampus samples showed cis-associations with WDR48 and CLDN5, both related to ubiquitin metabolism. CONCLUSIONS: This largest study to date exploring the genetics of memory function in ~40,000 older individuals revealed genome-wide associations and suggested an involvement of immune and ubiquitin pathways.

2015
Greenop KR, Miller M, Bailey HD, Scott RJ, Attia J, Bower C, et al., 'Paternal dietary folate, B6 and B12 intake, and the risk of childhood brain tumors', Nutrition and Cancer, 67 224-230 (2015) [C1]

It is biologically plausible that a paternal preconception diet low in nutrients related to DNA integrity could affect sperm DNA and subsequently risk of cancer in the offspring. ... [more]

It is biologically plausible that a paternal preconception diet low in nutrients related to DNA integrity could affect sperm DNA and subsequently risk of cancer in the offspring. The aim of this analysis was to investigate whether paternal preconception dietary folate, B6, or B12 intake was associated with the risk of childhood brain tumors (CBT) in an Australian case-control study. Cases <15 years of age were recruited from 10 Australian pediatric oncology centers between 2005 and 2010, and controls from random-digit dialing, frequency-matched to cases on age, sex, and state of residence. Paternal dietary information was obtained by food-frequency questionnaires. Nutrient values were energy adjusted and divided into tertiles for analysis by unconditional logistic regression. In fathers with relevant data (237 cases and 629 controls), no association with dietary folate and B6 and risk of CBT was seen; high B12 intake was associated with an increased risk of CBT (odds ratio highest vs. lowest tertile: 1.74, 95% confidence interval: 1.14, 2.66) without an increasing trend. These results do not support the hypothesis that paternal dietary folate intake influences the risk of CBT. The increased OR observed between dietary B12 intake and risk of CBT is without any certain explanation.

2015
Pundavela J, Roselli S, Faulkner S, Attia J, Scott RJ, Thorne RF, et al., 'Nerve fibers infiltrate the tumor microenvironment and are associated with nerve growth factor production and lymph node invasion in breast cancer', Molecular Oncology, 9 1626-1635 (2015) [C1]
2015
Smith S, Pockney P, Attia J, 'Corrigendum: A Meta-analysis on the Effect of Sham Feeding Following Colectomy: Should Gum Chewing Be Included in Enhanced Recovery After Surgery Protocols?', Diseases of the colon and rectum, 58 e416 (2015) [O1]
2015
Greenop KR, Miller M, Bailey HD, de Klerk NH, Attia J, Kellie SJ, et al., 'Childhood folate, B6, B12, and food group intake and the risk of childhood brain tumors: results from an Australian case control study', Cancer Causes and Control, 26 871-879 (2015) [C1]

Purpose: The etiology of childhood brain tumors (CBT) is poorly understood, but dietary factors could be involved. In this case¿control study of CBT, the possible associations of ... [more]

Purpose: The etiology of childhood brain tumors (CBT) is poorly understood, but dietary factors could be involved. In this case¿control study of CBT, the possible associations of childhood intake of dietary and supplemental folate, vitamin B6, and vitamin B12 with the risk of CBT were investigated, along with various food groups. Methods: Cases diagnosed between 2005 and 2010 were identified from 10 pediatric oncology centers in Australia and controls by nationwide random-digit dialling. For study children of ages 3¿14¿years, diet in the year before diagnosis (or recruitment) was assessed using food frequency questionnaires. Folate intake was adjusted for bioavailability, and dietary micronutrient intake was energy-adjusted. Micronutrients and food groups were analyzed using logistic regression adjusting for relevant confounders. Principal components analysis was conducted to assess food group intake patterns for analysis. Results: Food and micronutrient data were available for 216 cases and 523 controls. Folate intake was associated with a reduced risk of CBT overall (odds ratio for highest tertile vs. lowest: 0.63, 95¿% confidence interval 0.41, 0.97) and particularly low-grade gliomas (odds ratio for highest tertile vs. lowest: 0.52, 95¿% confidence interval 0.29, 0.92). Vitamin B6 and B12 intake was not associated with CBT risk, nor was processed meat. Conclusions: High folate intake during childhood may reduce the risk of CBT. This potentially important finding needs to be corroborated in other studies. If replicated, these results could have important implications for public health recommendations regarding diet during childhood.

2015
Sansanayudh N, Numthavaj P, Muntham D, Yamwong S, McEvoy M, Attia J, et al., 'Prognostic effect of mean platelet volume in patients with coronary artery disease: A systematic review and meta-analysis', Thrombosis and Haemostasis, 114 1299-1309 (2015) [C1]
2015
Moir-Meyer GL, Pearson JF, Lose F, The Australian National Endometrial Cancer Study Group, Scott RJ, McEvoy M, et al., 'Rare germline copy number deletions of likely functional importance are implicated in endometrial cancer predisposition', Human Genetics, 134 269-278 (2015) [C1]

Endometrial cancer is the most common invasive gynaecological cancer in women, and relatively little is known about inherited risk factors for this disease. This is the first geno... [more]

Endometrial cancer is the most common invasive gynaecological cancer in women, and relatively little is known about inherited risk factors for this disease. This is the first genome-wide study to explore the role of common and rare germline copy number variants (CNVs) in predisposition to endometrial cancer. CNVs were called from germline DNA of 1,209 endometrioid endometrial cancer cases and 528 cancer-unaffected female controls. Overall CNV load of deletions or DNA gains did not differ significantly between cases and controls (P¿>¿0.05), but cases presented with an excess of rare germline deletions overlapping likely functional genomic regions including genes (P¿=¿8¿×¿10-10), CpG islands (P¿=¿1¿×¿10-7) and sno/miRNAs regions (P¿=¿3¿×¿10-9). On average, at least one additional gene and two additional CpG islands were disrupted by rare deletions in cases compared to controls. The most pronounced difference was that over 30 sno/miRNAs were disrupted by rare deletions in cases for every single disruption event in controls. A total of 13 DNA repair genes were disrupted by rare deletions in 19/1,209 cases (1.6¿%) compared to one gene in 1/528 controls (0.2¿%; P¿=¿0.007), and this increased DNA repair gene loss in cases persisted after excluding five individuals carrying CNVs disrupting mismatch repair genes MLH1, MSH2 and MSH6 (P¿=¿0.03). There were 34 miRNA regions deleted in at least one case but not in controls, the most frequent of which encompassed hsa-mir-661 and hsa-mir-203. Our study implicates rare germline deletions of functional and regulatory regions as possible mechanisms conferring endometrial cancer risk, and has identified specific regulatory elements as candidates for further investigation.

2015
Painter JN, O'Mara TA, Batra J, Cheng T, Lose FA, Dennis J, et al., 'Fine-mapping of the HNF1B multicancer locus identifies candidate variants that mediate endometrial cancer risk', HUMAN MOLECULAR GENETICS, 24 1478-1492 (2015) [C1]
2015
Kelly AG, Attia J, 'Balancing access and quality in comprehensive stroke care', Neurology, 84 1188-1189 (2015) [C3]
2015
Hancock DB, Levy JL, Gaddis NC, Glasheen C, Saccone NL, Page GP, et al., 'Cis-Expression Quantitative Trait Loci Mapping Reveals Replicable Associations with Heroin Addiction in OPRM1', Biological Psychiatry, 78 474-484 (2015) [C1]
2015
Holliday EG, Traylor M, Malik R, Bevan S, Falcone G, Hopewell JC, et al., 'Genetic Overlap Between Diagnostic Subtypes of Ischemic Stroke', STROKE, 46 615-+ (2015) [C1]
2015
Sapkota Y, Low SK, Attia J, Gordon SD, Henders AK, Holliday EG, et al., 'Association between endometriosis and the interleukin 1A (IL1A) locus.', Human Reproduction, 30 239-248 (2015) [C1]
2015
Iseme RA, McEvoy M, Kelly B, Agnew L, Attia J, Walker FR, et al., 'Autoantibodies are not predictive markers for the development of depressive symptoms in a population-based cohort of older adults', European Psychiatry, 30 694-700 (2015) [C1]
2015
O'Mara TA, Glubb DM, Painter JN, Cheng T, Dennis J, Australian National Endometrial Cancer Study Group (ANECS), et al., 'Comprehensive genetic assessment of the ESR1 locus identifies a risk region for endometrial cancer.', Endocr Relat Cancer, 22 851-861 (2015) [C1]
2015
Chiong FJK, Loewenthal M, Boyle M, Attia J, 'Serum sickness-like reaction after influenza vaccination.', BMJ Case Rep, 2015 (2015) [C3]
2015
Thomas LC, Rivett DA, Attia JR, Levi C, 'Risk factors and clinical presentation of cervical arterial dissection: Preliminary results of a prospective case-control study', Journal of Orthopaedic and Sports Physical Therapy, 45 503-511 (2015) [C1]

STUDY DESIGN: Cross-sectional case-control study. OBJECTIVES: To identify risk factors and clinical presentation of individuals with cervical arterial dissection. BACKGROUND: Cerv... [more]

STUDY DESIGN: Cross-sectional case-control study. OBJECTIVES: To identify risk factors and clinical presentation of individuals with cervical arterial dissection. BACKGROUND: Cervical arterial dissection is a common cause of stroke in young people and has in rare cases been associated with cervical manipulative therapy. The mechanism is considered to involve pre-existing arterial susceptibility and a precipitating event, such as minor trauma. Identification of individuals at risk or early recognition of a dissection in progress could help expedite medical intervention and avoid inappropriate treatment. METHODS: Participants were individuals 55 years of age or younger from the Hunter region of New South Wales, Australia with radiologically confirmed vertebral or internal carotid artery dissection and an age- and sex-matched comparison group. Participants were interviewed about risk factors, preceding events, and clinical features of their stroke. Physical examination of joint mobility and soft tissue compliance was undertaken. RESULTS: Twenty-four participants with cervical arterial dissection and 21 matched comparisons with ischemic stroke but not dissection were included in the study. Seventeen (71%) of the 24 participants with dissection reported a recent history of minor mechanical neck trauma or strain, with 4 of these 17 reporting recent neck manipulative therapy treatment. Cardiovascular risk factors were uncommon, with the exception of diagnosed migraine. Among the participants with dissection, 67% reported transient ischemic features in the month prior to their admission for dissection. CONCLUSION: Recent minor mechanical trauma or strain to the head or neck appears to be associated with cervical arterial dissection. General cardiovascular risk factors, with the exception of migraine, were not important risk factors for dissection in this cohort. Preceding transient neurological symptoms appear to occur commonly and may assist in the identification of this serious pathology.

2015
Kodur S, Ahmad W, Heittarachi M, Reeves G, Attia J, Barker D, Collins N, 'Influence of age on outcome in patients with pulmonary arterial hypertension', Heart Lung and Circulation, 24 719-723 (2015) [C1]

Background: The development of effective orally administered medical therapy for pulmonary arterial hypertension (PAH) has made a significant impact on outcome in patients with PA... [more]

Background: The development of effective orally administered medical therapy for pulmonary arterial hypertension (PAH) has made a significant impact on outcome in patients with PAH. Identification of patient groups likely to derive optimal benefit is important, given cost and potential side effects; the clinical effectiveness of these therapies in older patients with PAH is unclear as the presence of co-morbidity may limit benefits of therapy. Aims: We evaluated the epidemiology of PAH in a contemporary cohort to assess the influence of age on long-term outcome using PAH-specific therapies. Results: A total of 119 patients (88% female; mean age 65±12 years) were reviewed, comprising 52% with underlying connective tissue disease. Bosentan was the PAH specific agent most frequently used. The baseline 6MWT distance in the entire cohort was 304m with age associated with a significant decline in 6MWT. Conclusions: In a large cohort of patients treated with PAH-specific therapies, patients less than 55 years of age showed improvement in 6MWT with older patients demonstrating stabilisation or decline.

2015
Inder KJ, Hussain R, Allen J, Brew B, Lewin TJ, Attia J, Kelly BJ, 'Factors associated with personal hopefulness in older rural and urban residents of New South Wales', Advances in Mental Health, 13 43-57 (2015) [C1]

Background: As research focuses on the concept of resilience, evidence suggests that greater levels of personal hope may have a mitigating effect on the mental health impact of ad... [more]

Background: As research focuses on the concept of resilience, evidence suggests that greater levels of personal hope may have a mitigating effect on the mental health impact of adversity. In view of the adversity affecting rural communities, a better understanding of factors influencing personal hope may help identify foci for mental health promotion and mental illness prevention research and interventions. Aim: To explore the relationship between demographic, socioeconomic and mental health factors and personal hopefulness, including the influence of locality and remoteness. Method: Using data from two community-based longitudinal cohorts from New SouthWales ¿ one urban and one rural ¿ we analysed cross-sectional relationships between a range of factors and personal hopefulness using logistic regression techniques, as part of a common follow-up. Personal hopefulness was measured using a 12-item scale and scores were categorised as low (<2.5), medium (2.5¿3.4) and high (=3.5). Results: Of 2774 participants (53% female, mean age 69.1 years [SD 7.3, range 58¿91 years], 36% living outside metropolitan areas) 32% had low, 51% had medium and 17% had high personal hopefulness scores. Several factors displayed univariate associations with personal hopefulness. In the multivariate model, five factors were independently associated with lower personal hopefulness: being older, having lower perceived prosperity, less frequent socialisation, experiencing high psychological distress or psychological impairment. Hopefulness was not associated with geographical location. Conclusion: The impact of current psychological distress and aspects of adversity on personal hopefulness over time should be further investigated in longitudinal research. Personal hopefulness did not differ across geographical location.

2014
Vashum KP, McEvoy M, Milton AH, McElduff P, Hure A, Byles J, Attia J, 'Dietary zinc is associated with a lower incidence of depression: findings from two Australian cohorts.', J Affect Disord, 166 249-257 (2014) [C1]
2014
Oldmeadow C, Mossman D, Evans T-J, Holliday EG, Tooney PA, Cairns MJ, et al., 'Combined analysis of exon splicing and genome wide polymorphism data predict schizophrenia risk loci.', J Psychiatr Res, 52 44-49 (2014) [C1]
2014
Paul CL, Levi CR, D'Este CA, Parsons MW, Bladin CF, Lindley RI, et al., 'Thrombolysis ImPlementation in Stroke (TIPS): Evaluating the effectiveness of a strategy to increase the adoption of best evidence practice - protocol for a cluster randomised controlled trial in acute stroke care', Implementation Science, 9 (2014) [C3]

Background: Stroke is a leading cause of death and disability internationally. One of the three effective interventions in the acute phase of stroke care is thrombolytic therapy w... [more]

Background: Stroke is a leading cause of death and disability internationally. One of the three effective interventions in the acute phase of stroke care is thrombolytic therapy with tissue plasminogen activator (tPA), if given within 4.5 hours of onset to appropriate cases of ischaemic stroke.Objectives: To test the effectiveness of a multi-component multidisciplinary collaborative approach compared to usual care as a strategy for increasing thrombolysis rates for all stroke patients at intervention hospitals, while maintaining accepted benchmarks for low rates of intracranial haemorrhage and high rates of functional outcomes for both groups at three months.Methods and design: A cluster randomised controlled trial of 20 hospitals across 3 Australian states with 2 groups: multi- component multidisciplinary collaborative intervention as the experimental group and usual care as the control group. The intervention is based on behavioural theory and analysis of the steps, roles and barriers relating to rapid assessment for thrombolysis eligibility; it involves a comprehensive range of strategies addressing individual-level and system-level change at each site. The primary outcome is the difference in tPA rates between the two groups post-intervention. The secondary outcome is the proportion of tPA treated patients in both groups with good functional outcomes (modified Rankin Score (mRS <2) and the proportion with intracranial haemorrhage (mRS =2), compared to international benchmarks.Discussion: TIPS will trial a comprehensive, multi-component and multidisciplinary collaborative approach to improving thrombolysis rates at multiple sites. The trial has the potential to identify methods for optimal care which can be implemented for stroke patients during the acute phase. Study findings will include barriers and solutions to effective thrombolysis implementation and trial outcomes will be published whether significant or not.Trial registration: Australian New Zealand Clinical Trials Registry: ACTRN12613000939796. © 2014 Paul et al.; licensee BioMed Central Ltd.

2014
Squance ML, Guest M, Reeves G, Attia J, Bridgman H, 'Exploring lifetime occupational exposure and SLE flare: a patient-focussed pilot study.', Lupus Science & Medicine, 1 1-9 (2014) [C1]
2014
Traylor M, Mäkelä K-M, Kilarski LL, Holliday EG, Devan WJ, Nalls MA, et al., 'A novel MMP12 locus is associated with large artery atherosclerotic stroke using a genome-wide age-at-onset informed approach.', PLoS Genet, 10 e1004469 (2014) [C1]
2014
Sotgia S, Zinellu A, Mangoni AA, Pintus G, Attia J, Carru C, McEvoy M, 'Clinical and biochemical correlates of serum L-ergothioneine concentrations in community-dwelling middle-aged and older adults', PLoS ONE, 9 (2014) [C1]

Background: Despite the increasing interest towards the biological role of L-ergothioneine, little is known about the serum concentrations of this unusual aminothiol in older adul... [more]

Background: Despite the increasing interest towards the biological role of L-ergothioneine, little is known about the serum concentrations of this unusual aminothiol in older adults. We addressed this issue in a representative sample of community-dwelling middle-aged and older adults. Methods: Body mass index, estimated glomerular filtration rate, serum concentrations of L-ergothioneine, taurine, homocysteine, cysteine, glutathione, cysteinylglycine, and glutamylcysteine were evaluated in 439 subjects (age 55-85 years) randomly selected from the Hunter Community Study. Results: Median L-ergothioneine concentration in the entire cohort was 1.01 IQR 0.78-1.33 µmol/L. Concentrations were not affected by gender (P = 0.41) or by presence of chronic medical conditions (P = 0.15). By considering only healthy subjects, we defined a reference interval for L-ergothioneine serum concentrations from 0.36 (90% CI 0.31-0.44) to 3.08 (90% CI 2.45-3.76) µmol/L. Using stepwise multiple linear regression analysis L-ergothioneine was negatively correlated with age (rpartial = 20.15; P = 0.0018) and with glutamylcysteine concentrations (rpartial = 20.13; P = 0.0063). Conclusions: A thorough analysis of serum L-ergothioneine concentrations was performed in a large group of community-dwelling middle-aged and older adults. Reference intervals were established. Age and glutamylcysteine were independently negatively associated with L-ergothioneine serum concentration. © 2014 Sotgia et al.

2014
Vashum KP, McEvoy M, Milton AH, Islam MR, Hancock S, Attia J, 'Is serum zinc associated with pancreatic beta cell function and insulin sensitivity in pre-diabetic and normal individuals? Findings from the hunter community study', PLoS ONE, 9 (2014) [C1]

Aim: To determine if there is a difference in serum zinc concentration between normoglycaemic, pre-diabetic and type-2 diabetic groups and if this is associated with pancreatic be... [more]

Aim: To determine if there is a difference in serum zinc concentration between normoglycaemic, pre-diabetic and type-2 diabetic groups and if this is associated with pancreatic beta cell function and insulin sensitivity in the former 2 groups. Method: Cross sectional study of a random sample of older community-dwelling men and women in Newcastle, New South Wales, Australia. Beta cell function, insulin sensitivity and insulin resistance were calculated for normoglycaemic and prediabetes participants using the Homeostasis Model Assessment (HOMA-2) calculator. Result: A total of 452 participants were recruited for this study. Approximately 33% (N = 149) had diabetes, 33% (N = 151) had prediabetes and 34% (N = 152) were normoglycaemic. Homeostasis Model Assessment (HOMA) parameters were found to be significantly different between normoglycaemic and prediabetes groups (p<0.001). In adjusted linear regression, higher serum zinc concentration was associated with increased insulin sensitivity (p = 0.01) in the prediabetic group. There was also a significant association between smoking and worse insulin sensitivity. Conclusion: Higher serum zinc concentration is associated with increased insulin sensitivity. Longitudinal studies are required to determine if low serum zinc concentration plays a role in progression from pre-diabetes to diabetes. © 2014 Vashum et al.

2014
Evans T-J, Milne E, Anderson D, de Klerk NH, Jamieson SE, Talseth-Palmer BA, et al., 'Confirmation of childhood acute lymphoblastic leukemia variants, ARID5B and IKZF1, and interaction with parental environmental exposures.', PLoS One, 9 e110255 (2014) [C1]
2014
Hysi PG, Cheng C-Y, Springelkamp H, Macgregor S, Bailey JNC, Wojciechowski R, et al., 'Genome-wide analysis of multi-ancestry cohorts identifies new loci influencing intraocular pressure and susceptibility to glaucoma', NATURE GENETICS, 46 1126-1130 (2014)
2014
White JH, Patterson K, Jordan L-A, Magin P, Attia J, Sturm JW, 'The experience of urinary incontinence in stroke survivors: A follow-up qualitative study', CANADIAN JOURNAL OF OCCUPATIONAL THERAPY-REVUE CANADIENNE D ERGOTHERAPIE, 81 124-134 (2014) [C1]
2014
White J, Dickson A, Magin P, Tapley A, Attia J, Sturm J, Carter G, 'Exploring the experience of psychological morbidity and service access in community dwelling stroke survivors: a follow-up study', DISABILITY AND REHABILITATION, 36 1600-1607 (2014) [C1]
2014
Buitendijk GH, Rochtchina E, Myers C, van Duijn CM, Lee KE, Klein BE, et al., 'Prediction of Age-related Macular Degeneration in the General Population: The Three Continent AMD Consortium (vol 120, pg 2644, 2013)', OPHTHALMOLOGY, 121 976-976 (2014)
2014
Lai JS, Hiles S, Bisquera A, Hure AJ, McEvoy M, Attia J, 'A systematic review and meta-analysis of dietary patterns and depression in community-dwelling adults', AMERICAN JOURNAL OF CLINICAL NUTRITION, 99 181-197 (2014) [C1]
2014
Holliday EG, Attia J, Hancock S, Koloski N, McEvoy M, Peel R, et al., 'Genome-wide association study identifies two novel genomic regions in irritable bowel syndrome', American Journal of Gastroenterology, 109 770-772 (2014) [C1]
2014
Ho YM, Smith SR, Pockney P, Lim P, Attia J, 'A Meta-analysis on the Effect of Sham Feeding Following Colectomy: Should Gum Chewing Be Included in Enhanced Recovery After Surgery Protocols?', DISEASES OF THE COLON & RECTUM, 57 115-126 (2014) [C1]
2014
Robertson J, Pearson S-A, Attia JR, 'How well do NSW hospital data identify cases of heart failure?', MEDICAL JOURNAL OF AUSTRALIA, 200 25-25 (2014) [C3]
2014
Iseme RA, McEvoy M, Kelly B, Agnew L, Attia J, Walker FR, 'Autoantibodies and depression. Evidence for a causal link?', Neuroscience and Biobehavioral Reviews, 40 62-79 (2014) [C1]

Depression is a leading contributor to the global burden of diseases. Despite advances in research, challenges still exist in managing this disorder. Sufferers of autoimmune disea... [more]

Depression is a leading contributor to the global burden of diseases. Despite advances in research, challenges still exist in managing this disorder. Sufferers of autoimmune diseases are often observed to suffer from depression more often than healthy individuals, an association that cannot be completely accounted for by the impact of the disease on the individual. An association between autoimmunity and depressive symptoms also appears to exist in populations with subclinical symptoms. Moreover, researchers have successfully developed murine models illustrating the ability of autoantibodies to induce depressive-like symptoms. This paper will provide an overview of the association between autoantibodies and occurrence of depressive symptoms. Though current evidence appears to support a role for autoantibodies in the pathogenesis of depression, the majority of studies have examined this relationship cross-sectionally, therefore failing to establish a temporal association. Nonetheless, this novel theory meshes with older and newer neurochemical theories of depression. A better understanding of the immuno-pathogenesis underlying depression presents opportunities for more targeted treatment approaches and more timely and appropriate measures of detection. © 2014 Elsevier Ltd.

2014
Quilty S, Valler D, Attia J, 'Rural general physicians: Improving access and reducing costs of health care in the bush', Australian Health Review, 38 420-424 (2014) [C1]

Objective To assess the effectiveness of the introduction of a trainee specialist physician into the workforce mix of a rural hospital in the Northern Territory. Methods A retrosp... [more]

Objective To assess the effectiveness of the introduction of a trainee specialist physician into the workforce mix of a rural hospital in the Northern Territory. Methods A retrospective review comparing clinical and non-clinical outcomes during two corresponding 6-month periods in 2011 and 2012, before and after a FRACP Trainee in General and Acute Care Medicine commenced employment in the hospital. Results There was a significant reduction of 18% in total length of stay of admitted adult patients, with a 23% reduction of inter-hospital transfers and a 43% reduction of total aeromedical evacuations after the introduction of the trainee specialist. Although there was a 9% increase in patients presenting to the emergency department, there was a 9% reduction in total adult admissions. There was no change in the overall in-patient mortality rate; however, there was a significant change in the location of death, with an increase in patients dying in Katherine Hospital and a reciprocal decrease in death rate in those who had been transferred to Royal Darwin Hospital after the arrival of the trainee Conclusions The addition of an Advanced Trainee in General Medicine led to a significant change in the capacity of the hospital to care for unwell and complex patients. The role of the hospital in the care of dying patients was redefined and allowed many more people to pass away closer to their community and families. There were considerable savings at Katherine Hospital in terms of reduced bed pressure, reduced hospital bypass behaviour and reduced inter-hospital transfers, and these translated into significant benefits for the tertiary referral hospital in Darwin. A rural general physician can greatly value add to the capacity of a rural hospital and is a highly effective mechanism for reducing the disparities in healthcare access for rural and Indigenous patients. What is known about this topic? There is little research about the clinical and non-clinical impact of the addition of general speciality clinicians into the workforce of rural hospitals. Although there are several regional hospitals in Australia that have general specialists (i.e. emergency department physicians, general physicians and surgeons) and sub-specialists where the volume of patients is adequate to support such a workforce, there has been no published assessment of the impact of the addition of such speciality services. What does this paper add? This paper provides evidence of the cost-effectiveness of the addition of a specialist general physician to the workforce of a remote hospital servicing a large Indigenous population with very high burdens of acute and chronic illnesses in the Northern Territory. The paper demonstrates the potential to significantly add capacity to a rural or regional hospital by moving general speciality care to the hospital rather than, or in addition to, providing other methods of speciality and sub-speciality health care delivery. What are the implications for practitioners? The implications of this paper are that a significantly cost-effective means of addressing health care delivery to rural and remote populations is through the addition of appropriately trained general specialists such as emergency department physicians, general physicians and general surgeons. The implications extend to broader workforce development policies for education providers, speciality colleges and state and federal governments. © AHHA 2014.

2014
Wang JJ, Buitendijk GHS, Rochtchina E, Lee KE, Klein BEK, Van Duijn CM, et al., 'Genetic susceptibility, dietary antioxidants, and long-term incidence of age-related macular degeneration in two populations', Ophthalmology, 121 667-675 (2014) [C1]

Objective To examine effect modification between genetic susceptibility to age-related macular degeneration (AMD) and dietary antioxidant or fish consumption on AMD risk. Design P... [more]

Objective To examine effect modification between genetic susceptibility to age-related macular degeneration (AMD) and dietary antioxidant or fish consumption on AMD risk. Design Pooled data analysis of population-based cohorts. Participants Participants from the Blue Mountains Eye Study (BMES) and Rotterdam Study (RS). Methods Dietary intakes of antioxidants (lutein/zeaxanthin [LZ], ß-carotene, and vitamin C), long-chain omega-3 polyunsaturated fatty acids, and zinc were estimated from food frequency questionnaires. The AMD genetic risk was classified according to the number of risk alleles of CFH (rs1061170) or ARMS2 (rs10490924) as low (no or 1 risk allele) or high (=2 risk alleles). Interactions between dietary intake and genetic risk levels were assessed. Associations between dietary intake and AMD risk were assessed comparing the highest with the 2 lower intake tertiles by genetic risk subgroups using discrete logistic regression, conducted in each study separately and then using pooled data. Participants without AMD lesions at any visit were controls. We adjusted for age and sex in analyses of each cohort sample and for smoking status and study site in pooled-data analyses. Main Outcome Measures All 15-year incident late AMD cases were confirmed by chief investigators of the Beaver Dam Eye Study, BMES, and RS. Intergrader reproducibility was assessed in an early AMD subsample, with 86.4% agreement between BMES and RS graders, allowing for a 1-step difference on a 5-step AMD severity scale. Results In pooled data analyses, we found significant interaction between AMD genetic risk status and LZ intake (P = 0.0009) but nonsignificant interactions between genetic risk status and weekly fish consumption (P = 0.05) for risk of any AMD. Among participants with high genetic risk, the highest intake tertile of LZ was associated with a >20% reduced risk of early AMD, and weekly consumption of fish was associated with a 40% reduced risk of late AMD. No similar association was evident among participants with low genetic risk. No interaction was detected between ß-carotene or vitamin C and genetic risk status. Conclusions Protection against AMD from greater LZ and fish consumption in persons with high genetic risk based on 2 major AMD genes raises the possibility of personalized preventive interventions. ©2014 by the American Academy of Ophthalmology.

2014
Greenop KR, de Klerk NH, Bower C, Milne E, Miller M, Scott RJ, et al., 'Maternal Dietary Intake of Folate and Vitamins B6 and B12 During Pregnancy and Risk of Childhood Brain Tumors', Nutrition and Cancer, (2014) [C1]

Childhood brain tumors (CBT) are the second most common childhood cancers, yet their etiology is largely unknown. We investigated whether maternal gestational intake of folate and... [more]

Childhood brain tumors (CBT) are the second most common childhood cancers, yet their etiology is largely unknown. We investigated whether maternal gestational intake of folate and vitamins B6 and B12 was associated with CBT risk in a nationwide case-control study conducted 2005-2010. Case children 0-14 years were recruited from all 10 Australian pediatric oncology centers. Control children were recruited by national random digit dialing, frequency matched to cases on age, sex, and state of residence. Dietary intake was ascertained using food frequency questionnaires and adjusted for total energy intake. Data from 293 case and 726 control mothers were analyzed using unconditional logistic regression. The odds ratio (OR) for the highest versus lowest tertile of folate intake was 0.70 [95% confidence interval (CI): 0.48, 1.02]. The ORs appeared lower in mothers who drank alcohol during pregnancy (OR = 0.45, 95% CI: 0.22, 0.93), mothers who took folic acid (OR = 0.67, 95% CI: 0.42, 1.06) or B6/B12 supplements (OR = 0.51, 95% CI: 0.25, 1.06) and in children younger than 5 years (OR = 0.50, 95% CI: 0.27, 0.93). These findings are consistent with folate's crucial role in maintenance of genomic integrity and DNA methylation. Dietary intake of B6 and B12 was not associated with risk of CBT. © 2014 Copyright © Taylor & Francis Group, LLC.

2014
Thakkinstian A, Chailurkit L, Warodomwichit D, Ratanachaiwong W, Yamwong S, Chanprasertyothin S, et al., 'Causal relationship between body mass index and fetuin-A level in the asian population: A bidirectional mendelian randomization study', Clinical Endocrinology, 81 197-203 (2014) [C1]

Objective Fetuin-A is associated with body mass index (BMI) as well as components of the metabolic syndrome. However, it is unclear if fetuin-A affects BMI or the other way around... [more]

Objective Fetuin-A is associated with body mass index (BMI) as well as components of the metabolic syndrome. However, it is unclear if fetuin-A affects BMI or the other way around. We therefore assessed the causal association between fetuin-A and BMI or vice versa, utilizing a bidirectional Mendelian randomization approach. Design and Methods This was a study of 2558 subjects from the Electricity Generating Authority of Thailand (EGAT) cohort. Two polymorphisms, that is, rs2248690 in the alpha2-Hereman-Schmid glycoprotein (AHSG) gene and rs9939609 in the fat mass and obesity-Associated (FTO) gene were genotyped. Bidirectional causal models were constructed using a two-stage least-square instrumental variable (IV) regression. First, rs2248690 locus was used as the instrumental variable for the effect of circulating fetuin-A on BMI, and then, the FTO rs9939609 locus was used as the instrumental variable for the effect of BMI on circulating fetuin-A. Results Among the 2558 subjects, the prevalence of the minor AHSG (T) and FTO (A) alleles was 17·9% and 22·1%, respectively. The AHSG rs2248690 locus was highly related to serum fetuin-A levels (P < 0·001). Likewise, the FTO rs9939609 locus and BMI were highly associated (P < 0·001). Mendelian randomization analyses showed that circulating fetuin-A, instrumented by the AHSG rs2248690 locus, was associated with BMI (coefficient = 2·26; 95% CI: 0·39, 4·12). In contrast, BMI, instrumented by the FTO rs9939609 locus, was not associated with circulating fetuin-A (coefficient = 0·0007; 95% CI: -0·0242, 0·0256). Conclusion Our findings suggest a causal association leading from circulating fetuin-A to BMI. There was no evidence of reverse causality from BMI to fetuin-A. © 2013 John Wiley & Sons Ltd.

2014
Joshy G, Korda RJ, Attia J, Liu B, Bauman AE, Banks E, 'Body mass index and incident hospitalisation for cardiovascular disease in 158 546 participants from the 45 and Up Study', International Journal of Obesity, 38 848-856 (2014) [C1]

Objective: To investigate the relationship between fine gradations in body mass index (BMI) and risk of hospitalisation for different types of cardiovascular disease (CVD). Design... [more]

Objective: To investigate the relationship between fine gradations in body mass index (BMI) and risk of hospitalisation for different types of cardiovascular disease (CVD). Design, Subjects and Methods: The 45 and Up Study is a large-scale Australian cohort study initiated in 2006. Self-reported data from 158 546 individuals with no history of CVD were linked prospectively to hospitalisation and mortality data. Hazard ratios (HRs) of incident hospitalisation for specific CVD diagnoses in relation to baseline BMI categories were estimated using Cox regression, adjusting for age, sex, region of residence, income, education, smoking, alcohol intake and health insurance status. Results: There were 9594 incident CVD admissions over 583 100 person-years among people with BMI=20 kg m-2, including 3096 for ischaemic heart disease (IHD), 1373 for stroke, 411 for peripheral vascular disease (PVD) and 320 for heart failure. The adjusted HR of hospitalisation for all CVD diagnoses combined increased significantly with increasing BMI (P(trend) <0.0001)). The HR of IHD hospitalisation increased by 23% (95% confidence interval (95% CI): 18-27%) per 5 kg m-2 increase in BMI (compared to BMI 20.0-22.49 kg m-2, HR (95% CI) for BMI categories were: 22.5-24.99=1.25 (1.08-1.44); 25-27.49=1.43 (1.24-1.65); 27.5-29.99=1.64 (1.42-1.90); 30-32.49=1.63 (1.39-1.91) and 32.5-50=2.10 (1.79-2.45)). The risk of hospitalisation for heart failure showed a significant, but nonlinear, increase with increasing BMI. No significant increase was seen with above-normal BMI for stroke or PVD. For other specific classifications of CVD, HRs of hospitalisation increased significantly with increasing BMI for: hypertension; angina; acute myocardial infarction; chronic IHD; pulmonary embolism; non-rheumatic aortic valve disorders; atrioventricular and left bundle-branch block; atrial fibrillation and flutter; aortic aneurysm; and phlebitis and thrombophlebitis. Conclusion: The risk of hospitalisation for a wide range of CVD subtypes increases with relatively fine increments in BMI. Obesity prevention strategies are likely to benefit from focusing on bringing down the mean BMI at the population level, in addition to targeting those with a high BMI. © 2014 Macmillan Publishers Limited All rights reserved.

2014
De Vivo I, Prescott J, Setiawan VW, Olson SH, Wentzensen N, Attia J, et al., 'Genome-wide association study of endometrial cancer in E2C2', HUMAN GENETICS, 133 211-224 (2014) [C1]
2014
Woratanarat P, Thaveeratitharm C, Woratanarat T, Angsanuntsukh C, Attia J, Thakkinstian A, 'Meta-analysis of hypercoagulability genetic polymorphisms in perthes disease', Journal of Orthopaedic Research, 32 1-7 (2014) [C1]

Perthes disease is an osteonecrosis of the femoral epiphysis with unclear etiology. This study aimed to systematically review the association between genetic determinants of hyper... [more]

Perthes disease is an osteonecrosis of the femoral epiphysis with unclear etiology. This study aimed to systematically review the association between genetic determinants of hypercoagulability (Factor V Leiden, prothrombin II, and methylenetetrahydrofolate reductase; MTHFR) and Perthes disease. PubMed and Scopus searched from inception to January 2012, data extraction and quality assessment were performed. The odds ratio (OR) for the allele effect was pooled, and heterogeneity and publication bias were assessed. Twelve case-control studies met inclusion criteria and had sufficient data for extraction. There were 824 cases and 2,033 controls with a mean age range of 6.1-14.7 years. The prevalence of the minor allele in controls was 0.015 (95% confidence interval (CI): 0.008, 0.023), 0.012 (95% CI: 0.008, 0.017), and 0.105 (95% CI: 0.044, 0.167) for factor V Leiden, prothrombin II, and MTHFR, respectively. The factor V Leiden allele increased the risk of Perthes with a pooled OR of 3.10 (95% CI: 1.68, 5.72), while prothrombin II and MTHFR had non-significantly pooled OR 1.48 (95% CI: 0.71, 3.08), and 0.97 (95% CI: 0.72, 1.30), respectively. The factor V Leiden mutation is significantly related to Perthes disease, and its screening in at-risk children might be useful in the future. © 2013 Orthopaedic Research Society. Published by Wiley Periodicals, Inc.

2014
Sansanayudh N, Anothaisintawee T, Muntham D, McEvoy M, Attia J, Thakkinstian A, 'Mean platelet volume and coronary artery disease: A systematic review and meta-analysis', International Journal of Cardiology, 175 433-440 (2014) [C1]

Background Platelets with high hemostatic activity play an important role in the pathophysiology of coronary artery disease(CAD) and mean platelet volume(MPV) has been proposed as... [more]

Background Platelets with high hemostatic activity play an important role in the pathophysiology of coronary artery disease(CAD) and mean platelet volume(MPV) has been proposed as an indicator of platelet reactivity. Thus, MPV may emerge as a potential marker of CAD risk. The aim of this study was to conduct a systematic review and meta-analysis comparing mean difference in MPV between patients with CAD and controls and pooling the odds ratio of CAD in those with high versus low MPV. Methods Medline and Scopus databases were searched up to 12 March 2013. All observational studies that considered MPV as a study's factor and measured CAD as an outcome were included. Two reviewers independently selected the studies and extracted the data. Results Forty studies were included in this meta-analysis. The MPV was significantly larger in patients with CAD than controls with the unstandardized mean difference of 0.70 fL (95% CI: 0.55, 0.85). The unstandardized mean difference of MPV in patients with acute coronary event and in patients with chronic stable angina was 0.84 fL (95% CI: 0.63, 1.04) and 0.46 fL (95% CI: 0.11, 0.81) respectively. Patients with larger MPV (= 7.3 fL) also had a greater odds of having CAD than patients with smaller MPV with a pooled odds ratio of 2.28 (95% CI: 1.46, 3.58). Conclusion Larger MPV was associated with CAD. Thus, it might be helpful in risk stratification, or improvement of risk prediction if combining it with other risk factors in risk prediction models. © 2014 Elsevier Ireland Ltd. All rights reserved.

2014
Handley TE, Kay-Lambkin FJ, Inder KJ, Attia JR, Lewin TJ, Kelly BJ, 'Feasibility of internet-delivered mental health treatments for rural populations', Social Psychiatry and Psychiatric Epidemiology, 49 275-282 (2014) [C1]

Purpose: Rural populations face numerous barriers to mental health care. Although internet-delivered mental health treatments may offer an accessible and cost-effective answer to ... [more]

Purpose: Rural populations face numerous barriers to mental health care. Although internet-delivered mental health treatments may offer an accessible and cost-effective answer to these barriers, there has been little evaluation of the feasibility of this approach among rural communities. Methods: Data were obtained from a random rural community sample through the third wave of the Australian Rural Mental Health Study. Attitudes towards internet-delivered mental health treatments and availability of internet access were explored. Data were analysed to identify sub-groups in whom internet-delivered treatments may be usefully targeted. Results: Twelve hundred and forty-six participants completed the survey (mean age 59 years, 61 % females, 22 % from remote areas). Overall, 75 % had internet access and 20 % would consider using internet-based interventions, with 18 % meeting both of these feasibility criteria. Logistic regression revealed feasibility for internet-delivered mental health treatment was associated with younger age, male gender, being a carer, and a 12-month mental health problem. Participants who had used internet-delivered services in the past were significantly more likely to endorse these treatments as acceptable. Conclusions: There is considerable potential for internet-delivered treatments to increase service accessibility to some sub-groups, particularly among people with mental health problems who are not currently seeking help. Resistance to internet treatments appears to be largely attitudinal, suggesting that enhancing community education and familiarity with such programs may be effective in improving perceptions and ultimately access. © 2013 Springer-Verlag Berlin Heidelberg.

2014
Greenop KR, Peters S, Bailey HD, Fritschi L, Attia J, Scott RJ, et al., 'Exposure to pesticides and the risk of childhood brain tumors (vol 24, pg 1269, 2013)', CANCER CAUSES & CONTROL, 25 1239-1240 (2014) [O1]
2014
Greenop KR, Miller M, Attia J, Ashton LJ, Cohn R, Armstrong BK, Milne E, 'Maternal consumption of coffee and tea during pregnancy and risk of childhood brain tumors: results from an Australian case-control study', Cancer Causes & Control, (2014) [C1]

Purpose The causes of childhood brain tumors (CBT) are largely unknown, but gestational diet may influence this risk. The aim of this analysis was to investigate whether maternal ... [more]

Purpose The causes of childhood brain tumors (CBT) are largely unknown, but gestational diet may influence this risk. The aim of this analysis was to investigate whether maternal coffee or tea consumption during pregnancy was associated with the risk of CBT. Methods The Australian Study of the Causes of Childhood Brain Tumours was a population-based, Australian case-control study conducted between 2005 and 2010. Case children were recruited from 10 pediatric oncology centers and control children by nationwide random-digit dialing, frequency matched to cases on the basis of age, sex and state of residence. Coffee and tea intake were assessed using a food frequency questionnaire. Results Data on coffee and tea consumption during pregnancy were available from 293 case mothers and 726 control mothers. Odds ratios (ORs) and confidence intervals (CIs) were calculated using multivariable unconditional logistic regression. There was little evidence of an association between gestational consumption of any coffee (OR 1.23, 95 % CI 0.92, 1.64) or tea (OR 1.00, 95 % CI 0.74, 1.36) and CBT risk. Among children aged under 5 years, the OR for any coffee consumption during pregnancy was 1.76 (95 % CI 1.09, 2.84) and for =2 cups per day during pregnancy was 2.52 (95 % CI 1.26, 5.04). There was little evidence that associations with coffee or tea intake differed by parental smoking status. Conclusions These results suggest a positive association between coffee intake =2 cups per day and risk of CBT in younger children, although some estimates are imprecise. There was no association between maternal tea drinking and risk of CBT. © 2014 Springer International Publishing Switzerland.

2014
Milne E, Greenop KR, Fritschi L, Attia J, Bailey HD, Scott RJ, et al., 'Childhood and parental diagnostic radiological procedures and risk of childhood brain tumors', Cancer Causes and Control, 25 375-383 (2014) [C1]

Purpose: Childhood brain tumors (CBT) are the second most common type of childhood cancer and the leading cause of childhood cancer mortality. Few causes of CBT are known, but par... [more]

Purpose: Childhood brain tumors (CBT) are the second most common type of childhood cancer and the leading cause of childhood cancer mortality. Few causes of CBT are known, but parental, fetal, and early life exposures are likely to be important given the early age at diagnosis of many cases. We aimed to investigate whether parents' diagnostic radiological procedures before conception, in the mother during pregnancy or the child's procedures were associated with an increased risk of CBT. Methods: This population-based case-control study was conducted between 2005 and 2010. Cases were identified through all ten Australian pediatric oncology centers, and controls via nationwide random-digit dialing; frequency-matched to cases on age, sex and state of residence. Information on radiological exposures in the time periods of interest was obtained for 306 case and 950 control families through mailed questionnaires. Analysis used unconditional logistic regression, adjusting for matching variables and potential confounders. Results: We found no evidence of positive associations between risk of CBT overall and childhood or parental pre-pregnancy radiological procedures. Increased ORs for high-grade gliomas associated with childhood radiological procedures were based on small numbers and may be due to chance. Conclusions: Given the evidence for an increased risk of CBT in cohort studies of computed tomography (CT) in childhood, the lack of such an association in our study may be due to the reduced intensity of CTs after 2001. Future research to investigate the safety of fetal exposure to more intense procedures like CT scans is needed. © 2014 Springer International Publishing Switzerland.

2014
Bailey HD, Miller M, Greenop KR, Bower C, Attia J, Marshall GM, et al., 'Paternal intake of folate and vitamins B6 and B12 before conception and risk of childhood acute lymphoblastic leukemia', Cancer Causes and Control, 25 1615-1625 (2014) [C1]

Purpose: We investigated whether paternal dietary intake of folate before conception is associated with the risk of childhood acute lymphoblastic leukemia (ALL) in a nationwide ca... [more]

Purpose: We investigated whether paternal dietary intake of folate before conception is associated with the risk of childhood acute lymphoblastic leukemia (ALL) in a nationwide case¿control study.

2014
White JH, Attia J, Sturm J, Carter G, Magin P, 'Predictors of depression and anxiety in community dwelling stroke survivors: A cohort study', Disability and Rehabilitation, 36 1975-1982 (2014) [C1]

Purpose: Few longitudinal studies explore post-stroke patterns of psychological morbidity and factors contributing to their change over time. We aimed to explore predictors of pos... [more]

Purpose: Few longitudinal studies explore post-stroke patterns of psychological morbidity and factors contributing to their change over time. We aimed to explore predictors of post-stroke depression (PSD) and post-stroke anxiety over a 12-month period. Methods: A prospective cohort study. Consecutively recruited stroke patients (n=134) participated in face-to-face interviews at baseline, 3, 6, 9, and 12 months. Primary outcome measures were depression and anxiety (measured via Hospital Anxiety and Depression Scale). Independent variables included disability (Modified Rankin Scale), Quality-of-life (Assessment Quality-of-life), social support (Multi-dimensional Scale Perceived Social Support) and community participation (Adelaide Activities Profile (AAP)). Secondary outcomes were predictors of resolution and development of PSD and anxiety. Results: Anxiety (47%) was more common than depression (22%) at baseline. Anxiety (but not depression) scores improved over time. Anxiety post-stroke was positively associated with baseline PSD (p<0.0001), baseline anxiety (p<0.0001) and less disability (p=0.042). PSD was associated with baseline anxiety (p<0.0001), baseline depression (p=0.0057), low social support (p=0.0161) and low community participation (p<0.0001). The only baseline factor predicting the resolution of PSD (if depressed at baseline) was increased social support (p=0.0421). Factors that predicted the onset of depression (if not depressed at baseline) were low community participation (p=0.0015) and higher disability (p=0.0057). Conclusion: While more common than depression immediately post-stroke, anxiety attenuates while the burden of depression persists over 12 months. Clinical programs should assess anxiety and depression, provide treatment pathways for those identified, and address modifiable risk factors, especially social support and social engagement.Implications for RehabilitationPsychological distress post stroke is persisting.Multi-disciplinary teams that establish goals with patients promoting social and community engagement could assist in managing psychological morbidity.A shift towards promoting longer-term monitoring and management of stroke survivors must be undertaken, and should consider the factors that support and hinder psychological morbidity.

2014
Moayyeri A, Hsu Y-H, Karasik D, Estrada K, Xiao S-M, Nielson C, et al., 'Genetic determinants of heel bone properties: genome-wide association meta-analysis and replication in the GEFOS/GENOMOS consortium', HUMAN MOLECULAR GENETICS, 23 3054-3068 (2014) [C1]
2014
Wilasrusmee C, Marjareonrungrung M, Eamkong S, Attia J, Poprom N, Jirasisrithum S, Thakkinstian A, 'Maggot therapy for chronic ulcer: A retrospective cohort and a meta-analysis', ASIAN JOURNAL OF SURGERY, 37 138-147 (2014) [C1]
2014
Springelkamp H, Höhn R, Mishra A, Hysi PG, Khor CC, Loomis SJ, et al., 'Meta-analysis of genome-wide association studies identifies novel loci that influence cupping and the glaucomatous process', Nature Communications, 5 (2014) [C1]

Glaucoma is characterized by irreversible optic nerve degeneration and is the most frequent cause of irreversible blindness worldwide. Here, the International Glaucoma Genetics Co... [more]

Glaucoma is characterized by irreversible optic nerve degeneration and is the most frequent cause of irreversible blindness worldwide. Here, the International Glaucoma Genetics Consortium conducts a meta-analysis of genome-wide association studies of vertical cup-disc ratio (VCDR), an important disease-related optic nerve parameter. In 21,094 individuals of European ancestry and 6,784 individuals of Asian ancestry, we identify 10 new loci associated with variation in VCDR. In a separate risk-score analysis of five case-control studies, Caucasians in the highest quintile have a 2.5-fold increased risk of primary open-angle glaucoma as compared with those in the lowest quintile. This study has more than doubled the known loci associated with optic disc cupping and will allow greater understanding of mechanisms involved in this common blinding condition.

2014
Loth DW, Artigas MS, Gharib SA, Wain LV, Franceschini N, Koch B, et al., 'Genome-wide association analysis identifies six new loci associated with forced vital capacity', NATURE GENETICS, 46 669-677 (2014) [C1]
2014
Wilasrusmee C, Anothaisintawee T, Poprom N, McEvoy M, Attia J, Thakkinstian A, 'Diagnostic Scores for Appendicitis: A Systematic Review of Scores Performance', British Journal of Medicine and Medical Research, 4 711-730 (2014) [C1]
2014
Handley TE, Hiles SA, Inder KJ, Kay-Lambkin FJ, Kelly BJ, Lewin TJ, et al., 'Predictors of Suicidal Ideation in Older People: A Decision Tree Analysis', AMERICAN JOURNAL OF GERIATRIC PSYCHIATRY, 22 1325-1335 (2014) [C1]
2014
Holliday EG, Traylor M, Malik R, Bevan S, Maguire J, Koblar SA, et al., 'Polygenic Overlap Between Kidney Function and Large Artery Atherosclerotic Stroke', STROKE, 45 3508-+ (2014) [C1]
2014
Williams D, Conn J, Talley N, Attia J, 'Reviewing the evidence base for the peripheral sensory examination', International Journal of Clinical Practice, 68 756-760 (2014) [C1]

Background Many students find the peripheral sensory examination confusing. We set out to summarise the evidence base in order to provide guidance on the most useful manoeuvres. M... [more]

Background Many students find the peripheral sensory examination confusing. We set out to summarise the evidence base in order to provide guidance on the most useful manoeuvres. Methods We performed a literature review starting with 5 secondary sources, supplemented by a literature search on MEDLINE. Results A useful approach to neuropathy is to divide these into large fibre sensory neuropathy (LFSN) in which vibration and proprioception are affected, and small fibre sensory neuropathy (SFSN) in which pain and temperature are affected. Positive sensory symptoms such as burning, electric or sunburn pain point to a SFSN; negative symptoms such as loss of sensation, numbness or deep pain point to a LFSN. If LFSN is suspected, the most reproducible and best studied physical examination is a 10g monofilament, but vibration sense is also useful. There is much less data on the best physical examination for a SFSN. The most appropriate diagnostic test for SFSN is quantitative sensory testing, whereas for LFSN a nerve conduction study is indicated. Conclusions A modest amount of evidence is available to guide peripheral sensory examination but more research is needed. © 2014 John Wiley & Sons Ltd.

2014
Oldmeadow C, Holliday EG, McEvoy M, Scott R, Kwok JBJ, Mather K, et al., 'Concordance between direct and imputed APOE genotypes using 1000 genomes data', Journal of Alzheimer's Disease, 42 391-393 (2014) [C1]

There are a growing number of large cohorts of older persons with genome-wide genotyping data available, but APOE is not included in any of the common microarray platforms. We com... [more]

There are a growing number of large cohorts of older persons with genome-wide genotyping data available, but APOE is not included in any of the common microarray platforms. We compared directly measured APOE genotypes with those imputed using microarray data and the '1000 Genomes' dataset in a sample of 320 Caucasians. We find 90% agreement for e2/e3/e4 genotypes and 93% agreement for predicting e4 status, yielding kappa values of 0.81 and 0.84, respectively. More stringent thresholds around allele number estimates can increase this agreement to 90-97% and kappas of 0.90-0.93.

2014
Gunathilake R, Krishnamurthy V, Oldmeadow C, Kerr E, Padmakumar C, Attia J, et al., 'Relationships between age, other predictive variables, and the 90-day functional outcome after intravenous thrombolysis for acute ischemic stroke', AUSTRALASIAN JOURNAL ON AGEING, 33 19-19 (2014) [E3]
2014
Tarrant SM, Hardy BM, Byth PL, Brown TL, Attia J, Balogh ZJ, 'Preventable mortality in geriatric hip fracture inpatients', Bone and Joint Journal, 69B 1178-1184 (2014) [C1]

There is a high rate of mortality in elderly patients who sustain a fracture of the hip. We aimed to determine the rate of preventable mortality and errors during the management o... [more]

There is a high rate of mortality in elderly patients who sustain a fracture of the hip. We aimed to determine the rate of preventable mortality and errors during the management of these patients. A 12 month prospective study was performed on patients aged > 65 years who had sustained a fracture of the hip. This was conducted at a Level 1 Trauma Centre with no orthogeriatric service. A multidisciplinary review of the medical records by four specialists was performed to analyse errors of management and elements of preventable mortality. During 2011, there were 437 patients aged > 65 years admitted with a fracture of the hip (85 years (66 to 99)) and 20 died while in hospital (86.3 years (67 to 96)). A total of 152 errors were identified in the 80 individual reviews of the 20 deaths. A total of 99 errors (65%) were thought to have at least a moderate effect on death; 45 reviews considering death (57%) were thought to have potentially been preventable. Agreement between the panel of reviewers on the preventability of death was fair. A larger-scale assessment of preventable mortality in elderly patients who sustain a fracture of the hip is required. Multidisciplinary review panels could be considered as part of the quality assurance process in the management of these patients.

2014
Lai JS, Attia JR, McEvoy M, Hure AJ, 'Biochemical Validation of the Older Australian s Food Frequency Questionnaire Using Carotenoids and Vitamin E', Nutrients, 6 4906-4917 (2014) [C1]
2014
Islam MR, Attia J, Alauddin M, McEvoy M, McElduff P, Slater C, et al., 'Availability of arsenic in human milk in women and its correlation with arsenic in urine of breastfed children living in arsenic contaminated areas in Bangladesh.', Environmental Health: A Global Access Science Source, 13 1-10 (2014) [C1]
2014
Johnson NA, Kypri K, Latter J, McElduff P, Saunders JB, Saitz R, et al., 'Prevalence of unhealthy alcohol use in hospital outpatients', Drug and Alcohol Dependence, 144 270-273 (2014) [C1]

Background: Few studies have examined the prevalence of unhealthy alcohol use in the hospital outpatient setting. Our aim was to estimate the prevalence of unhealthy alcohol use a... [more]

Background: Few studies have examined the prevalence of unhealthy alcohol use in the hospital outpatient setting. Our aim was to estimate the prevalence of unhealthy alcohol use among patients attending a broad range of outpatient clinics at a large public hospital in Australia. Methods: Adult hospital outpatients were invited to complete the Alcohol Use Disorders Identification Test Consumption questions (AUDIT-C) using an iPad as part of a randomised trial testing the efficacy of alcohol electronic screening and brief intervention. Unhealthy alcohol use was defined as an AUDIT-C score =5 among men and =4 among women. Results: Sixty percent (3616/6070) of invited hospital outpatients consented, of whom 89% (3206/3616) provided information on their alcohol consumption (either reported they had not consumed any alcohol in the last 12 months or completed the AUDIT-C). The prevalence of unhealthy alcohol use was 34.7% (95% confidence interval [CI]: 33.0-36.3%). The prevalence among men aged 18-24 years, 25-39 years, 40-59 years and 60 years and older, was 74.4% (95% CI: 68.4-80.4%), 54.3% (95% CI: 48.7-59.8%), 44.1% (95% CI: 39.9-48.3%), and 27.0% (95% CI: 23.6-30.4%), respectively (43.1% overall; 95% CI: 40.8-45.5%). The prevalence among women aged 18-24 years, 25-39 years, 40-59 years, and 60 years and older, was 48.6% (95% CI: 39.2-58.1%), 36.9% (95% CI: 31.2-42.6%), 25.2% (95% CI: 21.5-29.0%) and 14.5% (95% CI: 11.7-17.3%), respectively (24.9% overall; 95% CI: 22.7-27.1%). Conclusion: A large number of hospital outpatients who are not currently seeking treatment for their drinking could benefit from effective intervention in this setting.

2014
de Zeeuw EL, van Beijsterveldt CEM, Glasner TJ, Bartels M, Ehli EA, Davies GE, et al., 'Polygenic scores associated with educational attainment in adults predict educational achievement and ADHD symptoms in children', American Journal of Medical Genetics, Part B: Neuropsychiatric Genetics, 165 510-520 (2014) [C1]

The American Psychiatric Association estimates that 3 to 7 per cent of all school aged children are diagnosed with attention deficit hyperactivity disorder (ADHD). Even after corr... [more]

The American Psychiatric Association estimates that 3 to 7 per cent of all school aged children are diagnosed with attention deficit hyperactivity disorder (ADHD). Even after correcting for general cognitive ability, numerous studies report a negative association between ADHD and educational achievement. With polygenic scores we examined whether genetic variants that have a positive influence on educational attainment have a protective effect against ADHD. The effect sizes from a large GWA meta-analysis of educational attainment in adults were used to calculate polygenic scores in an independent sample of 12-year-old children from the Netherlands Twin Register. Linear mixed models showed that the polygenic scores significantly predicted educational achievement, school performance, ADHD symptoms and attention problems in children. These results confirm the genetic overlap between ADHD and educational achievement, indicating that one way to gain insight into genetic variants responsible for variation in ADHD is to include data on educational achievement, which are available at a larger scale. © 2014 Wiley Periodicals, Inc.

2014
Ewald B, Attia J, McElduff P, 'How many steps are enough? dose-response curves for pedometer steps and multiple health markers in a community-based sample of older Australians', Journal of Physical Activity and Health, 11 509-518 (2014) [C1]

Background: Although an overall public health target of 10,000 steps per day has been advocated, the dose-response relationship for each health benefit of physical activity may di... [more]

Background: Although an overall public health target of 10,000 steps per day has been advocated, the dose-response relationship for each health benefit of physical activity may differ. Methods: A representative community sample of 2458 Australian residents aged 55-85 wore a pedometer for a week in 2005-2007 and completed a health assessment. Age-standardized steps per day were compared with multiple markers of health using locally weighted regression to produce smoothed dose-response curves and then to select the steps per day matching 60% or 80% of the range in each health marker. Results: There is a linear relationship between activity level and markers of inflammation throughout the range of steps per day; this is also true for BMI in women and high density lipoprotein in men. For other markers, including waist:hip ratio, fasting glucose, depression, and SF-36 scores, the benefit of physical activity is mostly in the lower half of the distribution. Conclusions: Older adults have no plateau in the curve for some health outcomes, even beyond 12,000 steps per day. For other markers, however, there is a threshold effect, indicating that most of the benefit is achieved by 8000 steps per day, supporting this as a suitable public health target for older adults. © 2014 Human Kinetics, Inc.

2014
McEvoy M, Schofield P, Smith W, Agho K, Mangoni AA, Soiza RL, et al., 'Memory Impairment is Associated with Serum Methylarginines in Older Adults', CURRENT ALZHEIMER RESEARCH, 11 97-106 (2014) [C1]
2014
Greenop KR, Peters S, Bailey HD, Fritschi L, Attia J, Scott RJ, et al., 'Erratum to: Exposure to pesticides and the risk of childhood brain tumors', Cancer Causes and Control, 25 1239-1240 (2014)
2014
Abdullah N, Attia J, Oldmeadow C, Scott RJ, Holliday EG, 'The Architecture of Risk for Type 2 Diabetes: Understanding Asia in the Context of Global Findings', INTERNATIONAL JOURNAL OF ENDOCRINOLOGY, 2014 (2014) [C1]
2014
Denham JW, Joseph D, Lamb DS, Spry NA, Duchesne G, Matthews J, et al., 'Short-term androgen suppression and radiotherapy versus intermediate-term androgen suppression and radiotherapy, with or without zoledronic acid, in men with locally advanced prostate cancer (TROG 03.04 RADAR): an open-label, randomised, phase 3 factorial trial', LANCET ONCOLOGY, 15 1076-1089 (2014) [C1]
2014
Handley TE, Kay-Lambkin FJ, Inder KJ, Lewin TJ, Attia JR, Fuller J, et al., 'Self-reported contacts for mental health problems by rural residents: Predicted service needs, facilitators and barriers', BMC Psychiatry, 14 (2014) [C1]

Background: Rural and remote Australians face a range of barriers to mental health care, potentially limiting the extent to which current services and support networks may provide... [more]

Background: Rural and remote Australians face a range of barriers to mental health care, potentially limiting the extent to which current services and support networks may provide assistance. This paper examines self-reported mental health problems and contacts during the last 12¿months, and explores cross-sectional associations between potential facilitators/barriers and professional and non-professional help-seeking, while taking into account expected associations with socio-demographic and health-related factors. Methods: During the 3-year follow-up of the Australian Rural Mental Health Study (ARMHS) a self-report survey was completed by adult rural residents (N = 1,231; 61% female 77% married; 22% remote location; mean age = 59¿years), which examined socio-demographic characteristics, current health status factors, predicted service needs, self-reported professional and non-professional contacts for mental health problems in the last 12¿months, other aspects of help-seeking, and perceived barriers. Results: Professional contacts for mental health problems were reported by 18% of the sample (including 14% reporting General Practitioner contacts), while non-professional contacts were reported by 16% (including 14% reporting discussions with family/friends). Perceived barriers to health care fell under the domains of structural (e.g., costs, distance), attitudinal (e.g., stigma concerns, confidentiality), and time commitments. Participants with 12-month mental health problems who reported their needs as met had the highest levels of service use. Hierarchical logistic regressions revealed a dose-response relationship between the level of predicted need and the likelihood of reporting professional and non-professional contacts, together with associations with socio-demographic characteristics (e.g., gender, relationships, and financial circumstances), suicidal ideation, and attitudinal factors, but not geographical remoteness. Conclusions: Rates of self-reported mental health problems were consistent with baseline findings, including higher rural contact rates with General Practitioners. Structural barriers displayed mixed associations with help-seeking, while attitudinal barriers were consistently associated with lower service contacts. Developing appropriate interventions that address perceptions of mental illness and attitudes towards help-seeking is likely to be vital in optimising treatment access and mental health outcomes in rural areas.

2014
Gunathilake R, Krishnamurthy V, Oldmeadow C, Kerr E, Padmakumar C, Attia J, et al., 'Relationships between age, other predictive variables, and the 90-day functional outcome after intravenous thrombolysis for acute ischemic stroke', International Journal of Stroke, 9 E36-E37 (2014) [O1]
2014
Squance ML, Reeves GEM, Attia J, 'Patient Reported Frequency of Lupus Flare: Associations with Foundation Makeup and Sunscreen Use', Journal of Cosmetics, Dermatological Sciences and Applications, 4 344-354 (2014) [C1]
2014
Golledge J, Clancy P, Maguire J, Lincz L, Koblar S, Mcevoy M, et al., 'Plasma angiopoietin-1 is lower after ischemic stroke and associated with major disability but not stroke incidence', Stroke, 45 1064-1068 (2014) [C1]

BACKGROUND AND PURPOSE - : Studies in rodent models suggest that upregulating angiopoietin-1 (Angpt1) improves stroke outcomes. The aims of this study were to assess the associati... [more]

BACKGROUND AND PURPOSE - : Studies in rodent models suggest that upregulating angiopoietin-1 (Angpt1) improves stroke outcomes. The aims of this study were to assess the association of plasma Angpt1 with stroke occurrence and outcome. METHODS - : Plasma Angpt1 was measured in 336 patients who had experienced a recent stroke and 321 healthy controls with no stroke history. Patients with stroke (n=285) were reassessed at 3 months and plasma Angpt1 concentration on admission compared between those with severe and minor disability as assessed by the modified Rankin scale. In a separate cohort of 4032 community-acquired older men prospectively followed for a minimum of 6 years, the association of plasma Angpt1 with stroke incidence was examined. RESULTS - : Median plasma Angpt1 was 3-fold lower in patients who had experienced a recent stroke (6.42, interquartile range, 4.26-9.53 compared with 17.36; interquartile range, 14.01-22.46 ng/mL; P<0.001) and remained associated with stroke after adjustment for other risk factors. Plasma Angpt1 concentrations on admission were lower in patients who had severe disability or died at 3 months (median, 5.52; interquartile range, 3.81-8.75 ng/mL for modified Rankin scale 3-6; n=91) compared with those with minor disability (median, 7.04; interquartile range, 4.75-9.92 ng/mL for modified Rankin scale 0-2; n=194), P=0.012, and remained negatively associated with severe disability or death after adjusting for other risk factors. Plasma Angpt1 was not predictive of stroke incidence in community-dwelling older men. CONCLUSIONS - : Plasma Angpt1 concentrations are low after ischemic stroke particularly in patients with poor stroke outcomes at 3 months. Interventions effective at upregulating Angpt1 could potentially improve stroke outcomes. © 2014 American Heart Association, Inc.

2014
The Global Burden of Metabolic Risk Factors for Chronic Diseases Collaboration (BMI Mediated Effects), D'Este C, Attia J, 'Metabolic mediators of the effects of body-mass index, overweight, and obesity on coronary heart disease and stroke: A pooled analysis of 97 prospective cohorts with 1·8 million participants', The Lancet, 383 970-983 (2014) [C1]
2014
Gupta SK, Lewis G, Rogers KM, Attia J, Rostron K, O'Neill L, et al., 'Quantitative (99m)Tc DTPA renal transplant scintigraphic parameters: assessment of interobserver agreement and correlation with graft pathologies.', American Journal of Nuclear Medicine and Molecular Imaging, 4 213-224 (2014) [C1]

| | |
| --- | --- |
| Citations | Web of Science - 3 |

2014
Dewar DC, White A, Attia J, Tarrant SM, King KL, Balogh ZJ, 'Comparison of postinjury multiple-organ failure scoring systems: Denver versus sequential organ failure assessment', Journal of Trauma and Acute Care Surgery, 77 624-629 (2014) [C1]

BACKGROUND: The Denver and Sequential Organ Failure Assessment (SOFA) scores have been used widely to describe the epidemiology of postinjury multiple-organ failure; however, diff... [more]

BACKGROUND: The Denver and Sequential Organ Failure Assessment (SOFA) scores have been used widely to describe the epidemiology of postinjury multiple-organ failure; however, differences in these scores make it difficult to compare incidence, duration, and mortality of multiple-organ failure. The study aim was to compare the performance of the Denver and SOFA scores with respect to the outcomes of mortality, intensive care unit length of stay (ICU LOS), and ventilator days.

2014
Wang G, Murphy VE, Namazy J, Powell H, Schatz M, Chambers C, et al., 'The risk of maternal and placental complications in pregnant women with asthma: A systematic review and meta-analysis', Journal of Maternal-Fetal and Neonatal Medicine, 27 934-942 (2014) [C1]

Objective: To investigate if maternal asthma is associated with an increased risk of maternal and placental complications in pregnancy. Methods: Electronic databases were searched... [more]

Objective: To investigate if maternal asthma is associated with an increased risk of maternal and placental complications in pregnancy. Methods: Electronic databases were searched for the following terms: (asthma or wheeze) and (pregnan* or perinat* or obstet*). Cohort studies published between January 1975 and March 2012 were considered for inclusion. Forty publications met the inclusion criteria, reporting at least one maternal or placental complication in pregnant women with and without asthma. Relative risk (RR) with 95% confidence intervals (CIs) was calculated. Results: Maternal asthma was associated with a significantly increased risk of cesarean section (RR=1.31, 95%CI=[1.22-1.39]), gestational diabetes (RR=1.39, 95%CI=[1.17-1.66]), hemorrhage (antepartum: RR=1.25, 95%CI=[1.10-1.42]; postpartum: RR=1.29, 95%CI=[1.18-1.41]), placenta previa (RR=1.23, 95%CI=[1.07-1.40]), placental abruption (RR=1.29, 95%CI=[1.14-1.47]) and premature rupture of membranes (RR=1.21, 95%CI=1.07-1.37). Moderate to severe asthma significantly increased the risk of cesarean section (RR=1.19, 95%CI=[1.09-1.31]) and gestational diabetes (RR=1.19, 95%CI=[1.06-1.33]) compared to mild asthma. Bronchodilator use was associated with a significantly lowered risk of gestational diabetes (RR=0.64, 95%CI=[0.57-0.72]). Conclusions: Pregnant women with asthma are at increased risk of maternal and placental complications, and women with moderate/severe asthma may be at particular risk. Further studies are required to elucidate whether adequate control of asthma during pregnancy reduces these risks. © 2014 Informa UK Ltd. All rights reserved.

2014
Napthali K, Boyle M, Tran H, Schofield PW, Peel R, McEvoy M, et al., 'Thyroid antibodies, autoimmunity and cognitive decline: is there a population-based link?', Dement Geriatr Cogn Dis Extra, 4 140-146 (2014) [C1]
2014
Jackel D, Attia J, Pickles R, 'General medicine advanced training: lessons from the John Hunter training programme.', Intern Med J, 44 302-306 (2014) [C2]
2013
Johnson NA, Kypri K, Saunders JB, Saitz R, Attia J, Dunlop A, et al., 'The hospital outpatient alcohol project (HOAP): protocol for an individually randomized, parallel-group superiority trial of electronic alcohol screening and brief intervention versus screening alone for unhealthy alcohol use.', Addict Sci Clin Pract, 8 14 (2013) [C3]
2013
Handley TE, Attia JR, Inder KJ, Kay-Lambkin FJ, Barker D, Lewin TJ, Kelly BJ, 'Longitudinal course and predictors of suicidal ideation in a rural community sample.', Australian & New Zealand Journal of Psychiatry, 47 1032-1040 (2013) [C1]
2013
Vashum KP, McEvoy M, Shi Z, Milton AH, Islam MR, Sibbritt D, et al., 'Is dietary zinc protective for type 2 diabetes? Results from the Australian longitudinal study on women's health', BMC Endocrine Disorders, 13 (2013) [C1]
2013
Walsh B, Slater S, Nair B, Attia J, 'The relationship between the apolipoprotein E e4 allele and hippocampal MRI volume in community dwelling individuals with mild Alzheimer's disease', Degenerative Neurological and Neuromuscular Disease, 3 11-14 (2013) [C1]
2013
Johnson NA, Kypri K, Attia J, 'Development of an electronic alcohol screening and brief intervention program for hospital outpatients with unhealthy alcohol use.', JMIR Res Protoc, 2 e36 (2013) [C1]
2013
Walsh B, Slater S, Nair B, Attia J, 'The relationship between the apolipoprotein E e4 allele and hippocampal magnetic resonance imaging volume in community-dwelling individuals with mild Alzheimer's disease', DEGENERATIVE NEUROLOGICAL AND NEUROMUSCULAR DISEASE, 3 11-14 (2013)
2013
Gunathilake R, Oldmeadow C, McEvoy M, Kelly B, Inder K, Schofield P, Attia J, 'Mild Hyponatremia Is Associated With Impaired Cognition And Falls In Community-Dwelling Older Persons', Journal of the American Geriatrics Society, 61 1838-1839 (2013) [C1]
2013
Thakkinstian A, McKay GJ, Silvestri J, Chakravarthy U, Attia J, 'FIVE AUTHORS REPLY', AMERICAN JOURNAL OF EPIDEMIOLOGY, 177 1024-1025 (2013) [C3]
2013
Attia JR, Pearce R, 'The use, misuse and abuse of dabigatran', MEDICAL JOURNAL OF AUSTRALIA, 198 356-357 (2013) [C3]
2013
Yadav S, Cotlarciuc I, Munroe PB, Khan MS, Nalls MA, Bevan S, et al., 'Genome-Wide Analysis of Blood Pressure Variability and Ischemic Stroke', Stroke, 44 2703-2709 (2013) [C1]
2013
Köttgen A, Albrecht E, Teumer A, Vitart V, Krumsiek J, Hundertmark C, et al., 'Genome-wide association analyses identify 18 new loci associated with serum urate concentrations', Nature Genetics, 45 145-154 (2013) [C1]

Elevated serum urate concentrations can cause gout, a prevalent and painful inflammatory arthritis. By combining data from &gt;140,000 individuals of European ancestry within the ... [more]

Elevated serum urate concentrations can cause gout, a prevalent and painful inflammatory arthritis. By combining data from >140,000 individuals of European ancestry within the Global Urate Genetics Consortium (GUGC), we identified and replicated 28 genome-wide significant loci in association with serum urate concentrations (18 new regions in or near TRIM46, INHBB, SFMBT1, TMEM171, VEGFA, BAZ1B, PRKAG2, STC1, HNF4G, A1CF, ATXN2, UBE2Q2, IGF1R, NFAT5, MAF, HLF, ACVR1B-ACVRL1 and B3GNT4). Associations for many of the loci were of similar magnitude in individuals of non-European ancestry. We further characterized these loci for associations with gout, transcript expression and the fractional excretion of urate. Network analyses implicate the inhibins-activins signaling pathways and glucose metabolism in systemic urate control. New candidate genes for serum urate concentration highlight the importance of metabolic control of urate production and excretion, which may have implications for the treatment and prevention of gout. © 2013 Nature America, Inc. All rights reserved.

2013
Buitendijk GHS, Rochtchina E, Myers C, Van Duijn CM, Lee KE, Klein BEK, et al., 'Prediction of age-related macular degeneration in the general population: The three continent AMD consortium', Ophthalmology, 120 2644-2655 (2013) [C1]
2013
Schache M, Richardson AJ, Mitchell P, Wang JJ, Rochtchina E, Viswanathan AC, et al., 'Genetic association of refractive error and axial length with 15q14 but not 15q25 in the Blue Mountains Eye Study Cohort', Ophthalmology, 120 292-297 (2013) [C1]
2013
Handley TE, Kay-Lambkin FJ, Baker AL, Lewin TJ, Kelly BJ, Inder KJ, et al., 'Incidental treatment effects of CBT on suicidal ideation and hopelessness', JOURNAL OF AFFECTIVE DISORDERS, 151 275-283 (2013) [C1]
2013
McEvoy MA, Schofield P, Smith W, Agho K, Mangoni AA, Soiza RL, et al., 'Serum methylarginines and incident depression in a cohort of older adults', Journal of Affective Disorders, 151 493-499 (2013) [C1]
2013
Hunt JJ, Lumsdaine W, Attia J, Balogh ZJ, 'AO type-C distal radius fractures: the influence of computed tomography on surgeon's decision-making', ANZ JOURNAL OF SURGERY, 83 676-678 (2013) [C3]
2013
Williams FMK, Carter AM, Hysi PG, Surdulescu G, Hodgkiss D, Soranzo N, et al., 'Ischemic stroke is associated with the ABO locus: The EuroCLOT Study', Annals of Neurology, 73 16-31 (2013) [C1]
2013
Minelli C, De Grandi A, Weichenberger CX, Goegele M, Modenese M, Attia J, et al., 'Importance of Different Types of Prior Knowledge in Selecting Genome-Wide Findings for Follow-Up', GENETIC EPIDEMIOLOGY, 37 205-213 (2013) [C1]
2013
Thompson JR, Goegele M, Weichenberger CX, Modenese M, Attia J, Barrett JH, et al., 'SNP Prioritization Using a Bayesian Probability of Association', GENETIC EPIDEMIOLOGY, 37 214-221 (2013) [C1]
2013
Kongtharvonskul J, Attia J, Thamakaison S, Kijkunasathian C, Woratanarat P, Thakkinstian A, 'Clinical outcomes of double- vs single-bundle anterior cruciate ligament reconstruction: A systematic review of randomized control trials', SCANDINAVIAN JOURNAL OF MEDICINE & SCIENCE IN SPORTS, 23 1-14 (2013) [C1]
2013
Greenop KR, Peters S, Bailey HD, Fritschi L, Attia J, Scott RJ, et al., 'Exposure to pesticides and the risk of childhood brain tumors', CANCER CAUSES & CONTROL, 24 1269-1278 (2013) [C1]
2013
Rattanasiri S, McDaniel DO, McEvoy M, Anothaisintawee T, Sobhonslidsuk A, Attia J, Thakkinstian A, 'The association between cytokine gene polymorphisms and graft rejection in liver transplantation: A systematic review and meta-analysis', TRANSPLANT IMMUNOLOGY, 28 62-70 (2013) [C1]
2013
Rietveld CA, Medland SE, Derringer J, Yang J, Esko T, Martin NW, et al., 'GWAS of 126,559 individuals identifies genetic variants associated with educational attainment', Science, 340 1467-1471 (2013) [C1]
2013
Magee CA, Holliday EG, Attia JR, Kritharides L, Banks E, 'Investigation of the relationship between sleep duration, all-cause mortality, and preexisting disease', Sleep Medicine, 14 591-596 (2013) [C1]

| | |
| --- | --- |
| Citations | Scopus - 44Web of Science - 42 |
| Co-authors | Liz Holliday |

2013
Stambolian D, Wojciechowski R, Oexle K, Pirastu M, Li X, Raffel LJ, et al., 'Meta-analysis of genome-wide association studies in five cohorts reveals common variants in RBFOX1, a regulator of tissue-specific splicing, associated with refractive error', Human Molecular Genetics, 22 2754-2764 (2013) [C1]
2013
Ranasinghe WKB, Attia J, Oldmeadow C, Lawrentschuk N, Robertson J, Ranasinghe T, et al., 'Bladder carcinoma in situ (CIS) in Australia: a rising incidence for an under-reported malignancy', BJU International, 112 46-52 (2013) [C1]
2013
Holliday S, Magin P, Oldmeadow C, Attia J, Dunbabin J, Henry J, et al., 'An examination of the influences on New South Wales general practitioners regarding the provision of opioid substitution therapy', Drug and Alcohol Review, 32 495-503 (2013) [C1]
2013
Allen J, Inder KJ, Lewin TJ, Attia JR, Kay-Lambkin FJ, Baker AL, et al., 'Integrating and extending cohort studies: lessons from the eXtending Treatments, Education and Networks in Depression (xTEND) study', BMC Medical Research Methodology, 13 (2013) [C1]
2013
Gupta K, Dhawan A, Abel C, Talley N, Attia J, 'A re-evaluation of the scratch test for locating the liver edge', BMC GASTROENTEROLOGY, 13 (2013) [C1]
2013
Vejakama P, Thakkinstian A, Ingsathit A, Dhanakijcharoen P, Attia J, 'Prognostic factors of all-cause mortalities in continuous ambulatory peritoneal dialysis: a cohort study', BMC NEPHROLOGY, 14 (2013) [C1]
2013
Courtney RJ, Paul CL, Sanson-Fisher RW, Macrae FA, Carey ML, Attia J, McEvoy M, 'Individual- and provider-level factors associated with colorectal cancer screening in accordance with guideline recommendation: a community-level perspective across varying levels of risk', BMC PUBLIC HEALTH, 13 (2013) [C1]
2013
Allen J, Inder KJ, Lewin TJ, Attia JR, Kelly BJ, 'Construct validity of the Assessment of Quality of Life - 6D (AQoL-6D) in community samples', HEALTH AND QUALITY OF LIFE OUTCOMES, 11 (2013) [C1]
2013
Allen J, Inder KJ, Harris ML, Lewin TJ, Attia JR, Kelly BJ, 'Quality of life impact of cardiovascular and affective conditions among older residents from urban and rural communities', HEALTH AND QUALITY OF LIFE OUTCOMES, 11 (2013) [C1]
2013
Mangoni AA, Zinellu A, Carru C, Attia JR, McEvoy M, 'Serum thiols and cardiovascular risk scores: a combined assessment of transsulfuration pathway components and substrate/product ratios', JOURNAL OF TRANSLATIONAL MEDICINE, 11 (2013) [C1]
2013
Holliday S, Magin P, Dunbabin J, Oldmeadow C, Henry J-M, Lintzeris N, et al., 'An Evaluation of the Prescription of Opioids for Chronic Nonmalignant Pain by Australian General Practitioners', PAIN MEDICINE, 14 62-74 (2013) [C1]
2013
Numthavaj P, Tanjararak K, Roongpuvapaht B, McEvoy M, Attia J, Thakkinstian A, 'Efficacy of Mitomycin C for postoperative endoscopic sinus surgery: a systematic review and meta-analysis', CLINICAL OTOLARYNGOLOGY, 38 198-207 (2013) [C1]
2013
Talseth-Palmer B, Holliday EG, Evans T-J, McEvoy MA, Attia JR, Grice DM, et al., 'Continuing difficulties in interpreting CNV data: Lessons from a genome-wide CNV association study of Australian HNPCC/lynch syndrome patients', BMC Medical Genomics, 6 1-13 (2013) [C1]
2013
Williams N, Hardy BM, Tarrant S, Enninghorst N, Attia J, Oldmeadow C, Balogh ZJ, 'Changes in hip fracture incidence, mortality and length of stay over the last decade in an Australian major trauma centre.', Archives of Osteoporosis, 8 (2013) [C1]
2013
Holliday EG, Magee CA, Kritharides L, Banks E, Attia J, 'Short Sleep Duration Is Associated with Risk of Future Diabetes but Not Cardiovascular Disease: a Prospective Study and Meta-Analysis', PLOS ONE, 8 (2013) [C1]
2013
Mangoni AA, Zinellu A, Carru C, Attia JR, McEvoy M, 'Transsulfuration Pathway Thiols and Methylated Arginines: The Hunter Community Study', PLOS ONE, 8 (2013) [C1]
2013
Islam MR, Arslan I, Attia J, McEvoy M, McElduff P, Basher A, et al., 'Is Serum Zinc Level Associated with Prediabetes and Diabetes?: A Cross-Sectional Study from Bangladesh', PLOS ONE, 8 (2013) [C1]
2013
McEvoy MA, Schofield PW, Smith WT, Agho K, Mangoni AA, Soiza RL, et al., 'Serum Methylarginines and Spirometry-Measured Lung Function in Older Adults', PLOS ONE, 8 (2013) [C1]
2013
Sun C, Young TL, Mackey DA, Van Zuydam NR, Doney ASF, Palmer CNA, et al., 'Genetic loci for retinal arteriolar microcirculation', PLoS One, 8 (2013) [C1]
2013
Jensen RA, Sim X, Li X, Cotch MF, Ikram MK, Holliday EG, et al., 'Genome-wide association study of retinopathy in individuals without diabetes', PLoS One, 8 (2013) [C1]
2013
Holliday EG, Smith AV, Cornes BK, Buitendijk GHS, Jensen RA, Sim X, et al., 'Insights into the genetic architecture of early stage age-related macular degeneration: A genome-wide association study meta-analysis', PLoS One, 8 (2013) [C1]
2013
Sukrat B, Wilasrusmee C, Siribumrungwong B, McEvoy M, Okascharoen C, Attia J, Thakkinstian A, 'Hemoglobin Concentration and Pregnancy Outcomes: A Systematic Review and Meta-Analysis', BIOMED RESEARCH INTERNATIONAL, 1-9 (2013) [C1]
2012
Gogele M, Minelli C, Thakkinstian A, Yurkiewich A, Pattaro C, Pramstaller PP, et al., 'Methods for meta-analyses of genome-wide association studies: Critical assessment of empirical evidence', American Journal of Epidemiology, 175 739-749 (2012) [C1]

| | |
| --- | --- |
| Citations | Scopus - 37Web of Science - 35 |

2012
Milne E, Greenop KR, Scott R, Bailey HD, Attia JR, Dalla-Pozza L, et al., 'Parental prenatal smoking and risk of childhood acute lymphoblastic leukemia', American Journal of Epidemiology, 175 43-53 (2012) [C1]

| | |
| --- | --- |
| Citations | Scopus - 83Web of Science - 77 |
| Co-authors | Rodney Scott |

2012
Thakkinstian A, McEvoy MA, Chakravarthy U, Chakrabarti S, McKay GJ, Ryu E, et al., 'The association between complement component 2/complement factor B polymorphisms and age-related macular degeneration: A HuGE review and meta-analysis', American Journal of Epidemiology, 176 361-372 (2012) [C1]

| | |
| --- | --- |
| Citations | Scopus - 46Web of Science - 42 |
| Co-authors | Mark Mcevoy |

2012
Wilasrusmee C, Sukrat B, McEvoy MA, Attia JR, Thakkinstian A, 'Systematic review and meta-analysis of safety of laparoscopic versus open appendicectomy for suspected appendicitis in pregnancy', British Journal of Surgery, 99 1470-1478 (2012) [C1]

| | |
| --- | --- |
| Citations | Scopus - 96Web of Science - 89 |
| Co-authors | Mark Mcevoy |

2012
Vejakama P, Thakkinstian A, Attia JR, 'Renoprotective effects of renin-angiotensin-aldosterone system blockers in type 2 diabetes: Demystifying multiple treatment comparisons in a network meta-analysis. Reply', Diabetologia, 55 2549-2550 (2012) [C3]
2012
Vejakama P, Thakkinstian A, Lertrattananon D, Ingsathit A, Ngarmukos C, Attia JR, 'Reno-protective effects of renin-angiotensin system blockade in type 2 diabetic patients: A systematic review and network meta-analysis', Diabetologia, 55 566-578 (2012) [C1]

| | |
| --- | --- |
| Citations | Scopus - 109Web of Science - 106 |

2012
Courtney RJ, Paul CL, Sanson-Fisher RW, Macrae FA, Carey ML, Attia JR, McEvoy MA, 'Colorectal cancer screening in Australia: A community-level perspective', Medical Journal of Australia, 196 516-520 (2012) [C1]
2012
Hiles SA, Baker AL, De Malmanche T, Attia JR, 'Interleukin-6, C-reactive protein and interleukin-10 after antidepressant treatment in people with depression: A meta-analysis', Psychological Medicine, 42 2015-2026 (2012) [C1]
2012
Cheng YC, Anderson CD, Bione S, Keene K, Maguire JM, Nalls M, et al., 'Are myocardial infarction-associated single-nucleotide polymorphisms associated with ischemic stroke?', Stroke, 43 980-U143 (2012) [C1]
2012
Gupta SK, Lewis G, Rogers K, Attia JR, 'Quantitative Tc-99m DTPA renal transplant scintigraphy predicts graft survival in the very early postoperative period', Nuclear Medicine Communications, 33 1292-1299 (2012) [C1]

| | |
| --- | --- |
| Citations | Scopus - 10Web of Science - 11 |

2012
Suthers BG, Pickles RW, Boyle MJ, Nair BR, Cook J, Attia JR, 'The effect of context on performance of an acute medical unit: Experience from an Australian tertiary hospital', Australian Health Review, 36 320-324 (2012) [C1]

| | |
| --- | --- |
| Citations | Scopus - 8Web of Science - 8 |
| Co-authors | Kichu Nair |

2012
Bailey HD, Miller M, Langridge A, De Klerk NH, Van Bockxmeer FM, Attia JR, et al., 'Maternal dietary intake of folate and vitamins B6 and B12 during pregnancy and the risk of childhood acute lymphoblastic leukemia', Nutrition and Cancer, 64 1122-1130 (2012) [C1]
2012
Suthers B, Hansbro PM, Thambar S, McEvoy MA, Peel R, Attia JR, 'Pneumococcal vaccination may induce anti-oxidized low-density lipoprotein antibodies that have potentially protective effects against cardiovascular disease', Vaccine, 30 3983-3985 (2012) [C1]
2012
Guest M, Boggess MM, Attia JR, 'Relative risk of elevated hearing threshold compared to ISO1999 normative populations for Royal Australian Air Force male personnel', Hearing Research, 285 65-76 (2012) [C1]
2012
Hiles SA, Baker AL, De Malmanche T, Attia JR, 'A meta-analysis of differences in IL-6 and IL-10 between people with and without depression: Exploring the causes of heterogeneity', Brain, Behavior, and Immunity, 26 1180-1188 (2012) [C1]
2012
Woratanarat P, Angsanuntsukh C, Rattanasiri S, Attia JR, Woratanarat T, Thakkinstian A, 'Meta-analysis of pinning in supracondylar fracture of the humerus in children', Journal of Orthopaedic Trauma, 26 48-53 (2012) [C1]

| | |
| --- | --- |
| Citations | Scopus - 51Web of Science - 42 |

2012
Reid MG, Parkinson L, Gibson RE, Schofield PW, D'Este CA, Attia JR, et al., 'Memory Complaint Questionnaire performed poorly as screening tool: Validation against psychometric tests and affective measures', Journal of Clinical Epidemiology, 65 199-205 (2012) [C1]
2012
Handley T, Inder KJ, Kelly BJ, Attia JR, Lewin TJ, Fitzgerald MN, Kay-Lambkin FJ, 'You've got to have friends: The predictive value of social integration and support in suicidal ideation among rural communities', Social Psychiatry and Psychiatric Epidemiology, 47 1281-1290 (2012) [C1]
2012
Magee CA, Kritharides L, Attia JR, McElduff P, Banks E, 'Short and long sleep duration are associated with prevalent cardiovascular disease in Australian adults', Journal of Sleep Research, 21 441-447 (2012) [C1]
2012
White JH, Gray KR, Magin PJ, Attia JR, Sturm J, Carter G, Pollack M, 'Exploring the experience of post-stroke fatigue in community dwelling stroke survivors: A prospective qualitative study', Disability and Rehabilitation, 34 1376-1384 (2012) [C1]
2012
White JH, Miller B, Magin PJ, Attia JR, Sturm J, Pollack M, 'Access and participation in the community: A prospective qualitative study of driving post-stroke', Disability and Rehabilitation, 34 831-838 (2012) [C1]
2012
Collins NJ, Hatton R, Ng K, Bhagwandeen R, Attia JR, Oldmeadow CJ, Jayasinghe R, 'Percutaneous device closure of patent foramen ovale using the premere occlusion device: Initial experience, procedural, and intermediate-term results', Journal of Invasive Cardiology, 24 164-168 (2012) [C1]
2012
Bellenguez C, Bevan S, Gschwendtner A, Spencer CCA, Burgess AI, Pirinen M, et al., 'Genome-wide association study identifies a variant in HDAC9 associated with large vessel ischemic stroke', Nature Genetics, 44 328-333 (2012) [C1]
2012
Nyholt DR, Low S-K, Anderson CA, Painter JN, Uno S, Morris AP, et al., 'Genome-wide association meta-analysis identifies new endometriosis risk loci', Nature Genetics, 44 1355-1359 (2012) [C1]
2012
Holliday EG, Maguire JM, Evans T-J, Koblar SA, Jannes J, Sturm J, et al., 'Common variants at 6p21.1 are associated with large artery atherosclerotic stroke', Nature Genetics, 44 1147-1153 (2012) [C1]
2012
Okada Y, Sim X, Go MJ, Wu J-Y, Gu D, Takeuchi F, et al., 'Meta-analysis identifies multiple loci associated with kidney function-related traits in east Asian populations', Nature Genetics, 44 904-909 (2012) [C1]
2012
Siribumrungwong B, Noorit P, Wilasrusmee C, Attia JR, Thakkinstian A, 'A systematic review and meta-analysis of randomised controlled trials comparing endovenous ablation and surgical intervention in patients with varicose vein', European Journal of Vascular and Endovascular Surgery, 44 214-233 (2012) [C1]

| | |
| --- | --- |
| Citations | Scopus - 138Web of Science - 127 |

2012
Lechner-Scott J, Spencer B, De Malmanche T, Attia JR, Fitzgerald M, Trojano M, et al., 'The frequency of CSF oligoclonal banding in multiple sclerosis increases with latitude', Multiple Sclerosis Journal, 18 974-982 (2012) [C1]
2012
Jackson N, Barlow M, Leitch J, Attia JR, 'Treating atrial fibrillation: Pulmonary vein isolation with the cryoballoon technique', Heart Lung and Circulation, 21 427-432 (2012) [C1]

| | |
| --- | --- |
| Citations | Scopus - 14Web of Science - 10 |

2012
Hiew C, Duggan A, De Malmanche T, Hatton R, Baker FA, Attia JR, Collins N, 'Prevalence of Helicobacter pylori positivity in patients undergoing percutaneous coronary intervention', Internal Medicine Journal, 42 289-293 (2012) [C1]
2012
Courtney RJ, Paul CL, Sanson-Fisher RW, Macrae F, Attia JR, McEvoy MA, 'Current state of medical-advice-seeking behaviour for symptoms of colorectal cancer: determinants of failure and delay in medical consultation', Colorectal Disease, 14 e222-e229 (2012) [C1]
2012
Thakkinstian A, Attia JR, Anothaisintawee T, Nickel JC, 'a-blockers, antibiotics and anti-inflammatories have a role in the management of chronic prostatitis/chronic pelvic pain syndrome', BJU International, 110 1014-1022 (2012) [C1]

| | |
| --- | --- |
| Citations | Scopus - 63Web of Science - 56 |

2012
Murphy VE, Namazy JA, Powell H, Schatz M, Chambers C, Attia JR, Gibson PG, 'Severity of asthma in pregnancy affects perinatal outcomes - Authors' Reply', BJOG - An International Journal of Obstetrics and Gynaecology, 119 508-509 (2012) [C3]
2012
Courtney RJ, Paul CL, Sanson-Fisher RW, Macrae FA, Carey ML, Attia JR, McEvoy MA, 'Colorectal cancer risk assessment and screening recommendation: A community survey of healthcare providers' practice from a patient perspective', BMC Family Practice, 13 1-9 (2012) [C1]
2012
Courtney RJ, Paul CL, Sanson-Fisher RW, Macrae FA, Attia JR, McEvoy MA, 'Factors associated with consultation behaviour for primary symptoms potentially indicating colorectal cancer: A cross-sectional study on response to symptoms', BMC Gastroenterology, 12 1-9 (2012) [C1]
2012
Gwynn JD, Flood VM, D'Este CA, Attia JR, Turner N, Cochrane J, et al., 'Poor food and nutrient intake among Indigenous and non-Indigenous rural Australian children', BMC Pediatrics, 12 1-14 (2012) [C1]
2012
Handley T, Inder KJ, Kay-Lambkin FJ, Stain HJ, Fitzgerald M, Lewin TJ, et al., 'Contributors to suicidality in rural communities: Beyond the effects of depression', BMC Psychiatry, 12 105 (2012) [C1]
2012
Allen J, Inder KJ, Lewin TJ, Attia JR, Kelly BJ, 'Social support and age influence distress outcomes differentially across urban, regional and remote Australia: An exploratory study', BMC Public Health, 12 928 (2012) [C1]
2012
Thomas L, Rivett DA, Attia JR, Levi CR, 'Risk factors and clinical presentation of craniocervical arterial dissection: A prospective study', BMC Musculoskeletal Disorders, 13 1-6 (2012) [C3]
2012
Robertson J, McElduff P, Pearson S-A, Henry DA, Inder KJ, Attia JR, 'The health services burden of heart failure: An analysis using linked population health data-sets', BMC Health Services Research, 12 1-11 (2012) [C1]
2012
Islam MR, Khan I, Hassan SMN, McEvoy MA, D'Este CA, Attia JR, et al., 'Association between type 2 diabetes and chronic arsenic exposure in drinking water: A cross sectional study in Bangladesh', Environmental Health, 11 1-8 (2012) [C1]
2012
Dudding TE, Attia JR, 'Maternal factor V Leiden and adverse pregnancy outcome: Deciding whether or not to test', Journal of Maternal-Fetal & Neonatal Medicine, 25 889-894 (2012) [C1]

| | |
| --- | --- |
| Citations | Scopus - 5Web of Science - 3 |
| Co-authors | T Dudding |

2012
White JH, Magin PJ, Attia JR, Sturm J, Carter GL, Pollack M, 'Trajectories of psychological distress after stroke', Annals of Family Medicine, 10 435-442 (2012) [C1]
2012
Islam MR, Khan I, Attia JR, Hassan SMN, McEvoy MA, D'Este CA, et al., 'Association between hypertension and chronic arsenic exposure in drinking water: A cross-sectional study in Bangladesh', International Journal of Environmental Research and Public Health, 9 4522-4536 (2012) [C1]
2011
Numthavaj P, Thakkinstian A, Dejthevaporn C, Attia JR, 'Corticosteroid and antiviral therapy for Bell's palsy: A network meta-analysis', BMC Neurology, 11 1 (2011) [C1]
2011
Moxey AJ, McEvoy MA, Bowe SJ, Attia JR, 'Spirituality, religion, social support and health among older Australian adults', Australasian Journal on Ageing, 30 82-88 (2011) [C1]
2011
Kypri K, McCambridge J, Wilson AJ, Attia JR, Sheeran P, Bowe S, Vater T, 'Effects of study design and allocation on participant behaviour- ESDA: Study protocol for a randomized controlled trial', Trials, 12 42 (2011) [C3]
2011
Thakkinstian A, McKay GJ, McEvoy MA, Chakravarthy U, Chakrabarti S, Silvestri G, et al., 'Systematic review and meta-analysis of the association between complement component 3 and age-related macular degeneration: A HuGE review and meta-analysis', American Journal of Epidemiology, 173 1365-1379 (2011) [C1]
2011
Thompson JR, Attia JR, Minelli C, 'The meta-analysis of genome-wide association studies', Briefings in Bioinformatics, 12 259-269 (2011) [C1]
2011
Bailey HD, Milne E, De Klerk NH, Fritschi L, Attia JR, Cole C, Armstrong BK, 'Exposure to house painting and the use of floor treatments and the risk of childhood acute lymphoblastic leukemia', International Journal of Cancer, 128 2405-2414 (2011) [C1]
2011
Bailey HD, Armstrong BK, De Klerk NH, Fritschi L, Attia JR, Scott R, et al., 'Exposure to professional pest control treatments and the risk of childhood acute lymphoblastic leukemia', International Journal of Cancer, 129 1678-1688 (2011) [C1]

| | |
| --- | --- |
| Citations | Scopus - 24Web of Science - 22 |
| Co-authors | Rodney Scott |

2011
Ongugo K, Hall JJ, Attia JR, 'Implementing tuberculosis control in Papua New Guinea: A clash of culture and science?', Journal of Community Health, 36 423-430 (2011) [C1]
2011
Thakkinstian A, Attia JR, 'Treatment of chronic prostatitis/chronic pelvic pain syndrome - Reply', JAMA - Journal of the American Medical Association, 305 1298-1299 (2011) [C3]
2011
Anothaisintawee T, Attia JR, Nickel JC, Thammakraisorn S, Numthavaj P, McEvoy MA, Thakkinstian A, 'Management of chronic prostatitis/ Chronic pelvic pain syndrome: A systematic review and network meta-analysis', JAMA: The Journal of the American Medical Association, 305 78-86 (2011) [C1]
2011
Ngamjanyaporn P, Thakkinstian A, Verasertniyom O, Chatchaipun P, Vanichapuntu M, Nantiruj K, et al., 'Pharmacogenetics of cyclophosphamide and CYP2C19 polymorphism in Thai systemic lupus erythematosus', Rheumatology International, 31 1215-1218 (2011) [C1]
2011
Bailey HD, De Klerk NH, Fritschi L, Attia JR, Daubenton JD, Armstrong BK, Milne E, 'Refuelling of vehicles, the use of wood burners and the risk of acute lymphoblastic leukaemia in childhood', Paediatric and Perinatal Epidemiology, 25 528-539 (2011) [C1]

| | |
| --- | --- |
| Citations | Scopus - 9Web of Science - 8 |

2011
Guest M, D'Este CA, Attia JR, Boggess M, Brown A, Tavener M, et al., 'Impairment of color vision in aircraft maintenance workers', International Archives of Occupational and Environmental Health, 84 723-733 (2011) [C1]
2011
Pickering PM, Osmotherly PG, Attia JR, McElduff P, 'An examination of outcome measures for pain and dysfunction in the cervical spine: A factor analysis', Spine, 36 581-588 (2011) [C1]
2011
Osmotherly PG, McElduff P, Attia JR, 'In response: Factor structure of the Neck Disability Index', Spine, 36 1816 (2011) [C3]
2011
Oldmeadow CJ, Riveros RC, Holliday EG, Scott R, Moscato PA, Wang JJ, et al., 'Sifting the wheat from the chaff: Prioritizing GWAS results by identifying consistency across analytical methods', Genetic Epidemiology, 35 745-754 (2011) [C1]
2011
Milne E, Royle JA, Bennett LC, De Klerk NH, Bailey HD, Bower C, et al., 'Maternal consumption of coffee and tea during pregnancy and risk of childhood ALL: Results from an Australian case-control study', Cancer Causes & Control, 22 207-218 (2011) [C1]
2011
Bryant JL, Bonevski B, Paul CL, McElduff P, Attia JR, 'A systematic review and meta-analysis of the effectiveness of behavioural smoking cessation interventions in selected disadvantaged groups', Addiction, 106 1568-1585 (2011) [C1]
2011
Guest M, Boggess MM, D'Este CA, Attia JR, Brown A, 'An observed relationship between vestibular function and auditory thresholds in aircraft-maintenance workers', Journal of Occupational and Environmental Medicine, 53 146-152 (2011) [C1]
2011
Guest M, Attia JR, D'Este CA, Boggess MM, Brown AM, Gibson RE, et al., 'Peripheral neuropathy in military aircraft maintenance workers in Australia', Journal of Occupational and Environmental Medicine, 53 381-387 (2011) [C1]
2011
Handley T, Inder KJ, Kelly BJ, Attia JR, Kay-Lambkin FJ, 'Urban-rural influences on suicidality: Gaps in the existing literature and recommendations for future research', Australian Journal of Rural Health, 19 279-283 (2011) [C1]
2011
Maguire JM, Thakkinstian A, Levi CR, Lincz L, Bisset L, Sturm J, et al., 'Impact of COX-2 rs5275 and rs20417 and GPIIIa rs5918 polymorphisms on 90-day ischemic stroke functional outcome: A novel finding', Journal of Stroke and Cerebrovascular Diseases, 20 134-144 (2011) [C1]
2011
McKay GJ, Patterson CC, Chakravarthy U, Dasari S, Klaver CC, Vingerling JR, et al., 'Evidence of association of APOE with age-related macular degeneration - A pooled analysis of 15 studies', Human Mutation, 32 1407-1416 (2011) [C1]

| | |
| --- | --- |
| Citations | Scopus - 92Web of Science - 86 |

2011
Khor CC, Davila S, Breunis WB, Lee YC, Shimizu C, Wright VJ, et al., 'Genome-wide association study identifies FCGR2A as a susceptibility locus for Kawasaki disease', Nature Genetics, 43 1241-1248 (2011) [C1]
2011
Thomas L, Rivett DA, Attia JR, Parsons MW, Levi CR, 'Risk factors and clinical features of craniocervical arterial dissection', Manual Therapy, 16 351-356 (2011) [C1]
2011
Jones LJ, Craven P, Attia JR, Thakkinstian A, Wright IM, 'Network meta-analysis of indomethacin versus ibuprofen versus placebo for PDA in preterm infants', Archives of Disease in Childhood-Fetal and Neonatal Edition, 96 F45-F52 (2011) [C1]
2011
McGettigan P, Lincz L, Attia JR, McElduff P, Bissett L, Peel R, et al., 'The risk of coronary thrombosis with cyclo-oxygenase-2 inhibitors does not vary with polymorphisms in two regions of the cyclo-oxygenase-2 gene', British Journal of Clinical Pharmacology, 72 707-714 (2011) [C1]
2011
Gwynn JD, Flood VM, D'Este CA, Attia JR, Turner N, Cochrane J, Wiggers JH, 'The reliability and validity of a short FFQ among Australian Aboriginal and Torres Strait Islander and non-Indigenous rural children', Public Health Nutrition, 14 388-401 (2011) [C1]
2011
Nair BR, Heim C, Krishnan C, D'Este CA, Marley J, Attia JR, 'The effect of Baroque music on behavioural disturbances in patients with dementia', Australasian Journal on Ageing, 30 11-15 (2011) [C1]
2011
Ranasinghe WKB, Wright TA, Attia JR, McElduff P, Doyle T, Bartholomew M, et al., 'Effects of bariatric surgery on urinary and sexual function', BJU International, 107 88-94 (2011) [C1]
2011
Murphy VE, Namazy JA, Powell H, Schatz M, Chambers C, Attia JR, Gibson PG, 'A meta-analysis of adverse perinatal outcomes in women with asthma', BJOG: An International Journal of Obstetrics and Gynaecology, 118 1314-1323 (2011) [C1]
2010
Lees KR, Bluhmki E, Von Kummer R, Brott TG, Toni D, Grotta JC, et al., 'Time to treatment with intravenous alteplase and outcome in stroke: an updated pooled analysis of ECASS, ATLANTIS, NINDS, and EPITHET trials', The Lancet, 375 1695-1703 (2010) [C1]
2010
Tran HA, Reeves GEM, Lyons TJ, Attia JR, 'Histopathologic findings of autoimmunity in thyroid, pituitary, and adrenal diseases in chronic Hepatitis C postmortem cases', Endocrine Practice, 16 566-569 (2010) [C1]
2010
Attia JR, Thakkinstian A, McElduff P, Milne E, Dawson S, Scott R, et al., 'Detecting genotyping error using measures of degree of Hardy-Weinberg disequilibrium', Statistical Applications in Genetics and Molecular Biology, 9 17 (2010) [C1]
2010
Janssen H, Bernhardt J, Collier JM, Sena ES, McElduff P, Attia JR, et al., 'An enriched environment improves sensorimotor function post-ischemic stroke', Neurorehabilitation and Neural Repair, 24 802-813 (2010) [C1]
2010
Ikram MK, Xueling S, Jensen RA, Cotch MF, Hewitt AW, Ikram MA, et al., 'Four Novel Loci (19q13, 6q24, 12q24, and 5q14) influence the microcirculation In Vivo', Plos Genetics, 6 1-12 (2010) [C1]
2010
Proietto AM, Otton GR, Symonds IM, McEvoy MA, Attia JR, Gilbert M, et al., 'Polymorphisms in genes of the steroid hormone biosynthesis and metabolism pathways and endometrial cancer risk', Cancer Epidemiology, 34 328-337 (2010) [C1]
2010
Wang JJ, Attia JR, 'Study Designs in Epidemiology and Levels of Evidence', American Journal of Ophthalmology, 149 367-370 (2010) [C2]

| | |
| --- | --- |
| Citations | Scopus - 12Web of Science - 11 |

2010
Holliday EG, Scott R, Attia JR, 'Evidence-based medicine in the era of biomarkers: Teaching a new dog old tricks?', Clinical Pharmacology and Therapeutics, 88 740-742 (2010) [C2]
2010
Smith DR, Attia JR, McEvoy MA, 'Exploring new frontiers in occupational epidemiology: The Hunter Community Study (HCS) from Australia', Industrial Health, 48 244-248 (2010) [C1]
2010
Milne E, Royle JA, Miller M, Bower C, De Klerk NH, Bailey HD, et al., 'Maternal folate and other vitamin supplementation during pregnancy and risk of acute lymphoblastic leukemia in the offspring', International Journal of Cancer, 126 2690-2699 (2010) [C1]
2010
Schofield PW, Lee SJ, Lewin TJ, Lyall G, Moyle J, Attia JR, McEvoy MA, 'The Audio Recorded Cognitive Screen (ARCS): A flexible hybrid cognitive test instrument', Journal of Neurology Neurosurgery and Psychiatry, 81 602-607 (2010) [C1]
2010
Kamanamool N, McEvoy MA, Attia JR, Ingsathit A, Ngamjanyaporn P, Thakkinstian A, 'Efficacy and adverse events of mycophenolate mofetil versus cyclophosphamide for induction therapy of lupus nephritis: Systematic review and meta-analysis', Medicine, 89 227-235 (2010) [C1]
2010
Lemmens R, Buysschaert I, Geelen V, Fernandez-Cadenas I, Montaner J, Schmidt H, et al., 'The Association of the 4q25 susceptibility variant for atrial fibrillation with stroke is limited to stroke of cardioembolic etiology', Stroke, 41 1850-1857 (2010) [C1]
2010
Limsuwan T, Thakkinstian A, Verasertniyom O, Vanichapuntu M, Attia JR, Janwityanujit S, Nantiruj K, 'Possible protective effects of the Glu27 allele of beta(2)-Adrenergic receptor polymorphism in Thai asthmatic patients', Asian Pacific Journal of Allergy and Immunology, 28 107-114 (2010) [C1]

| | |
| --- | --- |
| Citations | Scopus - 5Web of Science - 5 |

2010
Bailey HD, Milne E, De Klerk N, Fritschi L, Bower C, Attia JR, Armstrong BK, 'Representativeness of child controls recruited by random digit dialling', Paediatric and Perinatal Epidemiology, 24 293-302 (2010) [C1]
2010
Guest M, Boggess M, Attia JR, D'Este CA, Brown A, Gibson RE, et al., 'Hearing impairment in F-111 maintenance workers: The study of health outcomes in aircraft maintenance personnel (SHOAMP) general health and medical study', American Journal of Industrial Medicine, 53 1159-1169 (2010) [C1]
2010
McEvoy MA, Smith WT, D'Este CA, Duke JM, Peel R, Schofield PW, et al., 'Cohort Profile: The Hunter Community Study', International Journal of Epidemiology, 39 1452-1463 (2010) [C1]
2010
Ewald BD, McEvoy MA, Attia JR, 'Pedometer counts superior to physical activity scale for identifying health markers in older adults', British Journal of Sports Medicine, 44 756-761 (2010) [C1]
2010
Wood LG, Attia JR, McElduff P, McEvoy MA, Gibson PG, 'Assessment of dietary fat intake and innate immune activation as risk factors for impaired lung function', European Journal of Clinical Nutrition, 64 818-825 (2010) [C1]
2010
Marsden DL, Spratt NJ, Walker R, Barker DJ, Attia JR, Pollack MR, et al., 'Trends in stroke attack rates and case fatality in the Hunter Region, Australia 1996-2008', Cerebrovascular Diseases, 30 500-507 (2010) [C1]
2010
Hiew C, Williams T, Hatton R, Narasimhan S, O'Connor S, Baker F, et al., 'Influence of age on long-term outcome after emergent percutaneous coronary intervention for ST-elevation myocardial infarction', Journal of Invasive Cardiology, 22 273-277 (2010) [C1]
2010
Bailey HD, Armstrong BK, De Klerk NH, Fritschi L, Attia JR, Lockwood L, et al., 'Exposure to Diagnostic Radiological Procedures and the Risk of Childhood Acute Lymphoblastic Leukemia', Cancer Epidemiology Biomarkers & Prevention, 19 2897-2909 (2010) [C1]
2010
Gwynn JD, Hardy LL, Wiggers JH, Smith WT, D'Este CA, Turner N, et al., 'The validation of a self-report measure and physical activity of Australian Aboriginal and Torres Strait Islander and non-Indigenous rural children', Australian and New Zealand Journal of Public Health, 34 S57-S65 (2010) [C1]
2010
Arj-Ong S, Thakkinstian A, McEvoy MA, Attia JR, 'A systematic review and meta-analysis of tumor necrosis factor alpha-308 polymorphism and Kawasaki disease', Pediatrics International, 52 527-532 (2010) [C1]
2010
Gupta SK, McGrath S, Rogers K, Attia JR, Lewis G, Viswanathan S, et al., 'Fixed dose (555 MBq; 15 mCi) radioiodine for the treatment of hyperthyroidism: outcome and its predictors', Internal Medicine Journal, 40 854-857 (2010) [C1]
2010
Ashton KA, Proietto AM, Otton GR, Symonds IM, McEvoy MA, Attia JR, Scott R, 'Toll-Like Receptor (TLR) and Nucleosome-binding Oligomerization Domain (NOD) gene polymorphisms and endometrial cancer risk', BMC Cancer, 10 1-7 (2010) [C1]
2010
Loten C, Attia JR, Hullick C, Marley J, McElduff P, 'Point of care troponin decreases time in the emergency department for patients with possible acute coronary syndrome: A randomised controlled trial', Emergency Medicine Journal, 27 194-198 (2010) [C1]
2009
Ashton KA, Proietto AM, Otton GR, Symonds IM, McEvoy MA, Attia JR, et al., 'Estrogen receptor polymorphisms and the risk of endometrial cancer', BJOG: An International Journal of Obstetrics and Gynaecology, 116 1053-1061 (2009) [C1]
2009
Loten C, Attia JR, Hullick C, Marley J, McElduff P, 'Validation of a point of care troponin assay in real life emergency department conditions', Emergency Medicine Australasia, 21 286-292 (2009) [C1]
2009
Loten C, Isbister GK, Jamcotchian MA, Hullick C, McElduff P, Attia JR, Marley J, 'Adverse outcomes following emergency department discharge of patients with possible acute coronary syndrome', Emergency Medicine Australasia, 21 455-464 (2009) [C1]
2009
Brown A, Gibson RE, Tavener MA, Guest M, D'Este CA, Byles JE, et al., 'Sexual function in F-111 maintenance workers: The study of health outcomes in aircraft maintenance personnel', Journal of Sexual Medicine, 6 1569-1578 (2009) [C1]
2009
Milne E, Royle JA, De Klerk NH, Blair E, Bailey H, Cole C, et al., 'Fetal growth and risk of childhood acute lymphoblastic leukemia: Results from an Australian case-control study', American Journal of Epidemiology, 170 221-228 (2009) [C1]
2009
Minelli C, Thompson JR, Abrams KR, Thakkinstian A, Attia JR, 'The quality of meta-analyses of Genetic Association Studies: A veview with recommendations', American Journal of Epidemiology, 170 1333-1343 (2009) [C1]
2009
Miles S, Rogers KM, Thomas P, Soans B, Attia JR, Abel C, et al., 'A comparison of single-photon emission CT lung scintigraphy and CT pulmonary angiography for the diagnosis of pulmonary embolism', Chest, 136 1546-1553 (2009) [C1]
2009
McCambridge J, Kypri K, Attia JR, Elbourne D, 'Re: Promoting regular mammography screening I: A systematic assessment of validity in a randomized trial', Journal of the National Cancer Institute, 101 1029-1030 (2009) [C3]
2009
Parsons MW, Miteff F, Bateman GA, Spratt NJ, Loiselle A, Attia JR, Levi CR, 'Acute ischemic stroke imaging-guided tenecteplase treatment in an extended time window', Neurology, 72 915-921 (2009) [C1]
2009
Hallinan R, Crettol S, Agho K, Attia JR, Besson J, Croquette-Krokar M, et al., 'Cannabis and benzodiazepines as determinants of methadone trough plasma concentration variability in maintenance treatment: A transnational study', European Journal of Clinical Pharmacology, 65 1113-1120 (2009) [C1]
2009
Ashton KA, Proietto AM, Otton GR, Symonds IM, McEvoy MA, Attia JR, et al., 'Polymorphisms in TP53 and MDM2 combined are associated with high grade endometrial cancer', Gynecologic Oncology, 113 109-114 (2009) [C1]
2009
Attia JR, Ioannidis JPA, Thakkinstian A, McEvoy MA, Scott R, Minelli C, et al., 'How to use an article about genetic association A: Background concepts', JAMA: Journal of the American Medical Association, 301 74-81 (2009) [C1]
2009
Attia JR, Ioannidis JPA, Thakkinstian A, McEvoy MA, Scott R, Minelli C, et al., 'How to use an article about genetic association B: Are the results of the study valid?', JAMA: Journal of the American Medical Association, 301 191-197 (2009) [C1]
2009
Attia JR, Ioannidis JPA, Thakkinstian A, McEvoy MA, Scott R, Minelli C, et al., 'How to use an article about genetic association C: What are the results and will they help me in caring for my patients?', JAMA: Journal of the American Medical Association, 301 304-308 (2009) [C1]
2009
Hallinan R, Byrne A, Agho K, McMahon CG, Tynan P, Attia JR, 'Hypogonadism in men receiving methadone and buprenorphine maintenance treatment', International Journal of Andrology, 32 131-139 (2009) [C1]
2009
Thakkinstian A, Thompson JR, Minelli C, Attia JR, 'Choosing between per-genotype, per-allele, and trend approaches for initial detection of gene-disease association', Journal of Applied Statistics, 36 633-646 (2009) [C1]
2009
Anothaisintawee T, Rattanasiri S, Ingsathit A, Attia JR, Thakkinstian A, 'Prevalence of chronic kidney disease: A systematic review and meta-analysis', Clinical Nephrology, 71 244-254 (2009) [C1]

| | |
| --- | --- |
| Citations | Scopus - 25Web of Science - 22 |

2009
Lowe J, Mensch M, McElduff P, Fitzgerald M, Attia JR, 'Does an advanced insulin education programme improve outcomes and health service use for people with Type 2 diabetes? A 5-year follow-up of the Newcastle Empowerment course', Diabetic Medicine, 26 1277-1281 (2009) [C1]
2009
Narasimhan S, McKay K, Attia JR, 'Staff perspectives of a cardiac short stay unit', Australian Journal of Advanced Nursing, 26 23-28 (2009) [C1]
2009
Tran HA, Reeves GE, Gibson R, Attia JR, 'Development of thyroid diseases in the treatment of chronic hepatitis C with alpha-interferon may be a good prognosticator in achieving a sustained virological response: A meta-analysis', Journal of Gastroenterology and Hepatology, 24 1163-1168 (2009) [C1]
2009
MacDonald K, Lowe J, Barker DJ, Mensch M, Attia JR, 'Effect of popular takeaway foods on blood glucose levels in type 1 diabetes mellitus patients on intensive insulin therapy', International Journal of Clinical Practice, 63 189-194 (2009) [C1]
2009
Xu L, Dibley M, D'Este CA, Phillips M, Porteous JE, Attia JR, 'Food groups and risk of forearm fractures in postmenopausal women in Chengdu, China', Climacteric, 12 222-229 (2009) [C1]
2009
Ewald BD, Duke JM, Thakkinstian A, Attia JR, Smith WT, 'Physical activity of older Australians measured by pedometry', Australasian Journal on Ageing, 28 127-133 (2009) [C1]
2008
Osmotherly PG, Attia JR, Thakkinstian A, 'Can clinical measures of upper quarter postural muscle performance predict neck pain in visual display terminal operators?', Journal of Back and Musculoskeletal Rehabilitation, 21 113-120 (2008) [C1]
2008
Ewald BD, Ewald D, Thakkinstian A, Attia JR, 'Meta-analysis of B type natriuretic peptide and N-terminal pro B natriuretic peptide in the diagnosis of clinical heart failure and population screening for left ventricular systolic dysfunction', Internal Medicine Journal, 38 101-113 (2008) [C1]
2008
Ashton KA, Proietto AM, Otton GR, Symonds IM, McEvoy MA, Attia JR, et al., 'The influence of the Cyclin D1 870 G\A polymorphism as an endometrial cancer risk factor', BMC Cancer, 8 1-6 (2008) [C1]
2008
Davis SM, Donnan GA, Parsons MW, Levi CR, Butcher KS, Peeters A, et al., 'Effects of alteplase beyond 3 h after stroke in the Echoplanar Imaging Thrombolytic Evaluation Trial (EPITHET): A placebo-controlled randomised trial', The Lancet Neurology, 7 299-309 (2008) [C1]
2008
Dudding TE, Heron J, Thakkinstian A, Nurk E, Golding J, Pembrey M, et al., 'Factor V Leiden is associated with pre-eclampsia but not with fetal growth restriction: A genetic association study and meta-analysis', Journal of Thrombosis and Haemostasis, 6 1868-1875 (2008) [C1]
2008
Hallinan R, Byrne A, Agho K, McMahon C, Tynan P, Attia JR, 'Erectile dysfunction in men receiving methadone and buprenorphine maintenance treatment', Journal of Sexual Medicine, 5 684-692 (2008) [C1]
2008
Ryan RL, King BR, Anderson DG, Attia JR, Collins CE, Smart CE, 'Influence of and optimal insulin therapy for a low-glycemic index meal in children with type 1 diabetes receiving intensive insulin therapy', Diabetes Care, 31 1485-1490 (2008) [C1]
2008
Thakkinstian A, Dmitrienko S, Gerbase-Delima M, McDaniel DO, Inigo P, Chow KM, et al., 'Association between cytokine gene polymorphisms and outcomes in renal transplantation: A meta-analysis of individual patient data', Nephrology Dialysis Transplantation, 23 3017-3023 (2008) [C1]
2008
Minelli C, Thompson JR, Abrams KR, Thakkinstian A, Attia JR, 'How should we use information about HWE in the meta-analyses of genetic association studies', International Journal of Epidemiology, 37 136-146 (2008) [C1]
2008
White JH, Magin PJ, Attia JR, Pollack MR, Sturm J, Levi CR, 'Exploring poststroke mood changes in community-dwelling stroke survivors: A qualitative study', Archives of Physical Medicine and Rehabilitation, 89 1701-1707 (2008) [C1]
2008
Quain DA, Parsons MW, Loudfoot AR, Spratt NJ, Evans MK, Russell ML, et al., 'Improving access to acute stroke therapies: A controlled trial of organised pre-hospital and emergency care', Medical Journal of Australia, 189 429-433 (2008)