Professor Christopher Grof
Professor
School of Environmental and Life Sciences (Biological Sciences)
Cultivating a Cleaner Future
Providing Australia with a viable plant-based fuel drives the work of Professor Chris Grof.
As a child, Professor Chris Grof idled hours away with his siblings in the family car while his father disappeared into fields to investigate a rare plant he had spotted while driving.
While Grof did not inherit his father's habit for impromptu roadside stops, the third-generation biologist says a love of plant science has been carried through the generations. In Grof, that passion for plants has developed into a quest to engineer a viable biofuel that could reduce Australians' reliance on fossil fuels.
Fossil fuels account for 98 per cent of Australia's transport energy needs but pioneering countries such as Brazil, which uses ethanol derived from sugarcane for about one quarter of its transport, have proved that a more substantial biofuels industry is feasible.
Australia's main source of ethanol for biofuel is sugarcane, a crop Grof studied extensively as a research scientist with the CSIRO for 13 years. His work into carbohydrate metabolism and genetic manipulation in sugarcane has drawn international recognition, resulting in a prestigious Underwood Fellowship from the British Biotechnology and Biological Sciences Council and invitations to address forums in Australia and overseas.
Since arriving in Newcastle three years ago to head up the Plant Science Group, Grof has taken a lead role in a research project to develop sorghum as a biofuel. Both sorghum and sugarcane share the same photosynthetic properties.
"Sugarcane is a recalcitrant plant and quite difficult to work with genetically, but with sorghum there is an incredible amount of genetic variability that can be used to introduce a whole host of different traits to the plant," he explains.
"Sorghum is already widely planted in Australia, so farmers know how to grow it, and it has limited use as a human food source, so there is no conflict with the supply of edible crops.
"It is quite drought-resistant and able to grow on marginal soils, so that means we may be able to produce a crop that does not compete for arable land that is being used to grow food."
Grof is supported by a strong team at the University. Their area of research, plant biology, achieved an Excellence in Research Australia rating of five, the highest score possible, rating their research well above world standard.
An emphasis of his research is developing second-generation biofuels. Second-generation technologies derive fuel from the whole of the plant, including the woody or fibrous parts known as the lignocellulosic matter, rather than extracting just the juice or oil, which was the traditional method of producing ethanol or other biofuels.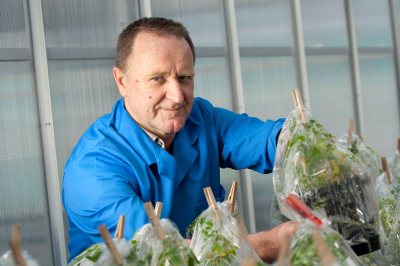 The advantages of second-generation fuels are that they increase the yield of fuel from the plant and can be derived either from crops that are not part of the food cycle or from the waste material of food crops, such as the stems, leaves and husks.
By manipulating the genetic make-up of the plant, Grof aims to elevate both the sugar content and biomass in order to maximise its use as a biofuel feedstock.
He has partnered with researchers from the University of Queensland under a project funded by the Australian Research Council and industry partner Pacific Seeds to produce cultivars of sweet sorghum with increased sugar concentration. He and his team also collaborate with research groups at Texas A&M University and India's ICRISAT (International Crops Research institute for the Semi-Arid Tropics).
To facilitate Grof's work, the University of Newcastle has committed to building a super-sized greenhouse, supported by a $500,000 ARC grant, to accommodate sorghum pants, which can grow to five metres in height.
"This is long-term research but it is very important for Australia," Grof says.
"Environmentally it is a priority because we need to move away from fossil fuels but it also offers the prospect of a sustainable domestic industry in fuel production, which has the potential to deliver major benefits for rural communities and the country as a whole."
Visit the Centre for Plant Science

Providing Australia with a viable plant-based fuel drives the work of Professor Chris Grof.
Career Summary
Biography
Research expertise
The research area that I have operated within since the beginning of my postgraduate studies is broadly encompassed by C4 photosynthesis and carbon partitioning.
Between 1993 and 2007, a major focus of my research has been the development of a fundamental understanding of carbon metabolism/ photoassimilate partitioning and more specifically sucrose transport processes at the more detailed cellular level in the key food and biofuel crop sugarcane. By the application of a directed EST sequencing approach undertaken on the major sucrose storage organ in sugarcane, the stem, a number of ESTs encoding novel transporters were identified and full length cDNA sequences isolated. Three putative hexose transporters have been immunolocalised to the phloem of maturing internodes of the stem and an increase in expression of these transporters coincided with the logarithmic increase in sucrose concentration. The single sucrose transporter identified to date exhibited a novel localisation pattern being present in the cell layer surrounding the vascular bundles and showed a strong spike in expression at the initiation of the logarithmic phase of sucrose accumulation. The development of a high level of expertise in functional characterisation of sugar transporters has been realised through substantial collaboration travel awards from Federal Department of Industry Science and Technology and the Australian Academy of Science. Visits to work in the laboratories of premier transport researchers Professor Wolf Frommer, (University of Tuebingen, Germany and Carnegie Institute, Stanford University, USA) and Dr John Ward, (University of Minnesota) has resulted in functional characterisation of the sugarcane sucrose transporter in heterologous systems including yeast and Xenopus laevis oocytes. In addition to researching sucrose transport, I also have considerable expertise in improving transformation and transgene expression in recalcitrant plant species, skills essential for implementing genetic manipulations in order to dissect the role of candidate genes.
In 2008 I began developing a new research platform using Sorghum as a model biofuels feedstock. In addition to investigating sucrose transport mechanisms I have extended the scope of photoassimilate partitioning to include cell wall construction/deconstruction and composition. My group is currently undertaking leading edge research in the development of FTIR and FPA-FTIR as tools for detailed investigation of cereal grass cell wall composition and the development of predictive models of digestibility using spectral analysis. The application of ionic liquids as a novel and efficient means of biomass pre-treatment for the production of second generation biofuels is also currently being investigated.
---
Qualifications
PhD, James Cook University
---
Keywords
C4 photosynthesis
Fourier Transform Infrared spectroscopy
biofuels
carbon partitioning
plant biotechnology
plant physiology
plant sugar transporters
sorghum
sugarcane
---
Fields of Research
| Code | Description | Percentage |
| --- | --- | --- |
| 030199 | Analytical Chemistry not elsewhere classified | 5 |
| 060299 | Ecology not elsewhere classified | 20 |
| 060799 | Plant Biology not elsewhere classified | 75 |
---
Professional Experience
UON Appointment
Dates
Title
Organisation / Department
1/01/2014 - 
Professor
University of Newcastle
School of Environmental and Life Sciences
Australia
Professional appointment
| Dates | Title | Organisation / Department |
| --- | --- | --- |
| 1/07/2004 - 1/01/2008 | Principal Research Scientist | CSIRO - Plant Industry |
| 1/07/1996 - 1/06/2004 | Senior Research Scientist | CSIRO - Plant Industry |
| 1/07/1993 - 1/06/1996 | Research Scientist | CSIRO - Plant Industry |
Edit
Publications
For publications that are currently unpublished or in-press, details are shown in italics.
---
Chapter (1 outputs)
| Year | Citation | Altmetrics | Link |
| --- | --- | --- | --- |
| 2014 | Patrick JW, Grof CPL, Byrt CS, 'Phloem transport of resources', Sugarcane: Physiology, Biochemistry & Functional Biology, Wiley, Iowa 267-306 (2014) [B1] | | |
---
Journal article (40 outputs)
Year
Citation
Altmetrics
Link
2014
Zhou Y, Grof CPL, Patrick JW, 'Proof of concept for a novel functional screening system for plant sucrose effluxers', Journal of Biological Methods, 1 1-6 (2014) [C1]
2013
Milne RJ, Byrt CS, Patrick JW, Grof CP, 'Are sucrose transporter expression profiles linked with patterns of biomass partitioning in Sorghum phenotypes?', Front Plant Sci, 4 223 (2013) [C1]
2013
Martin AP, Palmer WM, Byrt CS, Furbank RT, Grof CPL, 'A holistic high-throughput screening framework for biofuel feedstock assessment that characterises variations in soluble sugars and cell wall composition in Sorghum bicolor', BIOTECHNOLOGY FOR BIOFUELS, 6 (2013) [C1]
2011
Byrt CS, Grof CP, Furbank RT, 'C-4 plants as biofuel feedstocks: Optimising biomass production and feedstock quality from a lignocellulosic perspective', Journal of Integrative Plant Biology, 53 120-135 (2011) [C1]
2011
Rae AL, Casu RE, Perroux JM, Jackson MA, Grof CP, 'A soluble acid invertase is directed to the vacuole by a signal anchor mechanism', Journal of Plant Physiology, 168 983-989 (2011) [C1]
2010
Kuhn C, Grof CP, 'Sucrose transporters of higher plants', Current Opinion in Plant Biology, 13 288-298 (2010) [C1]
2010
Grof CP, Campbell JA, Kravchuk O, Lambrides CJ, Albertson PL, 'Temperature effect on carbon partitioning in two commercial cultivars of sugarcane', Functional Plant Biology, 37 334-341 (2010) [C1]
2007
Jackson MA, Rae AL, Casu RE, Grof CPL, Bonnett GD, Maclean DJ, 'A bioinformatic approach to the identification of a conserved domain in a sugarcane legumain that directs GFP to the lytic vacuole', Functional Plant Biology, 34 633-644 (2007) [C1]

Sugarcane is an ideal candidate as a biofactory for the production of alternate higher value products. One way of achieving this is to direct useful proteins into the vacuoles within the sugarcane storage parenchyma tissue. By bioinformatic analysis of gene sequences from putative sugarcane vacuolar proteins a motif has been identified that displays high conservation across plant legumain homologues that are known to function within vacuolar compartments. This five amino acid motif, represented by the sequence IRLPS in sugarcane is shown to direct an otherwise secreted GFP fusion protein into a large acidic and proteolytic vacuole in sugarcane callus cells as well as in diverse plant species. In mature sugarcane transgenic plants, the stability of GFP appeared to be dependent on cell type, suggesting that the vacuolar environment can be hostile to introduced proteins. This targeting motif will be a valuable tool for engineering plants such as sugarcane for production of novel products. © CSIRO 2007.

2007
Albertson PL, Grof CPL, 'Application of high performance anion exchange-pulsed amperometric detection to measure the activity of key sucrose metabolising enzymes in sugarcane', Journal of Chromatography B: Analytical Technologies in the Biomedical and Life Sciences, 845 151-156 (2007) [C1]

A novel method using an HPAE-PAD system, which is routinely applied to detect carbohydrates at low levels (ng per sample injection), has been applied to the measurement of key sucrose metabolising enzyme activities in partially purified extracts of sugarcane tissues. Extraction and assay procedures tailored for the HPAE-PAD system enabled the accurate measurement of enzyme activities in more mature internodes than had previously been possible using enzyme coupled assay methodology. A major advantage of the HPAE-PAD method is the capability to monitor a broad range of sugars in each assay and provides an overarching perspective of the mix of competing enzymes that may be operating simultaneously in crude extracts. The technique has been successfully applied to measuring the activity of key sucrose metabolising enzymes in sugarcane stem tissue that is generally low in protein and high in endogenous sugars, primarily sucrose. © 2006 Elsevier B.V. All rights reserved.

2007
Grof CPL, Albertson PL, Bursle J, Perroux JM, Bonnett GD, Manners JM, 'Sucrose-phosphate synthase, a biochemical marker of high sucrose accumulation in sugarcane', Crop Science, 47 1530-1539 (2007) [C1]

Increasing sucrose content is a major objective of sugarcane breeding programs. One approach employed by breeders is to introgress new genes from genotypes of Saccharum officinarum L. not previously used in breeding. The activity of a suite of key sucrose metabolizing enzymes was measured in progeny of an introgression program to find biochemical markers associated with high sucrose content, measured as commercial cane sugar (CCS). The enzymes sucrose-phosphate synthase (SPS), three isoforms of invertase, and sucrose synthase were measured in four high and four low CCS clones from an initial cross between a S. officinarum and the commercial cultivar Q165. Subsequently, SPS and the two soluble isoforms of invertase were measured in clones derived from a backcross of one of the progeny to another commercial cultivar Mida. Enzyme activities were measured in tissue from internodes taken from four different positions down the stem profile. Of particular significance was the finding that the activity of a key enzyme involved in sucrose synthesis, SPS, was significantly higher in the upper internodes (one to three) of high CCS clones as compared with low CCS clones in both populations, suggesting that this enzyme may have a key role in establishing metabolic and developmental processes necessary for high sugar accumulation during stem growth and maturation. © Crop Science Society of America.

2007
Sivitz AB, Reinders A, Johnson ME, Krentz AD, Grof CPL, Perroux JM, Ward JM, 'Arabidopsis sucrose transporter AtSUC9. High-affinity transport activity, intragenic control of expression, and early flowering mutant phenotype', Plant Physiology, 143 188-198 (2007) [C1]

AtSUC9 (At5g06170), a sucrose (Suc) transporter from Arabidopsis (Arabidopsis thaliana) L. Heynh., was expressed in Xenopus (Xenopus laevis) oocytes, and transport activity was analyzed. Compared to all other Suc transporters, AtSUC9 had an ultrahigh affinity for Suc (K0.5 = 0.066 ± 0.025 mM). AtSUC9 showed low substrate specificity, similar to AtSUC2 (At1g22710), and transported a wide range of glucosides, including helicin, salicin, arbutin, maltose, fraxin, esculin, turanose, and a-methyl-D- glucose. The ability of AtSUC9 to transport 10 glucosides was compared directly with that of AtSUC2, HvSUT1 (from barley [Hordeum vulgare]), and ShSUT1 (from sugarcane [Saccharum hybrid]), and results indicate that type I and type II Suc transporters have different substrate specificities. AtSUC9 protein was localized to the plasma membrane by transient expression in onion (Allium cepa) epidermis. Using a whole-gene translational fusion to ß-glucuronidase, AtSUC9 expression was found in sink tissues throughout the shoots and in flowers. AtSUC9 expression in Arabidopsis was dependent on intragenic sequence, and this was found to also be true for AtSUC1 (At1g71880) but not AtSUC2. Plants containing mutations in Sue transporter gene AtSUC9 were found to have an early flowering phenotype under short-day conditions. The transport properties of AtSUC9 indicate that it is uniquely suited to provide cellular uptake of Sue at very low extracellular Suc concentrations. The mutant phenotype of atsuc9 alleles indicates that AtSUC9 activity leads to a delay in floral transition. © 2006 American Society of Plant Biologists.

2006
Reinders A, Sivitz AB, Hsi A, Grof CPL, Perroux JM, Ward JM, 'Sugarcane ShSUT1: Analysis of sucrose transport activity and inhibition by sucralose', Plant, Cell and Environment, 29 1871-1880 (2006) [C1]

Plant sucrose transporters (SUTs) are members of the glycoside-pentoside- hexuronide (GPH) cation symporter family (TC2.A.2) that is part of the major facilitator superfamily (MFS). All plant SUTs characterized to date function as proton-coupled symporters and catalyze the cellular uptake of sucrose. SUTs are involved in loading sucrose into the phloem and sink tissues, such as seeds, roots and flowers. Because monocots are agriculturally important, SUTs from cereals have been the focus of recent research. Here we present a functional analysis of the SUT ShSUT1 from sugarcane, an important crop species grown for its ability to accumulate high amounts of sucrose in the stem. ShSUT1 was previously shown to be expressed in maturing stems and plays an important role in the accumulation of sucrose in this tissue. Using two-electrode voltage clamping in Xenopus oocytes expressing ShSUT1, we found that ShSUT1 is highly selective for sucrose, but has a relatively low affinity for sucrose (K 0.5 = 8.26 mM at pH 5.6 and a membrane potential of -137 mV). We also found that the sucrose analog sucralose (4,1',6'-trichloro-4, 1',6'-trideoxy-galacto-sucrose) is a competitive inhibitor of ShSUT1 with an inhibition coefficient (Ki) of 16.5 mM. The presented data contribute to our understanding of sucrose transport in plants in general and in monocots in particular. © 2006 The Authors.

2006
Lakshmanan P, Geijskes RJ, Wang L, Elliott A, Grof CPL, Berding N, Smith GR, 'Developmental and hormonal regulation of direct shoot organogenesis and somatic embryogenesis in sugarcane (Saccharum spp. interspecific hybrids) leaf culture', Plant Cell Reports, 25 1007-1015 (2006) [C1]

Rapid and efficient in vitro regeneration methods that minimise somaclonal variation are critical for the genetic transformation and mass propagation of commercial varieties. Using a transverse thin cell layer culture system, we have identified some of the developmental and physiological constraints that limit high-frequency regeneration in sugarcane leaf tissue. Tissue polarity and consequently the orientation of the explant in culture, size and developmental phase of explant, and auxin concentration play a significant role in determining the organogenic potential of leaf tissue in culture. Both adventitious shoot production and somatic embryogenesis occurred on the proximal cut surface of the explant, and a regeneration gradient, decreasing gradually from the basal to the distal end, exists in the leaf roll. Importantly, auxin, when added to the culture medium, reduced this spatial developmental constraint, as well as the effect of genotype on plant regeneration. Transverse sections (1-2 mm thick) obtained from young leaf spindle rolls and orienting explants with its distal end facing the medium (directly in contact with medium) are critical for maximum regeneration. Shoot regeneration was observed as early as 3 weeks on MS medium supplemented with a-naphthalenencetic acid (NAA) and 6-benzyladenine, while somatic embryogenesis or both adventitious shoot organogenesis and somatic embryogenesis occurred on medium with NAA and chlorophenoxyacetic acid. Twenty shoots or more could be generated from a single transverse section explant. These shoots regenerated roots and successfully established after transplanted to pots. Large numbers of plantlets can be regenerated directly and rapidly using this system. SmartSett®, the registered name for this process and the plants produced, will have significant practical applications for the mass propagation of new cultivars and in genetic modification programs. The SmartSett® system has already been used commercially to produce substantial numbers of plants of orange rust-resistant and new cultivars in Australia. © 2006 Springer-Verlag.

2006
Grof CPL, So CTE, Perroux JM, Bonnett GD, Forrester RI, 'The five families of sucrose-phosphate synthase genes in Saccharum spp. are differentially expressed in leaves and stem', Functional Plant Biology, 33 605-610 (2006) [C1]

Sucrose-phosphate synthase (SPS) is a key enzyme in the pathway of sucrose synthesis. Five different gene families encoding SPS have been reported in the Poaceae [Castleden CK, Aoki N, Gillespie VJ, MacRae EA, Quick WP, Buchner P, Foyer CH, Furbank RT, Lunn JE (2004) Evolution and function of the sucrose-phosphate synthase gene families in wheat and other grasses. Plant Physiology 135, 1753?1764]. Expression of the five families in leaf and stem tissues of Saccharum spp. at different stages of development was determined by quantitative real-time PCR. The type B and C families of SPS genes were predominantly expressed in both immature and mature leaves, whereas the two subfamilies making up the type D family were expressed at similar levels in all tissues examined. In the type A family, expression was lowest in leaves and increased from the meristem region down to internode 7 of the stem. © CSIRO 2006.

2005
Vickers JE, Grof CPL, Bonnett GD, Jackson PA, Morgan TE, 'Effects of tissue culture, biolistic transformation, and introduction of PPO and SPS gene constructs on performance of sugarcane clones in the field', Australian Journal of Agricultural Research, 56 57-68 (2005) [C1]

Stably transformed sugarcane plants were produced by the biolistic introduction of DNA into tissue-cultured cells. Constructs containing genes in sense and antisense orientation of polyphenol oxidase and sense orientation of sucrose phosphate synthase were used in the transformations. Regenerated plants were grown in a series of field experiments that incorporated commercial varieties, including Q117, from which the transgenic clones were derived and plants regenerated from tissue culture but not subjected to biolistic bombardment. In all experiments, the mean yield of transgenic sugarcane was lower than commercial varieties and the transgenic clones often exhibited lower sugar content, although individual transgenic clones in some experiments were not significantly different from Q117. Those plants regenerated from tissue culture but not bombarded were intermediate in their yield, and more clones were equivalent to Q117 in agronomic performance. Transformed plants produced by the bombardment of callus performed poorly but the results from the tissue-cultured controls indicated that not all of this could be due to somaclonal variation. Some aspect(s) of the process of transformation itself was deleterious and in most cases more significant than the effects due to tissue culture. Of the transgenic clones grown at Ayr, Queensland, 1.6% were equivalent to Q117 in sugar content and yield, suggesting that large numbers of transgenic clones would have to be generated using the current method in order to allow for selection of clones with acceptable agronomic performance. © CSIRO 2005.

2005
Vickers JE, Grof CPL, Bonnett GD, Jackson PA, Knight DP, Roberts SE, Robinson SP, 'Overexpression of polyphenol oxidase in transgenic sugarcane results in darker juice and raw sugar', Crop Science, 45 354-362 (2005) [C1]

Color intensity of raw sugar is, in part, a result of the activity of the enzyme polyphenol oxidase (PPO) acting on phenolic compounds to produce dark colored polymers when sugarcane (Saccharum spp.) is crushed to release the juice. Paler colored sugar has a potential market premium over darker sugar. In an attempt to alter the level of PPO activity in transgenic plants, sense and antisense constructs containing the native sugarcane PPO gene were introduced into sugarcane by biolistics. In a series of field experiments, it was demonstrated that PPO activity among clones correlated significantly with juice color. In laboratory crystallizations of raw sugar using juice derived from clones with high and low PPO activity, the juice with the higher PPO activity produced darker colored crystals. PPO activity was elevated and juice color was darker in all types of transgenic plants. However, clones derived from a sense construct had higher PPO activity than the other transgenic clones, tissue culture control clones, or cultivars. Furthermore, northern blot analysis demonstrated that PPO sense transgenics had much higher levels of PPO transcripts in the stem than other clones. This is the first targeted manipulation of an endogenous metabolic enzyme-encoding gene in sugarcane that leads to altered enzyme activity. Although low PPO lines with good agronomic performance were not generated, this research demonstrates the principle that juice and sugar color are correlated with PPO activity, consistent with the hypothesis that lowering PPO activity in sugarcane could reduce the color intensity of juice and raw sugar.

2005
Remans T, L Grof CP, Ebert PR, Schenk PM, 'Identification of functional sequences in the pregenomic RNA promoter of the Banana streak virus Cavendish strain (BSV-Cav)', Virus Research, 108 177-186 (2005) [C1]

The promoter regions of plant pararetroviruses direct transcription of the full-length viral genome into a pregenomic RNA that is an intermediate in the replication of the virus. It serves as template for reverse transcription and as polycistronic mRNA for translation to viral proteins. We have identified functional promoter elements in the intergenic region of the Cavendish isolate of Banana streak virus (BSV-Cav), a member of the genus Badnavirus. Potential binding sites for plant transcription factors were found both upstream and downstream of the transcription start site by homology search in the PLACE database of plant cis-acting elements. The functionality of these putative cis-acting elements was tested by constructing loss-of-function and "regain"-of-function mutant promoters whose activity was quantified in embryogenic sugarcane suspension cells. Four regions that are important for activity of the BSV-Cav promoter were identified: the region containing an as-1-like element, the region around -141 and down to -77, containing several putative transcription factor binding sites, the region including the CAAT-box, and the leader region. The results could help explain the high BSV-Cav promoter activity that was observed previously in transgenic sugarcane plants and give more insight into the plant cell-mediated replication of the viral genome in banana streak disease. © 2004 Elsevier B.V. All rights reserved.

2005
Rae AL, Grof CPL, Casu RE, Bonnett GD, 'Sucrose accumulation in the sugarcane stem: Pathways and control points for transport and compartmentation', Field Crops Research, 92 159-168 (2005) [C1]

The accumulation of high concentrations of sucrose in the stem of sugarcane has been the subject of many studies. Although models have been constructed from the available information, many steps in the transport and accumulation pathway remain unknown. Recent advances in molecular approaches may elucidate some of these processes. Genes encoding proteins associated with sugar synthesis and storage will provide valuable tools. In particular, the use of techniques to localize the sites of expression of sugar transporters and metabolic enzymes will assist in defining possible routes of sugar movement. When combined with an analysis of metabolite concentrations and enzyme activities in cellular and subcellular compartments, these novel approaches will contribute to an integrated picture of stem function. Control points identified will provide useful tools for selection of efficient genotypes and targets for molecular manipulations. © 2005 Elsevier B.V. All rights reserved.

2005
Casu RE, Manners JM, Bonnett GD, Jackson PA, McIntyre CL, Dunne R, et al., 'Genomics approaches for the identification of genes determining important traits in sugarcane', Field Crops Research, 92 137-147 (2005) [C1]

Sugarcane is a genetically complex polyploid grass, which makes the identification of associations between genes and traits difficult. Genomics science facilitates characterization of entire eukaryote genomes at the DNA sequence level, but for crop plants with complex genomes such as sugarcane, gene characterization is currently best achieved via expressed sequence tag (EST) analysis where sequence information is restricted to genes that are actually functioning in a particular tissue or situation. DNA microarrays allow simultaneous expression analysis of thousands of genes. Current work on EST and array analysis of gene expression in sugarcane is reviewed and insights on stem functions associated with maturation and sucrose accumulation are discussed. A strategy for associating gene expression with a trait is described in which individuals exhibiting particular traits are selected from segregating populations of sugarcane and their gene expression profiles compared. A preliminary experiment to test the feasibility and experimental design for this 'genetical genomics' strategy on a population segregating for sugar content is described. Given the complex genetics of sugarcane, this strategy and refinements of it, represent an attractive pathway to the identification of candidate genes that may control sugar accumulation and other traits in sugarcane. © 2005 Elsevier B.V. All rights reserved.

2005
Remans T, Grof CPL, Ebert PR, Schenk PM, 'Functional promoter analysis using an approach based on an in vitro evolution strategy', BioTechniques, 38 209-216 (2005) [C1]

In vitro evolution imitates the natural evolution of genes and has been very successfully applied to the modification of coding sequences, but it has not yet been applied to promoter sequences. We propose an alternative method for functional promoter analysis by applying an in vitro evolution scheme consisting of rounds of error-prone PCR, followed by DNA shuffling and selection of mutant promoter activities. We modified the activity in embryogenic sugarcane cells of the promoter region of the "Goldfinger" isolate of banana streak virus and obtained mutant promoter sequences that showed an average mutation rate of 2.5% after applying one round of error-prone PCR and DNA shuffling. Selection and sequencing of promoter sequences with decreased or unaltered activity allowed us to rapidly map the position of one cis-acting element that influenced promoter activity in embryogenic sugarcane cells and to discover neutral mutations that did not affect promoter function. The "selective-shotgun" approach of this promoter analysis method immediately after the promoter boundaries have been defined by 5' deletion analysis dramatically reduces the labor associated with traditional "linker-scanning" deletion analysis to reveal the position of functional promoter domains. Furthermore, this method allows the entire promoter to be investigated at once, rather than selected domains or nucleotides, increasing the prospect of identifying interacting promoter regions.

2005
Rae AL, Perroux JM, Grof CPL, 'Sucrose partitioning between vascular bundles and storage parenchyma in the sugarcane stem: A potential role for the ShSUT1 sucrose transporter', Planta, 220 817-825 (2005) [C1]

A transporter with homology to the SUT/SUC family of plant sucrose transporters was isolated from a sugarcane (Saccharum hybrid) stem cDNA library. The gene, designated ShSUT1, encodes a protein of 517 amino acids, including 12 predicted membrane-spanning domains and a large central cytoplasmic loop. ShSUT1 was demonstrated to be a functional sucrose transporter by expression in yeast. The estimated K m for sucrose of the ShSUT1 transporter was 2 mM at pH 5.5. ShSUT1 was expressed predominantly in mature leaves of sugarcane that were exporting sucrose and in stem internodes that were actively accumulating sucrose. Immunolocalization with a ShSUT1-specific antiserum identified the protein in cells at the periphery of the vascular bundles in the stem. These cells became lignified and suberized as stem development proceeded, forming a barrier to apoplasmic solute movement. However, the movement of the tracer dye, carboxyfluorescein from phloem to storage parenchyma cells suggested that symplasmic connections are present. ShSUT1 may have a role in partitioning of sucrose between the vascular tissue and sites of storage in the parenchyma cells of sugarcane stem internodes. © Springer-Verlag 2004.

2004
Casu RE, Dimmock CM, Chapman SC, Grof CPL, McIntyre CL, Bonnett GD, Manners JM, 'Identification of differentially expressed transcripts from maturing stem of sugarcane by in silico analysis of stem expressed sequence tags and gene expression profiling', Plant Molecular Biology, 54 503-517 (2004) [C1]

Sugarcane accumulates high concentrations of sucrose in the mature stem and a number of physiological processes on-going in maturing stem tissue both directly and indirectly allow this process. To identify transcripts that are associated with stem maturation, we compared patterns of gene expression in maturing and immature stem tissue by expression profiling and bioinformatic analysis of sets of stem ESTs. This study complements a previous study of gene expression associated directly with sugar metabolism in sugarcane. A survey of sequences derived from stem tissue identified an abundance of several classes of sequence that are associated with fibre biosynthesis in the maturing stem. A combination of EST analyses and microarray hybridization revealed that genes encoding homologues of the dirigent protein, a protein that assists in the stereospecificity of lignin assembly, were the most abundant and most strongly differentially expressed transcripts in maturing stem tissue. There was also evidence of coordinated expression of other categories of fibre biosynthesis and putative defence- and stress-related transcripts in the maturing stem. This study has demonstrated the utility of genomic approaches using large-scale EST acquisition and microarray hybridization techniques to highlight the very significant transcriptional investment the maturing stem of sugarcane has placed in fibre biosynthesis and stress tolerance, in addition to its already well-documented role in sugar accumulation.

2004
Bosch S, Grof CPL, Botha FC, 'Expression of neutral invertase in sugarcane', Plant Science, 166 1125-1133 (2004) [C1]

Conflicting reports of the distribution of sugarcane neutral invertase (SNI) activity in sugarcane, and the complete lack of genetic information have been the impetus for this investigation. Using a hetrologous sequence from Lolium temulentum a clone, which contained a 1716bp open reading frame, was isolated from a mature culm sugarcane cDNA library. The SNI amino acid sequence had at least 53% homologous with sequences from Daucus carota and L. temulentum neutral invertases. The predicted molecular weight of the polypeptide is 64300Da. Southern blot analysis showed that SNI represents a low copy number gene in sugarcane. Both the SNI transcript and protein were present in all analysed tissues of the sugarcane plants and the data are consistent with transcriptional control of SNI activity. In culm tissues where sucrose content was low and hexose contents were high, SNI transcript and protein levels were higher than in tissues dedicated to sucrose storage. © 2003 Published by Elsevier Ireland Ltd.

2003
Casu RE, Grof CPL, Rae AL, McIntyre CL, Dimmock CM, Manners JM, 'Identification of a novel sugar transporter homologue strongly expressed in maturing stem vascular tissues of sugarcane by expressed sequence tag and microarray analysis', Plant Molecular Biology, 52 371-386 (2003) [C1]

The ability of sugarcane to accumulate sucrose provides an experimental system for the study of gene expression determining carbohydrate partitioning and metabolism. A sequence survey of 7242 ESTs derived from the sucrose-accumulating, maturing stem revealed that transcripts for carbohydrate metabolism gene sequences (CMGs) are relatively rare in this tissue. However, within the CMG group, putative sugar transporter ESTs form one of the most abundant classes observed. A combination of EST analysis and microarray and northern hybridization revealed that one of the putative sugar transporter types, designated PST type 2a, was the most abundant and most strongly differentially expressed CMG in maturing stem tissue. PST type 2a is homologous to members of the major facilitator super-family of transporters, possessing 12 predicted transmembrane domains and a sugar transport conserved domain, interrupted by a large cytoplasmic loop. Its transcript was localized to phloem companion cells and associated parenchyma in maturing stem, suggesting a role in sugar translocation rather than storage. In addition, other categories of CMGs show evidence of coordinated expression, such as enzymes involved in sucrose synthesis and cleavage, and a majority of enzymes involved in glycolysis and the pentose phosphate pathway. This study demonstrates the utility of genomic approaches using large-scale EST acquisition and microarray hybridization techniques for studies of the developmental regulation of metabolic enzymes and potential transporters in sugarcane.

2001
Schenk PM, Remans T, Sági L, Elliott AR, Dietzgen RG, Swennen R, et al., 'Promoters for pregenomic RNA of banana streak badnavirus are active for transgene expression in monocot and dicot plants.', Plant Mol Biol, 47 399-412 (2001)
2001
Albertson PL, Peters KF, Grof CPL, 'An improved method for the measurement of cell wall invertase activity in sugarcane tissue', Australian Journal of Plant Physiology, 28 323-328 (2001)

Extraction and assay methods were developed for the determination of both soluble and cell wall invertase activity in sugarcane (Saccharum sp.) from minimal (0.5 g) tissue. Cell wall invertase (CWI) was measured using a pellet mix procedure and the pH optima ranged between pH 3.2 and 3.6. The pH optima for the soluble invertases were 4.5 and 7.3 for soluble acid (SAI) and neutral (NI) invertase, respectively. At low pH, acid hydrolysis of sucrose was observed and its spurious effect on measured enzyme activity was removed by the inclusion of additional controls run in parallel, which lacked crude plant extract. Invertase activity was examined in sugarcane tissues of varying ages. In leaves and stem, the SAI activity was greatly reduced in mature tissue extracts. Similarly, the CWI activity was reduced in older leaves. In contrast, a less marked drop in NI activity was observed in extracts from old leaves and activity from stem extracts remained constant irrespective of tissue age. The role of SAI has been linked to growth and differentiation and these observations suggest that CWI may also be intrinsically involved in these processes. NI appears to have a housekeeping role in maintaining hexose concentrations within the cytosol.

2001
Grof CPL, Campbell JA, 'Sugarcane sucrose metabolism: Scope for molecular manipulation', Australian Journal of Plant Physiology, 28 1-12 (2001)

Improvement of the sucrose content of commercial sugarcane by conventional breeding has reached a plateau, primarily due to the narrow gene pool, and the potential to introduce novel genes or manipulate native genes to influence metabolism may have significant application. This review reports on progress in developing new, and optimising existing, transformation processes for sugarcane, and confirms that the requisite molecular tools for modifying sugarcane metabolism are as yet poorly developed when compared with those currently being applied to dicotyledonous model and crop species. Drawing from the considerable base of biochemical research into sucrose metabolism in sugarcane, a number of target steps for metabolic manipulation are reviewed. Specifically, we review current research into the physiological and biochemical elucidation of the key processes of sucrose synthesis, transport and cleavage. Given the focus of this review on molecular manipulation, particular emphasis is placed on the status of research into the isolation of genes encoding the key enzymes and transporters in the sucrose accumulation process.

1999
Elliott AR, Campbell JA, Dugdale B, Brettell RIS, Grof CPL, 'Green-fluorescent protein facilitates rapid in vivo detection of genetically transformed plant cells', Plant Cell Reports, 18 707-714 (1999)

Early detection of plant transformation events is necessary for the rapid establishment and optimization of plant transformation protocols. We have assessed modified versions of the green fluorescent protein (GFP) from Aequorea victoria as early reporters of plant transformation using a dissecting fluorescence microscope with appropriate filters. Gfp-expressing cells from four different plant species (sugarcane, maize, lettuce, and tobacco) were readily distinguished, following either Agrobacterium-mediated or particle bombardment-mediated transformation. The identification of gfp-expressing sugarcane cells allowed for the elimination of a high proportion of non-expressing explants and also enabled visual selection of dividing transgenic cells, an early step in the generation of transgenic organisms. The recovery of transgenic cell clusters was streamlined by the ability to visualize gfp-expressing tissues in vitro.

1999
Remans T, Schenk PM, Manners JM, Grof CPL, Elliott AR, 'A Protocol for the Fluorometric Quantification of mGFP5-ER and sGFP(S65T) in Transgenic Plants', Plant Molecular Biology Reporter, 17 385-395 (1999)

The Green Fluorescent Protein (GFP) from Aequorea victoria has begun to be used as a reporter protein in plants. It is particularly useful as GFP fluorescence can be detected in a non-destructive manner, whereas detection of enzyme-based reporters often requires destruction of the plant tissue. The use of GFP as a reporter enables transgenic plant tissues to be screened in vivo at any growth stage. Quantification of GFP in transgenic plant extracts will increase the utility of GFP as a reporter protein. We report herein the quantification of a mGFP5-ER variant in tobacco leaf extracts by UV excitation and a sGFP(S65T) variant in sugarcane leaf and callus extracts by blue light excitation using the BioRad VersaFluor¿ Fluorometer System or the Labsystems Fluoroskan Ascent FL equipped with a narrow band emission filter (510 ± 5 nm). The GFP concentration in transgenic plant extracts was determined from a GFP-standard series prepared in untransformed plant extract with concentrations ranging from 0.1 to 4 µg/ml of purified rGFP. Levels of sgfp(S65T) expression, driven by the maize ubiquitin promoter, in sugarcane calli and leaves ranged up to 0.525 µg and 2.11 µg sGFP(S65T) per mg of extractable protein respectively. In tobacco leaves the expression of mgfp5-ER, driven by the cauliflower mosaic virus (CaMV) 35S promoter, ranged up to 7.05 µg mGFP5-ER per mg extractable protein.

1998
Elliott AR, Campbell JA, Brettell RIS, Grof CPL, 'Agrobacterium-mediated transformation of sugarcane using GFP as a screenable marker', Australian Journal of Plant Physiology, 25 739-743 (1998)

The use of the green fluorescent protein (GFP) and in vivo screening for transgenic cells has enabled the first visual selection of transgenic sugarcane (Saccharum L. hybrid) transformed by Agrobacterium-mediated techniques. Selection of GFP-positive embryogenic callus transformed using Agrobacterium tumefaciens strain AGL0 was performed by fluorescence microscopy for 6 weeks after transformation. The use of GFP as a screenable marker aided the rapid segregation of individual transformation events and facilitated the initial visual selection of transgenic sugarcane callus without antibiotics, herbicides or an assay. The binary vector used in transformation was pTO134, which contains a synthetic g/p gene (sgfpS65T) and the bialaphos resistance gene (bar) both controlled by CaMV 35S promoters. The appearance of GFP-expressing cells observed on embryogenic callus was 5.3%. Subsequently, GFP-positive calli grew in the presence of a level of the herbicide bialaphos, that was toxic to untransformed calli. GFP-positive shoots were regenerated and one sugarcane plant expressed GFP in the initial stages. Molecular analysis confirmed the presence of the sgfpS65T coding region in the genome of regenerated plants. Visual screening for Agrobacterium-mediated transformation events using GFP was an efficient technique, which may be applied for the transformation of other plants.

1998
Grof CPL, Knight DP, McNeil SD, Lunn JE, Campbell JA, 'A modified assay method shows leaf sucrose-phosphate synthase activity is correlated with leaf sucrose content across a range of sugarcane varieties', Australian Journal of Plant Physiology, 25 499-502 (1998)

Eight different commercial and breeding varieties of sugarcane (Saccharum spp.) grown in controlled conditions were assayed for leaf sucrose-phosphate synthase (SPS) (EC 2.1.4.14) activity and leaf sucrose content. Leaf SPS activity measured at 25°C ranged between 0.06 and 0.14 nmol sucrose formed µg protein-1 min-1. The cross-varietal average for leaf SPS activity was 0.10 nmol µm protein-1 min-1 (equivalent to 63.4 µmol h-1 g FW-1 or 17.6 nkat g FW-1) which is consistent with previously published leaf SPS activities for sugarcane; however, previous studies have assayed leaf SPS activity at either 30 or 37°C. The range of leaf sucrose content across varieties (5.5-18.0 mg sucrose g FW-1, average 11.3 mg g FW-1) was consistent with all but one of four previously published reports. Leaf SPS activity and leaf sucrose content were significantly correlated across the eight varieties examined (r2=0.877, d.f. = 7, P<0.001). Whilst previous reports have indicated a co-relationship between leaf SPS activity and leaf sucrose content in single sugarcane varieties both diurnally and with different nutrient regimes, this study shows, for the first time, that this co-relationship also holds true across a range of sugarcane varieties.

1998
Campbell JA, Robertson MJ, Grof CPL, 'Temperature effects on node appearance in sugarcane', Australian Journal of Plant Physiology, 25 815-818 (1998)

Plants of the Australian commercial sugarcane varieties Q117 and Q138 were grown to 6 months age in a controlled environment at temperatures of 14, 18, 22 and 26°C. The rate of node appearance, which equates to the rate of leaf appearance, was significantly correlated with temperature across the temperature range examined. Analysis of the varietal rates of node deposition as a function of time allowed determination of both base temperature for node (hence leaf) appearance and phyllochron. The base temperatures for node appearance were 7.8°C for Q 117 and 7.6°C for Q138, significantly lower than previously published base temperatures for leaf appearance in sugarcane. During the developmental stages covered by this study, phyllochron differed between the two varieties with Q117 requiring 108.7 °Cd per node, whilst Q138 required 126.6°Cd per node. This work reinforces the value of controlled environment research as a way of elucidating basic functions of plant growth and development.

Show 37 more journal articles
---
Conference (3 outputs)
| Year | Citation | Altmetrics | Link |
| --- | --- | --- | --- |
| 2008 | Glassop D, Rae AL, Casu RE, Grof CP, 'What is the role of sucrose transporter SHSUT1 in sugarcane?', Proceedings of the Australian Society for Biochemistry and Molecular Biology, Canberra, ACT (2008) [E3] | | |
| 2008 | Casu RE, Grof CP, Glassop DG, Iskandar HM, Perroux JP, Jarmey JM, et al., 'Can RNAI- mediated gene silencing effectively influence core metabolism in sugarcane?', Proceedings of the Australian Society for Biochemistry and Molecular Biology, Canberra, ACT (2008) [E3] | | |
| 2008 | Dibley KE, Zhou Y, Offler CE, Grof CP, Patrick JW, 'Tissue localisation of novel sucrose transporters cloned from coats of developing pea seeds', Proceedings of the Australian Society for Biochemistry and Molecular Biology, Canberra, ACT (2008) [E3] | | |
Edit
Grants and Funding
Summary
Click on a grant title below to expand the full details for that specific grant.
---
20151 grants / $6,500
20143 grants / $431,500
20131 grants / $160,000
20124 grants / $96,724
20113 grants / $964,961
20102 grants / $565,000
20095 grants / $1,403,000
20083 grants / $777,099
Edit
Research Supervision
Current Supervision
Commenced
Research Title / Program / Supervisor Type
2014
The Timing, Cause and Control of Floral Evocation in Grapevines
Biological Sciences, Faculty of Science and Information Technology
Principal Supervisor
2013
Investigating Molecular Regulation of Transfer Cell Development in the Model Flowering Plant Arabidopsis Thaliana
Biological Sciences, Faculty of Science and Information Technology
Co-Supervisor
2013
Investigating a Role for NAC Transcription Factors as Master Regulators of Transfer Cell Development in Arabidopsis Thaliana
Biological Sciences, Faculty of Science and Information Technology
Co-Supervisor
2013
The Development of Setaria Species as a Model System to Investigate Type II Cell Wall Construction, Deconstruction and Biomass Quality Traits
Biological Sciences, Faculty of Science and Information Technology
Principal Supervisor
2013
The Molecular Characterisation of Vernalisation in Safflower via the Development of Genomic and Transcriptomic Resources
Biological Sciences, Faculty of Science and Information Technology
Co-Supervisor
2012
The Role of Lignin in C4 Biofuel Plants
Biological Sciences, Faculty of Science and Information Technology
Principal Supervisor
2012
Investigating Signals Regulating Transfer Cell Development in the Model Flowering Plant Arabidopsis thaliana
Biological Sciences, Faculty of Science and Information Technology
Co-Supervisor
2012
Clarifying the Molecular Utilisation of Sugars in Higher Plants
Biological Sciences, Faculty of Science and Information Technology
Principal Supervisor
2010
Benefits of Plants, Compost and Inoculation with Plant-Associated Microbes for the Development of a Mine Spoil Anthroposol
Biological Sciences, Faculty of Science and Information Technology
Principal Supervisor
Past Supervision
Year
Research Title / Program / Supervisor Type
2014
Phloem Loading and Unloading Pathways in Sorghum Bicolor: The Role of Sucrose Transporters in Export and Storage of Sucrose
Biological Sciences, Faculty of Science and Information Technology
Principal Supervisor
2013
Functional Characterisation of Novel Sucrose Transporters
Biological Sciences, Faculty of Science and Information Technology
Co-Supervisor
Edit
News
February 20, 2015
Nine University of Newcastle researchers have been selected by the Australian Research Council for membership of the 2015 Excellence in Research for Australia (ERA) Research Evaluation Committees.
Professor Christopher Grof
Position
Professor
Plant Science Group
School of Environmental and Life Sciences
Faculty of Science and Information Technology
Focus area
Biological Sciences
Contact Details
Office
Building
Biological Sciences
Location
Callaghan
University Drive
Callaghan, NSW 2308
Australia
Edit