Scholars
2018 scholarship recipients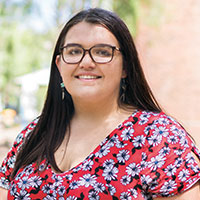 Phoebe McIlwraith
Halekulani, Central Coast NSW
Bachelor of Business / Bachelor of Laws (Honours)
Scholarship Category: Indigenous
Phoebe, a proud Bundjalung and Worimi saltwater woman, has a vision. A social enterprise that engages with marginalised peoples and enables meaningful change through community-based economies.
Odette Brown
Hamilton, Newcastle NSW
Bachelor of Aboriginal Professional Practice / Bachelor of Laws (Honours)
Scholarship Category: Immersion
As a Wiradjuri woman, Odette's style of leadership is rooted in her deep sense of community, culture and connection to Country. Odette is in her third year of a combined degree, studying a Bachelor of Aboriginal Professional Practice / Bachelor of Laws (Honours). During her time at the University, Odette has been an active part of the student community. She helped establish the UON Indigenous Student Collective to support Indigenous students. She also managed events and social media platforms to address issues of injustice, strengthen relationships, and build community for Aboriginal and Torres Strait Islander people living and studying off-Country. Driven by her passion for inclusivity, Women's Business and cultural continuation, Odette also helped in establishing the Women's Group, a safe space for Aboriginal and Torres Strait Islander women to come together.
Gidail Bakini
Cowra, Central West NSW
Bachelor of Construction Management (Building) (Honours)
Scholarship Category: Educational Disadvantage
Gidail believes diversity is humanity's greatest strength. As a boy, Gidail left his home and much of his family in Khartoum, Sudan to seek refuge in Australia. A world away in Cowra, Central West NSW, Gidail began dedicating time to making his new community better. He has been actively involved in the White Ribbon Day campaign against domestic violence, lead peer support groups at his high school, and acted as a mentor for young staff at a local business where he worked. Currently undertaking a Bachelor of Construction Management (Honours), Gidail looks forward to continuing his leadership journey and making a meaningful impact on the world around him.
Luisa Amosa
Broadmeadow, Newcastle NSW
Bachelor of Law / Development Studies
Scholarship Category: Educational Disadvantage
With a passion for the arts and youth advocacy, Luisa has established herself as a leader among her peers. While studying at the Hunter School of Performing Arts, Luisa spearheaded social justice campaigns, raising community awareness of the importance of diversity and acceptance.
Nathaniel Arnold
Smithton, North West TAS
Bachelor of Education (Secondary)
Scholarship Category: Academic Excellence
Having spent time living in Uganda with his family as a child, Nathaniel's sense of social responsibility developed early. Following a return trip in mid-2015, Nathaniel independently raised funds to support a local Ugandan community to build a new school from the ground up, providing education for 200 students. He believes helping those less fortunate, especially in developing countries, is both his responsibility and his privilege. Moving from a small, rural town in north-west Tasmania to complete the University's Intensive Open Foundation course in 2017 was the start of a new chapter for Nathaniel. He is now studying to become a teacher of English as a second language and hopes to empower more people – especially those of diverse cultural backgrounds – to overcome disadvantage.
Academic Excellence scholars
Educational Disadvantage scholars
Indigenous scholars
Immersion scholars
Newcastle, NSW
Bachelor of Biomedical Science
Scholarship Category: Immersion
A volunteer work placement in Tanzania was a turning point for Biomedical Science student Olivia. Already passionate about global health and social justice, the experience of monitoring patients in some of the most under-equipped hospitals in rural Tanzania reinforced her desire to pursue a career in global health research. A student leader and President of the Bachelor of Biomedical Science Society, Olivia has worked to establish positive social environments for younger students to work alongside older students and mentors. After her final year of undergraduate study in 2018, Olivia hopes to complete her honours and PhD at the University. She will combine her passions for medical research and global health by working in collaboration with other medical professionals around the world to overcome some of the universal challenges facing today's society.
New Lambton, Newcastle NSW
Bachelor of Laws (Honours) / Diploma of Legal Practice
Scholarship Category: Immersion
Currently in her final year of a Bachelor of Law (Honours)/ Diploma of Legal Practice, Rosalie has developed her leadership skills through volunteering, work, and study experiences – including