School of Health Sciences
The School of Health Sciences excels in the teaching and learning of allied health professionals, and offers study with a strong clinical focus in the nine health professions represented within the School.
Working together to educate future health care workers in a multi-professional health care environment, our School combines groundbreaking research with strong links to the professions through clinical placements.
STUDY AREAS
Recent Highlights
9th December 2016

A team of UON researchers is one step closer to having their research innovation delivered through a national acceleration program.

Dr Yolanda Surjan's RadVet team is one of 10 teams selected for ON Accelertate3 – the third stage of the national sci-tech accelerator "ON, Powered by CSIRO".

14th November 2016

University of Newcastle researchers from the Centre for Resources Health and Safety, including Associate Professor Carole James from the School of Health Sciences, have successfully received a grant from the Defence Health Foundation to the value of $123, 068 over two years.

22nd November 2016

Newcastle Innovation hosted their annual awards ceremony at Merewether Surfhouse. The inaugural Chancellor's Award for Innovation was presented to Dr Yolanda Surjan, from the School of Health Sciences whose research investigates the translation of squamous cell carcinoma (SCC) to veterinary practice.

28th October 2016

UON researchers will tap into virtual reality technology to better understand neck pain and are calling for participants in a new study. For more information contact Rutger de Zoete on 0432 218 486 or email rutger.dezoete@newcastle.edu.au.
---
The School of Health Sciences has undergone substantial development in the area of research in recent years, and continues to pursue a promising future. Our world class researchers are achieving some exceptional results.
---
The School of Health Sciences has specialised teaching laboratories for programs at both the Newcastle and Central Coast campuses. Students learn and refine their practical skills required for professional practice in these laboratories prior to undertaking clinical or other professional placements.
---
---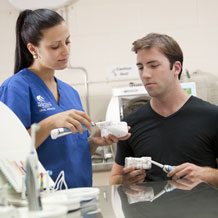 Our staff strike a balance between advancing the professional research profile of their respective areas and working together to educate future health care workers in a multi-professional health care environment. We have two teaching clinics, an oral health clinic and a podiatry clinic, giving students the opportunity to practice their skills and get real-world experience under the guidance of our highly skilled teaching staff.