Accommodation
---
We know students need secure, affordable and comfortable accommodation when they are studying. Whether you're interested in living on or off campus, we have services to help you.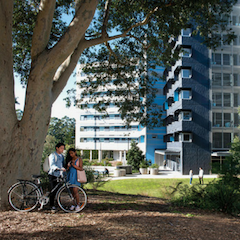 Student Living is our award-winning accommodation precinct at Callaghan and Ourimbah campuses and is home to over 1800 students from all over the world. Our nine residences offer a variety of living options to suit our student community. Whether you're looking for a private or shared room, private or shared facilities, if you want to cook for yourself or you want someone else to cook for you - we've got it all here!
If you want to live off-campus, there are lots of options for you close to the University including rooms, apartments and houses. We offer a free off-campus accommodation service that is here to help you find the perfect place to live while you study.
Some families who live near the university host students in their homes for short or long stays. The University arranges each Homestay to ensure that all homes and host families are safe and friendly.
In this program, you will enjoy the comfort of home in Australia. Our host families will provide you meals and include you in their lives. It is a good opportunity to practice language skills and make new friends.
If you want to live off campus, you may choose to stay at a hostel or hotel for about a week while you find a room or apartment for the school year.
Further to the off-campus database you can also search for rental properties which are managed by real estate agents if you'd like to look for your own accommodation. Take a look at agencies such as Domain, Real Estate or LJ Hooker. It is important to consider the full range of costs and responsibilities when looking for somewhere to live.
The University of Newcastle acknowledges the traditional custodians of the lands within our footprint areas: Awabakal, Darkinjung, Biripai, Worimi, Wonnarua, and Eora Nations. We also pay respect to the wisdom of our Elders past and present.