I am a prospective
student, looking to study at
Newcastle
Mode of delivery
Face to Face
Start dates
Semester 1 (21 Feb 2022), Semester 2 (18 Jul 2022),
Semester 1 (21 Feb 2022), Semester 2 (18 Jul 2022),
Study Cyber Security
Cyberspace has profoundly transformed the way we live and do business. We are increasingly relying upon networked applications for assessing information and making critical business decisions, so it is critical for individuals, enterprises and governments to be able to secure cyberspace from attacks to allow them to effectively conduct their business.
There is currently a considerable shortage of cyber security skill and expertise globally.
Why study with us?
Access our industry-leading cyber security labs – our System Security Lab, Smart Network Infrastructure Security Lab and Malware Lab each offer a range of advanced technologies and are setup to ensure each student has access to virtual machines to provide an isolated and secure environment to learn in. Our labs use advanced VMware based virtualisation technology, can be used to run cyber hackathons and develop real-world applications in a safe and controlled environment.
Place yourself at the forefront of a growth industry – there is currently a major shortage of cyber security workers, with leading independent and not-for-profit organisation AustCyber estimating that Australia could need almost 18,000 additional cyber security workers by 2026*
Learn from global leaders in the field – the program design was led by the University's Global Innovation Chair in Cyber Security, Professor Vijay Varadharajan, with substantial contribution from academic and industry partners.
Enhance your career opportunities – this degree was created specifically to address the needs and demands of both individuals and industry. Develop analytical skills and cryptographic techniques that are essential to organisations looking to employ secure network protocols.
Project-based learning- students have the opportunity to carry out a 2 semester (1 year) practical project in Cyber Security, done via WIL and placement or in collaboration with industry. This is particularly important for students to gain industrial experience in cyber security, which is highly valuable for their careers.
Flexible study options – at the University of Newcastle, you can choose to study full-time or part-time to suit your professional and personal needs.
* Australian Cyber Security Growth Network's Sector Competitiveness Plan 2018
What you will study
The University of Newcastle's Master of Cyber Security has been designed to provide you with quality training which will enable you to become a cyber security professional. You will gain extensive knowledge in cyber systems and infrastructures, their applications and legal aspects of cyber security which will provide you with the skills to address severe skill shortages in these areas globally. By undertaking a hands on project spanning over two semesters you will have the opportunity to work with industry partners and gain highly valuable skills for your career.
Upon graduation, this program will allow you to harness your expertise in cyber security to work in a variety of industry sectors.
Courses to support your drive and direction include:
Data Security
System and Network Security
Security Attacks: Analysis and Mitigation Strategies
Security Standards and Practices in Industry
Engineering Complexity
Program plans
Download a program plan for further details on your degree's structure and what courses you will study.
These program plans are applicable to new students. Current students should refer to the program handbook to access the plan relevant to the year they commenced.
Sign up. Stay connected
What excites and motivates you? Let us know what you're interested in and we'll keep you updated on all the latest info and events relevant to you.
Thank you! Keep an eye on your inbox, you will receive
a confirmation email shortly.
Connect with us on WeChat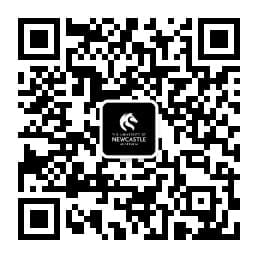 Thank you! Keep an eye on your inbox, you will receive
a confirmation email shortly.
Career
Career opportunities
Career options may include:
security system manager
security consultant
cryptographer
IT security engineer
security system developer
security analyst
project manager
How to apply
Applying for Master of Cyber Security
I am a prospective
student, looking to study at
Newcastle
Before you get started
To ensure that the process goes smoothly for you, you should complete the following steps before applying:
Review the program that you wish to apply for. Note the admission criteria, admission instructions, requirements & structure and any additional information listed.
Review the program fees and costs.
Check whether your postgraduate program has a Semester or a Trimester closing date. Please view the application closing date.
If you are from a non-English-speaking background, you need to satisfy the University's English language requirements and ensure that you can provide evidence of your English proficiency if required.
You will be considered for entry based on criteria such as your undergraduate studies and/or equivalent prior learning and/or relevant work experience.
Other things to consider
Make sure you double check the special entry requirements, assumed knowledge or recommended studies for the degree:
The Master of Cyber Security is a 160 unit postgraduate qualification. 
160 units (2 years): Bachelor Degree or higher in any discipline AND minimum 1 year relevant work experience. Applicants with relevant professional experience may be considered for up to 40 units of RPL (Recognition of Prior Learning).
80 units (1 year): Bachelor Degree or higher in a relevant discipline*
*Related fields: computer science, software engineering, computer systems and information technology.
Students who complete the UON Graduate Certificate in Cyber Security will receive 40 units of credit towards the Master of Cyber Security.
Applicants who would like their professional qualifications and/or work experience to be considered need to provide certified copies of all relevant qualifications, a detailed CV and a statement of service or signed letters from employers confirming their role, duties and period of employment.
All Applicants must demonstrate that they meet the University's English proficiency requirement. Further information regarding English language proficiency requirements can be found at the English Language Proficiency for Admission Policy here.
You can look at Uni prep for options to brush up on knowledge before you start.
Ok, great, let's go!
Applications to study are now open. Submit your application now.
Apply to study in Australia
Both students and education agents can submit applications online. This is our preferred way of application. You can save your application after you have started, and come back to it later.
The University of Newcastle acknowledges the traditional custodians of the lands within our footprint areas: Awabakal, Darkinjung, Biripai, Worimi, Wonnarua, and Eora Nations. We also pay respect to the wisdom of our Elders past and present.