Mode of delivery
Face to Face, Online
Duration
1.5 years full-time or part-time equivalent up to 5 years maximum.
Fees
AUD38,195 (indicative annual fee, 2020)
Indicative annual fees are based on a full year full time load (80 units) Find out more about fees
Duration
1.5 years full-time.
Mode of delivery
Face to Face, Online
English language proficiency
IELTS overall minimum - 6.5
IELTS section minimum - 6.0
Study an MBA
Outstanding business leadership meets you when you graduate with the Master of Business Administration (MBA) from the University of Newcastle. With brand new on-campus facilities, or an all-inclusive online program guided by business leaders and academics, the MBA is designed to challenge you and build your capacity for business excellence.
The MBA attunes you to a higher understanding of business management decision making, marketing, organisational behaviour, accounting and finance processes, strategic management and the international business arena.
Listen to our webinar from Dr Sonia Viches-Montero learn more about our MBA program.
Why study with us?
Earn professional credit - the MBA is one of the few programs that recognises relevant professional experience and may result in credit being granted.
An affordable, high-quality MBA - the University of Newcastle offers a quality MBA program which includes both face-to-face and online modes, with more than 70 courses to choose from. We do not charge high-end fees.
Flexible study options - courses are run in trimesters and students are provided with an opportunity to study at a pace which suits their personal and professional lives.
Study at NUspace - in the heart of Newcastle's CBD, NUspace provides the optimum environment for you to excel in your studies.
Combine your MBA - with another master degree in Marketing, Applied Finance, International Business, Human Resource Management or Professional Accounting and you can graduate with two degrees in less time than it would take to complete them separately.
Our graduates get jobs - with over 92% of MBA graduates securing employment within four months of completing their degree. (Overall employment rate - 2019 Graduate Outcomes Survey).
AACSB Accreditation - the Newcastle Business School is accredited by the Association to Advance Collegiate Schools of Business (AACSB), earned by fewer than five percent of the world's business programs.
AACSB ? accredited business school
World top 200 ? for business and economics
Top 10 in Australia ? for business administration
World top 150 ? for business administration
What you will study
Our MBA is designed to propel you towards success. It reflects the latest in contemporary management practice, providing six fundamental courses covering the foundations of modern business; money, markets and people. More advanced core courses in leadership, strategic management and corporate governance provide pivotal insights into the dynamics of modern organisations.
In addition to the core courses, you will have the choice to specialise in one of the following areas:
Alternatively, students can create their own course program, selecting their preferred areas of study from over 70 elective courses.
Entry options and duration
Professional credit
Do you have qualifications or experience beyond the minimum entry requirements for a Masters Degree? If so, you may be able to complete your degree in reduced time and at reduced cost.
---
Program plans
Download a program plan for further details on your degree's structure and what courses you will study.
These program plans are applicable to new students. Current students should refer to the program handbook to access the plan relevant to the year they commenced.
Sign up. Stay connected
What excites and motivates you? Let us know what you're interested in and we'll keep you updated on all the latest info and events relevant to you.
Thank you! Keep an eye on your inbox, you will receive
a confirmation email shortly.
Connect with us on WeChat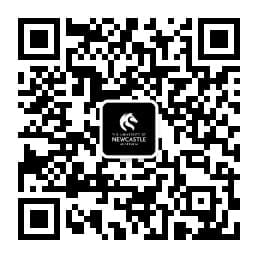 Thank you! Keep an eye on your inbox, you will receive
a confirmation email shortly.
WiMBA Scholarship

Apply for the Women in MBA (WiMBA) Scholarship
Career opportunities
You'll be ready to apply your strengthened strategic focus and embed your outstanding business management capabilities in real-world business opportunities. The University of Newcastle's MBA program delivers the skills, and will inherently build your confidence to enable you to reach for those senior and executive leadership roles.
Our graduates range from company executives to self-starting entrepreneurs and public sector leaders – in reality the range of opportunities that have opened up for our graduates are limitless. Other career paths include:
Account Executive
Business Consultant
Business Development Manager
Entrepreneur
Financial Advisor
Industry Specialist Manager
Marketing Manager
Operations Manager
Global opportunities
Given the University of Newcastle's strong focus on international business, consider the reality of a leadership role in a global corporation located locally or abroad. Position yourself as someone capable of furthering the international standing of Australian-owned industries.
Engage with industry
The University of Newcastle's MBA is delivered by some of our leading strategic thinkers. Business, academic and professional practitioners combine to provide you with tangible real-word learning experiences. The course is integrated with industry engagement and business networking opportunities which expose you to challenges that can lead to remarkable workplace prospects on graduation.
The Newcastle Business School is accredited with the Association to Advance Collegiate Schools of Business (AACSB), earned by fewer than 5% of the world's business programs. AACSB is the premier, and longest-standing, international accrediting body for business programs and is the international benchmark for excellence in business education.