Academic Senate Committees
Academic Senate is assisted by the below committees which have specific purposes and functions. The Chair of each committee reports to Academic Senate on actions, issues and discussions specific to their committee.
You can learn more about each committee, view the meeting dates and access committee resources below.
---
Teaching and Learning Committee
The Teaching and Learning Committee provides advice on the quality of teaching and learning to ensure high academic standards including pathways that contribute to student access, admission and selection policies, and work and research integrated learning opportunities.
Contact
For all Teaching and Learning Committee enquiries contact Una Harris or email Academic Senate
---
Research Committee
The Research Committee focuses on research policy, planning, training and development. It is supported by the Research Training Sub-Committee and College specific research committees.
Contact
For all Research Committee enquiries contact Renae Morgan or email Academic Senate
---
Program and Course Approval Committee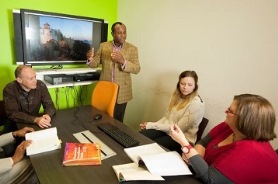 The Program and Course Approval Committee (PCAC) is focused on programs and courses, providing strategic advice on establishing, disestablishing and reviewing programs and courses to improve the global competitiveness of graduates, innovative program offering and course delivery models at the University.
Contact
For all Program and Course Approval Committee enquiries contact Melanie Barlow, Cathie Shanahan or email Academic Policy
---
College Boards
Each of the University's Colleges has a College Board chaired by the Pro Vice-Chancellor. They oversee teaching, learning, assessment and research activities within the College. They are responsible for continuous improvement, approving academic content of new courses, College procedures and managing Schools. College Boards are supported by various committees.
Click on the below links to view the College Board details, meeting dates, membership information and contact information:
---
Pathways and Academic Learning Support Centre
The Pathways and Academic Learning Support Centre (PALS) mission is to provide excellence in teaching and learning based on research informed approaches that enable students to transition into and through university with strong foundations and support. They focus on providing students with an outstanding learning experience that will help them to be inspired and achieve their continuing educational goals.
Contact
For all Pathways and Academic Learning Support Centre enquiries contact Elizabeth Bridges
---
Research Training Sub-Committee
The Research Training Sub-Committee was established by Academic Senate as a sub-committee of the Research Committee. It advises the Research Committee and the Dean of Graduate Studies on strategic policy, planning and quality assurance in relation to research training matters and informs the Research Committee on existing, new or revised research higher degree programs.
Contact
For all Research Training Sub-Committee enquiries contact Gareth Patterson
---
Academic Senate Executive Committee
The Academic Senate Executive Committee's purpose is to advise and assist the President of Academic Senate on matters and assist to ensure that the Academic Senate fulfils its functions and obligations.
Contact
For all Academic Senate Executive Committee enquiries contact Anne Symons, Zoe Ward or email Academic Senate
The University of Newcastle acknowledges the traditional custodians of the lands within our footprint areas: Awabakal, Darkinjung, Biripai, Worimi, Wonnarua, and Eora Nations. We also pay respect to the wisdom of our Elders past and present.