University of Newcastle establishes first Doctoral Training Centre
The University of Newcastle has today launched its inaugural Doctoral Training Centre (DTC) focused on supporting the Mining Equipment, Technology and Services (METS) sector – the Advanced METS DTC.
Fostering collaborative PhD projects, the Advanced METS DTC is aimed at delivering innovative and transformational technologies and developing skilled innovators of the future.
Senior Deputy Vice Chancellor and Vice President - Global Engagement and Partnerships, Associate Professor Kevin Hall, said Australian METS companies were global leaders in providing products and services throughout the mining value chain.
"While the METS sector continues to play a key role as a sector of national significance, there are emerging skills and technology challenges," Professor Hall said.
"The aim of the DTC is to enhance the success of the sector by building a collaborative research platform with academia.
"Through this doctoral training centre, the University of Newcastle is committed to engaging industry with our researchers and businesses to deliver solutions to real industry challenges."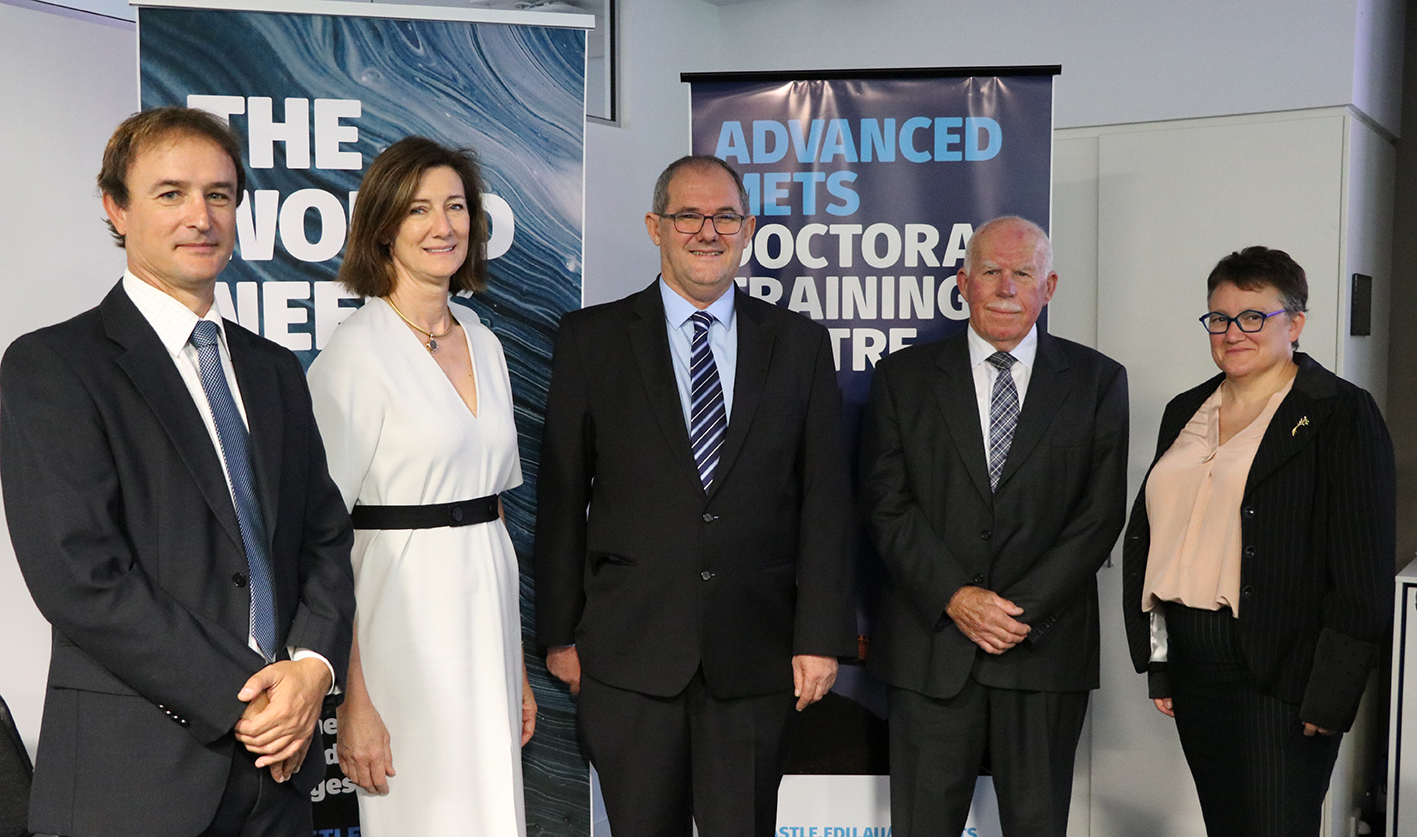 Associate Professor Ken Williams, General Manager Education and Leadership Skills - METS Ignited Sarah Boucaut, Director of NIER Professor Alan Broadfoot, Chancellor Mr Paul Jeans and Dean of Graduate Research Professor Lucy Johnston.
By harnessing existing capacity and research excellence established through the Newcastle Institute for Energy and Resources (NIER), the DTC will contribute to the development and production of new ideas, technologies and products that will support the METS sector into the future.
"Collaboration with industry provides an opportunity for our future innovation leaders to focus on key emerging METS technologies, transforming research into workplace practice, impacting local, regional and international communities."
As part of the Global Impact Cluster for Energy Resources Food and Water, hosted by NIER, the DTC will focus on a small interdisciplinary cohort of PhD candidates united around a common research theme, with a high level of industry engagement.
University of Newcastle Dean of Graduate Research, Professor Lucy Johnston, said the DTC would enable PhD students to develop a breadth and depth of knowledge and expertise by being based in a multidisciplinary team of researchers.
"The opportunity to engage with peak industry bodies will enable the research students to receive supervision and mentorship from experienced METS industry engineers as well as their academic supervisors. They will develop highly transferrable skills, enhancing their global mobility, social responsibility and employability."
"The DTC concept provides the opportunity for genuine collaboration and research partnership between the University and industry, co-developing and working on industry-relevant challenges and technologies."
An initiative under the University's NeW Futures 2016-2025 Strategic Plan, the DTC will be led by Associate Professor Ken Williams.
The DTC supports PhD candidates through co-funded scholarships with industry. The University is looking to further engage with interested industry partners, both regionally and nationally, to expand this important initiative.
---
Related news
The University of Newcastle acknowledges the traditional custodians of the lands within our footprint areas: Awabakal, Darkinjung, Biripai, Worimi, Wonnarua, and Eora Nations. We also pay respect to the wisdom of our Elders past and present.