ICT graduates key to future-proofing the economy
As an inaugural recipient of a DVC(A) Merit List Award for Teaching and Learning Excellence, Associate Professor in Computing and Information Technology, Dr Marc Adam shares his views on the importance of lifelong learning.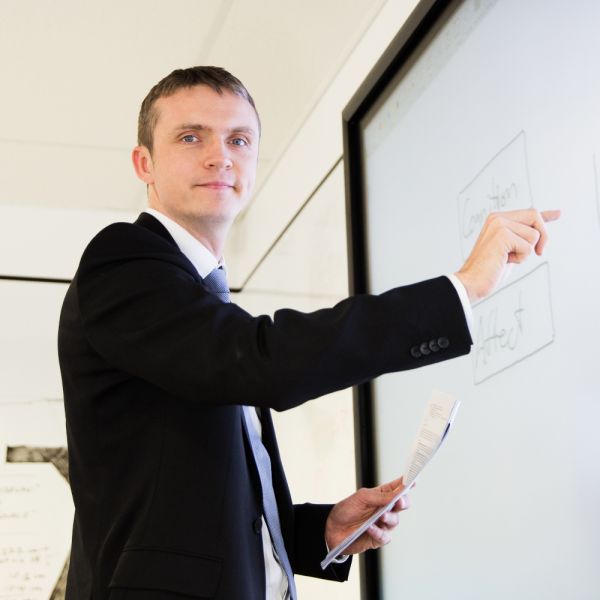 Teaching the next generation of computing and information technology workers can help to future-proof the Australian economy. A recent report by the Australian Computer Society identified that the demand for ICT workers in Australia is set to grow by almost 100,000 workers by 2023. However, there are only about 5,000 domestic ICT graduates in Australia every year. ICT roles cater to jobs in artificial intelligence, data science and cybersecurity which adds to the country's economic growth.
Increasing diversity in ICT is an essential part of this. Research shows diversity in the workplace fosters creativity, productivity and innovation. Targeted initiatives, such as HunterWiSE – an initiative for women in STEM to liaise, collaborate, and mentor each other – are vital to helping increase diversity in the ICT field and address the demand for ICT professionals across the country.
My approach to teaching is to demonstrate real-world applicability. My goal is to provide students with an inspiring environment that motivates learning and supports them in seeing the potential of computing and information technology applications in practice. I follow an applied IT approach by (1) interactively discussing case studies of how IT works in the real world, (2) utilising interactions and skill development with real IT artefacts, and (3) demonstrating real-world examples of how different application areas can benefit from advances in IT (e.g. business, health).
With the transformation to a knowledge economy, lifelong learning is becoming increasingly important. There are challenges and opportunities associated with accounting for different career pathways, combining full-time work and career-progression through part-time study, and developing skills that are directly applicable in rapidly-evolving industries. Work-integrated learning will certainly play an even more important role in this context. At the same time, better integrating study into work requires careful consideration and support for optimal learning outcomes and student experience.
Our University is addressing this need. As a regional university, the University of Newcastle plays an important role in offering skill development, industry engagement, and research opportunities in the Hunter and Central Coast regions. This of course also relates to the increasing need for lifelong learning. Compared to a technical university, for instance, this may require a wider range of program offerings and community engagement that caters to the specific needs and opportunities of the region. I believe that with our mix of integrated campuses and online learning systems we are in a strong position to achieve this.
About Marc
Marc is an Associate Professor in Computing and Information Technology in the School of Electrical Engineering and Computing. He received a degree in Computer Science from the University of Applied Sciences Würzburg and a PhD in Information Systems from Karlsruhe Institute of Technology. His research focuses on human-centred computing and how to design systems for optimal user experience. Marc joined the University of Newcastle in July 2014 and teaches human-computer interaction, data analytics and the practical applications of IT in courses such as ICT Business Analysis, the Digital Economy, and Big Data.
---
Related news
The University of Newcastle acknowledges the traditional custodians of the lands within our footprint areas: Awabakal, Darkinjung, Biripai, Worimi, Wonnarua, and Eora Nations. We also pay respect to the wisdom of our Elders past and present.