Imagine working on a newspaper in Kathmandu
Emily Burley is a Bachelor of Communication student who is currently undertaking an internship on a newspaper in Nepal.
It's the end of my second week in Kathmandu and the place is already feeling like home. I've settled into the house I'm sharing with other volunteers from around the world, most of who are here to teach English or help in the health clinics.
Life in Nepal has certainly been an adjustment: the pollution is heavy, the power supply is inconsistent and the shower water doesn't always run clear. Although Nepal is South Asia's poorest country, the land is rich with culture and home to some of the world's most welcoming people.
I've really enjoyed putting the skills I've learnt throughout my degree into practice in a new environment. You never know what the workday holds for you as a journalist, and this is particularly true in Kathmandu. Whether it's darting around the city on the back of a motorcycle between press meetings or pitching story ideas to newspaper editors, there's always something crazy and exciting to do.
I've most enjoyed having the freedom to write about topics of interest to me, and learning about issues important to the local people. I have a strong interest in politics and human rights, and I've had the opportunity to investigate issues such as the exploitation of migrant workers and the rights of women. Nepal is a country facing many challenges and I feel privileged to be able bring these challenges to the attention of a new audience.
I'm excited to continue my work here and to see what the rest of my internship holds.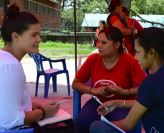 As part of Shravan month, Hindu women fast in the hope that doing so will ensure their husband lives a long life. The two women Emily is talking to in this photo go to the festival to encourage other women to participate for their own health and empowerment and to educate them on how to fast safely.
---
Related news