Russian masterpieces
Music lovers will be spoilt this weekend when the University of Newcastle Wind Orchestra presents the Australian premieres of two iconic works from 20th century Russian Masterpieces, as transcribed for wind orchestra.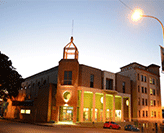 The performances, to be presented on Saturday 1 November in the Harold Lobb Concert Hall at the Conservatorium, include Sergei Prokofiev's Cantata – Alexander Nevsky - for Mezzo Soprano, Orchestra and Choir and Piano Concerto No 2 by Dmitri Shostakovich.
Originally a collaborative work with Russian filmmaker Sergei Eisenstein, Alexander Nevsky became the soundtrack for a controversial film of the same name that was ultimately banned. Undeterred, Prokofiev re-cast the film score as a cantata suitable for concert performance, achieving immediate success with it.
In 2013 Egbert van Groningen transcribed the Cantata for Wind Orchestra and Choir. It is this version that the University of Newcastle Wind Orchestra will present, joined by the Avondale Singers with Lisa Belle as soloist. Lisa graduated from the School of Creative Arts in 2013 majoring in voice.
Originally composed for piano and orchestra Shostakovich's Piano Concerto No 2 will be a new transcription by Marco Pontini for wind orchestra. The soloist will be Dr Gian-Franco Ricci, senior lecturer in piano in the School of Creative Arts. The Concerto is well-known to audiences through being featured in Walt Disney's Fantasia 2000. This will be the first time the concerto has been performed by a professional pianist in Australia in a wind orchestra setting.
The concert starts at 8pm in the Harold Lobb Concert Hall at the Conservatorium. Admission is $20 adults, $10 concession and $45 for a family. Ticket prices include GST.
The concert will be repeated at the Avondale College Seventh-Day Adventist Church at 2.30pm on Sunday 2 November.
Contact
Media and Public Relations.
Phone: 02 4921 5577.
---
Related news