15-year milestone for Professor Victoria Haskins
This year marks a 15-year milestone for Professor Victoria Haskins and to celebrate, the College of Human and Social Futures (CHSF) presented Professor Haskins with a Service Award at the College's 2021 Excellence & Recognition Awards evening.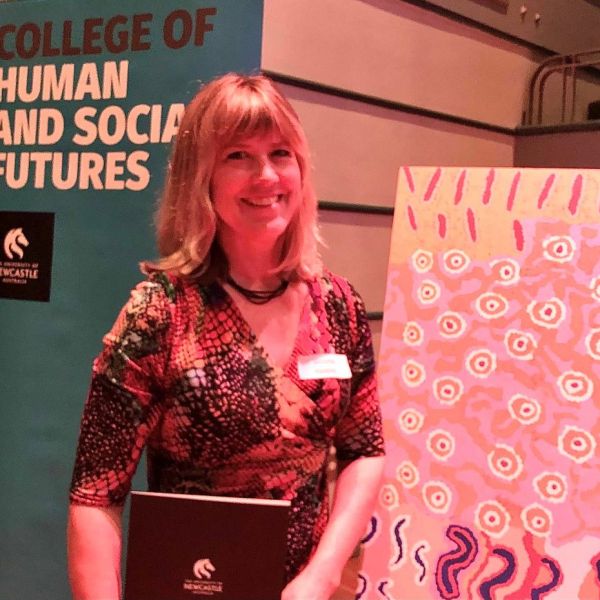 Extending the nation's understanding of colonialism's impact in the global past has been one of Professor Victoria Haskins' many achievements since she first joined the vibrant team of historians at the University of Newcastle in 2006.
As a lecturer in Australian history at the new School of Humanities and Social Science, in the (then) Faculty of Education and Arts, Victoria re-developed a course she previously created at Flinders University, in cross-cultural Indigenous Australian history, Maps & Dreams: Aboriginal-Colonial Relationships in Australian History.
"Throughout my teaching career I've been committed to embedding First Nations histories and the understanding of the cross-cultural nature of the past in Australian history," Victoria said.
Victoria has also been able to pursue an active research agenda at the University and has been awarded a number of ARC Discovery grants, including a collaborative grant on the Aborigines Protection/Welfare Board Project (1883-1969) "A highlight for me was being awarded an ARC Future Fellowship in 2009 to look at the histories of state intervention in Indigenous domestic service employment in Australia and the United States," she said.
With Emeritus Professor John Maynard and Dr Ray Kelly, Victoria co-founded the Purai Global Indigenous History Centre in 2013.
Purai is an Awabakal word meaning "the world, earth" and the Centre is an exciting research initiative integrating global and transnational analytical perspectives and frameworks with research on Indigenous and diaspora histories and other related histories of race.
She has been part of two successful ARC LIEF (infrastructure) grants including the Aboriginal History Archive, led by prominent Aboriginal activist and Purai affiliate, Professor Gary Foley at Victoria University, and the Time Layered Culture Map, led by Newcastle's Emeritus Professor Hugh Craig.
Victoria is currently leading an ARC Discovery project with Dr Claire Lowrie (University of Wollongong) and Professor Swapna Banerjee (Brooklyn College, New York), on the travelling Ayahs and Amahs.
This project reveals the experiences and histories of the world's first global domestic workers, the Indian ayahs and the Chinese amahs who were employed by colonial families during the period of British colonialism.
Victoria combines her teaching and research with her role as President of Academic Senate (2020-2022). "I'm proud to be elected by my colleagues across the University to help ensure the quality and governance of our teaching and research," Victoria says. "It's a good way to give back to the University and the communities we serve."
---
Related news
The University of Newcastle acknowledges the traditional custodians of the lands within our footprint areas: Awabakal, Darkinjung, Biripai, Worimi, Wonnarua, and Eora Nations. We also pay respect to the wisdom of our Elders past and present.