SPIN
InfoEd Global's SPIN product provides a comprehensive view into the realm of research grants, fellowships, training and various other funding opportunities.
Over 10,000 sponsors are covered, making SPIN the single largest repository of funding information, and the most effective means of identifying the sources of support for your next project.
---
SPIN Documents
Should you require assistance using SPIN, please contact Shai Pritchard via email.
Aug 27.2014
The Collaborative Environments for Creative Arts Research (CeCAR) is...
Aug 28.2014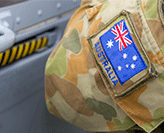 The University of Newcastle Defence Security and Innovation Cluster&nb...