Tawny Frogmouth Seminar | Bird of the Night
We invite you all to come hear from internationally renowned native bird expert, Professor Gisela Kaplan.
This year, the UON Physics Discipline has been home to a family of tawny frogmouths. We -- together with the SIPS Outreach Committee -- invite you all to come hear from internationally renowned native bird expert, Professor Gisela Kaplan.
She will discuss our beloved frogmouths in a two-part talk:
Bird of the Night: invisible and extraordinary.
and
Have we learned anything? Technological "advances" and the disastrous unintended effects on native birds.
11:30am - 1pm Friday 27th October 2023
BAG01 Lecture Theatre (Callaghan Campus)
View the campus map here: https://www.newcastle.edu.au/campus-life/newcastle/callaghan/map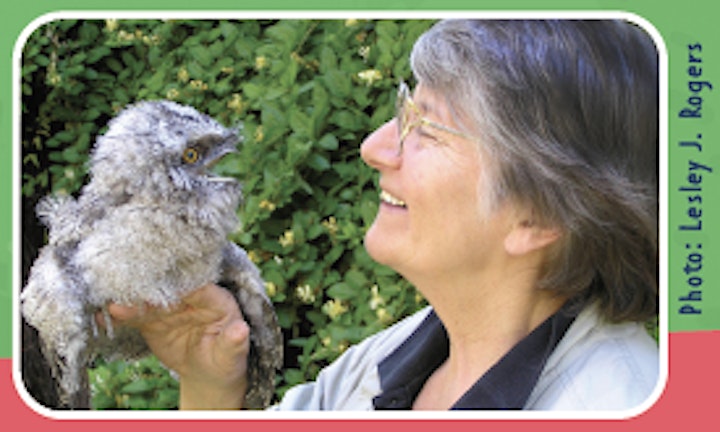 About the speaker: Gisela Kaplan is a field biologist, holds two PhDs (Monash University 1985; UQ, Vet.Sc. 2005) and an hon. D.Sc. for outstanding scientific contributions (UNE, 2009). Prof. Kaplan was appointed Professor in Animal Behaviour in 2007 and since 2016 serves as Emeritus Professor of Animal Behaviour at the University of New England, Armidale, NSW.
Prof Kaplan has worked with primates and with native Australian birds for some 25 years, has published 23 books so far, including award-winning and bestselling titles such as Bird Minds (2015), Tawny Frogmouth (2018), Australian Magpie (2019), Bird Bonds (2019), and Famous Australian Birds (2004), conducted ground-breaking research into vocal learning, communication and cognition (brain and behaviour studies) in native birds and other vertebrates, and authored more than 250 research articles and essays, is elected fellow in several scientific/academic societies, can often be heard on the ABC and also on the BBC (plus 22 other international media outlets), has advised on David Attenborough films and many other wildlife documentaries, and is active in legislative and local contexts for the care and protection of wildlife.
The University of Newcastle acknowledges the traditional custodians of the lands within our footprint areas: Awabakal, Darkinjung, Biripai, Worimi, Wonnarua, and Eora Nations. We also pay respect to the wisdom of our Elders past and present.