Newcastle cancer researcher recognised as Young Tall Poppy
Esteemed cancer researcher and charity advocate, Dr Matthew Dun, has been acknowledged for his dedication to improving cancer survival outcomes, with a 2020 'Young Tall Poppy' science award.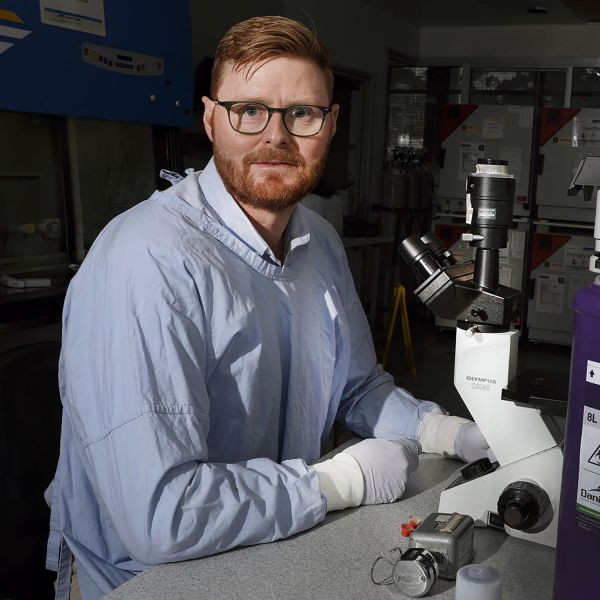 Dr Dun, a researcher from The University of Newcastle and The Hunter Medical Research Institute (HMRI), was selected by the Australian Institute of Policy and Science (AIPS) as one of the country's outstanding early career researchers for his contribution to cancer research.
Dr Dun focuses on cancers with extremely poor outcomes. His laboratory is one of only a handful internationally that conducts 'quantitative phosphoproteomics' in tumours, a technique that attempts to identify novel treatment targets and drug combinations to improve survival.
The cellular processes and resulting proteins that activate tumour growth can differ from person to person. Applying biochemistry and cell biology expertise, Dr Dun works with clinical and pharmaceutical industry partners to design tailored therapies.
Dr Dun said this specialised approach enabled detailed profiling of specific types of tumours and the highly individualised way they manifested in different people.
"Cancers are not all the same, so the more precisely a drug can target tumour cells the more effective the therapy is and the fewer side effects patients will suffer," said Dr Dun.
Translating his work from discovery to identification of new therapeutic strategies for cancer patients is helping to improve the outlook for children with the brain cancer 'diffuse intrinsic pontine glioma' (DIPG) and will soon move into clinical trials for leukaemia patients.
Dr Dun's quest to find better cancer treatments is a very personal pursuit for him and his family. Experiencing the loss of a child due to DIPG motivated Dr Dun and his extended family to form the charity 'Run DPG' which advocates for this rare cancer and raises much-needed funds for research into its treatment.
In addition to running his own charity, Dr Dun is a passionate advocate for enhanced investment in childhood cancers and has spoken publicly through the media and at community events such as the 'Tour de Cure' and 'Build for a cure'. Dr Dun said the award meant a great deal to him, but his focus remained on outcomes for the patient.
"I am honoured to receive this award, particularly given the calibre of those who have gone before me," said Dr Dun.
"As a recipient of this award, I'll be even better placed to advocate for the importance of this research and continue to improve treatments for kids with cancer."
University of Newcastle Pro Vice-Chancellor (Academic Excellence), Professor Jennifer Milam said the award was well deserved.
"Dr Dun and his team have shown incredible dedication to improving the lives of people with cancer, particularly children."
"One of the University's priorities is to deliver better health outcomes for our communities and the work of Dr Dun certainly demonstrates that commitment," said Professor Milam.
"This award will provide a great platform for Dr Dun to advocate for the importance of cancer research and to highlight the quality of health and medical research we do here at The University of Newcastle and HMRI."
Dr Dun joins a broader alumni community of 800-plus scientists who have been acknowledged for their scientific and communication excellence through the AIPS Tall Poppy Awards.
More about the University's 2020 Young Tall Poppy Science Award winner:
DR MATT DUN - BIOMEDICAL SCIENTIST AND 'DIPG DAD'
Dr Matthew Dun is a senior lecturer at the University of Newcastle, Australia. His position and research has been supported by State and/or national funding bodies continuously since 2012, as well as supplemented by philanthropic and industry contributors throughout. He is a National Health and Medical Research Council (NHMRC) Emerging Leadership Fellow (2020-2024) and a Defeat DIPG Chadtough New Investigator (2020-2021).
Decorated by more than 20 national and international awards, Dr Dun achieved his PhD at The University of Newcastle and Hunter Medical Research Institute by publication in 2012. Soon after, he refocused his research from reproductive cell biology and biochemistry, to the fields of medical biochemistry, cancer cell biology and his now specialty - proteomics and intermolecular interactions.
Dr Dun formed the Cancer Signalling Research Group (CSRG) based at the University of Newcastle. This was facilitated (and later enhanced) by securing successive Cancer Institute NSW Early Career Fellowships (2014-2016, 2017-2019), NHMRC Investigator Grant (2020-2025), Defeat DIPG Chadtough New Investigator Grant (2020-2021) and successful Cancer Institute NSW and NHMRC Equipment Grants to establish a high-resolution mass spectrometry platform at the University.
Recently bestowed as the NSW Premier's Outstanding Cancer Research Fellow of 2019, Dr Dun guides the CSRG team of staff and students in fields of leukaemic, colonic, and brain cancer research. The group employ sophisticated phosphoproteomic techniques to characterise the cellular signalling pathways dysregulated by the individual genetics of a patient's cancer.
* HMRI is a partnership between the University of Newcastle, Hunter New England Health and the community.
---
Related news
The University of Newcastle acknowledges the traditional custodians of the lands within our footprint areas: Awabakal, Darkinjung, Biripai, Worimi, Wonnarua, and Eora Nations. We also pay respect to the wisdom of our Elders past and present.