5 reasons Newcastle should be your uni town of choice
So, your time at high school is coming to an end and it's time to make some pretty big decisions about your next steps. We know what you're thinking…
Do I want to go to university?
What degree should I study?
Where should I go to study?
You've got some big choices to make, but we're hoping to make it a lot easier for you with 5 reasons Newcastle should be your uni town of choice.
More than 142,000 students have called the University of Newcastle their uni over the course of our 52-year history. We offer world-class programs, inspiring and collaborative learning environments, and opportunities to put theory into practise with real-world experiences. But we're not going to sell you on just the University, we want to sell you on the whole town – affectionately known as Newy.
Let's get into the reasons.
1. Location, location, location
We need to say it three times, it's that good. Now, you would expect us to say Newcastle is the best. We live here, we love it, and it won't take you long to fall in love too. But you don't have to just take our word for it. In 2011, the Lonely Planet rated Newcastle the 9th best city in the world (yes, the world). In 2013, the property council of Australia ranked Newcastle the most liveable city in New South Wales. And while you might think that was a few years ago now, we can assure you the city has only continued to get better.
Newcastle is unique in that our city really does meet the sea. Our CBD sits right on the coastline meaning you can stroll from uni or work to the beach, head to Darby Street and grab a coffee, or venture to Honeysuckle and enjoy a glass of Hunter Valley wine while overlooking the harbour.
Getting around is easy. With less congestion than the bigger cities, you can get pretty much anywhere in under 20 minutes (that alone should win you over). We have plenty of public transport options, Newcastle Airport is just outside the city, plus it's only a couple of hours to Sydney or 45 minutes to the Hunter Valley. Did we mention the amazing wineries and distilleries at your fingertips?
Newcastle is also perfect for those who want to enjoy the outdoors – take a walk by the lake at Warners Bay, visit the trails and tracks of Glenrock State Conservation Area, or check out some of Newcastle's history at Fort Scratchley or Nobbys lighthouse.
2. Beautiful beaches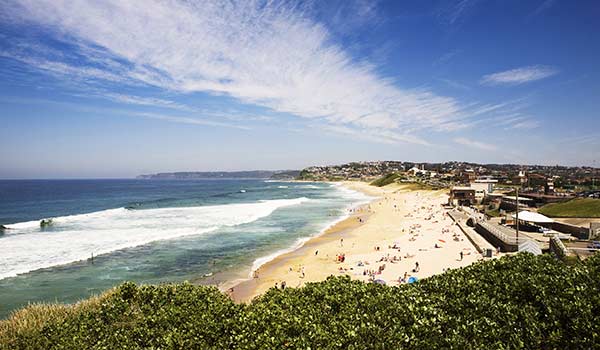 You might be wondering why we haven't yet mentioned one of the best reasons to choose Newcastle – the beaches. Well, we think it's such a feature that it deserves to be listed as its own reason.
Our coastline is world famous – enjoyed by locals and visitors year-round. Access to our beaches and coastal baths is made easy with long stretches of uncrowded sand, accessible public transport, and the big clincher – free parking! Our iconic Merewether Beach was declared a National Surfing Reserve in 2009. The breaks are that good.
Plus, we also have the largest saltwater lake in the Southern Hemisphere. So, whether it's surfing, fishing, stand up paddle boarding or sunbaking, Newcastle's beaches and lake have got all bases covered. And if you want to enjoy a day out in the sun with your furry friends, we have dog friendly beaches and parks throughout the city and suburbs.
3. Vibrant creative, cultural and community hub
While some may think of Newcastle as merely an industrial, steelworks city known for its exports, Newy has evolved to offer much more than that. Now a bustling creative hub, Newcastle is home to innovators, entrepreneurs, a dynamic art and music scene, chilled-out cafes, eclectic markets, micro-breweries and small bars.
It's a well-known fact that one of Australia's most successful bands, Silverchair, came out of Newy. So, it's no surprise the town boasts a killer music scene. Whether you want to catch some home-grown talent at your local pub, or check out international artists at a concert or festival (like nearby Groovin The Moo) there are plenty of live music options to enjoy.
If you're looking for things to do on the weekend, the monthly Hunt & Gather markets at The Station feature a collection of knick-knacks, great food and boutique fashion stalls. Or drop by an exhibition at Newcastle Art Gallery or Watt Space Gallery for all things art.
When it comes to food, you really are spoilt for choice. We could write a whole new article on where to eat in Newcastle, but we won't. Our friends at Hunter Hunter have the low down on the best restaurants, cafes and bars
4. Cost of living
The cost of living significantly influences where students choose to study. Big cities like Sydney and Melbourne also have big price tags. Uni life is meant to be fun and while Newcastle's beaches and laid-back lifestyle is a major drawcard, so is the amount of dollars you could save by making the sea change. According to Numbeo it's 25.8% cheaper to live in Newcastle than Sydney – think of the fun you could have with all that extra cash.
5. But first, coffee
The coffee culture is taken very seriously in Newcastle. We know that sometimes you need an extra boost to get you through the long study hours, that assignment, or take the stress off with a weekend coffee with friends. Write this down: Darby and Beaumont Street. Let the smell of ground coffee beans waft over you as you stroll down two of the city's most iconic café-lined streets. But the hot-spots don't stop there. Kill two birds and grab a takeaway from one of our beachside kiosks and enjoy a stroll along our idyllic coastline.
---
With friendly locals, picture perfect scenery and great food, why wouldn't you want to live and study in Newcastle?
See yourself here

2020 Applications now open. Find a degree
The University of Newcastle acknowledges the traditional custodians of the lands within our footprint areas: Awabakal, Darkinjung, Biripai, Worimi, Wonnarua, and Eora Nations. We also pay respect to the wisdom of our Elders past and present.