Health Economics, Management and Policy
Industry-focused programs delivered by global thought leaders
Take your career in health economics, management and policy to the next level.
Healthcare systems worldwide have been facing increasing challenges such as the COVID-19 pandemic, the ageing population and increasing costs and opportunities deriving from rapid technological advances. The University of Newcastle's suite of health economics management and policy programs prepares motivated, capable, multi-skilled graduates ready to respond to, and face, the unprecedented changes this dynamic and complex sector is and will be experiencing.
The COVID-19 pandemic has brought a worldwide scrutiny and review of healthcare systems and health policy at an international, national and local government level. As we have seen from this pandemic, a health crisis induces a systemic crisis of society as a whole with pressures on the economy, international relations, the social system and communities.
In response to the challenging and ever-changing healthcare landscape, the University of Newcastle has introduced a suite of postgraduate programs which look at health from the lenses of business and applied social sciences, in particular economics, data analytics, leadership and management and policy and evaluation.
Targeted towards undergraduates from any bachelor multidisciplinary program and professionals with healthcare experience or experience from other sectors, these programs are for those looking to acquire in-depth managerial and leadership skills to progress in their career or for those ready for a new career path.
As the CEO of Hunter New England Health, I welcome and applaud this initiative which contributes greatly to our collaborative efforts to strengthen our capabilities and strive towards making our healthcare system even more efficient and equitable for the health improvement of our community."
- Michael DiRienzo, Chief Executive, Hunter New England Local Health District
Why study with us?
Learn from global thought leaders and experts across all faculties, from our global network of scholars and experts from institutions such as: University of California, Berkeley; Erasmus University, Rotterdam; Harvard University and University of Bologna, and from government and industry locally, nationally and internationally.
Hear from world-leading industry speakers and build your national and international professional networks
Work on real-world challenges that healthcare systems are grappling with, and will continue to face
Become a highly sought-after employee – the health industry is the number one industry in Australia in terms of size and employment opportunities and these industry-relevant programs have been designed with employers needs in mind
Gain practical experience through case study and research projects, internships and placements, as well as international exchanges
Study anywhere, anytime – Our Health Economics, Management and Policy programs have flexible online and remote learning options giving you the opportunity to study anywhere, anytime.
---
Webinar:

Rethinking Healthcare Systems in times of COVID 19

Hear our panel of experts and global leaders from industry and academia share their insights and trace possible scenarios on the future of our healthcare systems.
What can I study?
Testimonials
Health economics is not just about managing the huge amounts we spend on health, but concerns how we achieve the best results - good health, long life, fair access to health services, consumer satisfaction, the development and application of new technologies. It guides policy and management and complements the contributions of medical science and practice and other health professions. Courses such as these at Newcastle are vital if Australia (and other countries) is to meet the challenges facing the health system into the future."
- Andrew Podger currently prof of public policy at ANU and a long-term public servant before joining academia. Amongst his senior appointments were:
Public Service Commissioner 2002-2004;
Secretary of the Australian Department of Health and Aged Care (and related designations) 1996-2002;
Secretary of the Australian Department of Housing and Regional Development 1994-1996;
Secretary of the Australian Department of Administrative Services (and related designations) 1993-94.
It is with great pleasure to see the excellently designed suite of Health Economics Management and Policy programs offered by the University of Newcastle. Healthcare systems and their workforce at all levels urgently need now more than ever sound economic and policy analysis to be able to respond to the challenges present and future".
- Former Minister of Health of Chile, his Excellency Prof Dr Emilio Gabriel Santelices Cuevas
As the former Chief Actuary of a leading Australian health insurer (Medibank) and now a consultant at Finity Australia, I recognise the great value of the health economics management and policy programs and enthusiastically encourage participation! The healthcare industry needs highly skilled people capable of thinking outside the box. Now is a vital time for exposure to international best practices that offer possibilities to improve health outcomes here and globally"
- Former CAO at Medibank, Andrew Matthews
Need more info? Sign up and stay connected.
What excites and motivates you? Let us know what you're interested in and we'll keep you updated on all the latest info and events relevant to you.
Download our intro guide
Thank you! Keep an eye on your inbox, you will receive
a confirmation email shortly.
Download our degrees guide
Thank you! Keep an eye on your inbox, you will receive
a confirmation email shortly.
Connect with us on WeChat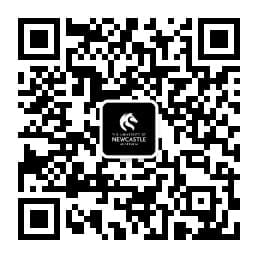 Thank you! Keep an eye on your inbox, you will receive
a confirmation email shortly.
The Newcastle Business School is accredited with the Association to Advance Collegiate Schools of Business (AACSB), earned by fewer than 5% of the world's business programs. AACSB is the premier, and longest-standing, international accrediting body for business programs and is the international benchmark for excellence in business education.
The University of Newcastle acknowledges the traditional custodians of the lands within our footprint areas: Awabakal, Darkinjung, Biripai, Worimi, Wonnarua, and Eora Nations. We also pay respect to the wisdom of our Elders past and present.