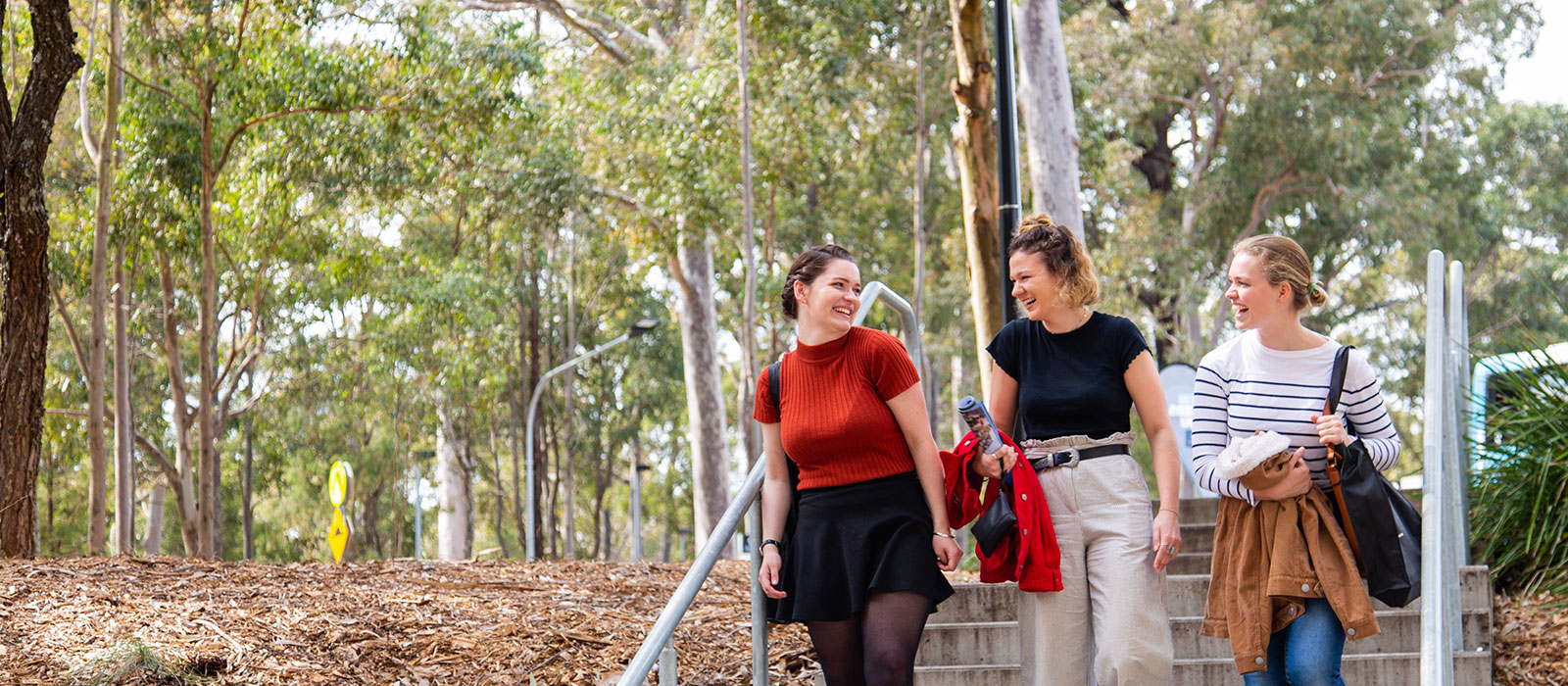 Campus Tours
Experience our beautiful campuses and discover what it's like to study at the University of Newcastle.
Explore our campuses
Let our Student Ambassadors show you some of our must-see teaching and learning spaces, their favourite study spots, and of course - where to get the best coffee on campus. Not only will you get a personalised tour, but an opportunity to ask as many questions as you have about what uni life is really like!
Campus tours
---
Tour locations
Tours are offered across five of our campus locations in Newcastle and the Central Coast. Not sure which one to attend? Check out our handy guide below.
Newcastle - Callaghan
Come and check out our largest campus at Callaghan, in its beautiful bushland setting. Get a feel for your way around campus, from lecture theatres to libraries, cafés and bars, parks and sporting facilities, student hubs and support services, and of course to our on-site accommodation precinct.
Newcastle - NUspace
Planning on studying a law, business
, commerce or associated business degree? Come and see our NUspace campus, located in the heart of the Newcastle CBD, near the Newcastle Courthouse! Offering eight floors of great views, it's a fantastic setting to study in.
Newcastle-
Q Building
The newest addition to our Honeysuckle precinct, the Q Building, is home to our School of Creative Industries. Come and explore the world-class creative facilities, including makerspaces, recording studios and innovation areas.
Central Coast - Ourimbah
Live on the Central Coast? Our Ourimbah campus specialises in Exercise and Sport Science, Food Science and Human Nutrition, Podiatry or Oral Health, with a range of other degrees available too.
Central Coast – Central Coast Clinical School
Wanting to study Medicine, Nursing or Midwifery? Visit our newest campus, adjoining the Gosford Hospital. Come and check out our innovative health simulation technology and gain practical insight into a real-world hospital setting.
---
---
---
Upcoming tour dates
Can't make it to campus?

Tour our campuses virtually
Register for a tour
To register for a Campus Tour, complete the booking form below. Please be advised that:
We will be following updated health advice, and adhering to COVID-safe guidelines.
If you are interested in a Campus Tour of both the Newcastle and Central Coast campuses, you will need to register for two different tour dates.
Campus Tours of Callaghan, NUspace and the Q Building can occur on the same day.
We will provide you with more information via email and text in the week prior to your nominated Campus Tour(s).
If you have any questions about the Campus Tours, please email futurestudents@newcastle.edu.au
We look forward to seeing you on campus soon!
The University of Newcastle acknowledges the traditional custodians of the lands within our footprint areas: Awabakal, Darkinjung, Biripai, Worimi, Wonnarua, and Eora Nations. We also pay respect to the wisdom of our Elders past and present.