What is an entrepreneur, exactly? According to the Oxford dictionary it's: a person who sets up a business or businesses, taking on financial risks in the hope of profit.
So it's about taking risks, for sure. And yes, it's often about profit. But as the six startup founders below will attest to, entrepreneurship is about so much more. It means backing yourself, and your ideas. Identifying a need – and meeting it. It demands passion and vision, creativity and adaptability. And a fair bit of not-giving-up.
It's also true that the startup world can be intimidating. I mean, the buzzwords alone. Disrupt. Pivot. Democratize. Lean-in. Huh?
The good news is, there's never been more support on offer for aspiring entrepreneurs, particularly in a creative hotpot like Newcastle. Services like the University's Integrated Innovation Network (I2N) are fuelling the success of innovators and startups by connecting them to community and customers, offering coaching and even capital.
So, what can we learn from these six young entrepreneurs making waves across tourism, pharmaceuticals, food science, and mental health? Let's 'lean-in' and find out.
1. Dominic May
Degree: Bachelor of Business / Bachelor of Innovation and Entrepreneurship
Startup: CoastXP
Dominic May launched his marine adventure company CoastXP in 2018.
The elevator pitch went something like this. Aboard a fast, custom-built boat, guests get the opportunity to learn about our coastline, history, Aboriginal heritage, local geology and interact with magnificent marine life - all while in a fun and safe environment.
It wasn't his first foray into the industry. After starting out as a scuba diving instructor, Dom worked in marine tourism in some of Australia's most iconic destinations. While completing a Bachelor of Business and Innovation/Entrepreneurship majoring in Tourism and Management at the University of Newcastle, he took the plunge – launching CoastXP at just 23 years old.
"I suppose the idea developed over time," says Dom. "I wanted a business where I could share my knowledge and passion for marine tourism. And I wanted to showcase Newcastle and the Hunter region in a way it hadn't been showcased before."
With a lot of hard work, hustling, early mornings and late nights, Dom is proud of how his company has evolved.
"I'm happy to share that CoastXP is now a team of five. We've expanded into offering both land and on-water tours. And as well Newcastle, we now also operate in Lake Macquarie," he says.
It might come as no surprise then, that Dom has been named the 2023 Newcastle Young Citizen of the Year, in recognition of his contribution to local tourism through CoastXP – and to Newcastle's post-pandemic economic recovery.
So, is Newcastle a good place to launch a startup?
"It's a small industry, but everyone is incredibly supportive of one another. I believe we have some amazing local talent when it comes to our startup community. I enjoy connecting with other local startups and where we can, and partnering with other local businesses," he says.
2. Dr Bliss Cavanagh
Degree: Bachelor of Fine Art (Honours) / PhD (Environment & Occupational Health)
Startup: Creative Sensory Spaces
Dr Bliss Cavanagh is the Founder of Creative Sensory Spaces, a startup with a mission to support wellbeing through evidence-based, sensory experiences.
"We provide people in need with the room they need to reset," explains Bliss.
The idea sparked during her honours year of a Bachelor of Fine Art at the University of Newcastle. Bliss, who was diagnosed with Tourette's syndrome at age nine, started experimenting with more sensory-based work.
She created her first multi-sensory installation based on her own instinctive response to light, textures, colours and smells that made her feel happy and calm. Inside the space, remarkably, she experienced almost complete alleviation of her symptoms.
"It was a massive lightbulb moment. Art had always been my own way of escaping, but I had never felt so tic free or relaxed in my life. For the first time, I had reached a state of equilibrium," says Bliss.
But it was the reaction from those visiting the installation that really set things in motion.
"People opened up and shared with me that they had never felt so happy and relaxed, and parents shared that they had never seen their kids sit still and yet be so engaged."
"This was the point where I realised my work had the potential to help others," she says.
And so, Creative Sensory Spaces was born.
As part of her startup journey, Bliss took part in I2N's Female Founders Program.
"It was an incredible experience. From the inspiring group of women and the community we have continued to foster, to the in-depth learnings - this program was a stepping stone I needed to elevate myself from the day-to-day and prioritise time to work on growth strategies and development," she says.
With a PhD under her belt, today Bliss is leading the team at Creative Sensory Spaces, with a focus on creating complete sensory room fit-outs for businesses, schools and organisations. Watch this (sensory) space.
---
3. Abid Khan
Degree: Bachelor of Mechatronics Engineering (Honours)
Startup: Thermalog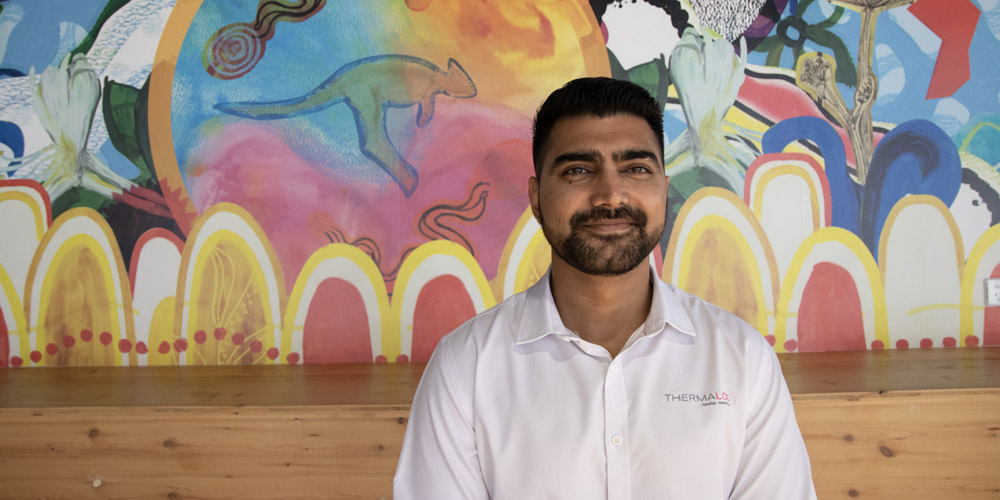 It's 2019. Bachelor of Mechatronics Engineering (Honours) student Abid Khan is nearing the end of his shift at a local convenience store. As he tosses out yet another round of food that may-or-may-not have gone bad, he pauses. There's got to be a better way.
Turns out, there was. Today, Abid is the Founder and Managing Director of Thermalog – a company revolutionising food safety through wireless temperature monitoring systems.
"Back then, we had to manually record temperatures, and I noticed various issues with the system, such as people forgetting to log the data and having to discard large amounts of food because there was no way to know when the storage equipment failed," Abid says.
It wasn't just a food waste issue. Once he began to research the number of people affected by foodborne illness due to improper storage, a fire was lit.
"From our humble beginnings just one-and-a-half years ago, we've come a long way. We're providing businesses with a cost-effective solution that eliminates human error, offers real-time monitoring, and sends instant alerts to prevent foodborne illnesses and ensure quality control," says Abid.
"We've not only developed a scalable version of our product, but also expanded our services to include cloud storage, email, and text alerts."
Abid has thrived in the startup scene in Newcastle, and says the help and support he received through the University's Integrated Innovation Network (I2N) has been a gamechanger.
"I2N has been a fantastic resource for us. They've provided valuable mentorship, networking opportunities, and access to workshops that have really helped our team grow and evolve," he says.
So what's next for Thermalog?
"We're working on expanding our reach globally and developing new solutions for different industries, like healthcare and logistics," says Abid.
Guess you could say things are heating up.
---
4. Aimee Blacker
Degree: Bachelor of Occupational Therapy
Startup: Surfing the Spectrum
The ocean is for everyone. That's the ethos behind Aimee Blacker's startup Surfing the Spectrum (STS). A passionate surfer and paediatric occupational therapist, Aimee launched STS six years ago, with her partner Tahlia Anderson.
"We saw there was an unmet need in the community, not just in Newcastle but Australia wide," says Aimee.
"We wanted to address the marginalisation and lack of inclusive opportunities for autistic individuals in the ocean."
Their vision was for a not-for-profit surf therapy initiative, that could positively impact the lives of children with Autism and their families.
As with any new business, there were a lot of details to nut out, but one thing was always clear.
"I remember when and where I came up with the name. I was sleeping in a bunk bed, departing the next day to hike through Torres Del Paine in Patagonia. I wrote it down straight away and sent Tahlia a message as soon as I had some WiFi," says Aimee.
Surfing the Spectrum partners up with local surf schools to conduct surfing events which connect children with autism to local surfers – with the aim of providing free surf lessons. What started as just one event in Newcastle has turned into about 10 events each year from the Sunshine Coast in QLD to Torquay, VIC.
"This includes over 800 families and 500 volunteers annually," says Aimee.
---
5. Ryan Lecchi
Degree: Bachelor of Mechanical Engineering (Honours)
Startup: Type Strong
Ryan Lecchi's startup journey began with a simple motivation. He needed a better product.
After being diagnosed with Type 1 diabetes in his final year of a Bachelor of Mechanical Engineering at the University of Newcastle, Ryan started using Continuous Glucose Monitoring (CGM) sensors to measure his blood sugar.
"They were $100 per sensor, and I knocked a few off my arm playing sport," Ryan says.
"I tried some of the current protective patches on the market and thought that I could design something better."
He started playing with ideas in CAD and looking into various manufacturing options. "When it came to the business side of things, I had no idea what I was doing," Ryan laughs. "If I was to start again now with all that I've learned it would only take me about a quarter of the time – but I eventually worked it out."
And so, Type Strong took flight.
"My first batch of stock was bought using the Covid-19 stimulus payment, and it has grown from there," says Ryan.
In the early days, Ryan received support from the University's I2N, undertaking the Entrepreneurship101 online program, and then moving on to the Accelerator program, where he was assigned an I2N mentor.
"The I2N start-up community in Newcastle is very welcoming, it's almost like a family," says Ryan. "I met some great people who have a tonne of knowledge in their industry. They have a great network and are always happy to help when you need it."
Nowadays, business is booming.
"Originally, I was selling a couple of packs of patches per week here and there locally. Now Type Strong has a massive online customer base in Australia, and we're stocked in some large online retailers such as Diabetes NSW & ACT, as well as many pharmacies across Australia," says Ryan.
"Our products are also available in NZ and the UK, and I am planning to enter the US market very soon."
---
6. Olivia Duffin
Degree: Bachelor of Food Science and Human Nutrition
Startup: Duff's Ice Cream
"Experimental, handmade ice cream built by a food scientist to be enjoyed by the bold!"
Olivia Duffin had a vision, and she wasn't afraid to use it. After working in research and development at Mars Food & Chocolate for five years, she launched her ice cream business, Duff's Ice Cream, in the middle of the pandemic.
"I knew it was ice cream calling. I was drawing in my planner and drew a logo for Duff's – I named it after my late Dad – and knew as soon as I saw it there, it was happening," Olivia says.
"Most big ice cream businesses were far away from my home on the Central Coast, so I found a vintage ice cream truck and began slinging creams."
Olivia says making ice cream in those early days was hugely labour intensive, including whisking the mix by hand and cooling it in an ice bath – also by hand.
"When I first started we were about to go into a lockdown. I would release a weekly flavour, sold in 473mL tubs, and I would get my followers on Instagram to DM me and pay for their order," she explains. "I'd use the funds to purchase the ingredients to make the ice cream."
"Now I have a truck, cart and kiosk! I can make 20L in an hour, and serve seven flavours that are ever changing," she says.
For Olivia, the ice-cream flavours are an expression of love.
"I find joy in flavours of nostalgia and mixing up relatable flavours with something a little bit more daring – like spirulina and sea salt with wasabi peas, or coke float with cherries, and grape jelly with peanut butter and oreos," she says.
So what's next? An ice-cream factory of course.
"It's a dream that is far away right now, but every day I step a little bit closer to Duff's being in every household!"
Aligned with the United Nations Sustainable Development Goals