As a 12-year-old boy in Ethiopia, Teketo Tegegne watched on helplessly as his mother lay unconscious and bleeding heavily, while trying to birth her tenth baby in their family home.
"I was the one who cried a lot. I tried to convince my dad to take her to a hospital, but he wasn't happy. He wanted to do the traditional thing at home," Teketo recalls.
"My mother delivered my brother at home after a prolonged 16-hour labour. I saw my mother bleeding, losing so much blood that she was unconscious, and the placenta wasn't delivered.
"There was no transport or health facility nearby, so, with my older sister's husband we convinced community members to help us."
Carrying Nigstie (pictured) for nearly one and half hours on a makeshift stretcher created from sticks, the community members managed to reach a district hospital almost 15km away where she underwent surgery and received a blood transfusion.
"She received the care she needed. They performed a caesarean section, taking out the placenta and discovering a uterine tear due to the long labour, which they stitched. She lost a lot of blood and needed a transfusion.
"Thanks to the Almighty God, she survived," Teketo said.
During the trauma, Teketo said no one was taking care of the baby.
"He was totally forgotten by the community. Everyone cursed him and wanted to throw him outside. He was taken to the hospital the following day on the doctor's request."
That baby, Teketo's brother Gebre-Meskel, is now 21 years old.
Had he and their mother not accessed professional maternal health care and received vital medical treatment, both may not have survived.
Community members in Gojam Ethiopia farming staple crop Teff, which is used to make Injera.
A staggering statistic
Maternal health service use in Ethiopia is dangerously low. Every day between 27 to 33 mothers die due to birth-related complications, equivalent to a maternal mortality ratio (MMR) 412 women per 100,000 live births. In Australia the maternal mortality ratio is five deaths per 100,000 live births.
Evidence suggests that maternal deaths are reduced by widespread use of skilled maternal healthcare services, provided throughout pregnancy.
Regular health checks can identify risk factors and reduce postpartum haemorrhages, early neonatal death, preterm labour and low-birth weight. However, in sub-Saharan Africa, a lack of and access to, relevant and high-quality antenatal care services, is of major concern.
Witnessing his mother almost die during labour was an experience that has stayed with 33-year-old Teketo to this day.
Recalling his desperation for her to get the critical medical attention needed to survive the labour still evokes raw emotion. It was a life event that set his own in motion and on a determined path.
"I knew I had to do something. It feels bad and strange to see women dying while giving birth. I believe that working on the health of women is working on future generations," Teketo said.
"The health of a woman has an impact on the community's culture, economy, political environment, and health of generations to come.
Born and raised in the northeastern part of Ethiopia known as 'Wollo', Teketo committed to educating himself and seeking a research career, particularly in the field of maternal and infant health.
He attained a Bachelor's degree in public health from Ethiopia's University of Hawassa in 2010 and completed his master's in reproductive and family health from Addis Ababa University in 2013.
He later moved to Gojam in northwest Ethiopia where he worked at Debre Markos University.
Having never been abroad before, let alone travelled outside his home country, in 2016 Teketo took a giant leap of faith.
In a defining moment in his life, Teketo accepted a University of Newcastle scholarship, joining the Centre for Women's Health Research where he would begin researching with the Worldwide Wellness of Mothers and Babies program, under the leadership of Laureate Professor Roger Smith, Professor Deb Loxton and Dr Catherine Chojenta.
"Australia is my first country to come abroad. First, I came by myself in September 2016. Later, I brought my wife and daughter in February 2018," Teketo said.
Not having his family by his side teared at Teketo's heart but he kept faith they would eventually join him in Newcastle - the place where he was committed to conducting research that would inform health policy decisions in their home country.
"It was very hard not having them with me at the start. It was one year and five months without them and my daughter Hana would cry on Skype asking 'Daddy, when are you coming home?'
"But I made good friends in the community. My supervisors helped me a lot and they were very supportive in making me familiar with the Australian culture. They even opened their homes to me."
Seventeen months after Teketo left Ethiopia, his wife Aynwaga and eldest daughter Hana, 5, joined him in Australia.
Faced with welcome arms they immersed themselves in the Jesmond community where they lived and where Hana started kindergarten in 2020.
Adding to their new network of community support, Teketo's family formed lifelong friendships with the families of three fellow Ethiopian researchers working within the Worldwide Wellness of Mothers and Babies program. The program includes researchers from diverse backgrounds and cultures, who have come together to conduct research that will lead to a reduction in maternal and infant mortality and morbidity.
Teketo and fellow Ethiopian PhD graduate Kelemu Kibret celebrate with their family and friends.
In October 2019 traditional Ethiopian celebrations erupted when Teketo and his wife welcomed a second daughter, Tsion, at John Hunter Hospital – albeit a very different experience to Aynwaga's first birth in Ethiopia.
Researching to deliver change
Teketo investigated through his PhD why women's maternal health service use was low in his home country.
He also examined the availability and accessibility of health facilities that provide family planning, antenatal and delivery care and caesarean delivery, to women in Ethiopia.
"I looked at why maternal health service use varies from one place to another within the country. I mapped out the location of the health facility along with women's health service use data to find out discrepancies in health service access and use."
"I knew I had to do something. It feels bad and strange to see women dying while giving birth. I believe that working on the health of women is working on future generations."
His research showed some communities lived long distances from health services, and many did not know about, or understand, how health practitioners could help.
Traditions also play a part in families' reluctance to access health services, as home births are often followed by rituals similar to 'social therapy' involving coffee and porridge making ceremonies, which couldn't be replicated at hospital.
Teketo produced six papers from his PhD, with five of them published in scientific journals. His research has excellent policy implications for the Ethiopian government to fill the gaps in maternal health service access and use.
"Health services should be distributed equitably and there should be targeted policies about why the gaps are happening."
Four cheers for graduation, celebration and reflection
On Tuesday 13 April 2021, Teketo graduated with his PhD in clinical epidemiology and medical statistics.
Alongside Tesfaye Feyissa, Kelemu Kibret and Alemu Sufa, the four maternal health researchers from Ethiopia celebrated their achievements and reflected with fondness on their chapter at the University.
Newcastle Teketo's 'second home'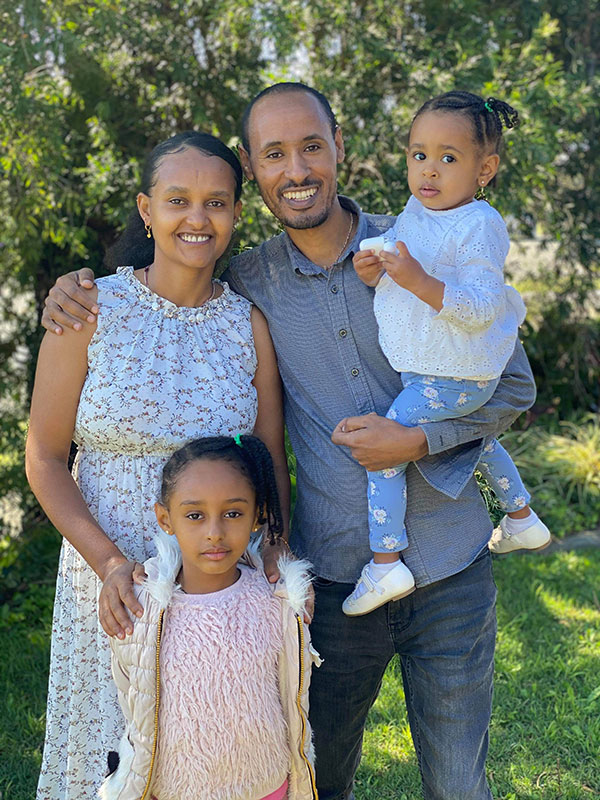 Teketo will be forever grateful to the people who opened their hearts to him during his time in Newcastle, including his supervisors.
"I did not feel lonely during my stay – I have got a very friendly and kind community," he said.
"I am very grateful for having the encouragement of Dr Chojenta, Professor Loxton and Distinguished Laureate Professor Smith during my PhD journey. I really thank them for their kindness, generosity, and unreserved support," he said.
Securing a job during the COVID-19 pandemic has been challenging however, with the continued support of his supervisors and the University's Careers Service, Teketo has attained a prestigious Deakin University Dean's Postdoctoral Fellowship.
Teketo and his family have relocated to Melbourne where he is working within Deakin University's Institute for Physical Activity and Nutrition at Deakin University.
However, he will always call Newcastle his 'second home'.
"I wish I could live the rest of my life at Newcastle."