In 2001, Timana Tahu, the then leading try scorer for the Newcastle Knights, was in Bathurst representing NSW Country. True to form, the dynamic player scored a try in the 32-point thrashing of NSW City – a record that still stands. It was a memorable game for Timana, but not just because of the win.
"I got knocked out," the dual-code international recalls. "The next thing I remember is sitting on the side line asking what'd happened. It's a sickening feeling. I had a broken nose, headaches."
It was the worst concussion of Timana's impressive 16-year professional football career, which began with the Newcastle Knights in 1999 when the former Cardiff High School student made his debut at 19. He is convinced that his longevity had a lot to do with what happened on the field in Bathurst in 2001, the same year as his team's National Rugby League premiership win with the Knights.
"I didn't want to keep getting concussed," he says. "I was thinking a lot about my safety."
Timana became determined to avoid on-field head injuries. He began exploring different tackling techniques, inspired by a mate who competed in Ultimate Fighting Championship (UFC) with its focus on mixed martial arts. He felt strongly that the traditional "cheek to cheek" method of tackling - of targeting the ball carrier's pelvic area - was contributing to the risk.
This technique requires the attacker to target the ball carrier's pelvic area. Timana's concerns were that the attacker's head was vulnerable to the change of direction of the carrier as well as contact with pelvic bones. The attacker's head is also lowered, which affects their ability to react to the carrier's change of position at speed.
Timana believed the attacker should aim higher, targeting the more forgiving abdominal region. This would also provide a better line of sight and the attacker's head wouldn't be as low. To help bring about real change, he knew he needed evidence to back up his theory.
"I didn't want to keep getting concussed...I was thinking a lot about my safety."
He spoke to former Knights doctor Peter McGeoch who gave him a phone number for Associate Professor Andrew Gardner, a neuropsychologist within the University of Newcastle's School of Medicine and Public Health. Along with Professor Chris Levi, he leads the NRL's concussion research .
Fast forward to 2017, and Andrew and Timana began the background work for a research project centred on tackling technique. Later that year Dr Suzi Edwards got involved and data collection began in mid-2018. A senior biomechanics lecturer based at the University's Ourimbah campus, Suzi's research at that point had focused on basketball injuries, but she knew Timana was on to something.
"What 'T' was talking about made perfect sense from a biomechanical perspective," she says. "Most research looks into how big the head impact is. No one has been looking at how you can actually change the tackle technique to make it safer for all. Tackling is where all the injuries occur."
The "cheek to cheek" technique is an integral part of the coaching "bible" and it is still being taught to children at a grassroots level. The University team of Suzi and Andrew, with the addition of Timana, is now working with the NRL on a review of its coaching manual using an evidence-based approach. "This is where we can have an impact," says Suzi.
And the team has the support of leading coaches. Suzi and Andrew have shared their work with with former Wallabies coach Michael Cheika. "He said we were 'right on the money'," says Suzi.
A concussion is a traumatic brain injury that results from a bump, violent jolt or blow to your head that disrupts normal brain function. It can also be caused by a hit to your body that is strong enough to cause your head to forcefully jerk backwards, forwards, or to the side.
Concussion is a common injury in contact sports, but also happens with activity that has a risk of falls such as cycling, horse riding, skateboarding and skiing. People can also get concussion outside of sport, from a bang on the head from a fall, or from a sudden and vigorous movement of the head such as a whiplash from a car accident.
Concussions stretch and bruise nerves and blood vessels and cause chemical changes in the brain that result in a temporary loss of normal brain function. A single concussion usually doesn't cause permanent damage, but a growing body of research involving retired rugby league and AFL players shows that multiple concussions over a lifetime may result in structural changes in the brain. Research is also showing that some people are at greater risk of slower recovery/longer term impact, including those with a history of depression, anxiety or migraine.
"Less than 10 per cent of those with concussion will lose consciousness," says Andrew Gardner. "And there isn't the same outcome for everyone so recognising the signs of concussion can often be difficult because they can be subtle. Sometimes the signs last for a couple of hours, sometimes it's weeks."
These subtle signs include blurred vision, vomiting, dilated pupils, confusion, drowsiness, memory loss, and behaving more emotionally or erratically. On the serious end of the spectrum is what happened to Timana in Bathurst in 2001.
A couple of key events have also brought the issue of concussion among athletes to the fore. In 2019, Canterbury Bulldogs legend Steve Folkes was the first Australian rugby league player to be diagnosed with Chronic Traumatic Encephalopathy (CTE), a brain disease linked to repetitive head injury. The premiership-winning player and coach died in 2018 of a heart irregularity at the age of 59 and CTE was discovered during a post mortem.
In February 2021, Victorian coroner Paresa Spanos found that CTE was a "potential contributor" to the depression that AFL great Danny Frawley suffered before his death at 56 in a 2019 car crash. Ms Spanos said there was a lack of knowledge about CTE in Australia and internationally, and more research was needed to determine how the disease contributed to brain dysfunction.
Cases such as these have elevated public awareness of sport-related concussion and increased focus on the importance of diagnosing and managing the condition promptly, safely and appropriately. Education across all levels of sport is essential and the University of Newcastle team is leading the way with this. Through his research, Andrew has developed the "three Rs" approach – recognise, remove, refer – which is being adopted by sporting codes from the community to elite level.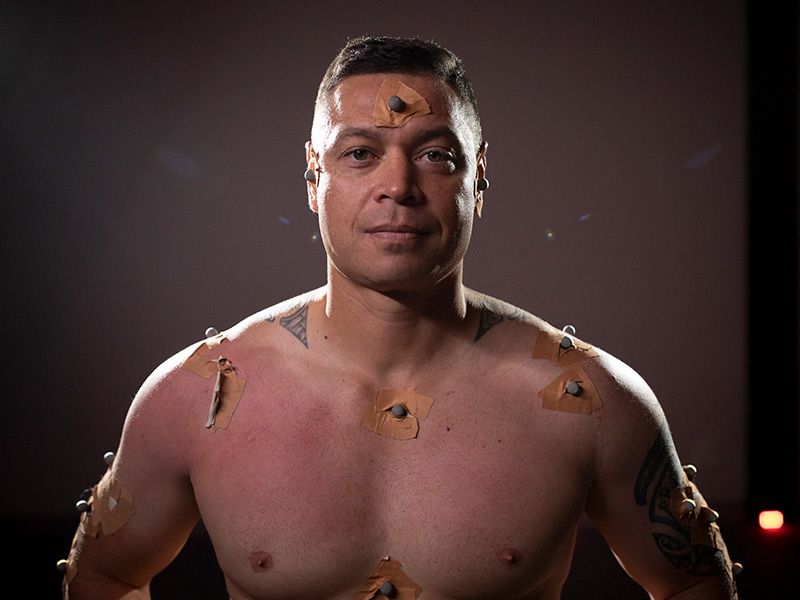 Timana Tahu never envisaged spending so much time in a university setting and he is adamant he could never be a researcher. "I'm not smart enough," he quips. As he puts it, "I need them (Andrew and Suzi) and they need me. We work together because they have specialist research skills and I'm a specialist at being a professional athlete."
Using the latest technology, Suzi has been able to capture the impact of various tackling techniques. To assist her, Timana has commuted back and forth from Sydney where he lives with his family and works with the NRL's School to Work program, which supports Indigenous HSC students to transition from school to employment or further education.
The University's biomechanics lab has some of the best resources in the world. Fitted with 16 3D motion capture cameras, similar to those used to create advanced videos games.
"Techniques and protocols filter down from the professional level to community competition, which is why it is important to educate across all levels and the elite teams and coaches lead the way"
This concussion research brings together the community, athletes, clinicians, and researchers via the Sport Concussion Clinic at John Hunter Hospital, Australia's first public health clinic for concussed athletes. The SCC is open to athletes aged 12 and over of all abilities and disciplines – from junior teams to professional players.
Professor Chris Levi, Director of Clinical Research and Translation at University of Newcastle, heads up the clinic, which treats the University's quidditch team to NRL players. It further enhances the research and optimises best practice in the local community.
Andrew and Suzi both emphasise that while they work with elite athletes, especially in regard to the long-term impact of concussion, their work also has relevance to grassroots sport and shapes protocols and policies.
"Techniques and protocols filter down from the professional level to community competition, which is why it is important to educate across all levels and the elite teams and coaches lead the way," says Andrew.
For Timana, the goal is to make the game he is passionate about safer for all. "Knowledge is important and that's where the University plays a role. I want parents and kids to have the best information available."
Aligned with the United Nations Sustainable Development Goals