Professor Colin Waters
Professor
School of Mathematical and Physical Sciences (Physics)
Between the sun and the earth
Supported by computational modelling and a handful of advanced data analysis strategies, Professor Colin Waters' insights into the inner workings of solar-terrestrial events are helping to safeguard several space-based assets and technologies.
Professor Colin Waters' research is – quite literally – out of this world. Probing the complex, and, at times, frenzied interactions between plasmas, the fourth state of matter, and planetary magnetospheres and ionospheres, it's also closer to home than one may think.
"I study naturally occurring phenomena from 120 kilometres altitude above the Earth's surface and beyond," the experimental physicist clarifies.
"Underneath that is the upper atmosphere, which is the realm of climate science, atmospheric chemistry, ionospheric physics and high frequency and radio communications."
"Beyond that is solar and space physics, astronomy and cosmology. Space physics requires knowledge of the behaviour of magnetised ionised gases (plasma) which overlaps with similar concepts in astrophysics and nuclear fusion research."
Simultaneously responsible for evaluating the impact of space weather on orbital vehicles and related infrastructure, Colin is a master at multitasking. Equal parts impressive and expansive, his work has important implications for understanding the universe and for practical, everyday life.
"The research has similar terms to forecasts provided by the Bureau of Meteorology," he shares.
"For example, wind speed in space science refers to the solar wind, and a storm warning means bright aurora and possible disruptions to satellite operations, communication systems and electricity supply networks."
"Information is sourced from both ground-based and spacecraft platforms."
Further than the eye can see
This illustrious research career began in 1990 when Colin undertook a PhD at the University of Newcastle. He developed a method to remote sense what is happening to the material in space, seeking to illustrate the dynamics of the near-Earth 'cold' plasma mass density reservoir.
"I created a 'cross phase' technique," the multiple-award winner explains.
"The method involves spectral analyses of data from two magnetometers located at the same longitude with a latitude spacing of ~150 kilometres."
"We custom-built the instruments so that they can sense very small magnetic field changes."
Instantly becoming of interest to the international space science community post-publication, Colin's method also greatly simplified previous data collection and processing.
"My 'cross phase' technique is now used by research groups in Canada, the United Kingdom, South Africa, Japan, Europe and the United States," he affirms.
"The applications developed from this method have similarly been the focus of many symposia both here and abroad."
Made-to-measure
The University of Alberta's Canadian Network for Space Research took particular notice of Colin's PhD work, offering him a two-year postdoctoral position to tailor-make the method for their remote sensing instruments in 1993.
"Newcastle had three magnetometers in operation during my candidateship, but Alberta had seven or eight," he recalls.
"These ran down the centre of the country."
"We talked about extending into the United States, but at the time there was a lack of funding."
"Since then, based on results from the cross-phase method, the Americans and Canadians have extended the instrument array down through the USA and into South America."
"In addition, the Europeans have installed a similar array that runs from Scandinavia to Italy."
Returning home to Australia in 1994 to team up with the University of Newcastle's Head of the School of Mathematical and Physical Sciences, Colin sought to refine his method even further. Together with Professors Fred Menk and Brian Fraser, the ambitious academic succeeded in cementing a mechanistic understanding of the near-Earth space plasma environment.
"Here, on the surface, we have a gas you can breathe, but as you go further out into space the gas density decreases," he describes.
"About 100 kilometres from Earth the UV light from the Sun ionises this gas, which turns it into a very low density plasma."
"These charged particles feel a strong force in the Earth's magnetic field – much stronger than gravity."
"My 'cross phase' technique allows us to find out a lot of things about what is going on up there, such as what happens when you have large magnetic storms and solar flares."
Creative collaborations
Colin has since branched out from his original PhD portfolio, putting theory and experiment together in a number of different areas.
"Pure, basic science research using experimental data and numerical models enables us to understand what is happening in space," he divulges.
"We then build applications on top of this foundation."
The esteemed educator and investigator is currently working with the University of Minnesota's Professor Bob Lysak and University of Newcastle's Dr Murray Sciffer on a solar activity research project, for example, employing computer simulations to figure out how and why storms are able to energise 'killer electrons' that threaten spacecraft operations (e.g. GPS satellites) and generate large currents in the atmosphere.
"These then generate electric fields in the ground, which generate voltages in long, metal pipelines used for natural gas transport, enhancing corrosion," Colin states.
Colin is also teaming up with the Bureau of Meteorology's Space Weather Unit and the Australian Energy Marketing Operator to examine the impact of enhanced solar activity on electricity supply infrastructure.
"It drives geomagnetic-induced currents into the electricity grid," he says.
"In severe cases, these can damage expensive equipment at power and substations."
"Recently there have been reports of transformer failures in New Zealand and South Africa, which is getting alarmingly close to Australian latitudes."
The dynamic group is engaging in electricity grid modelling to "build knowledge" and "understand these risks," seeking to one day soon formulate and implement warning systems and mitigation procedures.
A related project focuses on the high latitude regions, where the aurora are seen, and space weather impacts on Earth's surface are more pronounced. Since 2000 Colin has been working with Dr Brian Anderson at the Johns Hopkins University Applied Physics Laboratory (USA), using low Earth orbit satellite data from the Iridium constellation, to map auroral currents and develop the capability to monitor energy deposition into the auroral zones and upper atmosphere.
Guide to the galaxy
At the same time, Colin is involved in the Square Kilometre Array (SKA). Testing the limits of 21st century human engineering and scientific endeavour, the exciting extra-terrestrial radio telescope project is designed to operate over a wide range of frequencies and survey the sky more than ten thousand times faster than ever before. Its size will make it 50 times more sensitive than any other radio instrument.
"We've been informing the international SKA community of the difficulties in obtaining data," he says.
"If you're trying to image something very far away, temporal changes in the Earth's ionosphere will mess it up."
"It's like having a pair of glasses on that makes everything appear foggy, but worse than that, the 'fog' keeps changing with time."
"So we're trying to understand how big the problem is and figure out ways to minimise its impact."
To infinity and beyond
Space physics is a science where researchers observe the offerings of nature from a distance instead of up close and personally in a laboratory setting. The particles and fields being monitored are invisible to the naked eye. Nonetheless, Colin declares it's important for "everything we depend on."
"The discipline is relatively new, motivated by discoveries from space exploration since the late 1950s" he concedes.
"But the research is essential for GPS, satellite communications and the Internet."
Consequently believing Australia needs a say in space science research, the Director of the University's Centre for Space Physics is pushing for a new national frontier of "discovery and excitement."
"It would be wonderful if we had our own space agency," he muses.
"We're missing out on a lot of the excitement, student training, and technology spin-offs associated with space exploration."
Supported by computational modelling and a handful of advanced data analysis strategies, Professor Colin Waters' insights into the inner workings of solar-terre
Career Summary
Biography
Over 20 years experience in space physics research and tertiary teaching. Research interests has spanned the areas of ultra-low frequency (ULF) plasma wave signatures, associated mathematical modeling of ULF wave effects in the ionosphere and magnetosphere, and the dynamics of the auroral currents and electromagnetic energy budget derived from the Iridium constellation magnetometer and SuperDARN radar data. Designed and operated induction and fluxgate magnetometer systems and was data manager for the NewMag payload on FedSat, developing algorithms to provide error-free timing of those data. Have ~85 peer reviewed publications in space physics, awarded ~$4M in ARC-DP and LEIF funding, supervised ~20 MSc and PhD students, associate editor of Journal of Geophysical Research Space Physics.
Research Expertise
Space Physics, both experimental (data analysis) and mathematical modeling (computer modeling) with emphasis on remote sensing near Earth space plasma dynamics using ULF waves, magnetometer design and data analyses, high pressure gas pipeline voltage data analysis; pipeline corrosion, modeling MHD (magnetised fluid) equations, analyses of satellite data; magnetometer signatures and optical emissions of the aurora, spherical harmonic fitting of Iridium magnetometer data, Birkeland currents and auroral energy deposition into the ionosphere and thermosphere, ionosphere physics and HF over the horizon radar data analysis, development of computer codes for space physics data extraction and analyses

Teaching Expertise
NSW High school mathematics and physics (up to Yr12, 2 and 3 unit) TAFE physics and chemistry Private tutoring; Yr12 to University maths and physics University Level: First year; E&M, optics, thermal physics, Atomic and Nuclear, QM, mechanics, continuum mechanics, fluids, Introduction to computing Second Year; E&M (differential calculus), optics, thermodynamics, statistics, sports mechanics, mechanics (Lagrange and Hamiltonian), Mathematical physics, Scientific data collection (sensors) and instrumentation, Web page design Third year; E&M, optics, digital and analog electronics Honours; Space physics, digital signal processing Honours; Digital Signal Processing Masters/PhD student supervision

Administrative Expertise
Faculty computer committee, Faculty teaching and learning committee, Faculty marketing and community (Chair), Assistant Dean (Marketing and Community), National Committee for Radio Science (Academy of Science), Program convenor for B.Sc. and B.Sc (Honours)

Collaborations
" Co-Investigator on the MICE, CubeSat project at Johns Hopkins University Applied Physics Laboratory " Co-Investigator on CARISMA, the Canadian ground magnetometer array, for remote sensing plasma mass density in the magnetosphere " Co-author on book contract (Wiley) on remote sensing the magnetosphere using ULF variations " Development of spherical harmonic cap and elementary current methods applied to Iridium satellite constellation data, including the recently, NSF funded AMPERE project " First to combine the Iridium satellite data with SuperDARN radar data to show input Poynting flux over both the northern and southern auroral zones. " First results of Birkeland current location and intensity control by the interplanetary magnetic field (using Iridium satellite data) " First use of Iridium, SuperDARN and ground magnetometer data to provide ionosphere conductance estimates over large spatial areas of the auroral ionosphere " Revision of FITACF algorithm (SuperDARN) to improve spectral width estimates from radar data " First modelling of ULF wave propagation through the ionosphere that includes inductive Hall effects and oblique geomagnetic field effects, predicted phase distortions in radio astronomy interferometer signals " Developed time dependent, 2-D models of ULF wave propagation that includes a realistic ionosphere/atmosphere system. ARC-DP grants on computer simulations (3D, time dependent) in collaboration with University of Minnesota, USA.
---
Qualifications
PhD, University of Newcastle
Bachelor of Education, Bachelor of Physics, Avondale College
Bachelor of Science (Honours), University of Newcastle
---
Keywords
Aurora
Computer modeling
Digital Signal Processing
HF radar
Ionosphere physics
Iridium satellite data
Magnetosphere physics
Physics Laboratory experience
Space Physics
---
Fields of Research
| Code | Description | Percentage |
| --- | --- | --- |
| 020107 | Mesospheric, Ionospheric and Magnetospheric Physics | 75 |
| 040499 | Geophysics not elsewhere classified | 15 |
| 040699 | Physical Geography and Environmental Geoscience not elsewhere classified | 10 |
---
Professional Experience
UON Appointment
Title
Organisation / Department
Professor
University of Newcastle
School of Mathematical and Physical Sciences
Australia
Academic appointment
Dates
Title
Organisation / Department
1/01/2008 - 
Membership - Australian Academy of Science NCRS
Australian Academy of Science
1/06/2006 - 
Member

Australian Academy of Science NCSS Sun-Earth WG

Australian Academy of Science
1/01/2000 - 1/12/2000
Visiting Research Fellow
Johns Hopkins University Applied Physics Laboaratory
Space Department
United States
1/01/1994 - 
Membership - Australian Institue of Physics
Australian Institue of Physics
Australia
1/02/1989 - 1/12/1991
Teacher
Macquarie College (High School)
Maths
Australia
Membership
Dates
Title
Organisation / Department
Member - American Geophysical Union (AGU)
American Geophysical Union
United States
1/01/2013 - 
Organising Committee Member -(AGU) Chapman Conference ULF waves
American Geophysical Union
United States
---
Invitations
External Reviewer - Programs
Year
Title / Rationale
2002
Reviewer
Organisation: Avondale College Description: B. Sc. review process
Edit
Grants and Funding
Summary
Click on a grant title below to expand the full details for that specific grant.
---
20161 grants / $203,061
20141 grants / $10,000
20121 grants / $132,470
20101 grants / $330,000
20071 grants / $299,038
20061 grants / $180,250
20051 grants / $195,000
20032 grants / $10,900
20022 grants / $271,988
20011 grants / $211,000
20002 grants / $3,129,318
19992 grants / $13,036
19982 grants / $12,603
19973 grants / $150,952
19962 grants / $20,000
19952 grants / $11,473
19941 grants / $6,463
Edit
Research Supervision
Number of supervisions
Completed5
Current10
Total current UON EFTSL
PhD2.7
Current Supervision
| Commenced | Level of Study | Research Title | Program | Supervisor Type |
| --- | --- | --- | --- | --- |
| 2017 | PhD | Numerical Simulations of Fusion Plasmas | PhD (Physics), Faculty of Science, The University of Newcastle | Principal Supervisor |
| 2017 | PhD | Design, Analysis and Data Comparison of a 3D Magnetohydrodynamic Model of Ultra-Low Frequency Wave Propagation Between the Magnetosphere and Ground on Earth in Order to Obtain a Ratio of Equatorial Electric Field to Ground Magnetic Field values and Charged Particle Energies | PhD (Physics), Faculty of Science, The University of Newcastle | Principal Supervisor |
| 2016 | PhD | Plasma Fusion: An Integrated Validation Study | PhD (Physics), Faculty of Science, The University of Newcastle | Principal Supervisor |
| 2013 | PhD | Dynamics of HF Radar Backscatter in the Middle and High Latitude Ionospheres | PhD (Physics), Faculty of Science, The University of Newcastle | Principal Supervisor |
| 2013 | PhD | The Interaction of Storm-Time ULF Waves with Earth's Radiation Belts in the Presence of a Realistic Ionosphere Boundary | PhD (Physics), Faculty of Science, The University of Newcastle | Co-Supervisor |
| 2006 | Masters | Region 1 and 2 currents | Physics, University of Newcastle | Sole Supervisor |
| 2006 | Masters | Properties of the Birkeland Currents | Physics, University of Newcastle | Sole Supervisor |
| 2006 | Masters | Birkeland current balance and inner magnetosphere shielding | Physics, University of Newcastle | Sole Supervisor |
| 2002 | PhD | noise modeling | Physics, University of Newcastle | Principal Supervisor |
| 2002 | Masters | A novel anthropomorphic pelvic phantom designed for multicentre level III dosimetry intercomparison | Medical Science, University of Newcastle | Co-Supervisor |
Past Supervision
| Year | Level of Study | Research Title | Program | Supervisor Type |
| --- | --- | --- | --- | --- |
| 2014 | PhD | Doppler Clutter in HF Radar Systems Produced by ULF Waves | PhD (Physics), Faculty of Science, The University of Newcastle | Principal Supervisor |
| 2009 | Masters | A Novel Anthropomorphic Pelvic Phantom Designed for Multicentre Level III Dosimetry Intercomparison | M Philosophy (Physics), Faculty of Science, The University of Newcastle | Co-Supervisor |
| 2006 | PhD | The Mie and Helmholtz Representation of Vector Fields in the Context of Magnetosphere-Ionosphere Coupling | PhD (Physics), Faculty of Science, The University of Newcastle | Principal Supervisor |
| 2003 | PhD | The Propagation of Electromagnetic Ion Cyclotron Wave Energy in the Magnetosphere | PhD (Physics), Faculty of Science, The University of Newcastle | Co-Supervisor |
| 2003 | PhD | The Generation and Propagation of Pc 3-4 ULF Waves at High Latitudes | PhD (Physics), Faculty of Science, The University of Newcastle | Co-Supervisor |
Edit
News
September 30, 2013
Low-frequency waves in Space Plasmas. Jeju Island, Korea. 1 - 5 September 2014.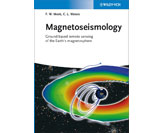 September 16, 2013
Magnetoseismology: Ground-based remote sensing of Earth's magnetosphere by F. W. Menk and C. L. Waters.

June 28, 2013
A study concerning Creativity and Cultural Production in the Hunter Region was announced today as one of six University of Newcastle projects awarded highly prestigious Australian Research Council Linkage Project Grants worth a total of $1.8 million.
Professor Colin Waters
Position
Professor
Space Physics Group
School of Mathematical and Physical Sciences
Faculty of Science
Focus area
Physics
Contact Details
Office
Room
P114
Building
Physics Building
Location
Callaghan
University Drive
Callaghan, NSW 2308
Australia
Edit