Teachers' Visit Day
Hunter teachers to flock to the University of Newcastle Teachers' Visit Day.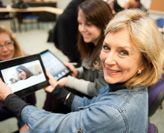 On Friday, 19 July, more than 300 teachers from public, catholic and independent schools from as far afield as Taree will flock to the University of Newcastle for a day of professional development, learning about latest research and approaches to teaching. No other university in Australia offers such a service to local teachers.
Teachers' Visit Day, now in its fifth year, reflects the University's commitment to delivering world-class innovation to regional communities, with academics from across the University sharing their knowledge and research with local teachers during a full day on campus.
Participants will be able to choose from sessions as diverse as Teaching Ancient Legacies, Voice Care for Teachers, and the Impact of Screen Time on Student Well Being. Sessions will be organised to provide a full day of professional learning for early childhood, primary and secondary teachers.
With teacher quality and school reform in the spotlight as a result of NSW and national developments including the Great Teaching Inspired Learning blueprint, released by Minister Piccoli in March this year, and the National School Improvement Framework being developed nationally, the University of Newcastle is committed to ensuring that teachers in the Hunter region are ahead of the curve.
Teachers' Visit Day is endorsed by the NSW Institute of Teachers as Institute Registered Professional Development for the maintenance of accreditation at Professional Competence. The event is at no cost to attendees, and allows current school and early childhood teachers to take time out from their classrooms to enrich their learning and the learning of the region's students.
Contact
Marketing and Public Relations
Phone: +61 2 4921 5577
---
Related news
The University of Newcastle acknowledges the traditional custodians of the lands within our footprint areas: Awabakal, Darkinjung, Biripai, Worimi, Wonnarua, and Eora Nations. We also pay respect to the wisdom of our Elders past and present.