Newcastle Poetry Prize
Following record entries in 2013, judges of the Newcastle Poetry Prize are preparing for another year of national excellence from established and emerging poets from across the country.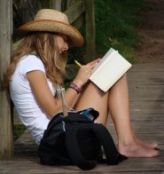 Coordinated by the Hunter Writers' Centre, and proudly supported by the University of Newcastle since 2005, the Newcastle Poetry Prize is one of Australia's oldest and most important literary competitions, boasting a distinguished list of past winners and judges.
The competition offers a generous prize pool of $20,000 including a $12,000 first prize, $5,000 second prize and $1,000 third prize, and a $500 Local Award to a poet who resides in the Hunter. For young poets, the Harri Jones Memorial Prize awards $250 for the best poem by a poet under the age of 36.
As the major sponsor of the Prize, University of Newcastle is proud to foster creativity and support the unearthing of natural writing talent across the nation.
"The Newcastle Poetry Prize harnesses the diverse talents from across the country and each year a high calibre of poems from both published and emerging poets are submitted," University Deputy Vice-Chancellor (Academic), Professor Andrew Parfitt said.
"Now in its 33rd year, the Prize is held in high regard by Australia's most talented poets, and continues to represent excellence in Australian poetry."
The award is judged anonymously by respected Australian poets, giving both developing and accomplished poets a fair chance.
In an annual tradition, 25 entries will be handpicked by the judges and published in an anthology, a special feature of the Newcastle Poetry Prize.
Winners will be announced at an award night on Saturday 25 October which will coincide with a number of 'Poets in Conversation' and live reading events throughout Newcastle.
Submit an entry in the Newcastle Poetry Prize, or call Hunter Writers Centre on 0408 927 299. Entries close 5pm AEST, Friday 20 June 2014.
Contact
Media and Public Relations.
Phone: +61 2 4921 8714.
---
Related news