Esteemed Guest
Chinese Consul General tours university research facilities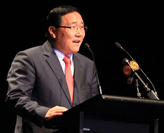 The University of Newcastle will host a visit from Sydney based Chinese Consul General Li Huaxin on Tuesday 22nd October to showcase international collaborative engagement in research projects and further build its global profile and reputation.
The Consul General will meet with senior leaders and researchers including the Deputy Vice-Chancellor (Academic) Professor Andrew Parfitt. Mr Li will visit the university's Confucius Institute and also tour the university's world-class research facilities, including NIER (Newcastle Institute for Energy and Resources) and HMRI (Hunter Medical Research Foundation).
"Newcastle is a research-intensive university, with valuable research collaborations in China. NIER, for example, is the largest facility of its kind in Australia, and works with Chinese partners on ground-breaking smart grid technology research to improve electricity distribution," said Professor Parfitt.
"Mr Li's visit will build mutual understanding of further opportunities to work collaboratively with our international research peers."
Contact
Sheena Martin
Phone: +61 2 4921 8714
---
Related news