Cancer treatment for animals on the research fast-track
A team of UON researchers is one step closer to having their research innovation delivered through a national acceleration program.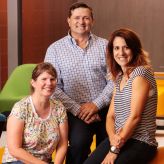 Dr Yolanda Surjan's RadVet team is one of 10 teams selected for ON Accelertate3 – the third stage of the national sci-tech accelerator "ON, Powered by CSIRO".
Animals develop skin cancer in much the same way as humans: skin cancer accounts for a third of the total cancer incidence in cats and dogs. It is also the most common form of cancer in horses.
However, despite the high rates of skin cancer in animals, there is no standardised, effective treatment response.
Radiation therapy is a proven, non-invasive treatment which provides excellent results in humans and research has demonstrated that the translation of radiation therapy from humans to animals works.
The RadVet team are proposing to deliver a scalable and adaptable treatment approach to skin cancer for the verterinary world.
RadVet will now work on developing business planning, commercialisation and pitching skills before presenting at the On Demo Night to industry experts, investors and potential partners.
The next round of ON Prime Info Sessions will take place on Wednesday December 14 at 4 – 5pm at the Three76Hub, 376 Hunter Street Newcastle. Find out more here.
---
Related news
The University of Newcastle acknowledges the traditional custodians of the lands within our footprint areas: Awabakal, Darkinjung, Biripai, Worimi, Wonnarua, and Eora Nations. We also pay respect to the wisdom of our Elders past and present.