Research fuelling development in the energy sector
Researchers at the University of Newcastle (UON) have attracted $1.6 million to develop an alternate method of generating electrical energy that is more than twice as efficient as coal-fired power stations.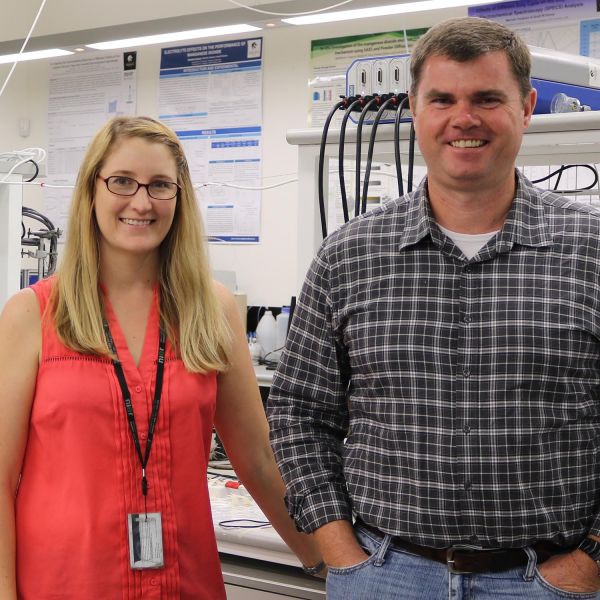 The Direct Carbon Fuel Cell (DCFC) unit will extract energy from fossil fuel sources with higher efficiency to reduce environmental impact and extend reserves.
Chief Investigator, Professor Scott Donne, has been researching the area for over five years to develop the approach that converts chemical to electrical energy in a single step, extracting over 80% of the energy from coal compared to just 40% generated by power stations.
"The DCFC was used for the first time in the early 1900's, but since then coal-fired power stations have been the easiest way to produce power so the technology has been abandoned numerous times," Professor Donne explained.
"Currently 63% of Australia's energy comes from power stations, although a lot of energy is lost in the process of burning coal to produce heat. The DCFC converts more than double the electrical output at half the rate of greenhouse gas emissions, making it the most efficient way to get electricity from coal," he said.
"It is critical to be looking at better and more efficient ways of producing power as coal resources continue to decline and renewable energies are still being developed," he added.
Professor Donne's Partner Investigator, Dr Jessica Allen, said the DCFC will be a game changer in the renewable energies sector, offering a transitional technology for the manufacturing industry to move away from dependence on coal fuels.
"As much as some people feel strongly that we need to immediately move away from coal-fired power, we do not believe that this is realistic. The infrastructure development for this new technology will allow us to move away from fossil fuels over time, as the DCFC can be operated on any carbon fuel source," Dr Allen explained.
The DCFC has already attracted interest from China to combat the air pollution problems and the country's heavy dependence on coal fuels.
"Developing nations, including China and India, have large coal reserves and are unlikely to be able to easily transition to other energy sources. The DCFC allows for the continued use of fossil fuels while substantially increasing energy outputs and drastically improving health outcomes," Dr Allen said.
"We could spend another 10-15 years investigating and refining this technology, but for it to have real impact it needs to be available now, so we're working to make it commercially viable in just two years' time," she added.
The research team will carry out the project at the Newcastle Institute for Energy and Resources (NIER) to develop a prototype 10kW unit, which will be large enough to power up to five or six households per module.
The DCFC is one of eight projects funded by New South Wales Coal Innovation, which were announced by the New South Wales Department of Planning and Environment on Friday 25 August.
---
Related news
The University of Newcastle acknowledges the traditional custodians of the lands within our footprint areas: Awabakal, Darkinjung, Biripai, Worimi, Wonnarua, and Eora Nations. We also pay respect to the wisdom of our Elders past and present.