Stable foundations for tomorrow's infrastructure
By understanding how the ground interacts with infrastructure, Professor Shanyong Wang's highly practical geotechnical engineering research is developing novel civil engineering techniques to help ensure our roads, buildings and foundations are safe, stable and can stand the test of time.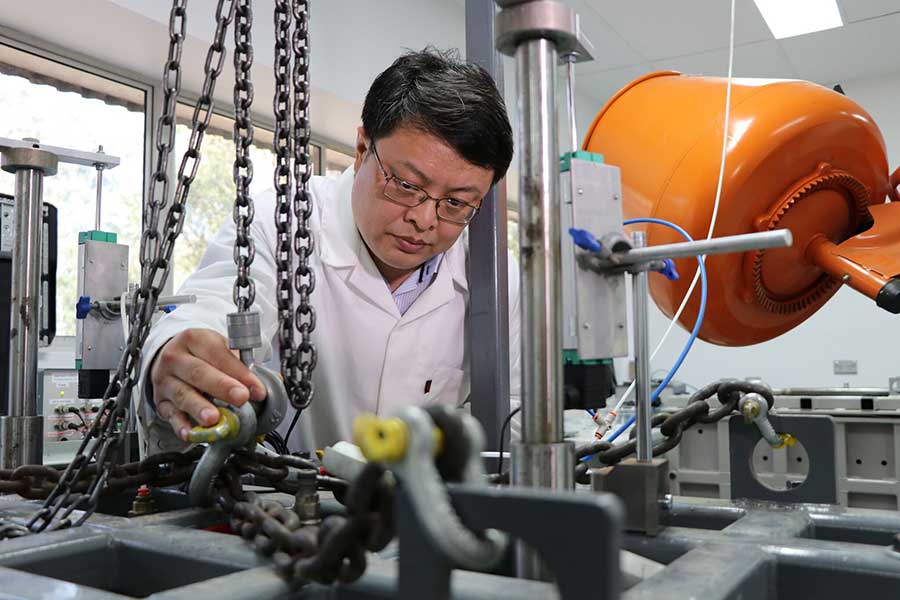 A Professor in the Priority Research Centre for Geotechnical Science and Engineering, Shanyong Wang has made exceptional contributions to the field of rock fracture in both computational and physical modelling. He also develops an innovative, cost-effective and environmentally friendly technique of dynamic compaction grouting, and an efficient soil nailing system for soil improvement. Shanyong Wang's geotechnical engineering research provides civil engineers with valuable information about how the earth impacts and interacts with buildings and infrastructure. It then goes a step further, contributing to practical engineering solutions.
Shanyong's speciality lies in advanced computational analysis of soft soil deformation. When the earth is too soft to build safely, research-based techniques can be implemented to increase the foundation's strength and stability.
"My field is geotechnical engineering which, broadly speaking, is civil engineering to do with the ground. I am focused on finding ways to improve the mechanical behaviour and performance of weak ground, usually composed of soft soil. This involves fundamental studies of fracture and compaction grouting in soft soils and its application to soil reinforcement and pile foundations.
"My work has many applications in the design of civil infrastructure, such as underground structures, roads, retaining walls and foundations. It can also be used in mining engineering."
With so many varied applications, it's no wonder that Shanyong's future-focused research is in-demand among industry partners. From building high-rise apartments to boring underground roadways, Shanyong's work is diligently helping to keep communities safe while cities expand to accommodate booming populations.
"The application of fundamental science and engineering underpins the advancement of our living standards and quality of life. This had been a prime motivator for the work that I do. Although much of the work that geotechnical engineers do is invisible to the community, it is one of the most rewarding and challenging areas for research in civil engineering because of its complexity."
The science behind the magic
For his PhD, Shanyong explored the grouting of soft soils, which is a technique used to increase the ground's strength and stability by injecting a specially designed liquid material into the soft soil under pressure. The liquid material fills the gaps in the soft soil, creating solid ground that can hold increased load—such as the weight of a building. Shanyong is fascinated by this intricate grouting process, which he humorously describes as a delicate mix of art, science and magic.
"My advisor convinced me that grouting is a somewhat magical technique, used widely in mining and civil construction, but is very poorly understood. In fact, many engineers think geotechnical grouting is an art, and is too complex to ever become a science. It is a highly complex problem involving multiple phases, fracture mechanics and nonlinear material behaviour.
"Through the development of sophisticated testing techniques and advanced computational methods based on fracture mechanics, my aim is to make grouting a true science with reliable and predictable outcomes."
Shanyong's more recent work has continued to examine and discover the fundamental mechanisms behind grouting soft soil, as well as other subsurface conditions, and is contributing to the development of new technology-based procedures for controlling the effectiveness of geotechnical techniques.
"I am particularly interested in discovering the physical mechanisms that lie behind a wide variety of geotechnical phenomena through advanced engineering testing and developing novel computer codes."
Building on success
Since 2011, Shanyong has secured close to $3 million (including one ARC Future Fellowship grant) in research funding to expand his geotechnical engineering research. His work continues to attract global and national attention, seeing him contribute 112 refereed international journal articles and 45 conference papers. With an impressive list of achievements already to his name, Shanyong continues to be driven by a determination to see research create innovative new solutions for communities and the world.
"To be a scientist was my dream when I was a child. I have always been fascinated by solving challenging engineering problems, and then applying this knowledge in practice to benefit society.
"In science and engineering, what really inspires me is developing creative solutions to important practical problems. I want my work to help bridge the gap between academia and industrial practice."
In 2014, Shanyong was awarded the Pro Vice-Chancellor's Award for Excellence in Research Performance. His collaborative and progressive work with the University, both as a researcher and educationalist, is creating exciting impact for the future of geotechnical engineering worldwide. In addition, due to the outstanding contribution in his field, in November 2017, He was awarded 2018 John Booker Medal in Engineering Science by Australian Academy of Science.
"I take great satisfaction in working at the University of Newcastle where I can discuss my ideas with world-leading colleagues, research students and postdoctoral researchers. Seeing my students develop and contribute their own novel insights is also hugely gratifying."
The University of Newcastle acknowledges the traditional custodians of the lands within our footprint areas: Awabakal, Darkinjung, Biripai, Worimi, Wonnarua, and Eora Nations. We also pay respect to the wisdom of our Elders past and present.