Poetry in motion
With a recent revival in Australia's poetry scene, acclaimed poet Dr David Musgrave, from the University of Newcastle, is paving the way for others to follow his path to success.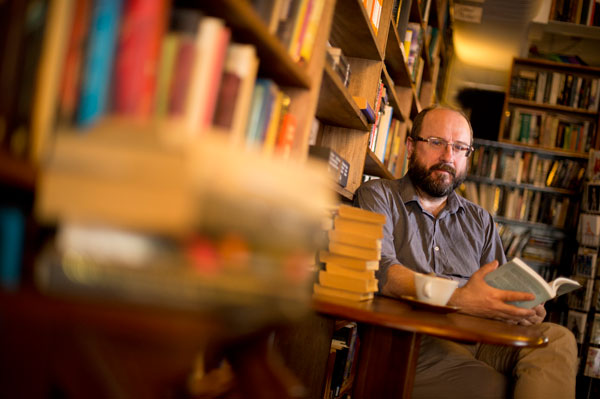 As a nationally significant poet and novelist, researcher, lecturer, critic and publisher, Dr David Musgrave has a deep familiarity with all aspects of the thriving contemporary Australian poetry scene.
He has authored five books of poetry, To Thalia (2004), On Reflection (2005), Watermark (2006), Phantom Limb (2010) and Concrete Tuesday (2011), and his work has won or been shortlisted for a swathe of awards, including the Henry Lawson, Broadway, Bruce Dawe, Somerset, Sidney Nolan Gallery, Grace Leven, Josephine Ulrick, John Shaw Neilson, Alec Bolton, SA Festival and WA Premier's and Newcastle Poetry Prizes.
As a lecturer in Newcastle's highly successful and rapidly growing creative writing department, his research is closely aligned with his teaching of creative writing in contemporary Australian poetry. He is also one of Australia's leading critics and publishers of quality writing.
"It's a very exciting time to be working in this area, there's so much being produced at the moment and people's ability to research and criticise seriously doesn't keep up," he says.
But David also knows the downsides of trying to earn a living as a working poet. In 1997, having completed his PhD on Menippean satire at University of Sydney and written his first novel, he was unable to find a publisher. Shifts in the global publishing industry had seen major publishing houses stop taking on individual collections of poetry, and smaller publishers were unwilling to take risks on younger poets.
The only way David could earn a living was to take a job in IT for a health insurance company. He stayed there for nine years, writing creatively for several hours early every morning before going to the office as CIO.
"My foray into the corporate world was a holding pattern and it allowed me to continue to work," he says.
"IT and poetry are not that different. Poetry is about solving a problem, a need to express something, create something or say something, and the creative process is continuing to solve problems until you arrive at that point."
As well as continuing his creative writing during this period, David built a reputation as a critic and researcher, specialising in satire and the grotesque in English and Australian literature.
He was toying with the idea of publishing others' poetry when he was approached by a friend whose publisher had backed out of a book project. "I didn't want anyone to go through what I had had to go through again," David says, and used his own literary prize money to publish the book.
His independent publishing house Puncher & Wattmann was born in 2005 and has become Australia's leading publisher of Australian poetry, with 85 titles on its list by some of the country's major poets, novelists and biographers.
In 2010 David joined the University of Newcastle's creative writing department, which had grown from just one academic to a team of three renowned writers whose students are achieving some success in the literary world. In 2013, two UON Creative Writing RHD students were short-listed in the 2013 Premier's Literary Awards.
"Poetry offers people a way of discovering new ideas, of giving expression to things that otherwise can't be expressed," he says.
"If our understanding of the world consisted entirely of science and popular culture, it doesn't seem to me we would necessarily be able to think of new ways to perceive things or do things in non-rational ways. And most people would admit that, without that aspect, they would feel impoverished."
David is now considered to be among the foremost of his generation of contemporary Australian poets and, with the publication of his work in the United States and Britain, is gaining international acclaim.
A key theme of work is the continuity throughout English literature of satire, a sceptical and playful critical attitude toward knowledge itself. While there is a thread of satirical humour through his own work, it is at the same time serious.
"I have a joy of satire, of being in it and part of it, of making fun of it. It seems to me there is something fundamentally human about someone coming up against a system of knowledge and blowing a raspberry at it," he says.
David's current research interests include the rise of free verse in Australian poetry; the so‐called Generation of '68 and the introduction of postmodernism into Australian poetry, and the ensuing conflict between conservative and avant garde camps; and the anti‐pastoral tradition in Australian poetry.
He is also exploring the synergies between his own creative work and his research, focusing on the contemporary avant garde and their influences and in particular poetic theories of 'voice' and 'voicedness' in poetry. His book-length poem Anatomy of Voice, which investigates these issues, is to be published in 2014.
He is also continuing to write poems for a new collection, Fabulae, and to work on his next novel, The Obituary Collector.