Yapug achiever
Drawn to Design - Shay McMahon's childhood scribbles laid the foundations for a budding career in architecture.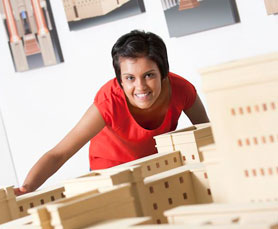 It came as no surprise to Shay McMahon's parents when their daughter decided to study to be an architect. Even as a child, a young Shay would hone in on drawings of house layouts in newspaper advertisements for project homes and take to them with her pencils, redesigning them into her own dream abode.
Now in her second year of the undergraduate Bachelor of Design, McMahon hopes to become a professional practitioner in a creative field in which Indigenous people, particularly women, are significantly under-represented.
"There are only a few female Indigenous architects working in Australia so there is a real opportunity to make a mark," she says. "I want to help break down that barrier and let others know that it is possible for them to pursue this career."
McMahon has a rich, mixed heritage – her father is an Eora man and her mother is Indian – and she hopes to one day apply her skills to designing culturally appropriate buildings for both Indigenous Australians in remote communities and people living in underprivileged circumstances in India.
"I would like to design buildings that improve their living conditions but also give them a greater connection to their homes," she says. "Too often, Indigenous people have no input into the design of their homes, but a house that has been specifically designed for someone can become a vehicle to connect them to their land."
McMahon has already completed an internship with the Sydney office of the national firm Peckvonhartel and would like to gain more experience working with larger architectural companies before one day setting up her own practice. She has a keen interest in sustainable design and is strongly influenced by the work of leading architects and University of Newcastle academics Professor Peter Stutchbury and Professor Richard Leplastrier, who together designed The Wollotuka Institute's award-winning Birabahn building with colleague Sue Harper.
"To have lectures delivered by architects of that calibre is a huge privilege and very inspiring," she says. "Sustainable design is the way architecture is heading so those architects are able to give us a very informed perspective on that field."
McMahon did not secure a high enough ATAR for automatic entry into the architecture degree, so to achieve her long-held dream she committed to another year of study and qualified through the Yapug tertiary preparation program.
"Yapug provided a good grounding for university study," she says. "As well as being able to focus on the arts-related subjects that would help me gain a place in the architecture program, I learned many useful skills, like how to structure essays and reference resource materials. In hindsight, I think I would have struggled if I had started the degree straight from school."
To qualify as an architect McMahon must complete a Master of Architecture after achieving her Bachelor of Design, then work for two years and pass a professional examination. However, she is not deterred by the challenge ahead.
"Architecture is all I ever wanted to do," she says. "It is very demanding but I really enjoy it and it has given me a level of confidence in myself that I never had before."