I am a prospective
student, looking to study at
Duration
1.5 years full-time or part-time equivalent up to 5 years maximum.
1.5 years full-time.
Mode of delivery
Face to Face, Online
Study an MBA 100% online
Develop outstanding leadership capabilities with our 100% online MBA program. One of the most flexible MBA programs in Australia, join live or catch-up when it suits you. Complete your studies in as little as 18 months.
Listen to our webinar from our MBA Program Convenor, Dr Sonia Vilches-Montero, to learn more about our MBA program.
Why study with us?
Choose to study our flexible MBA 100% online, face-to-face or a mix – join in for the live learning sessions with experienced lecturers or catch up afterwards with all sessions recorded. Study around your schedule.
Industry guest speakers and engaging experiences – hear and learn from some of the best minds in the industry or participate in hands-on problem solving for real-world issues through engaging teaching and learning experiences.
Fast-track your career – complete your degree in as little as 18 months1 or exit early with an embedded Graduate Certificate in Business Administration (40 units).
Network online and join our mentorship program – attend industry events online, develop contact with your peers, and mentor or be mentored by other MBA students.
A world-class, affordable MBA – from a top 200 university in the world2.
Recognised prior learning – potential to gain credit for prior postgraduate qualifications and professional experience beyond the minimum entry requirements.

Source 1: This option is available for students that have enrolled in fulltime study and pass 3 courses per trimester.

Source 2: QS World University Rankings 2020
What you will study
Our MBA is designed to propel you towards success. It reflects the latest in contemporary management practice, providing six fundamental courses covering the foundations of modern business; money, markets and people. More advanced core courses in leadership, strategic management and corporate governance provide pivotal insights into the dynamics of modern organisations.
With our flexible modes of delivery, you can choose to study either by face-to-face, entirely online, or a combination of both.
In addition to the core courses, you will have the choice to specialise in one of the following areas:
Alternatively, students can create their own course program, selecting their preferred areas of study from a broad selection of directed courses. Please check the latest MBA Handbook to see if your preferred specialisation is offered for both face-to-face and online learning as these options can change.
The MBA is also offered through a face-to-face study option.
Program plans
Download a program plan for further details on your degree's structure and what courses you will study.
These program plans are applicable to new students. Current students should refer to the program handbook to access the plan relevant to the year they commenced.
Compare our Business Administration study options
Sign up. Stay connected
What excites and motivates you? Let us know what you're interested in and we'll keep you updated on all the latest info and events relevant to you.
Thank you! Keep an eye on your inbox, you will receive
a confirmation email shortly.
Connect with us on WeChat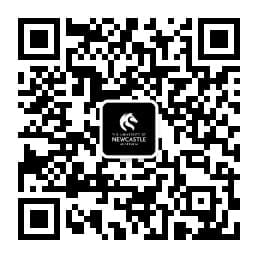 Thank you! Keep an eye on your inbox, you will receive
a confirmation email shortly.
Career
Career opportunities
You'll be ready to apply your strengthened strategic focus and embed your outstanding business management capabilities in real-world business opportunities. The University of Newcastle's MBA program delivers the skills, and will inherently build your confidence to enable you to reach for those senior and executive leadership roles.
Our graduates range from company executives to self-starting entrepreneurs and public sector leaders – the range of opportunities that have opened for our graduates are limitless. Other career paths include:
Human Resource Executive
Business Consultant
Business Development Manager
Health Services Manager
Entrepreneur
Financial Advisor
Industry Specialist Manager
Marketing Manager
Operations Manager
Global opportunities
Given the University of Newcastle's strong focus on international business, consider the reality of a leadership role in a global corporation located locally or abroad. Position yourself as someone capable of furthering the international standing of Australian-owned industries.
Engage with industry
The University of Newcastle's MBA is delivered by some of our leading strategic thinkers. Business, academic and professional practitioners combine to provide you with tangible real-world learning experiences. The course is integrated with industry engagement and business networking opportunities which expose you to challenges that can lead to remarkable workplace prospects on graduation.
How to apply
Applying for Master of Business Administration (MBA) Online
I am a prospective
student, looking to study at
Before you get started
To ensure that the process goes smoothly for you, you should complete the following steps before applying:
Review the program that you wish to apply for. Note the admission criteria, admission instructions, requirements & structure and any additional information listed.
Review the program fees and costs.
Check whether your postgraduate program has a Semester or a Trimester closing date. Please view the application closing date.
If you are from a non-English-speaking background, you need to satisfy the University's English language requirements and ensure that you can provide evidence of your English proficiency if required.
You will be considered for entry based on criteria such as your undergraduate studies and/or equivalent prior learning and/or relevant work experience.
Other things to consider
Make sure you double check the special entry requirements, assumed knowledge or recommended studies for the degree:
Entry into the Master of Business Administration will be available to applicants who have:
Bachelor (Honours) Degree, or an equivalent or higher qualification; or
Bachelors Degree, or an equivalent qualification, in a related field such as accounting, business, commerce, economics, finance, human resource management, industrial relations, management, marketing; or
Bachelor Degree, or an equivalent or higher qualification, not in a related field and 1 year relevant organisational experience; or
At least 7 years' relevant organisational experience, including 2 years in a management position; or
Successful completion of 75% (30 units) of one of the following UoN programs:

Graduate Certificate in Business Administration
Graduate Certificate in Applied Finance
Graduate Certificate in Human Resource Management
Graduate Certificate in Marketing
Graduate Certificate in Professional Accounting
Students seeking Recognition of Prior Learning (RPL) must provide detailed documentation with their admission application. This will be forwarded to the Program Convenor for consideration. RPL applications will be considered on a case-by-case basis.
All Applicants must demonstrate that they meet the University's English proficiency requirement. Further information regarding English language proficiency requirements can be found at the English Language Proficiency for Admission Policy here.
Applicants for this program must satisfy a minimum English Language Proficiency Standard equivalent to an IELTS overall minimum of 6.5 with no subtest result below 6.0.
You can look at Uni prep for options to brush up on knowledge before you start.
Ok, great, let's go!
Applications to study are now open. Submit your application now.
Apply to study in Australia
Both students and education agents can submit applications online. This is our preferred way of application. You can save your application after you have started, and come back to it later.
The Newcastle Business School is accredited with the Association to Advance Collegiate Schools of Business (AACSB), earned by fewer than 5% of the world's business programs. AACSB is the premier, and longest-standing, international accrediting body for business programs and is the international benchmark for excellence in business education.
The University of Newcastle acknowledges the traditional custodians of the lands within our footprint areas: Awabakal, Darkinjung, Biripai, Worimi, Wonnarua, and Eora Nations. We also pay respect to the wisdom of our Elders past and present.