Blended and online learning design
The Learning Design and Teaching Innovation Unit is a place where innovative teaching concepts come to life.

The team supports academic staff looking to create engaging online content and interactive learning activities.

Instructional designers and technical experts work with staff to find the best technological solutions to improve student learning.
We can help you with:
building user-friendly Blackboard course sites
flipping the classroom
developing blended and online teaching resources
online assessment
Specialised project work includes:
video creation
animation
re-purposing existing content for blended or online delivery
UONline Support - Staff can use UoNline to assist in teaching; providing online learning spaces, content & activities, enabling communication and collaboration.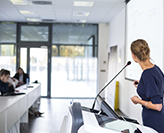 LDTI works with academics, including sessional staff, to offer a wide range of professional development programs and services to support teaching and learning.