Visiting Academics
Dr Yoda Patta - June 2016
Dr Yoda Patta from Sampoerna University, Indonesia, a former graduate of MIT and Stanford, will be visiting campus in two weeks. Professor Kath Grushka is co-hosting this visit with Miranda Lawry as part of this President's Fellowship Visit, Monday, 27th June - Wednesday, 29th June 2016.
Professor Monika Vinterek
Professor Monika Vinterek was an invited guest to the School of Education, in the Faculty of Education and Arts at the behest of HERMES (Historical Experience, Representation, Media Education and Society) and GERT (Global Education Research and Teaching team) research groups in 2015/2016. Monika is Head of Research at Darlana University in Sweden. With a focus on teaching and learning, Monika Vinterek conducts research in the fields of General Didactics and History Didactics.
Her main interest lies within teaching and learning in the area of educational practice. Her research has looked at, for example, the different ways of organising students in classes, the reading habits of pupils during lessons, individualisation in a teaching context as well as everyday pedagogical leadership in schools. Pertinent to her research is the highlighting of the organisation and practices that make possible and set limitations for the various goals of teaching and learning.
She has been involved with research in teaching history with Dr Robert Parkes and the HERMES group and assisted in editing a book proposal with that group. Associate Professor Ruth Reynolds and Dr Kate Ferguson-Patrick from the GERT group have continued their long association with Monika, with Ruth and Monika finalising a chapter in a Swedish teaching text and Kate continuing her collaborations with Monika on democratic cooperative classrooms.
Professor Daniel Lindmark
Professor Daniel Lindmark from the Department of Historical, Philosophical and Religious Studies at Umea University in northern Sweden has been visiting the School of Education, Faculty of Education and Arts as the guest of HERMES (Historical Experience, Representation, Media Education and Society) and GERT (Global Education Research and Teaching team) research groups in 2015/2016.
He has recently led a major European project investigating International textbook revisions from 1919 to 2009 and is working on a history of the Sami people. Daniel has participated with the HERMES group on a number of events and with the GERT Group on intercultural curriculum, peace education and research.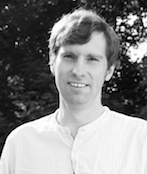 Dr Robert Thorp - late 2015
Dr. Robert Thorp from the Research School of Historical Media, Umeå University, Sweden will be visiting with the HERMES research group during November and December 2015.
While in Australia, he will be working on the data collected for a multi-national project led by Dr Robert Parkes comparing pre-service teachers' narratives of the nation in Australia, Canada, Sweden, and New Zealand. He has also recently published and defended his licentiate thesis titled Historical Consciousness, Historical Media, and History Education. As part of his licentiate and doctoral studies Robert conducted a major investigation of the concept of historical consciousness in Swedish didactic research, and developed a framework for exploring the uses of history in contemporary cultural practice. His current doctoral work applies this framework to the analysis of history textbooks.
For more information about Robert, please see the HERMES website.
Associate Professor David Carlson - June 2015
The School of Education is delighted to be hosting Assoc. Professor David Carlson, from Arizona State University. You can hear David talk about "Doing" a Foucaultian-Inspired Genealogy as an Ethical Care of the Self in Teacher Education on Thursday, June 25 (flyer).
Professor Don Klinger - February 2015
Professor Don Klinger, from Queens University, Canada, will make an Informal visit to the School of Education to explore research and partnership connections. Dr. Klinger works in the areas of in educational research, evaluation, student assessment and learning standards.
Professor Antonia Darder - late 2014
The Comparative and International Education Group at the University of Newcastle are currently hosting Professor Antonia Darder. She is an internationally recognised public intellectual, artist, poet and activist. She is also one of the foremost critical education scholars of our time.
Her extensive scholarship and activism covers issues of racism, political economy, social justice and education.
Professor Darder currently holds the Leavey Presidential Endowed Chair in Ethics and Moral Leadership in the School of Education at Loyola Marymount University, California, US, and is also Professor Emerita of Educational Policy, Organisation, and Leadership at the University of Illinois, US.
Her visit to Newcastle is hosted by Dr Tom G. Griffiths, director of the Comparative and International Education Group University of Newcastle (CIEGUN). CIEGUN's researchers investigate policy across geographical regions, time periods, and educational forms, with a common focus on developing critical understandings of policy on multiple levels of scale, and elaborating socially just alternatives.
While at Newcastle, Professor Darder will work with Dr Griffiths on a co-authored publication exploring education in and for a post-capitalist future. The depth and breadth of her scholarship, her work with research students, and her public commitments to politically engaged academic work, will reinforce and inspire the trajectory and activities of CIEGUN and its researchers.
Dr Thomas Johansson and Professor Geoff Whitty
On March 6, 2014, Dr. Thomas Johansson (University of Gothenburg, Sweden) facilitated an interactive one-hour seminar on masculinity studies in Sweden for students and academics from across our Faculty.
Professor Geoff Whitty CBE has joined our community as the University's inaugural Global Innovation Chair for Equity in Higher Education. He delivered the Occasional Address to Faculty of Education and Arts graduates on 23 April 2014, about the values of excellence and inclusion.