Potential students
Whilst the curriculum is the same at both universities, you can choose the campus at which you would like to study your degree. Newcastle is a busy metropolitian centre and Armidale a vibrant regional city. Each will leave you with lifelong memories and friendships.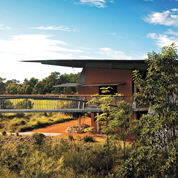 Over its 48 year history, the University of Newcastle has been characterised as a university of distinction. Ranked in Australia's top eight universities for research, one of our key strengths is the health and medical field. We are privileged that world leaders in their respective health disciplines choose to research and teach at the University.
Newcastle is located just two hours north of Sydney and has major road, rail and air links. The main campus of the University of Newcastle is in the suburb of Callaghan, 12km from the centre of Newcastle. Callaghan has a reputation for being one of the most naturally beautiful campuses in Australia.
Life in Newcastle
Newcastle is home to some of Australia's most beautiful beaches. It is also one of the only cities that combines inner city life, beaches and a working harbour, all within walking distance of each other. With popular café and restaurant strips, a thriving local music and art scene, affordable accommodation, and good transport links, Newcastle is great for students.
Accommodation
For information on all of your accommodation options or to access the off campus accommodation contact the accommodation office or send them an email.
Map
Find out more
Choosing a university is not just about what course you will study. It's also about the lifelong friendships you will make, the vibrant living and learning lifestyle, a sense of belonging in a community and the fun you will have along the way. UNE graduates consistently rate their experience highly, regularly earning the maximum five stars in The Good Universities Guide, a reflection of the University's commitment to student support.
UNE's residential college system is one of the most extensive in Australia, with lots of cultural, sporting and social activities, as well as academic support, to help you succeed. College residents get the most out of their UNE experience, usually making good friends for life with their fellow residents.
Over half a century ago, UNE was Australia's first university based outside a capital city. Since then, the University has been providing the broad range of high-quality offerings expected from any university, as well as building significant strength and expertise through attention to a range of regional issues.
UNE's academic staff have well-earned international reputations for cutting edge, high impact research and the University attracts top postgraduate students from around the world.
The campus is situated on 74 hectares of heritage parklands, overlooking the beautiful city of Armidale in the northern tablelands of NSW.
Life in Armidale
Armidale lies in the beautiful heart of the NSW Northern Tablelands, halfway between Sydney and Brisbane on the New England Highway, and just two and a half hours from the coast. As a popular tourist and "tree change" destination, Armidale is famous for its awe-inspiring scenery, crystal clear skies, clean air, incredible climate and breath-taking seasonal beauty.
Accommodation
UNE's residential accommodation is made up of seven colleges and a village of self-contained units. Each college has its own distinct character and offers different catering options (fully-catered, meal packages, flexi-choice and self-catered). You will have your own single, fully furnished, centrally heated accommodation and each room has a phone and internet connection. Find out more about living on campus.
Outside of UNE's residential college system there are plenty of other accommodation options. You will find it is much easier to get rental accommodation in Armidale than if you were looking in a metropolitan area.
Map
Find out more